Steel City Raceway
Delmont

,

PA
Steel City
Lucas Oil AMA Pro Motocross Championship
Former factory rider, long time privateer and fan favorite Nick Wey was competing in a selected few rounds of the Lucas Oil Pro Motocross Championship when he crashed out at Millville. The end over end cartwheel in the sand whoops really took a toll on Wey in the form of a dislocated hip and back injuries that are going to keep him out for a while. We checked in with Nick on his recovery and his prognosis for getting back on the track and entertaining fans across the USA.
Racer X: Nick, talk about the recovery process you're going through and how that is?
Nick Wey: It's alright, I'm starting to get going now after some slow going. The first month was bad but it's okay now, I'm walking and started driving recently. I'm feeling pretty good.
What was the final count on the injuries?
I broke a few ribs, I dislocated my hip and broke my back which needed surgery. It was pretty bad and I didn't even know I had bad ribs but I was laying around after the crash and it started feeling pretty sore to where I had to go get them checked out.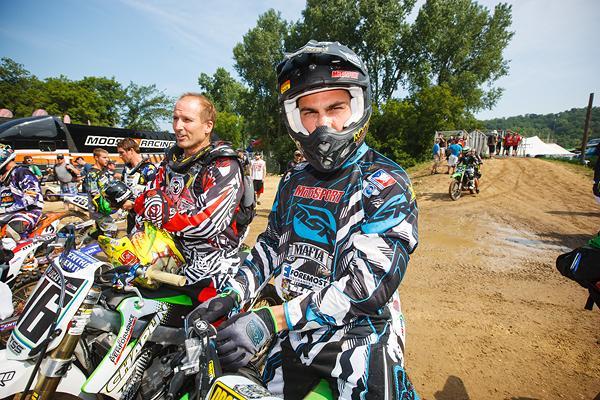 Wey hopes to be back to 100 percent for 2013.
Simon Cudby photo
So how boring has life been for you the last little while? You're a guy who usually is always doing something.
At first it was a lot of laying around, I'm not going to lie. I've been getting stuff organized with my team from this year, getting some stuff back and doing what I can to stay busy. We also had another baby about a week after I got back. That's been cool and I've been hanging out with him. I've been working on my Mafia Moto Crew line of clothing and getting that going.
What's the plan for 2013 and getting back on a bike?
The main focus is to try and get healthy and be 100 percent. I want to race for sure and get back on a bike. My doctors tell me I can be back to 100 percent and we'll go from there once that happens. It's a six-month injury and that would put me in the middle of January. So I'll get everything organized and be ready for the outdoor series. I'm planning on racing, barring the doctors telling me I shouldn't, but right now, I should be able to start my normal activities. I've already been walking and riding the spin bike. Hey, you have to be in shape to race the races, so I'm at least trying to stay fit.
You're going to be at Baja Acres this weekend right?
Yep, Baja Acres in Millington, Michigan is where I grew up riding and where I raced my first ever race. They have this thing called the Baja Brawl and it's a great track. It's a really rough sand rack and this race is a huge amateur regional event. The Mafia Moto Crew is going to have a booth out there with things for sale. We're also going to have what we're calling the Mafia Moto Pint Sized Posse Payback which will be Motosport gift cards to ten of the winners of the 50-65-85-Supermini classes. We're going back to give back to Michigan motocross and keep the legacy going.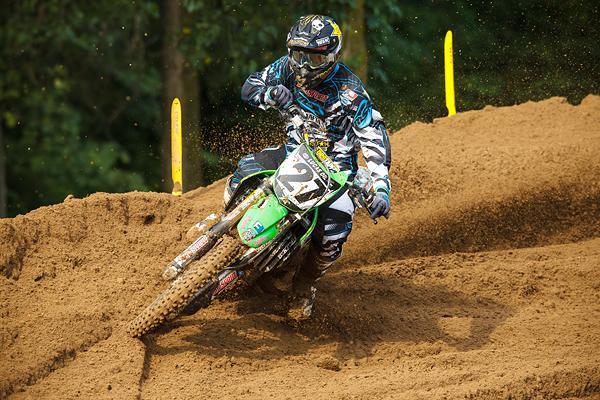 Wey will be out at Baja Acres in Millington, Michigan this weekend for the Baja Brawl.
Simon Cudby photo
Yes, the legacy. Who are your best Michigan Mafia members ever?
Well, there's so many guys that have come out of here and represented the state, even before my time. My apologies for anyone I may have missed. Obviously Jeff Stanton is one of the best riders ever, not even just from Michigan, so he's number one. After that you have Brian Swink who I admire on a motorcycle and guys like Todd DeHoop who won a title [1988 125 East Supercross] and was someone, when I was a kid, I looked up to.
You also have Josh Woods, Randy Valade who's got a Canadian title. Jeff Curry and Josh Litchle were all great riders and represented the Mafia well. Nico Izzi also. He's a member. Like I said though, there's so many great riders to come out of the state. The Mafia Moto line of clothing isn't just for Michigan people though, it's for everyone in your crew wherever you may be motoing.
How do you feel about getting your mechanic Big Nasty started in the industry and now he's turned into a pickle czar with his line of Mandingo Pickles?
Yeah, he's done well to market the pickles and we knew that going in. We were with a small team and that allowed us to do things that maybe some others wouldn't let us do. He's a great mechanic and a good friend of mine and it's cool that he's been able to use my connections to get with guys like Ryan Villopoto, Mike Fisher and others to grow the pickle brand. That's a good activation plan he had, he's a marketing genius.
Nick would like you to visit motomafiacrew.com and pick up some stuff in support of your crew.