realMotocross Track Profile: CTMX
By Iain Grae / realMotocross
Connecticut River Motocross (CTMX) is a Northeastern track located in Rocky Hill, CT. It's the only legal practice track open on a weekly basis in the state at the time of this article. There are two tracks on the property, a main track and a mini track for up to 100cc and beginners only.
CTMX is owned by ex-professional racer Tony Lorusso, aka "The winningest racer in New England motocross." Tony rides the track often and personally grooms it, making sure it's safe but challenging for all the riders. And don't let the name "Rocky Hill" fool you, as there are neither rocks nor hills on this track because of its unique location. (The property is also known locally as "The Worm Farm")
The main track recently changed its layout to accommodate a new irrigation system, and it features obstacles for all riders and racers including big and small doubles, tabletops and triples, including the famous "105" which is in the back section. The track is fairly flat with little elevation change, but Lorusso has compensated by offering a more technical track with many 180 degree turns and long sweepers. The track is about 1.5 miles in length and Lorusso says "the fast guys" are turning in lap times of about 2:30.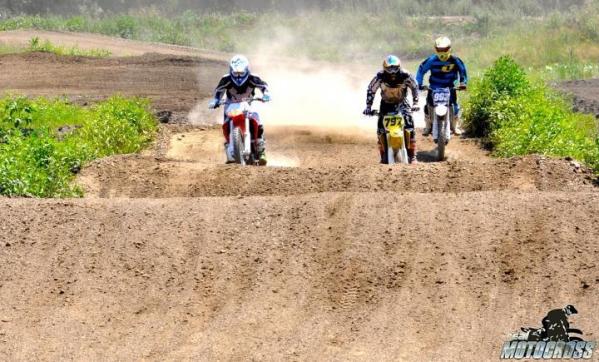 The mini track is a scaled down version of the main practice track but very friendly for even the smallest beginning rider. This track is the hidden gem of CTMX as it's one of the only safe, legal and friendly places in the area to teach beginning rider how to handle a real race track. The mini track is also used by aspiring pitbike riders who have outgrown the backyard and want to click it up a gear. The mini track is about ¾ of a mile in length.
CTMX
is limited on the structures and facilities they can offer because the track is located in a flood plain and regular structures would just wash away! There are no bleachers for spectators but the track offers ample viewing areas. It's as simple as it can get, they have a clean porta-potti and that's about it and you must bring all your own supplies, food and water, etc. We were told that two of the pizza joints in town will deliver to the track and to ask for details at sign-in.
CTMX does not offer camping or overnight facilities of any kind, and dogs are fine as long as on a leash. There is plenty of room for motor homes and RV's so those are welcome and the track is located quite close to the main strip in town which features a myriad of food and lodging options and this is very convenient.
CTMX also offers motocross classes conducted by Tony Lorusso as well as private sessions and you can get all the details when you visit the facility or on their website.
The CTMX general schedule for practice is Tuesdays, Wednesdays and Thursdays, 12:00 - sunset, Saturday and Sunday 9:00 – 6:00PM. The day rider fee is $30 during the week and $35 on the weekends, credit cards are not accepted at the track, but you can charge your fee on the CTMX website prior to riding there. There also is a yearly membership option so you can save money if you ride there frequently.
CTMX
is primarily motorcycles only but they do have regularly scheduled "Quad Days" so check their website for those events.
Important note: You must always check the website before coming as conditions can change drastically in a short period.
You can find more information by checking out the CTMX page on realMotocross.com