Welcome to the last off-weekend of the 2012 domestic season. There are just two races left—Steel City and Lake Elsinore—and then the Motocross of Nations in late September for a select group of regulars on the Lucas Oil Motocross tour. There will be one final get-together at the Monster Energy Cup in Las Vegas, though that's actually shaping up as a very interesting preview of 2013.... We close our eyes and another year goes by.
Everyone has been congratulating Red Bull KTM on its breakthrough race last weekend, and I will join them: Congrats to the whole team on Ryan Dungey winning them their first major U.S. title, Marvin Musquin on winning his first outdoor national, and Ken Roczen on winning his first moto here. What they all have in common is Roger DeCoster as team manager, and a very positive and enthusiastic technical and support crew. And over in Austria, they are absolutely committed to reaching the top in U.S. racing, and Lucas Oil Motocross was the first step—Monster Energy Supercross 2013 is the next goal.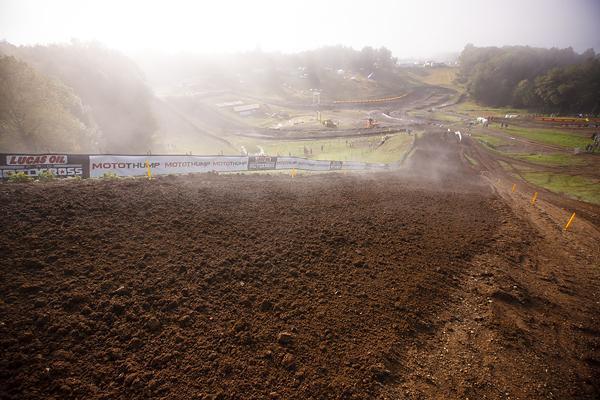 Last Saturday dawned cool and damp after a dreary prelude, turning Unadilla into a very dynamic racetrack.
Simon Cudby photo
But with good news there's bad news, and I also join all those who were devastated by Michael Byrne's injury at Unadilla. Burner had the BTOSports Suzuki out front and was truly cruising—I haven't seen him ride that fast outdoors in a long time—and I was hoping he would get the monkey off his back and take a win, just like fellow Aussie veteran Brett Metcalfe did at Southwick last year. (Coincidentally, I think the closest Byrne ever got to winning a national was at Southwick in '03, only to lose out to Craig Anderson, yet another Australian who is soon to retire.) In fact, I leaned out from the event to give #26 a quiet go-ahead when he cross-rutted through a sweeping turn, stuck his leg out, and ended up with a tibial plateau fracture of his leg. He didn't crash—he just rode off to the side of the track and dropped his bike.
Byrne and BTO Sports team owner Forrest Butler had just reached a contract extension the night before, and they are also going orange for 2013 and beyond. It was shaping up as a Greatest Day Ever for both the team and the rider. But it wasn't.
Les Smith of the Langston-Witt Racing team also suffered a leg break without a crash, the only two times I can remember this happening since my dad snapped his leg at Appalachia Lake Park back in 1974 without even falling.
Here's wishing a speedy recovery to both Byrne and Smith, as well as James Stewart, who went down twice at Unadilla. More on that later.
Marvin Musquin ended up being the first of KTM's two imported world champs to win a national, not Ken Roczen, which somehow seems fitting. K-Roc already has three SX Lites wins to his name, and he won the first moto at Unadilla, beating MM to the punch there too. Musquin, on the other hand, has suffered a couple of unlucky breaks in his two seasons here in the U.S., and he was getting closer and closer to success. He didn't know he had actually won the overall when he came off the track, which made his reaction to the news really special. I have a feeling that both he and Roczen will be much more formidable next summer now that they not only know the system but know their way to the winner's circle too.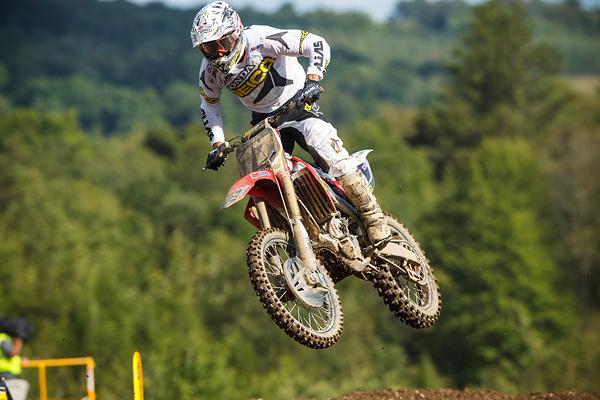 Eli Tomac has a Rick Johnson-like quality to the way he's getting faster and stronger as he grows.
Simon Cudby photo
But for the second race in a row, Eli Tomac appeared to be the fastest man on the track, especially in the second moto. But just like at Southwick, he couldn't put two motos together for the overall at Unadilla. But what he is doing, in my mind's eye, is evolving every time he's on the motorcycle. Tomac seems to be getting more and more aggressive—not in a knock-'em-down way but in a pushing-all-the-way attack strategy. He wastes little body movement by doing over-scrubs or going out of his way to get in someone else's way, and he's trying to carry as much momentum as possible into and out of every corner. He reminds me of someone in how he's evolving as a racer while he grows as a man: Ricky Johnson.
The title in the 250 Class is still up for grabs, though for the second week in a row GEICO Honda's
Justin Barcia
lost out on a prime opportunity to use some local knowledge to make up ground on Monster Energy/Pro Circuit Kawasaki's
Blake Baggett
. Now, with four motos to go, Baggett controls his own destiny. He goes very fast at
Steel City
, and
Lake Elsinore
is in his backyard. The title is BB's to lose, then he and Barcia will team up with Dungey to try to win an eighth straight Motocross of Nations for Team USA.
In case you missed any of last week's live coverage of the Red Bull Unadilla National (and if you live in the Seattle area, you likely did because the local affiliate once again preempted motocross with something else) here are all of the motos, archived for your weekend fix.
Simon Cudby scored Racer X Films a nice exclusive with his two Ryan Villopoto videos from earlier this week. The latest one of the sidelined Monster Energy Kawasaki rider went up this morning, and in it he talks about his plans to return, Team USA, and the Monster Energy Cup, as well as coming to the endgame of his 2013 deal.
"I feel good, the speed's there, just obviously working the fitness up," said Villopoto, the four-time U.S. outdoor champ and two-time AMA Supercross #1. He added that he has no intention of riding one of the last two nationals, where Red Bull KTM's Ryan Dungey has already claimed the title. Says RV on RD, "He's fast but very consistent, and he's on a roll like he's on—it's pretty hard to come in from nothing and go out there and race with him. It's a complete different ballgame when you start the series together, but now there's nothing to gain."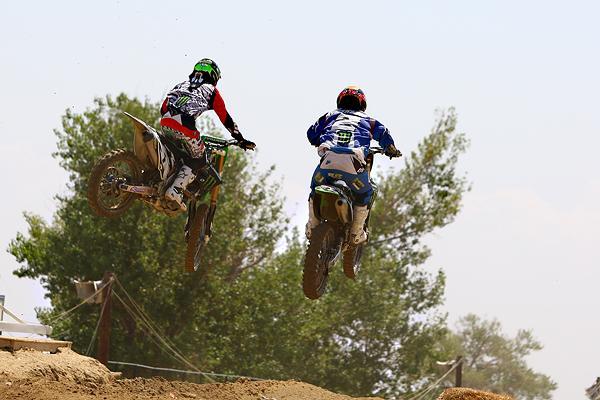 That's Ryan Villopoto closing in fast on his dad at Glen Helen!
BrownDogWilson photo
Villopoto also confirmed that Roger DeCoster called him about riding for Team USA, but he declined to race because he had just started riding again: "A lot of things can happen over there, a gnarly sand track over there in Europe, so there's a lot to lose and nothing to gain." But RV will be back for the Monster Energy Cup, ready to chase after another $1 million bonus. If you haven't made reservations for that race or ordered up your tickets, check out
www.monsterenergycup.com
.And feel free to study the candidates for Miss Monster Cup!If you're thinking about trying to figure out a way to get faster, or maybe you just want to hang out with some of the legends of motocross, check out
Ricky Carmichael University at Lake Elsinore
, which will take place on the Monday after the Red Bull
Lake Elsinore
National debut. Carmichael will spend the entire day teaching, riding, and working with riders young and old, and he's getting help from fellow Hall of Famers like Johnny O'Mara and Jeff Emig. Spots are still available, and it's a great way to spend a Monday in September!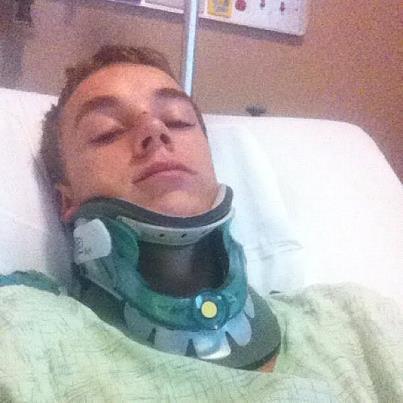 Get well soon, Zach Bell.
After holeshotting and leading two of the first three motos he entered as a professional, Zach Bell is now on the sidelines for an extended time. The GEICO Honda rookie shocked many in the motocross industry with his blistering start at Southwick, where he led two-thirds of the race before crashing out. He sat out the second moto at the 'Wick and then blasted off to another holeshot at Unadilla, before falling again but at least salvaging some points. The second moto saw him crash hard at the bottom of the Sky Shot jump, and now he's got several compressed vertebrae in his back. Our friend Thom Veety of Action Photos spotted this shot of Zach on his Facebook page, recovering in the hospital.
I did a little Style Check at Unadilla in practice for the 250 Class. This is on the uphill step-up double that marks the same spot where Travis Pastrana suffered his season-wrecking last-lap endo in 2001. It was cool to see the body english that guys like Justin Barcia, Eli Tomac, Travis Baker, and others were using to get over the ledge from the soft takeoff.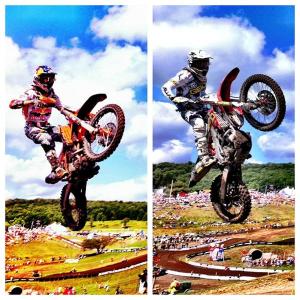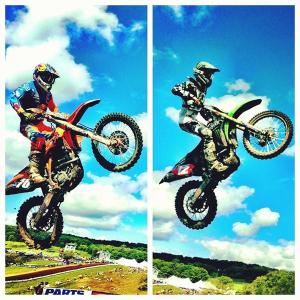 DC photos
Congratulations to Broc Tickle, who got another step closer to a first outdoor win as a pro. His first-moto battle with Dungey for the win was incredible, and then he rode a solid second moto to ensure himself a career-best second overall. That marks the best finish ever for Mitch Payton's Monster Energy/Pro Circuit Kawasaki team in the 450 Class.
Say it ain't so, Lance.... As you might have heard, Lance Armstrong, the seven-time Tour de France winner, has decided against arbitration to once again defend himself over doping allegations from his epic run at the top of cycling. Armstrong, who has been dogged by the French press in particular for cheating, never tested positive for illegal drugs. He's been left to defend himself even while he grows his Livestrong program to help cancer survivors like himself. But now he says it's no longer worth fighting, and that he will accept whatever the U.S. Anti-Doping Agency decides, and likely be stripped of all of his titles and banned for life from competition.
It's a sad turn of events for a man who so inspired people in the sport of motocross that we quit asking people in the magazine's Two Tribes section what their favorite book is, because 95 percent would answer either The Bible or Lance Armstrong's It's Not About the Bike. As someone who was a fan not only of Armstrong but of his whole Livestrong program, this is incredibly disappointing. But at the same time I hope he continues his work for cancer, because that's a hell of a lot more important than spending the rest of his life fighting to save an already damaged reputation.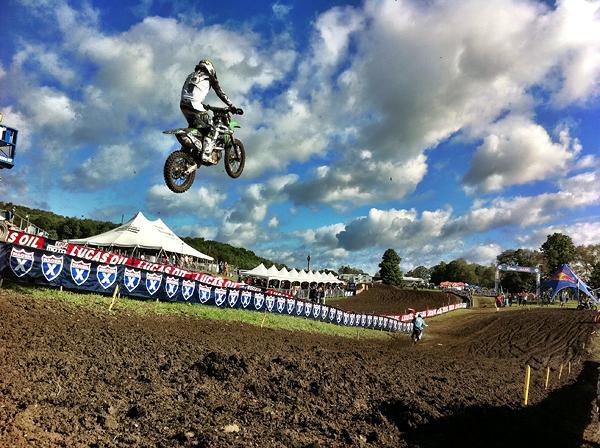 Broc Tickle practicing up for what would be a career-best day at 'Dilla.
DC photo
Armstrong did not admit to the doping, but he's now at a point of diminishing returns: He's running out of money to fight and places to hide from eyewitnesses in the form of former teammates who either said they saw him dope or were themselves caught (i.e. Floyd Landis, Tyler Hamilton). And then there's the matter of science, as retro-testing of old samples he gave may now be able to pinpoint steroids that used to be invisible. Add it all up and it's just plain sad.
My favorite sports reporter, Jeremy Schaap, just said on ESPN Radio: "This is the day when Lance Armstrong's legacy vanished." Say it ain't so, Lance.
Check out this very cool video by Gary Price for Kawasaki in Europe, featuring Tommy Searle's big win at his home Grand Prix at Matterley Basin last weekend.
The event was dubbed "the biggest race in the history of the sport," as they featured 400 amateur racers on the track over the course of the four-day weekend (maybe they haven't been to RedBud or Unadilla or Washougal or Millville or...). The weather in Great Britain worked out and it looked like a fun weekend for everyone, and Searle winning added even energy to the event.
Speaking of Europe, while working on another project I stumbled upon some video of the 1978 Austrian Grand Prix at Schwanenstadt, the site of the '93 Motocross of Nations. I was there for that race, covering Team USA's thirteenth straight MXoN win for Inside Motocross, but the start definitely did not look like this!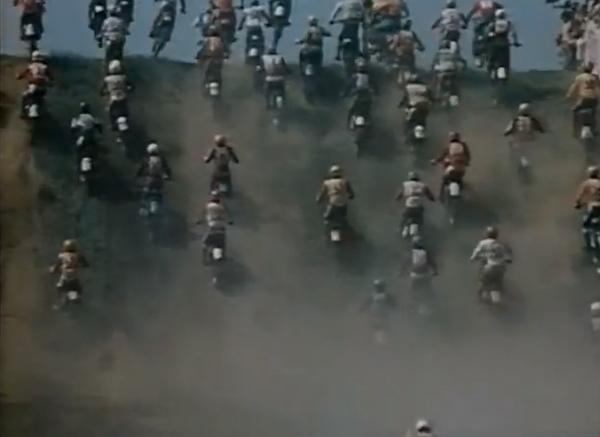 The start of the '78 Austrian 250 GP went straight up!
Look closely and you'll spot the great Czech rider Jaroslav Falta (7), Hans Maisch (35), Thorlief Hansen (48), and defending 250cc World Champion Gennady Moisseev (1). This marked the end of KTM's first great run of the seventies, led by Moisseev's three world titles. They are in another great run right now over in Europe with Tony Cairoli and Jeffrey Herlings at the vanguard, and of course Dungey just delivered them their first premier-class championship here. For more of KTM's pivotal moments, including what both Moisseev and Dungey mean to the program,
check out The List
.
Steve Matthes has had a busy week and he missed his Racerhead deadline, but you have to check out this supercool Pulp MX Podcast (that's an mp3 file link) he did with Fox Racing's Pete Fox about the brand, the company philosophy, racing in general and more.
Here's a good place to pass it over to Jason Weigandt:
It's official: this is the worst year ever for injuries. And I don't jump on the "ever" bandwagon very often. In fact I've spent most of the year saying that injuries have always been and will always be a part of this deal, and we can't overreact. But this is ridiculous. What bites hardest is that so many of the riders have been hurt while at the peak of their powers.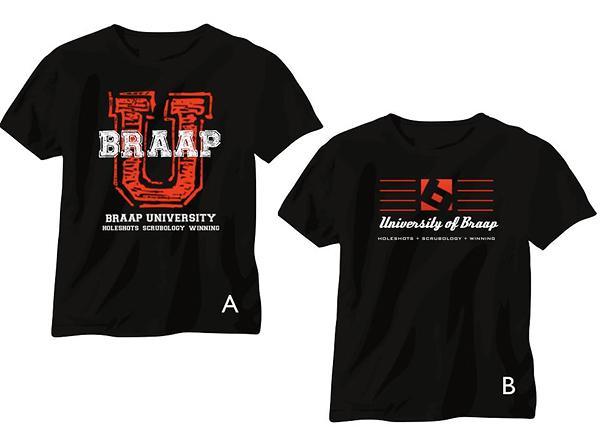 Cool back-to-school shirts from BRAAP Creative.
Ryan Dungey hurt his shoulder right after winning the Atlanta SX. Chad Reed crashed out right after his awesome battle with Ryan Villopoto in San Diego (and he looked even faster right before he went down the next weekend). James Stewart won the Daytona Supercross, then crashed in the first turn of his heat race the next week. He then came back and won the first four motos of the motocross season on his Suzuki, only to essentially crash out of contention early in the next race. Ryan Villopoto went out at his home race, right after clinching the Monster Energy Supercross title. Then when a guy like Michael Byrne busts his leg just as he's logging his best race of the year—maybe even ever!-well, sadly, it's fitting.
One injured rider who has taken a low profile this summer is Dean Wilson. Since Hangtown, last year's 250 Motocross Champion has been laying low. In fact, I talked to Dean recently and he admitted he hasn't been watching many of the races this summer, because it's too depressing not being out there! Dean also recently purchased a home in Florida, and he'll head there in a few weeks once his shoulder therapy is done, so he won't even be attending Elsinore to see who gets to take over his #1 plate.
We learned this week that Ben Townley has re-signed with the Carlton Dry Honda team for 2013 to race in Australia. BT101 has been mostly forgotten about since a hip injury ended his return to the U.S. this summer, but he, too, must have a tough time watching the races here. With all the injuries in the 450 pack, BT could have done some real damage this summer, at least scoring a bunch of podiums and maybe even grabbing a win.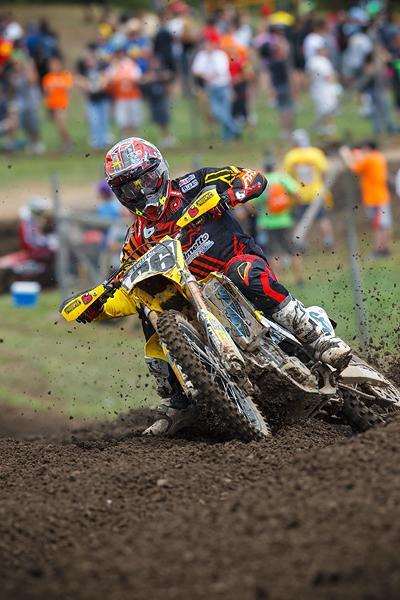 BTOSports.com Suzuki's Michael Byrne was having the race of his life before he joined the long list of injured.
Simon Cudby photo
Sadly now, with the season just about to end, most of these guys are just climbing back on a bike. Chad Reed just started riding again down in Florida, and Ryan Villopoto and Trey Canard are back riding now too. James Stewart rode at Unadilla (before getting hurt again). For a few days last week, the old "Big Five" were all back on motorcycles at the same time. Maybe we'll see them race again soon. Monster Energy Cup, anyone?
Before I go, just want to throw a congrats out to our friend Jason Hooper, who tied the knot last weekend with longtime girlfriend Krista. Hoops came to Racer X as an official FOTP (Friend of Travis Pastrana) and became a graphic designer here, before taking over the reins of the GNCC TV shows. And Krista is usually at his side at those races shooting pictures for their website, DigitalOffroad.com. Shooting pictures at a woods race is not easy, so clearly these two are dedicated to each other!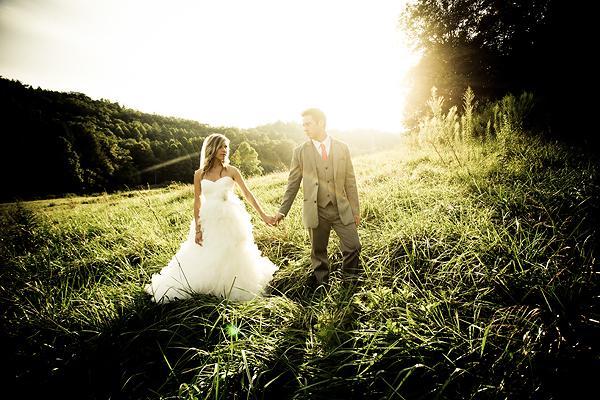 Congrats to Jason and Krista Hooper on their wedding last weekend.
Andrew Fredrickson photo
Okay, here's a good place to turn it over to Ping, who also had a great KTM moment when he won Anaheim 2 in '02 over James Stewart while riding the #39 KTM 125 (though it helped that Bubba crashed in the first turn!) to straighten the record out....
Quick correction from last week: Christian Craig has re-signed with TLD. Craig had an offer on the table with Langston Witt Racing and at the time both parties thought he was going orange. However, Craig had a change of heart last weekend and told TLD team manager Tyler Keefe he wanted to stay. Christian has been riddled with injuries since his pro debut but there is no denying his talent—the kid is the real deal if he can stay healthy.
I know talking about James Stewart is about as divisive as talking politics these days, but you can't help but wonder what's going on down at Camp Stewart. JS7 fans were on top of the world after the opening rounds this summer, posting blogs and photos and living it up. Then the Colorado crash happened and everything changed. His return at RedBud was not good. He was off the pace and his wrist was apparently still hurting. He took plenty of time off, and in the opening laps at Unadilla he looked like he was back. He made his way to the front and then, just as quickly as he got there, he crashed in what looked eerily similar to his Colorado crash, minus the photographer. Then in Moto 2 he went down again, this time in dramatic fashion, ending his day and his season once again. The photos of trigger finger looked painful.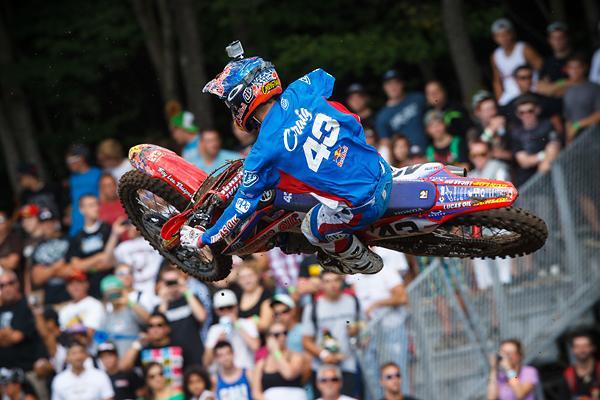 Christian Craig is not turning orange, he's staying red with TLD.
Simon Cudby photo
So why does James keep crashing? Has he always been a crasher and the hits are just finally catching up with him? Have all the crashes taken a toll on him, physically or mentally? I'll bet these are questions that haunt Suzuki's Mike Webb at night. Unfortunately, we won't get another peek behind the curtain until maybe October and possibly as late at January of next year. The saga continues.
Honda has officially released its 2013 CRF250R and we got a chance to ride it this week. We had our buddy Wil Hahn help us with some testing duties and Matty Fran posted it for Racer X Films.
It's always entertaining with Wilbur, so be sure to check it out. The entire GEICO Honda team came out for the day, including manager Mike LaRocco. I still didn't see The Rock smile but he did put some gear on and do some laps on one of the team's practice bikes. In case you're wondering, yes, Mike LaRocco can still get after it.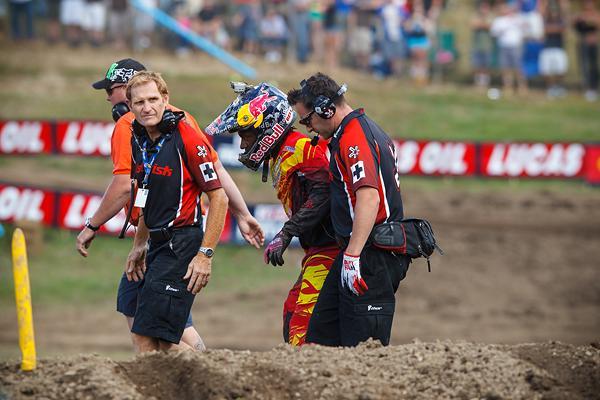 James Stewart suffered another day of problems at Unadilla.
Simon Cudby photo
I came across a very cool project called RPM last week. Ryan Patterson was a motocross racer who was murdered last year. His brother is putting on an event in Delaware this November and he is looking for industry members to get involved. Find them on Facebook (Ryan Patterson Motocross Foundation) or contact them at mpattersonservices@yahoo.com.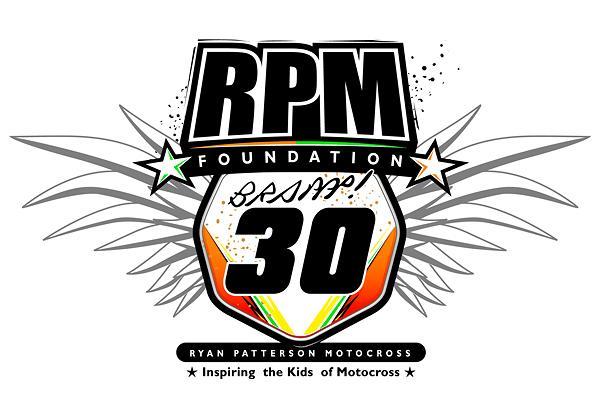 Here is Aaron Hansel:
With Lucas Oil Motocross '12 entering its final stages, you might expect the mid-pack intensity to start decreasing slightly as guys who have had bad luck or struggled are wrapping up their seasons. That was my theory anyway, until I talked to Austin Howell earlier this morning. Howell, who just took the best finish of his season at Unadilla with a 14-14 for fourteenth overall, said that if anything the craziness and intensity has been ratcheted up a notch in these last few races as a sense of urgency to fight for a 2013 ride has started to set in.
"Everyone is trying to put in good results," Howell says. "It's hard to get picked up and get a ride, and everybody is pushing to get that. Everyone is trying to get better overall finishes, and everything is getting tougher. Everybody is trying to step it up."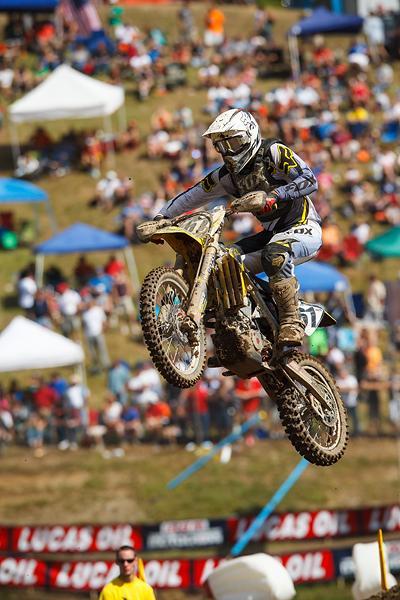 Austin Howell had his best day of the summer at 'Dilla.
Simon Cudby photo
Howell himself is part of that group that's trying to finish the season strong after going it completely alone through the first seven rounds.
"I've been driving around a van and a little trailer," he says. "Up until Washougal, I've been driving to the races all by myself. My dad finally got off work and is able to go to the last four with me. I'd drive straight through until I got there, then I'd practice as much as I could and ride my road bike, and it'd be the weekend already. It kind of beat me down driving as much as I did. Just going from Hangtown to Texas to Colorado, then all the way to High Point, that was a good push there. It was tough, but I got through it and now my dad is helping me and it's a lot better."
That's dedication, for sure, and the privateer pits are full of stories like this. If you're in attendance at Steel City or Elsinore, be sure to keep your eye on the action taking place at the middle of the pack, too. The racing is getting pretty intense there, and you'll probably see some pretty epic battles taking place.
Speaking of crazy action, check out this cool picture of Mike Alessi getting loose at Unadilla, taken by NorCalMotocross.com's Joey Washburn.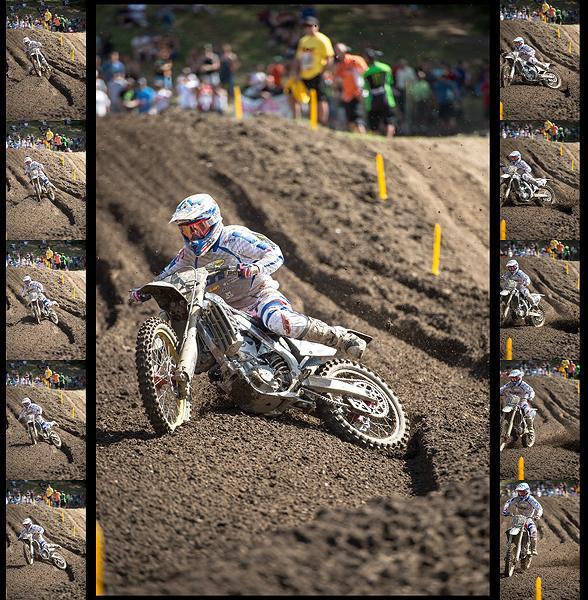 The picture was taken in the second moto when Alessi was just a couple seconds behind Ryan Dungey. It really shows how rough and rutted the Unadilla track got, and just how good the top guys are at handling this stuff. To see more of Joey's stuff, you can check out his website at www.joeywashburn.com.
MISC:
In case you missed it last week, here's a link to Part 2 of Christophe Pourcel's autobiographical video series, The Endless Return. It's about the devastating injury he suffered in 2007 and the difficulty he's had to overcome it since. It's really good stuff, brought to you by Cristophe's own ThreeSevenSeven clothing company.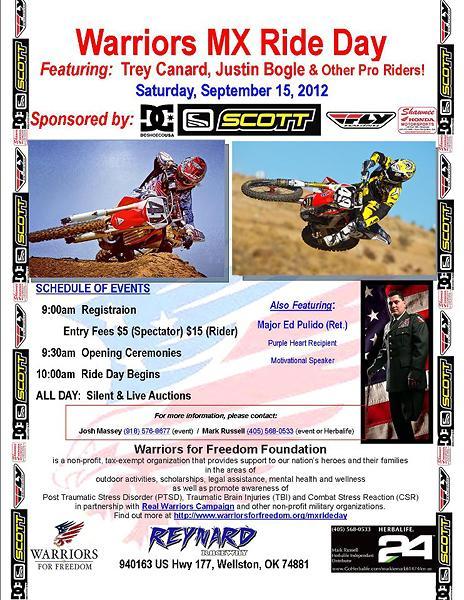 Don't forget, all you Southern California racers, to come out this Saturday for Round 3 of the West Coast Classic Lucas Oil Race Series at Lucas Oil MX Park. Races will air on MAVTV! Check www.mavtv.com for the schedule. Cost is $25 per class, $10 per additional class. Pro class 100% payback. Gates open at 6am, sign up at 7am, practice at 9am. Check www.lucasoilmxpark.com for more information.
Ron Joynt from DeCal works sent us this interesting link to a motocross painting for sale on eBay.
Ron knows Racer X Publisher Scott Wallenberg wore #13 on his blue-and-yellow Monarks, but the $1 million price tag on this has us confused.
Heading to Steel City? Spend the day in the pro pits with the Racer X all-day pit pass, available now online. There are a limited number of these passes available, and this is the only way for you to get into the pro pits past noon. Spend five more hours in the pits!
For $40 you get 12 issues of Racer X plus an all-day pit pass, good from 9 a.m. - 5 p.m. You can get the subscription for yourself or send it as a gift when you fill out the subscription information on the order page. If you need to buy more than one pass you can get a multi-year subscription to the same address.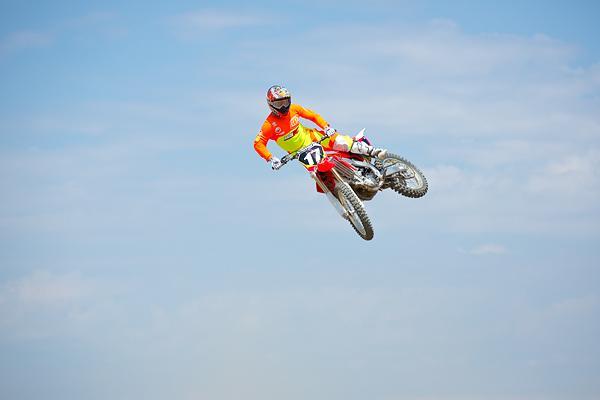 Ping testing the 2013 CRF250R.
Matty Fran photo
Another cool video to check out this weekend while there's no racing: Shane Watts' helmet-cam footage of his rip across Skinny Ridge in Colorado. It's impressive, and it will give you a few gasps!
Earlier this month at Loretta Lynn Ranch, Jordan Hoover and his family were parked near a group of visiting Australian racers. They got along great together and ended up inviting Jordan and his father, Jeff, to Coolum, Queensland, Australia, this week to race at the Australian National there.
"Jordan is riding the Pro Open class, which will be his first ever Pro race," Jeff explains. "So after returning home from a week at Loretta Lynn's we had to rush a license application through the AMA for an FIM license, get a passport and airline tickets and off he went!" Among the competition he will find will likely be Josh Coppins, Matt Moss, Cody Cooper, and more.
This is a funny photo of a moto enthusiasts wedding cake. Was tweeted to @AmericanMX by @AmandaRenea22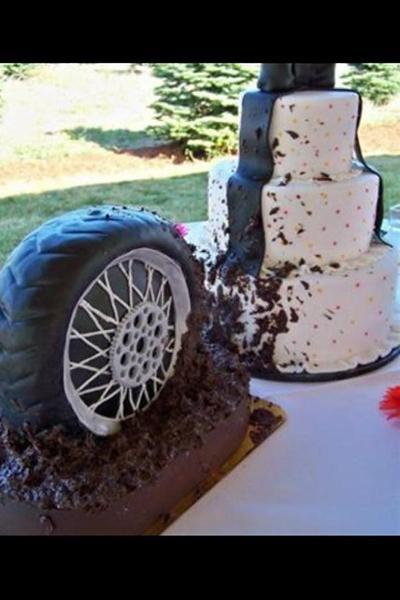 Jordan is the only U.S. rider in the Pro Open class, though his friend Colton McLeod has gone along is racing the 19-and-under division. Hoover is getting some helps from Todd Hicks and Aaron West at Fox Racing, Jeremy Garges at Twin Air, Mark Phares at Smith Optics, Lil D and Joel at FMF and more. Good luck down under, Jordan!
That's it for Racerhead. Enjoy your weekend off. Thanks for stopping by, see you at the races.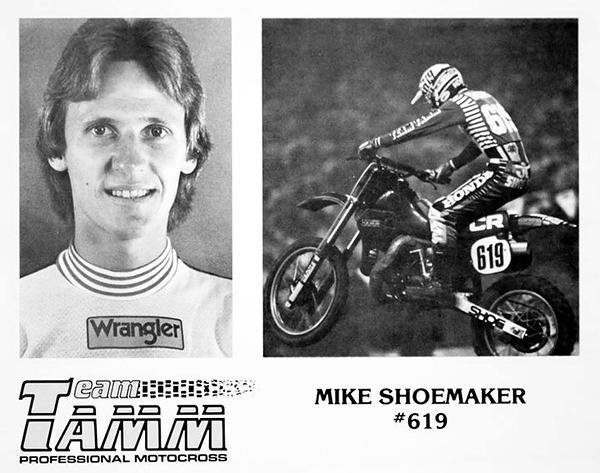 Godspeed Mike Shoemaker.