Unadilla MX
New Berlin

,

NY
Unadilla
Lucas Oil AMA Pro Motocross Championship
BTO Sports is your number one source for all of your motocross parts, gear, accessories and apparel. BTOSports.com is a motocross company who is truly dedicated to the sport and to the customer. Proud sponsor of your Racer X Podcasts and the BTO Sports/BBMX Suzuki race team.
Unadilla is a staple in American motocross for a number of reasons. The Trans-AMA series was the first to introduce American motocross fans to the wonderfully fast and skilled Europeans, and the tradition was kept alive with one USGP after another at Unadilla. The track was added to the AMA National circuit around 1989 and it's been a staple ever since. Some riders love Unadilla, some don't, and the weather usually plays a factor in that decision.
This year, the weather on Saturday was great, just like it's been this whole year. The 2012 Lucas Oil Pro Motocross Championship has probably had the best weather I can remember since I started doing the series in 1996. Every single round has been amazing for most of the day and there haven't been any mudders to speak of. There was rain on Friday though, which contributed to the track rutting up pretty bad in spots. It's usually pretty soft and gooey (think soft batch cookies), but this year, it seemed to be extra gnarly. Props to all the racers for going out there and pinning it in the motos. It sure didn't look fun to me!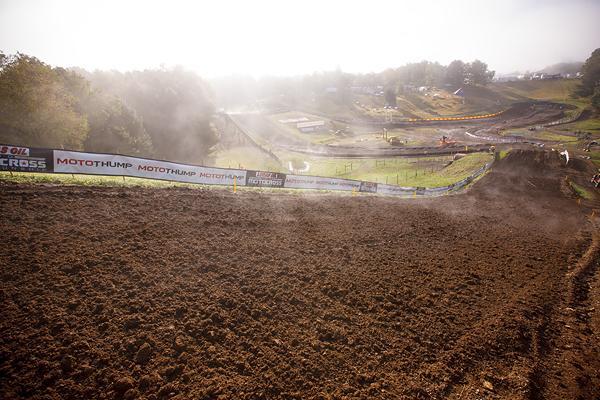 Unadilla proved to be one of the toughest tracks on the circuit this year.
Simon Cudby photo
Twelve years ago I joined KTM to be a mechanic on their first ever real venture into a factory effort in American racing. Yeah, they'd had the box van days with Mike Fisher, Cliff Palmer and such (and by the way, go look at Fisher's results in 1992 on the KTM--they were very good), but this was the first reboot with a semi-truck. They even brought over 1996 500 World Champion Shayne King! Although we won a race with Kelly Smith in the mud at High Point and the team had a promising rookie in Rodrig Thain, things were rough. Management seemed to be on a different page than the other teams I'd been on but even so, in 2001, Grant Langston came over and somehow, we almost won the 125 National Championship. Nothing epitomized KTM's utter failure to get a good thing going then when I was on the team and Joel Smets, then one of the premier racers in Europe, came over to Southwick and I overheard some of our management talking about a race victory for the multi-time World Champion. Smets, one of the nicest guys out there, got his doors blown off on this day as he went 8-7 and got lapped by Ricky Carmichael. The folks at KTM weren't quite grasping how tough this American National series stuff was.
From there I left the program and it mired along, hiring Jeremy McGrath, Mike Alessi and Larry Brooks. The brand had some success (winning the 2003 125 National title with Langston) but then the factory effort went away as quickly as their energy drink sponsorship did. A partnership with MDK resulted in some more average finishes with Nick Wey and Justin Brayton, but the program was often spinning their wheels. Finally, the factory team jumped back in but the average finishes were still there. The problem always seemed to be in the premier class. The team didn't have the horses, and the horses they did have said the team didn't have the bike. The circle of suckitude went around and around.
Then things changed. Buoyed by the success they had been having in Europe, attributed to the rise at KTM of ex-GP hero Pit Beirer to director of racing, KTM did something bold. Something bull's-eye bold! They went out and hired Roger DeCoster to run their American program and upon getting the job, DeCoster told them that they needed an all-new 450 to attract a better rider. No more non-linkage PDS system, no more carburetors and no more frames that worked good in the desert but not so good in the tight confines of supercross. KTM invested huge R&D dollars in a new machine (and worked through the hiccups of the new bike throwing Andrew Short off and breaking his arms in the summer of 2011). DeCoster somehow got Ryan Dungey to come over to KTM (as well as somehow getting Ryan to inexplicably believe that his title-winning Suzuki had cooties) for 2012. Dungey took a huge risk but believed in Roger and obviously rode the bike at some point to realize that it was up to the task.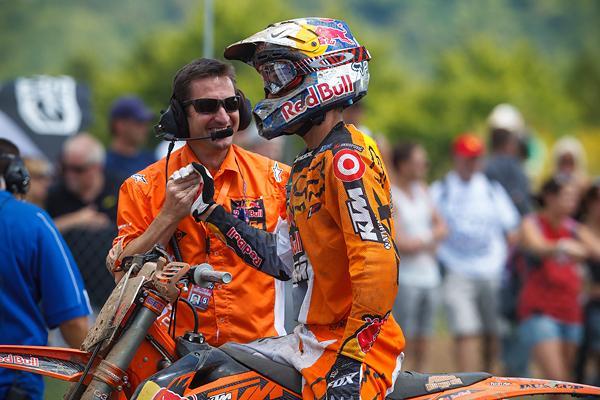 Ryan Dungey locked up the first 450 National title for KTM at Unadilla.
Simon Cudby photo
Why did I just devote all these words to KTM? Because this weekend at Unadilla, KTM accomplished a couple of noteworthy feats for their company. Dungey clinched KTM's first ever title in the premier class when he won the 2012 450 National title (going 1-1 once again), and KTM won both classes at a National for the first time ever when "Moving" Marvin "The Martian" "Marv-Attack" Musquin won the 250 Class. It was also Musquin's first National win and to top all this off, Ken Roczen won his first moto in the USA when he captured the first 250 moto. It was a day of firsts for KTM!
Dungey wasn't his usual dominant self at Unadilla, as he fell in the first moto and then appeared to be taking longer than usual to get by a very fast Broc Tickle for the first moto win (by the way did anyone notice how Dungey seemed to go out of his way to congratulate Tickle on his second? Just sayin…). In the second moto, Mike Alessi kept him honest, as he had been doing all year long, but in the end, like so many other races this year, Ryan went 1-1 for the win. That was enough to clinch the title with two rounds remaining.
As for Musquin, he has been getting absolutely screwed for podium spots this season. Marvin has gotten fourth overall three times even though his moto scores have actually been podium-worthy several times. It's just been the way the cookie crumbles (and the math works out in a two-moto format) for the fast and personable Frenchman. So it's only fitting that Musquin's first ever win at an AMA National was by 2-3 moto scores. The moto gods taketh away but sometimes, they giveth as well!
On a very European track, Musquin was very good, as was his Euro partner Roczen. I can't help but think that both of their best rides came with the track rutty, technical and again, Euro-like. All these two riders needed was some techno blaring and dudes walking around with man-purses and everything would have been complete for them.
Musquin has been overlooked this year (except in this column) but he's been getting onto the back of the big four and like this weekend, even beating them. He started out kind of slow at Hangtown but has really come around since. Marvin's a nice rider to watch ride. He makes butter seem rough around the edges as he flows around the track searching for smooth lines, and he has incredible throttle control.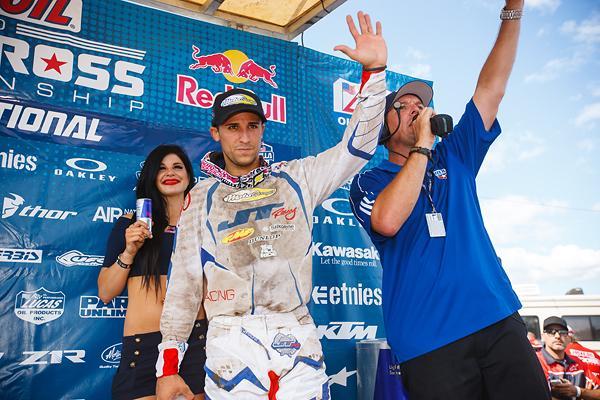 Mike Alessi bounced back from a DNF in moto one to finish second behind Dungey in moto two.
Simon Cudby photo
I don't even care about Roczen's sixth in the second moto. To me he could have gone to the starting line for the second moto, taken a dump on his bike and walked off. The fact of the matter is he won a moto. That's the one thing that's been missing from him this year is the moto win. Roczen's led the second-most laps in the class and led races deep into them. But then something always seems to happen. Roczen wasn't letting anything like that happen this weekend as he simply motored away from the field and held it strong to the end. Like I said, although I would've preferred he NOT take a dump on his bike instead of racing the second moto, I still think that a rider has to walk before they can run. Roczen's got the moto win, he's got the confidence, and he can now build on that in these last four motos.
Before Southwick and Unadilla, it was just a matter of if Blake Baggett could hold onto his lead in the series. New York's own Justin Barcia was coming into a couple of his better tracks and trailed by only eleven points. Baggett was in deep trouble, according to the pit pundits.
The lead is now twenty-four with four motos left, as Baggett held serve at Unadilla and actually, incredibly, gained points at Southwick. Barcia's been on point all year with his starts and laps led, but when he needed it the most in these last two races at Southwick and Unadilla, it all went away. In the second moto, he was gone and checked out and surely was going to win the moto. Except his teammate, Eli Tomac, tracked him down and passed Bam Bam. It's a moto that Barcia needed badly, but he couldn't make it happen. Tomac stamped his speed with two moto wins in the last four and did some serious slicing through the pack in the motos he didn't win. Tomac is four points back of Barcia for second in the points and right now, my money's on Eli "The Alien" Tomac to maintain his charge.
Baggett's got this series under control now, unless something along the lines of a Christophe Pourcel-crash-out-while-only-needing-to-ride-around-to-clinch-the-title type of thing happens. Blake's too fast and too consistent to not hold onto this almost one-moto lead. We've seen him get terrible starts and come through the pack, so that's not even an issue. The one fear that Blake's fans might have had was a second-half fade from all the work put in during the first half (sort of what happened last year), but that's not happening in 2012. He's looking good to get Pro Circuit their second straight outdoor crown.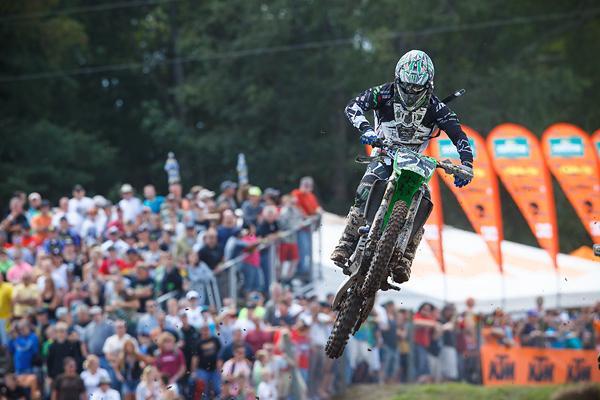 Broc Tickle put in another impressive performance at Unadilla.
Simon Cudby photo
BTOSports.com Michael Byrne should've, could've and would've (in my opinion) won the first 450 moto. Byrner swapped side to side in a right-handed roller section and although he saved it, he put his leg down and broke it. It was a disaster for him and his team. The lead was eight seconds and there was about six minutes left in the race when he did it. Tickle and Dungey were making time up on Byrne but it wasn't enough. Michael's in great shape and he would've been able to fend the two guys off in my opinion. Byrner's been sneaky good the last few outdoor races on his JGR powered Suzuki and this was going to be a real Cinderella story for those on the team and in the pits. There's no one in the pits that doesn't like the friendly Aussie. He's one of the good guys and most people (like Andrew Short's win in Seattle earlier this year) were very happy to see the #26 up front. But the clock struck midnight before the thirty plus two was up and Byrner went from Cinderella to pumpkin. Oh this cruel sport that we all love! He's now out for six weeks with a broken leg, but the good thing is that a few days before the race, he re-upped for another year with the BTOSports.com team, which is making the switch to KTMs for 2013.
I gotta say, Broc Tickle's really coming on late in this outdoor season. Six straight motos with finishes inside the top six and a second overall at 'Dilla indicate that the switch has been flipped in Tickle's brain. The consistency a racer must have is a tough one to master but Broc's figured it out. The guy who got a PC 450 ride because of a rule change that wasn't caught by his team is showing that he actually does indeed deserve it. Supercross didn't go the way he thought it would but in the Nationals, (always a strong suit for Broc) he's been great. In fact, if I had told you before the season that Tickle was going to be fourth in the points, eighteen out of third place, with four races to go, you'd have thought I was nuts. Well, that's exactly where he is.
It's indicative of a good season when you hear a rider's name associated with so many potential teams in 2013. That's what happens when you're in demand folks! I've heard "Done deal, Tickle to BLANK team" about 329 times now. It seems that everyone wants to get on that Tickle train. Hmm. That sounds a little strange.

Justin Barcia wasn't able to take advantage of familiar surroundings for the second straight week.
Simon Cudby photo
The big news is James Stewart coming out to try his hand at this racing stuff. I'm really surprised that Stewart showed up at what is probably his least favorite track and when he didn't show up at Southwick, I figured the nail was in Unadilla's coffin. And as usual with Stewart, he showed some serious speed as he set the fastest time in the first moto on his first lap (almost two seconds better than anyone else) and looked to be back in a big way. A crash and inability to start his bike knocked him way back to thirty-eighth. He crashed again, but would eventually end up ninth.
So if you're scoring at home, Stewie's lap charts would show a 1-38-9 which is pretty much par for James. If he's not first, he's last. In the second moto, he said he tried a new tactic of not trying to push so hard and sprint away and instead laid up a bit in third. Well that didn't work either as he went down hard in some rollers and busted up his finger bad enough to require surgery. His season is done and again, his stat line for those scoring at home- 1-1-1-1-38-40-5-39-6-3-9-35.
It was fun while it lasted and Stewart looked approximately 382 percent better on the Suzuki than on the Yamaha. While it didn't go the way he wanted, he's got to know that things will be better for him in 2013. After all, it couldn't get much worse, although I suppose four moto wins and two supercross wins is a good year for 98 percent of the field. But they're not named James Stewart.
Let's take a look at the results shall we?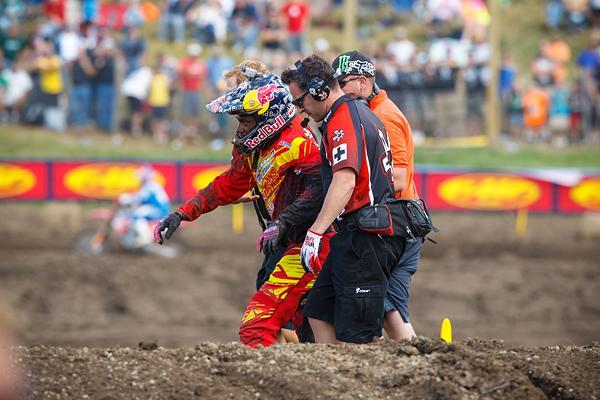 James Stewart will miss the final two rounds with a dislocated finger.
Simon Cudby photo
250 Class
1 38 Marvin Musquin KTM 250 SX-F 2-3
2 17 Eli Tomac Honda CRF250R 6-1- Tomac's ride in the second moto was phenomenal and actually, his first moto ride was great too. I don't think I've ever seen a rider pass the same riders what seemed like five different times in a moto. Tomac would go fast, crash, go fast, crash and then go fast again.
3 70 Ken Roczen KTM 250 SX-F 1-6
4 20 Justin Barcia Honda CRF250R 7-2
5 12 Blake Baggett Kawasaki KX 250F 3-5- Baggett did what he needed to do. It wasn't a great race for him but he maintained man, he maintained. How's that for some zen talk?
6 49 Justin Bogle Honda CRF250R 11-4- Bogle's best race by far since his return from injury, and it came on the track that he made his pro debut on last year. He was second in the first moto before dropping back.
7 58 William Hahn Honda CRF250R 9-8- Hahn was part of a GEICO Honda run in the second moto when the team had five guys in the top six. Only Moose-Can broke the whole thing up. I can't confirm whether or not Mike Larocco cracked a smile in this moment.
8 44 Jason Anderson Suzuki RMZ 250 5-12- Anderson's going to be a sometimes-podium guy in 2013. You read it here first. Stamp it.
9 31 Martin Davalos Suzuki RMZ 250 13-7- Davalos has a Pro Circuit ride in 2013. Say that a few times and it gets a bit more believable.
10 136 Jessy Nelson Honda CRF250R 14-9- The rookie continues to impress. He's a great starter and let's just hope that Jessy can build on this next year and not get sucked into big rims on his truck, chicks, diamond earrings and thinking he's made it next year.
11 956 Blake Wharton Suzuki RMZ 250 4-33- I'm a Wharton fan. He's got a lot of skill and despite the neck brace and full chest protector, still looks good on a bike. A strong first moto was good to see but the crash-induced DNF in the second moto was not.
12 57 Jake Canada Honda CRF250R 12-13- Twenty-seventh to twelfth in the first moto and twentieth to thirteenth in the second moto was a good day for Canada and a nice rebound from the disastrous race last week.  I was speaking to Jake before the day and he lamented the double DNF from the 'Wick as it knocked him out of the top ten in the points. He's forty points back of ninth, where he was just a short time ago in this series.
13 37 Malcolm Stewart KTM 250 SX-F 10-18
14 167 Zachary Bell Honda CRF250R 8-31- I don't know. Lots of people are talking about Bell and his speed so far through his first four motos. Don't get me wrong, there's plenty there, but this isn't that big of a deal. We've seen Bogle, Canard, Dungey, Barcia, Grant, etc., do this very same thing. If you're a Loretta Lynn's winner in the last ten years, you've got speed. It's everything else that counts and right now, Bell seems to be having trouble adapting.
15 51 Travis Baker Honda CRF250R 16-14
16 160 Cole Thompson Yamaha YZ 250F 15-15- Thompson is still feeling the effects of a shoulder injury from a crash at Washougal. People are saying he made a bad move in taking this Star ride but I say no. Yes he was top tenning it on a privateer 450 but this 250 Class is gnarly and on top of that, the Thompson's were paying for everything out of their pocket. What would you do? I hear he's got a good chance to stay there for 2013.
17 53 Ryan Sipes Yamaha YZ 250F 38-10- Sipes is riding for the Metal Mulisha team this year, and next year he'll be on the Rockstar Energy Drink Suzuki team. I definitely feel like if a rider's image ever matched up to his sponsors, it's in this case.
18 30 Alex Martin Honda CRF250R 37-11- Martin's brother made his pro debut and all I hear is how much better his bro is than Alex. Well, I'm still waiting to see it because trust me, "Troll" is fast.
19 166 Dakota Tedder Kawasaki KX 250F 23-16
20 576 Jacob Hayes KTM 250 SX-F 39-17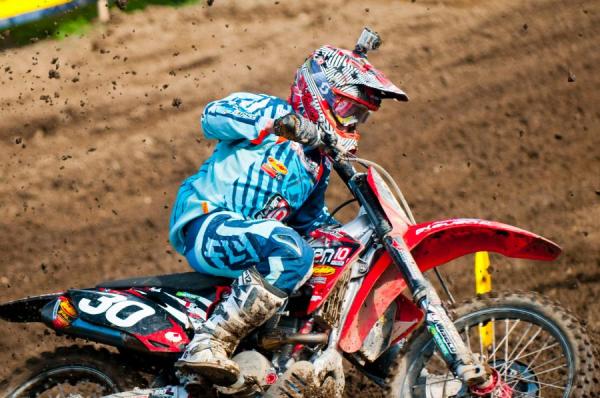 Alex Martin bounced back from a DNF in moto one with an 11th in moto two.
Amy Schaaf photo
450 Class
1 5 Ryan Dungey KTM 450 SX-F 1-1
2 25 Broc Tickle Kawasaki KX 450F 2-4
3 29 Andrew Short Honda CRF450R 4-3- Short led the second moto for a bit and rebounded big time after a poor performance at Southwick. Combined with Jake Weimer's bad day, Shorty moved into third in the series points with this result. Yep, he's once again just quietly doing his thing out there and could end up in the top three when this is all done.
4 18 Davi Millsaps Yamaha YZ 450F 3-5- Did anyone think that Millsaps, with a bum ankle, three rides in four weeks, a two-year contract sewn up on a different team show this much speed and effort in his comeback from an injury? I didn't, that's for sure. Look for a Matthes/Millsaps moment in the new Inside the Outdoors TV series.
5 33 Josh Grant Kawasaki KX 450F 5-6- Josh has really ridden well in the last few weeks and my sources say that it's because he was given a, "ride well or you're out," ultimatum a few weeks ago. Either way, solid moto scores for Grant.
6 50 Nico Izzi Yamaha YZ 450F 6-8- Izzi made his return from injury and put in a couple of good rides. Even better when you consider he lost his gate pick after arriving late to the first moto. His very unprofessional behavior to the MX Sports official was the talk of the pits and he's lucky he didn't get DNQ'd.
7 28 Tyla Rattray Kawasaki KX 450F 8-9
8 715 Phillip Nicoletti Honda CRF450R 7-11- Everyone who listens to the PulpMX Show knows that I've been trumpeting "Filthy" Phil's speed to anyone who will listen. He split from his Eleven10 mods team and is now a full privateer. He ran up front at Southwick, and at 'Dilla he held it together, avoided his usual anvil, and got a solid race in. Phil's got speed, which is something you can't buy, folks.
9 11 Kyle Chisholm Kawasaki KX 450F 12-7- The Chiz is steady each and every race. It seems like he finds his home no matter if he's fortieth or fifth off the start. That's a good and bad thing and in the end, I suppose a ninth is a great "home" for a lot of people out there.
10 800 Mike Alessi Suzuki RMZ 450 39-2- Alessi pulled off with a mechanical issue in the first moto and rode great in the second moto with maybe his best race of the year.
11 81 Robert Kiniry Yamaha YZ 450F 10-12- Kiniry missed his gate also but unlike Izzi, he didn't throw a fit. "Rules are rules," is what Bobby said. Then he proceeded to have a pretty good day on his home track. He then jumped into his wife's car after the moto (still sweaty, he says) and hauled ass to Canada to race the National there the next day.
12 10 Justin Brayton Honda CRF450R 15-10- Brayton's had a couple of poopy motos and has eaten a ton of roost the last few races. I hear that he's going back to JGR Toyota Yamaha next year as well.
13 59 Vince Friese Suzuki RMZ 450 11-16
14 61 Austin Howell Suzuki RMZ 450 14-14- Look at the NorCal guy going 14-14 on the rough and rutty East Coast track. Somewhere out there, Aaron Hansel is smiling and nodding.
15 7 James Stewart Suzuki RMZ 450 9-35
16 52 Ben LaMay Yamaha YZ 450F 16-15- Lamay gets virtually zero press from anyone but guess what? He's nineteenth in the points. Yeah that's right, nineteenth is nothing to sneeze at.
17 85 Robert Marshall KTM 450 SX-F 20-13- Marshall got up to ninth in the first moto. I don't know what happened after that, but it's a shame he couldn't hold that together.
18 36 Kyle Regal Yamaha YZ 450F 13-21
19 241 Derek Anderson Kawasaki KX 450F 22-17
20 266 Jesse Wentland KTM 450 SX-F 19-19
Thanks for reading OBS. Send me an email if you want to chat at matthes@racerxonline.com