Unadilla MX
New Berlin

,

NY
Unadilla
Lucas Oil AMA Pro Motocross Championship
Star-Valli Rockstar Yamaha rookie Jeremy Martin made highly anticipated debut at Unadilla last Saturday. After shredding the amateur ranks in his final season, Martin—along with riders like Zach Bell and Joey Savatgy, among others— was a favorite for the coveted AMA Horizon Award. But just weeks before the 2012 Red Bull AMA Amateur National Motocross Championship, Martin went down hard in practice, dislocating his shoulder, ending any chance the Minnesota phenom had of winning his first title at the Ranch. The shoulder injury would also delay his pro debut a week, and hindered him the following week at Unadilla. But the well-spoken, likeable rookie was just happy to be there, absorbing as much knowledge as he could so he can continue progressing for his full-time rookie campaign in 2013.  We caught up with Martin earlier this week as he was preparing for Steel City.
Racer X: Let's start with the shoulder injury you suffered right before Loretta's. Can you elaborate on what happened and are you back to 100 percent?
Jeremy Martin: Unfortunately I crashed about a week and a half before Loretta's. I came out of a corner and started swapping a little bit and went over the bars shoulder first into the ground and dislocated it. I was on the couch for three weeks and unfortunately had to miss Loretta's. I rode five days before Unadilla and wasn't 100 percent coming in, but I was so excited to race and I wanted to be out there so bad, that even though I wasn't 100 percent I figured I would learn a lot from racing. We have a two-week break now, and I figured I could learn a lot at Unadilla and apply it at Steel City.
So you weren't 100 percent, but you wanted to race and get some experience before the break.
Exactly. The team was awesome about it as well. They gave me the decision to do what I wanted to do and that was really nice.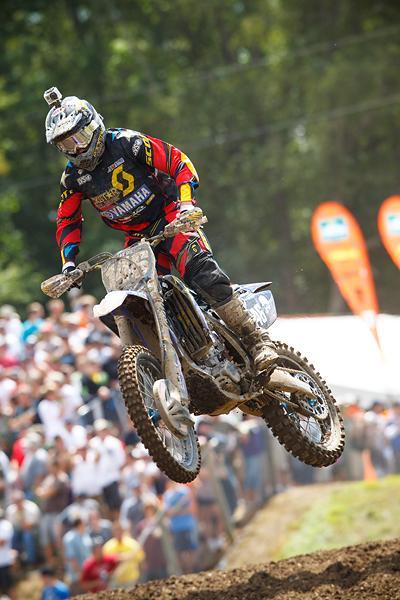 Martin finished 23rd overall in his pro debut at Unadilla.
Simon Cudby photo
You were one of the favorites for the AMA Horizon Award this year, but in the past Loretta's hasn't been so kind to you. Were you disappointed that you weren't able to get back there to redeem yourself and get your first title?
I was a little bummed that I wasn't able to make it back to Loretta's. As you said, I was never able to win a title there, but I felt that if there was ever really a year to win [a title] it was this year. I was really prepared coming in. I was in the best shape that I have ever been in and was going the fastest I have ever gone. I was really looking forward to it, but unfortunately I got hurt and have to move on and look toward the future—which is racing in the professional ranks.
You showed some great speed early at Unadilla, but tailed off towards the end of the first moto. Was the shoulder bothering you or was it the length of the moto?
My shoulder was a little sore, but the biggest thing was I just got tired from not riding for three weeks and then going out there and racing with some of the fastest guys in the world. I think around the 25 minute mark I went down behind [Jason] Anderson and lost my front end and then I was about 10th with three laps to go and me and a lapper collided together and I went down and finished 18th.
Talk about the adjustment from going from the amateur ranks, where motos are typically around 20 minutes, to the pro ranks where you have to grind out 30 minutes plus two each moto?
Yeah, when the gate dropped I got a pretty good start and then my brother [Alex Martin] and I think Ryan Sipes passed me and they were going after it. I was like, 'Whoa.'  The intensity right away is just really strong and then even throughout the whole moto. But throughout the whole moto I was having so much fun, I was smiling the whole time I was riding. It's been a dream of mine to race professionally and to be able to mix it up with those guys and be able to run up front in the first moto was really cool.
Along with Zach Bell, and a few others, you are one of the most highly touted amateurs to come out of the 2012 class. And whether it's fair or not: many people are expecting great things from you early. Does that have an effect on you and do you feel the pressure to produce quality results early?
Honestly, it really doesn't. I have my own goals. Some rookies come in and have a really good pro debut and some have a really bad one—there's really no in between. But I have goals that I have set forth for myself and the goal is to make them come true. Unfortunately I got hurt and that kind of set me back from where I was.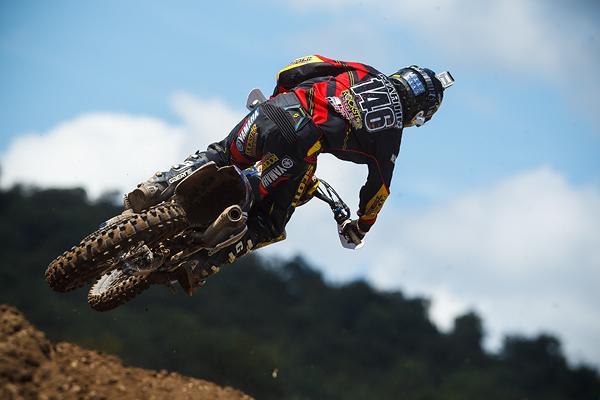 Martin hopes to be closer to 100 percent at Steel City.
Simon Cudby photo
The track was definitely one the toughest of the year. Many riders, including series champion Ryan Dungey even had troubles. What were your thoughts on the track?
Unadilla was awesome. I had a blast riding there. I loved all the different lines on the track, how rough it was, how rutted up it was. It was a very challenging track both mentally and physically, but I loved it. In the amateur ranks the lines are a lot different and the braking bumps develop a lot earlier. But in the professional ranks they [braking bumps] develop a lot later and they are a lot bigger.
You signed with Star-Valli Yamaha last year, your final season as an amateur. How much has that helped you make the adjustment to the professional ranks?
It was really cool when I signed because they brought me into their program and I was able to ride with a few of the guys on the team and that really helped me out. Also, my brother [Eleven10 Mods' Alex Martin] and I train together and he actually put together a fitness program for me. He has taught me a lot of stuff and I have learned really quickly from him. It has just made it that much easier for me when I turned professional last weekend.
Yeah, you finally got to race your brother at Unadilla. I talked to Alex a couple weeks back and he said that you guys have definitely been giving each other a hard time. What was it like to finally realize the dream of lining up with your brother on a professional gate?
It was pretty cool. I was always the one rooting him on from the sidelines and now we are lining up next to each other. Before the first moto I was thinking, 'What are the chances of Alex and I being lined up together in the first moto?' And the next thing you know after the gate dropped he was in seventh and I was in eighth and I was like, 'Really, what are the chances. I'm going to get him.' [Laughs]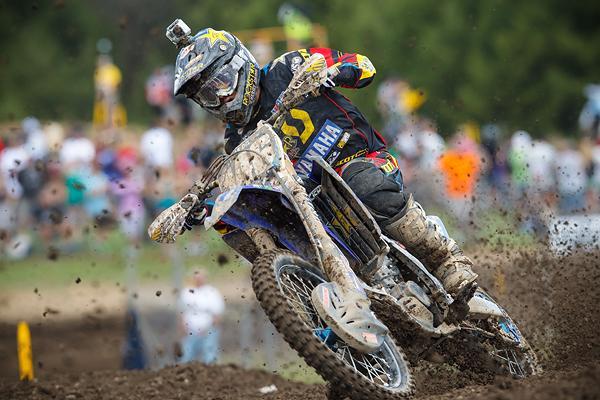 A shoulder injury cost Martin a chance to win his first title at Loretta's just a few weeks ago.
Simon Cudby photo
How much of a sibling rivalry exists between the two of you? 
Actually, there isn't really a big rivalry. For the most part we work together very well with each other. We train on and off the bike together and we both push each other to try and keep moving forward. If Alex has a good race I will be the first one their to congratulate him and I might be bummed that he beat me but I'm going to give it everything I have in the second moto to beat him! [Laughs]
Obviously your main goals are more centered on 2013, but what are you hoping to take away from the last two rounds?
Basically what I would like to take away from the next two races is to learn and get used to riding with those guys and hopefully figure out my program a little more and be prepared for 2013 and go after a championship there. Winning a championship my rookie season would be an awesome thing to accomplish, but the biggest thing is to learn and get use to riding up front with Justin Barcia, Blake Baggett and those guys. It would be really nice to get up there with those guys and learn from them and apply it during this off-season and come out swinging come 2013.