Floride Monster Energy Pro Circuit Kawasaki's Tommy Searle forged one of the highlights of his career by winning his home Grand Prix in the MX2 Class at Matterley Basin Sunday for the thirteenth round of sixteen in the FIM Motocross World Championship. The Brit sent the 35,000 crowd loopy with a 1-1 scorecard over Jeffrey Herlings and continued the country's current love-in with sporting prowess only one week after the close of the London Olympics.
Searle's achievement grabbed headline status from what was a busy and successful event on one of the best circuits in the series thanks to the variety of lines and options. Matterley was also the scene of the inaugural MXGP Festival; a bonanza of top flite European and World motocross with ten categories in action over four days and more than 300 riders lining up in the start gate. Actually, make it eleven classes as Tony Cairoli's fourth consecutive victory in the MX1 Class and another 1-1 spree meant that the Red Bull KTM genius was in a league of his own once more.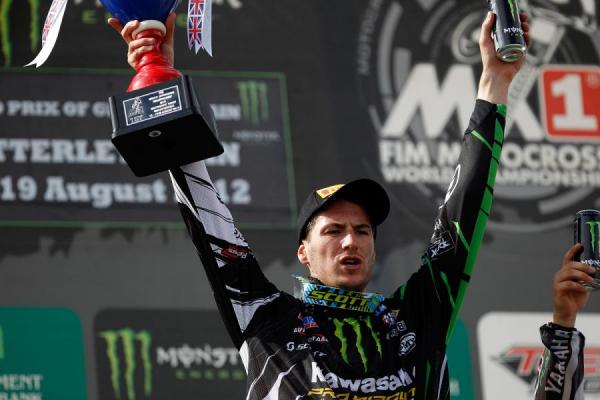 Tommy Searle went 1-1 for the overall.
Ray Archer photo
Matterley heaved under the burden of the extra campers, race bikes and personnel but is perhaps one of the only sites in the Grand Prix calendar that can cope with the size and scale of the project. The MXGP Festival—that Youthstream admitted is a scheme similar in scope and in terms of impact to the Motocross of Nations— is ambitious and was matched with aspiring lengths of work and effort by Youthstream staff, including eight hours of live TV coverage on both Saturday and Sunday to ensure airtime for everyone from amateurs to the one-round Veteran's World Cup. It was a major task behind the scenes but it worked—giving more than enough value for money for the public and ticking plenty of boxes when it came to being a positive movement for the sport.
"We must have more of these types of events," said Cairoli. "It is really nice to have everyone together and for the kids to be racing with us. They can learn from us and it is interesting to watch them. They seem to be made of foam! They just bounce back up and go full gas right until the last second."
The parade lap of all the participants led by former multi 500cc World Champion Dave Thorpe on Sunday morning was a nice touch. "I've never seen anything like that before," said Cairoli while Searle was drinking in the partisan atmosphere:
"On that parade lap with Dave Thorpe you could hear the noise and I thought 'this day is amazing already.'"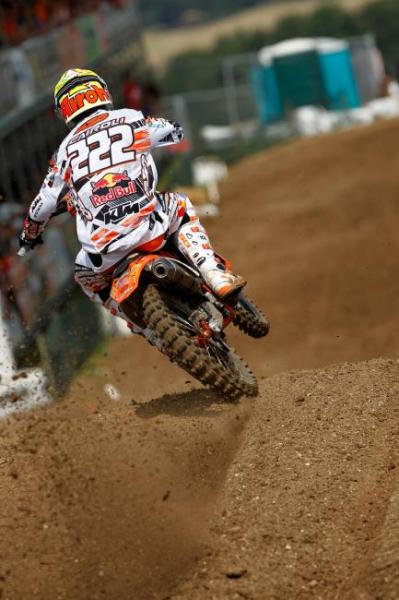 Cairoli took another step closer to his sixth title with a 1-1 performance.
Ray Archer photo
The entertainment factor was provided by yet another (this time clean and controversy-free) episode in the Searle-Herlings duel that has dwarfed the MX2 category throughout 2012. Searle needed to be perfect on this occasion and he was; two holeshots helping his cause immensely. Carrying the weight of expectation with barely a splutter, the Brit sucked in the positive vibes from the crowd on the Matterley banks and didn't put a foot wrong for a total of 38 laps.
Herlings closed to the Kawasaki rear tread in both motos and was able to overtake for the duration of one corner but two falls on the last laps gave Searle the breather to record a triumph at the scene of his first GP podium as a fresh-faced teenager in 2006. "Today has been amazing," he said. "It is always tough to do it at home. There is a lot of pressure.
Everyone is there for you and you can feel it when you are racing. You just don't want to let people down and give them that win. I gave everything to do that today and I was fortunate that all went well."
Herlings was magnanimous in defeat and admitted he was "perhaps over the limit" trying to demote Searle in those final stages. The maligned Dutch teenager was certainly the pantomime villain for the British fans and was diplomatic about the boos and gestures that greeted his presence around the curves. "I expected worse. The fans were actually pretty cool," he said, safe in the knowledge the roles will be reversed for Searle with round fourteen taking place in Holland and a 51 point gap between the pair.
Elsewhere in MX2 Zach Osborne went 3-4 in two lonely rides for his second GP podium trophy on the bounce: "I gelled with the track straightaway. I have only done three GPs and it is hard to come back on these guys when they have already done more than twenty-five motos. I'm happy with the result I had this weekend and I'm continuing to build my fitness and come back to a good level."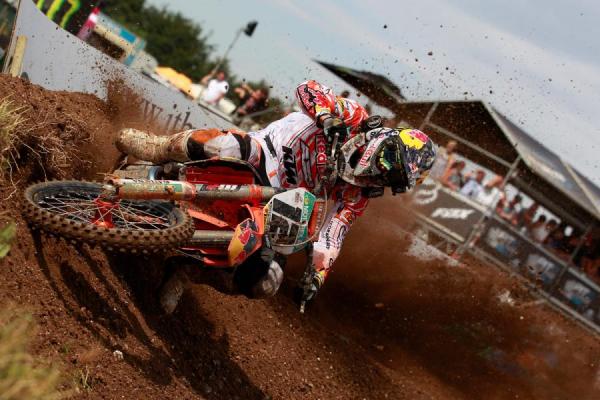 Max Nagl was impressive with his second place overall.
Ray Archer photo
Fellow countryman Michael Leib was back on GP duty but the effects of his bout of Epstein-Barr virus were clearly still evident as he failed to make the finish line. "I underestimated myself coming back to the GPs early. The plan was to get through the weekend and finish both motos and that wasn't the case and it was a bit more than I expected. I need to crack down and follow my original goal of being able to do well in Italy and Germany."
Many thoughts were with Searle's teammate Joel Roelants who fell, stood up and was wiped out by another rider in a horrific accident in practice on Saturday. The Belgian suffered a dislocated hip and will need a two-month period of convalescence.
Still in the 250s, Kiara Fontanesi became Italy's first female world champion with one round remaining in the FIM Women's World Championship. The Yamaha rider hasn't dropped out of the top three in fourteen motos and secured enough points to start the party in the UK. U.S. fans will get the chance to see the eighteen year old from Parma in action as she's slated for a slot at Lake Elsinore for the last Lucas Oil Pro National.
In MX1 Cairoli had a relatively easy ride after problems for his two strongest challengers. Rockstar Suzuki's Clement Desalle was coping with another family bereavement, and a crash when he ran off the track on Saturday (while looking fast and threatening) left the Belgian with a sore but unbroken right hand. Desalle was a shadow of his usual self on Sunday as he went through the pain barrier to collect sixth and help edge Cairoli closer to a sixth world title and four in a row in MX1 with a 55 point deficit and just 150 left to win. CP377 Monster Energy Pro Circuit Kawasaki's Christophe Pourcel was another faller on Saturday. The Frenchman, who was so electric at Matterley this time last year, went down in the same section where he made a mistake in 2011 and was stiff and out of sorts for the motos, eventually finishing outside of the top ten.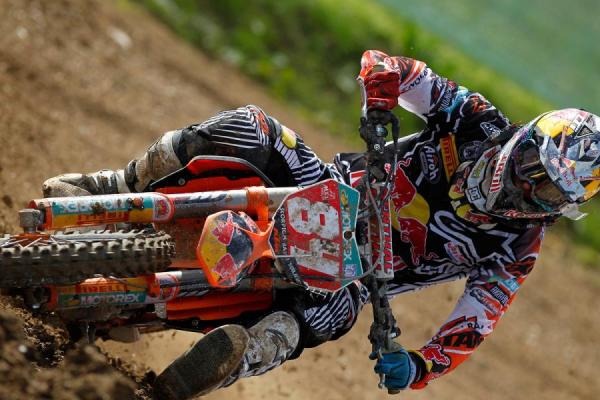 Herlings would take second overall behind Searle.
Ray Archer photo
On the podium was the irrepressible Max Nagl, and Kawasaki Racing Team's Gautier Paulin, who wandered out of a results wilderness to pick up his first trophy since the GP of Portugal in June. Nagl surely hastened the process of the factory Honda and Suzuki teams preparing their paperwork for a formal 2013 contract offer with another fast and effective performance and a top three result in only his second GP of '12. Xavier Boog was eye-catching on the other works Kawasaki and is one of a gaggle of riders waiting for the announcements of Searle (expected at Kawasaki for a first MX1 campaign) and Nagl's (tipped for Honda due to his firm allegiance with Red Bull) plans for next season so the second tier of saddles can be confirmed. A mention for Honda World Motocross team's Evgeny Bobryshev whose fourth position in the second moto was his best result of an injury-and-confidence-wrecked season after he'd crashed and lost the seat from the CRF450R in the first race.
A busy September awaits with the final Grands Prix in Holland, Italy and Germany (with increasing rumors that Blake Baggett and Ryan Dungey might well appear) in the run-up to the Motocross of Nations at Lommel in Belgium.
MX1 Moto1
1. Antonio Cairoli (ITA, KTM), 40:25.134;
2. Maximilian Nagl (GER, KTM), +0:15.529;
3. Ken de Dycker (BEL, KTM), +0:25.647;
4. Gautier Paulin (FRA, Kawasaki), +0:31.712;
5. Xavier Boog (FRA, Kawasaki), +0:35.562;
6. Clement Desalle (BEL, Suzuki), +0:40.016;
7. Kevin Strijbos (BEL, KTM), +0:40.614;
8. Jonathan Barragan (ESP, Honda), +0:44.173;
9. Christophe Pourcel (FRA, Kawasaki), +0:46.476;
10. Nicolas Aubin (FRA, Honda), +0:47.368;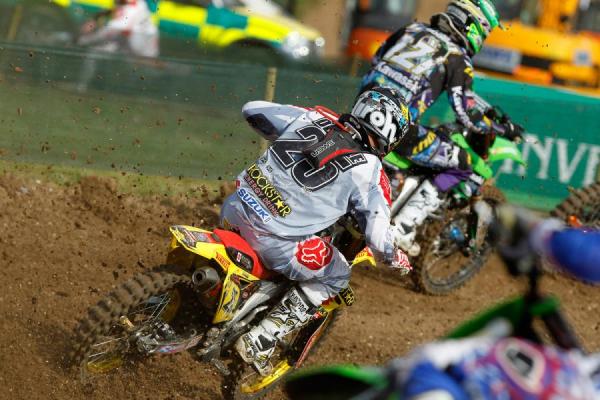 Desalle struggled with a hand injury in Great Britain.
Ray Archer photo
MX1 Moto2
1. Antonio Cairoli (ITA, KTM), 41:00.780;
2. Maximilian Nagl (GER, KTM), +0:10.508;
3. Gautier Paulin (FRA, Kawasaki), +0:24.624;
4. Evgeny Bobryshev (RUS, Honda), +0:32.799;
5. Ken de Dycker (BEL, KTM), +0:37.732;
6. Rui Goncalves (POR, Honda), +0:40.465;
7. Xavier Boog (FRA, Kawasaki), +0:41.367;
8. Tanel Leok (EST, Suzuki), +0:42.135;
9. Davide Guarneri (ITA, KTM), +0:50.894;
10. Shaun Simpson (GBR, Yamaha), +0:51.464;
MX1 Overall
1. Antonio Cairoli (ITA, KTM), 50 points;
2. Maximilian Nagl (GER, KTM), 44 p.;
3. Gautier Paulin (FRA, Kawasaki), 38 p.;
4. Ken de Dycker (BEL, KTM), 36 p.;
5. Xavier Boog (FRA, Kawasaki), 30 p.;
6. Clement Desalle (BEL, Suzuki), 25 p.;
7. Tanel Leok (EST, Suzuki), 23 p.;
8. Kevin Strijbos (BEL, KTM), 23 p.;
9. Rui Goncalves (POR, Honda), 22 p.;
10. Davide Guarneri (ITA, KTM), 21 p.;
MX1 World Championship standings after 13 of 16 rounds
1. Antonio Cairoli (ITA, KTM), 542 points;
2. Clement Desalle (BEL, Suzuki), 487 p.;
3. Christophe Pourcel (FRA, Kawasaki), 452 p.;
4. Gautier Paulin (FRA, Kawasaki), 440 p.;
5. Ken de Dycker (BEL, KTM), 404 p.;
6. Kevin Strijbos (BEL, KTM), 342 p.;
7. Xavier Boog (FRA, Kawasaki), 336 p.;
8. Tanel Leok (EST, Suzuki), 300 p.;
9. Rui Goncalves (POR, Honda), 295 p.;
10. Shaun Simpson (GBR, Yamaha), 242 p.;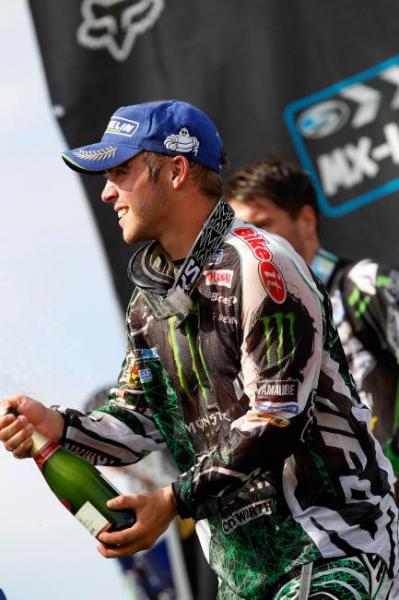 Osborne celebrates his third place overall finish.
Ray Archer photo
MX2 Moto1
1. Tommy Searle (GBR, Kawasaki), 40:01.109;
2. Jeffrey Herlings (NED, KTM), +0:19.662;
3. Zachary Osborne (USA, Yamaha), +0:58.635;
4. Jake Nicholls (GBR, KTM), +1:03.394;
5. Jeremy van Horebeek (BEL, KTM), +1:04.164;
6. Arnaud Tonus (SUI, Yamaha), +1:12.725;
7. Dylan Ferrandis (FRA, Kawasaki), +1:13.663;
8. Valentin Teillet (FRA, Kawasaki), +1:21.581;
9. Jordi Tixier (FRA, KTM), +1:23.778;
10. Romain Febvre (FRA, KTM), +1:30.775;
MX2 Moto2
1. Tommy Searle (GBR, Kawasaki), 40:56.885;
2. Jeffrey Herlings (NED, KTM), +0:18.401;
3. Jeremy van Horebeek (BEL, KTM), +0:32.793;
4. Zachary Osborne (USA, Yamaha), +0:41.410;
5. Jake Nicholls (GBR, KTM), +0:45.486;
6. Arnaud Tonus (SUI, Yamaha), +0:47.190;
7. Dylan Ferrandis (FRA, Kawasaki), +1:15.940;
8. Valentin Teillet (FRA, Kawasaki), +1:26.441;
9. Glenn Coldenhoff (NED, KTM), +1:40.749;
10. Max Anstie (GBR, Honda), +1:48.081;
MX2 Overall
1. Tommy Searle (GBR, Kawasaki), 50 points;
2. Jeffrey Herlings (NED, KTM), 44 p.;
3. Zachary Osborne (USA, Yamaha), 38 p.;
4. Jeremy van Horebeek (BEL, KTM), 36 p.;
5. Jake Nicholls (GBR, KTM), 34 p.;
6. Arnaud Tonus (SUI, Yamaha), 30 p.;
7. Dylan Ferrandis (FRA, Kawasaki), 28 p.;
8. Valentin Teillet (FRA, Kawasaki), 26 p.;
9. Jordi Tixier (FRA, KTM), 21 p.;
10. Glenn Coldenhoff (NED, KTM), 18 p.;
MX2 World Championship standings after 13 of 16 rounds
1. Jeffrey Herlings (NED, KTM), 572 points;
2. Tommy Searle (GBR, Kawasaki), 521 p.;
3. Jeremy van Horebeek (BEL, KTM), 475 p.;
4. Joel Roelants (BEL, Kawasaki), 367 p.;
5. Jake Nicholls (GBR, KTM), 359 p.;
6. Jordi Tixier (FRA, KTM), 340 p.;
7. Max Anstie (GBR, Honda), 274 p.;
8. Dylan Ferrandis (FRA, Kawasaki), 261 p.;
9. Jose Butron (ESP, KTM), 257 p.;
10. Alessandro Lupino (ITA, Husqvarna), 221 p.;
Women's World Championship standings after 7 of 8 rounds
1. Chiara Fontanesi (ITA, Yamaha), 336 points;
2. Natalie Kane (GBR, KTM), 264 p.;
3. Britt van der Wekken (NED, Honda), 232 p.;
4. Justine Charroux (FRA, Yamaha), 202 p.;
5. Anne Borchers (GER, Suzuki), 196 p.;
6. Francesca Nocera (ITA, KTM), 186 p.;
7. Marianne Veenstra (NED, KTM), 169 p.;
8. Virginie Germond (SUI, Suzuki), 153 p.;
9. Livia Lancelot (FRA, Kawasaki), 139 p.;
10. Joanna Miller (POL, KTM), 119 p.;