Unadilla MX
New Berlin

,

NY
Unadilla
Lucas Oil AMA Pro Motocross Championship
When Roger DeCoster took over the KTM's U.S. racing program in 2010 he began piecing together a championship effort. After assembling a first-rate staff, he imported two-time MX2 World Champion Marvin Musquin to lead the 250 squad for 2011, and followed that up by bringing reigning MX2 World Champion Ken Roczen to the American 250 arsenal. But the biggest piece to the puzzle was the signing of a familiar face; Ryan Dungey. DeCoster handpicked Dungey from the amateur ranks and breed him into a champion under the Suzuki tent. The two won multiple titles together before DeCoster left to help resurrect a KTM squad that was on its last legs.
Two years later, DeCoster and KTM saw the fruits of their labor. At round ten of the Lucas Oil Pro Motocross Championship, the Red Bull National at the legendary Unadilla Valley Sports Center in New York, Dungey captivated the crowd as he rode to his eighth straight the overall win. With help from a Mike Alessi DNF in the first moto, Dungey scored enough points to also wrap KTM's first-ever 450 outdoor title.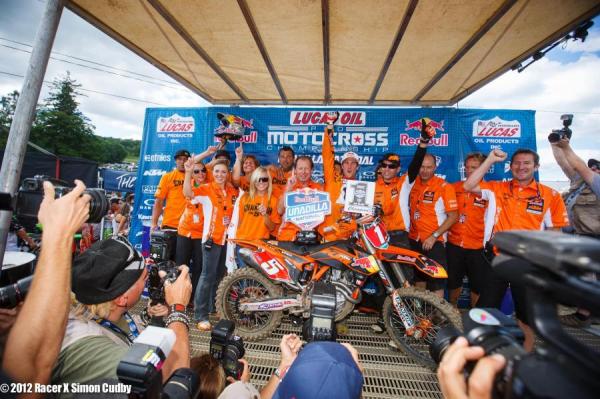 It was an historic day for KTM.
Simon Cudby photo
"Amazing. It's cool to get this championship and to see first-hand what it took to make this moment come about was pretty special," said a grinning Ryan Dungey during the post-race press conference.
If it had ended there it would have been a historic day for KTM. But there was plenty more to come for the orange brigade.
In his first full year in Lucas Oil Pro Motocross, Roczen has struggled to hold onto the lead late in races. Just as recently as last weekend at Southwick, Roczen was tracked down by Blake Baggett late in the moto. But at Unadilla, a track known for its European feel, Roczen finally broke through. He took control of the first moto early and would never relinquish the lead en route to his first career 250 moto win in the States.
If it had ended there it would have been a historic day for KTM. But, again, there was plenty more to come for the orange brigade.
After an injury riddled 2011 season, his first in America, Musquin has been on the cusp of landing on the motocross podium numerous times throughout 2012. But it seemed no matter what spots he took in the motos,  2-5, 4-4, etc. Musquin always found himself on the outside looking in. Musquin set himself up nicely for a spot on the podium with his second in the first moto, but his shot at the overall looked slim after starting in fourth in the second moto. But the second moto ended up being dominated GEICO Honda's Eli Tomac and Justin Barcia, who struggled in the first moto.  With Baggett and Roczen having troubles in the second moto, Musquin's 2-3 moto scores would prove good enough to earn the Frenchman his first career overall. A fitting ending to a historic day, which turned monumental, for KTM.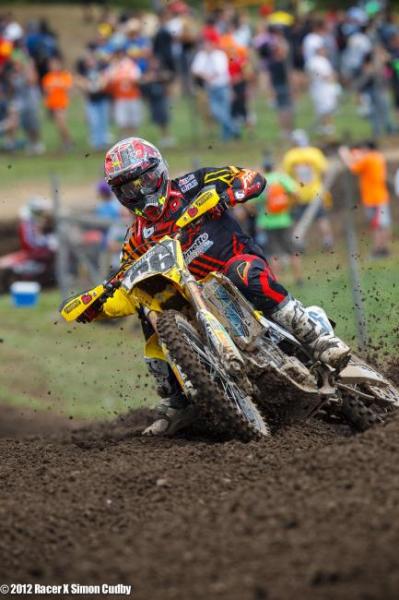 After leading the first moto of the day, Byrne would suffer a broken leg after a bad crash.
Simon Cudby photo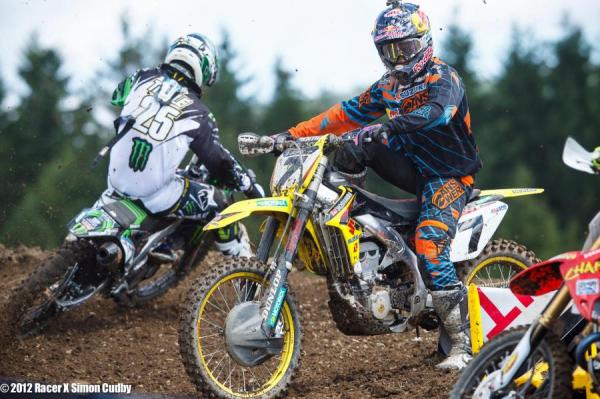 James Stewart also had his problems in the first moto while leading.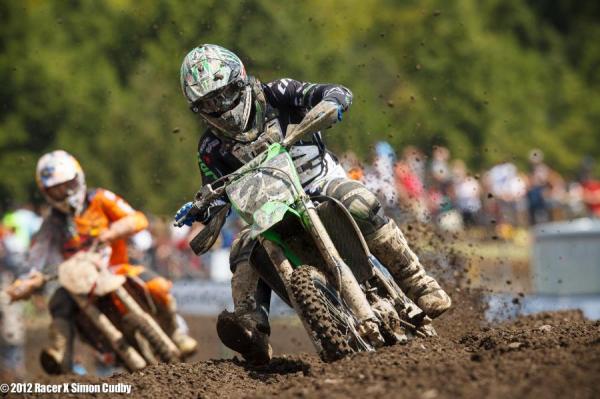 Tickle almost won his first career 450 moto, but would have to settle for second.
"Today, it went perfect," said Musquin in the post-race press conference. "I wanted it so bad. The track was great for me, very technical. But in moto two, I started thinking too much about the overall. I lost something like ten seconds in the last two laps. I wasn't even sure I had it until my wife gave me the number one. I am so happy!"
After a heavy rain berated New Berlin, NY on Friday, Unadilla challenged the field in the first 450 moto. BTOSports.com/Butler Brothers Suzuki Michael Byrne was able to grab the early lead over Monster Energy Kawasaki's Jake Weimer and Yoshimura Suzuki's James Stewart—who had missed the previous three rounds due to a hand/wrist injury. It wouldn't take long for Stewart to regain his feel for the bike as he quickly took command of the race. But trouble loomed ahead. Meanwhile, points leader Ryan Dungey was buried after going down early in the moto.
Stewart was on fire early, setting a blistering pace up front. But in a blink of an eye it was over. He crashed hard in the early stages, and then struggled to get his bike started. Although he would charge back to finish ninth, after another crash, it was not what Stewart was looking for in his return.
With Stewart relinquishing the lead, suddenly Jake Weimer was in a perfect spot to collect his first 450 moto win. Then Unadilla struck again. Weimer went down hard shortly after taking the lead and was transported to the Asterisk Medical Unit—word is he suffered whiplash but it otherwise okay. The crash reopened the door for Byrne, who had a solid lead and look set for the first ever moto win for his BTOSports.com BBMX team. But Unadilla would strike again. Byrne got loose and jammed his foot through the rollers, ending his day prematurely with a broken leg.
Monster Energy Pro Circuit's Broc Tickle was there to take advantage and was in prime position for the moto win. But as we have become all to accustomed too, Dungey kicked it into another gear down the stretch en route to the moto one win. With his win, and a mechanical DNF from Mike Alessi (who had a rock puncture his radiator) Dungey was just one moto away from his second career 450 outdoor title.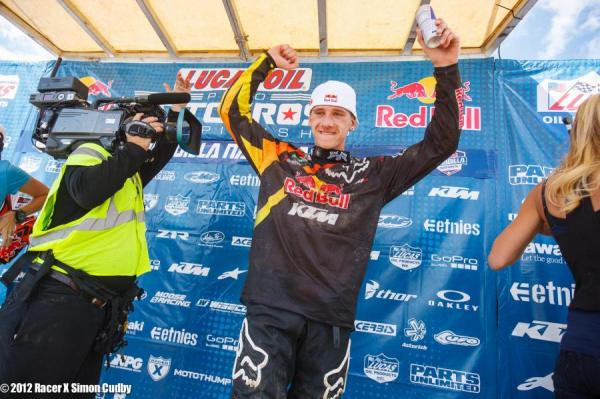 Ken Roczen won his first career moto in the U.S. at Unadilla.
Simon Cudby photo
The second moto was a more typical Ryan Dungey moto. Andrew Short grabbed the holeshot, but folded under a barrage of pressure from Dungey, Alessi and Stewart. Alessi would keep Dungey honest, like he has done all year, up front but he was coming under pressure from Stewart. Then, as we have seen far too often with Stewart, a big crash would end his day. There is no word on Stewart's condition at the moment, but he did need to be helped off the track and was unable to finish the moto.
Alessi would make a last ditch effort to chase down Dungey on the last lap, but his efforts proved futile as Dungey was, once again, too strong down the stretch. Alessi would hold on for second with Short rounding out the podium.
In the first 250 moto GEICO Honda rookie Zach Bell, for the second consecutive week, shot out of the gate to grab the holeshot over points leader Blake Baggett and Ken Roczen. But Bell once again was unable to hold the lead, throwing it away again with an early crash. Bell would bounce back to finish eighth in the first moto.
From there it was a European showcase as the Red Bull KTM duo of Ken Roczen and Marvin Musquin pulled away. Roczen used a blistering early pace to distance himself from Musquin and Baggett, and with Barcia and Tomac both picking their way through the pack after early crashes, Roczen was never challenged late in the moto en route to his first career moto win in the U.S.
The second 250 moto saw the GEICO Honda arsenal in full form. Barcia took the early lead over teammate Bell, with Justin Bogle and Tomac up front early as well. Roczen, who says he started feeling flu-like symptoms between motos, was struggling with the pace and finished a disappointing sixth.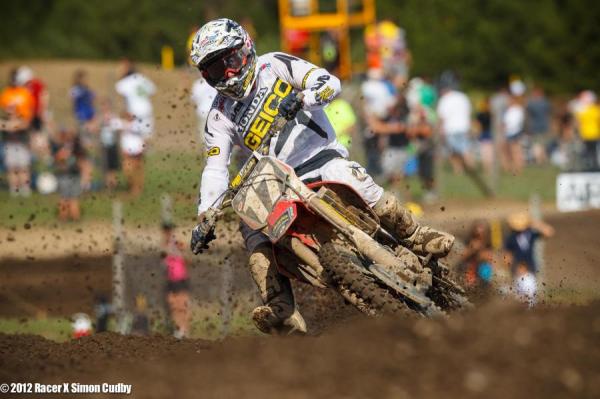 Eli Tomac won the second moto but it was...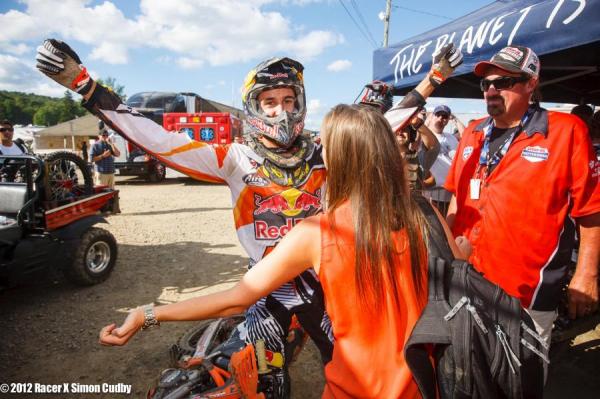 ...Marvin Musquin that captured his first career overall.
Up front, Tomac was on fire, cutting down Barcia's lead with every passing lap. After putting the finishing touches on his teammate, Tomac cruised to the moto win. Although Musquin was only able to muster a third place finish, it proved good enough to capture his first career overall.
Unadilla has always been kind to the European style. But on a cool summer day in late August, it proved all too kind for a pair of European teammates, a European manufacture, a European team and one American champion.
450 Overall
Ryan Dungey 1-1
Broc Tickle 2-4
Andrew Short 4-3
Davi Millsaps 3-5
Josh Grant 5-6
Nico Izzi 6-8
Tyla Rattray 8-9
Phil Nicoletti 7-11
Kyle Chisholm 12-7
Mike Alessi 39-2
Robby Kiniry 10-12
Justin Brayton 15-10
Vince Friese 11-16
Austin Howell 14-14
James Stewart 9-35
Ben LaMay 16-15
Robby Marshall 20-13
Kyle Regal 13-21
Derek Anderson 22-17
Jesse Wentland 19-19
John Dowd 17-26
Jake Weimer 40-18
Fredrik Noren 18-32
Evgeny Mikhaylov 21-20
Dakota Kessler 23-22
Ronnie Stewart 24-23
Jason Thomas 26-24
Cole Martinez 30-25
Michael Stryker 29-27
Mike Sottile 28-28
Dalton Carlson 25-33
Ryan Blizzard 33-29
Todd Krieg 31-31
Michael Picone 34-30
Jake Loberg 27-37
Kyle Sidle 32-34
Christian Craig 37-36
Kevin Rookstool 36-38
Michael Byrne 35-39
Les Smith 39-40
450 Point Standings
Ryan Dungey 480
Mike Alessi 367
Andrew Short 311
Jake Weimer 293
Broc Tickle 293
Josh Grant 226
Justin Brayton 202
Kyle Chisholm 182
James Stewart 163
Davi Millsaps 150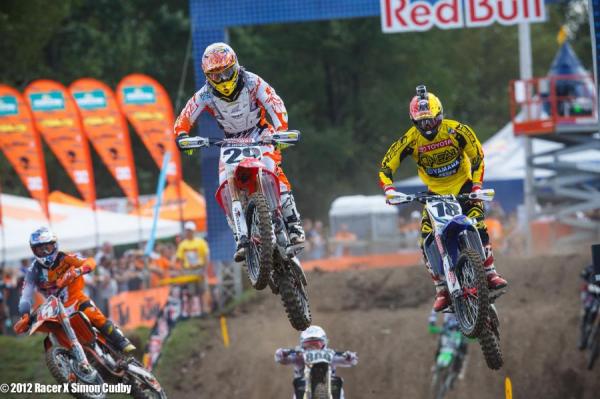 Andrew Short would finish third overall.
Simon Cudby photo
250 Overall
Marvin Musquin 2-3
Eli Tomac 6-1
Ken Roczen 1-6
Justin Barcia 7-2
Blake Baggett 3-5
Justin Bogle 11-4
Wil Hahn 9-8
Jason Anderson 5-12
Martin Davalos 13-7
Jessy Nelson 14-9
Blake Wharton 4-33
Jake Canada 12-13
Malcolm Stewart 10-18
Zach Bell 8-31
Travis Baker 16-14
Cole Thompson 15-15
Ryan Sipes 38-10
Alex Martin 37-11
Dakota Tedder 23-16
Jacob Hayes 39-17
Ryan Zimmer 17-21
Mike McDade 19-20
Jeremy Martin 18-27
Vann Martin 25-19
Broc Schmelyun 20-36
Chris Canning 27-33
Justin Starling 30-22
Ignacio Pazos 28-25
Mitchell Dougherty 29-26
Tony Lorusso 24-32
Zack Freeberg 22-37
AJ Catanzaro 36-24
Steve Roman 32-28
Tevin Tapia 26-34
Jackson Richardson 21-39
Daniel Herrlein 34-29
Matthew Babbitt 35-30
Kyle Bitterman 31-35
Kyle Peters 33-38
Shawn Rife 40-40
250 Point Standings
Blake Baggett 436
Justin Barcia 412
Eli Tomac 408
Ken Roczen 385
Marvin Musquin 336
Wil Hahn 255
Blake Wharton 215
Jason Anderson 206
Jessy Nelson 189
Travis Baker 168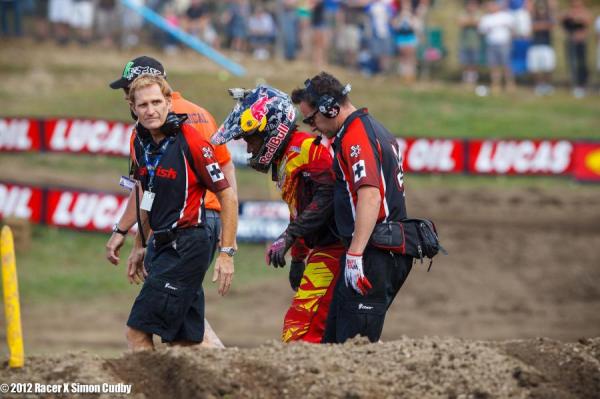 No word on Stewart after a big crash in the second moto.
Simon Cudby photo