Let's jump back in time to 1997 and focus on the Unadilla Valley Sports Center motocross track which (not) coincidently is also the location of round ten of the 2012 Lucas Oil Pro Motocross Championships. That's this very weekend!
The Unadilla track harkens back to a time when motocross tracks were more natural. The Unadilla circuit combines roughness with some hills and line selection and technique is key. In 1997, a kid from Florida named Ricky Carmichael took the 125 nationals by storm. He started at Gainesville, which was written off as a fluke--hey, RC had home track knowledge there. Or not. By the time the series hit Unadilla, everyone knew that we were seeing something special.
On this day in '97 though it was the second place rider in the 125 series, Yamaha's Kevin Windham who would shine through. Windham was in his third year on the Yamaha YZ125 and this year, he was wearing number 7. He'd been consistently second place all season, trying to find a way to stop the Carmichael express. He also battled defending champion Steve Lamson at times. But on this day, Windham wasn't to be stopped by anyone.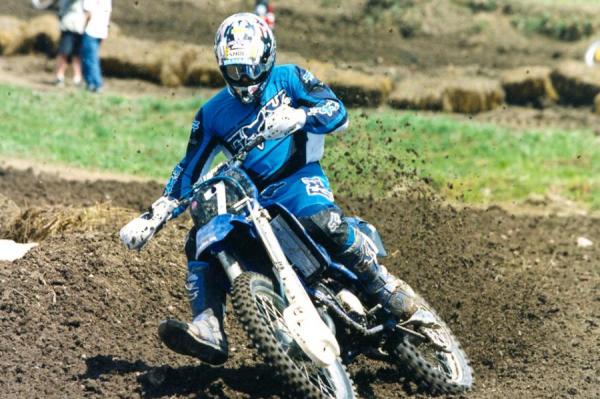 15 years later, we still say that when Windham is on, he's hard to stop. And it was very much the case at Unadilla back then.
Photo by Thom Veety
In the first moto, Windham grabbed the holeshot and led every lap on his way to the win. Using some great lines and flowing around the track, Windham was a force in the first moto. RC didn't get the start he wanted, got into second and tried valiantly to try and catch Windham. In the process he went down and tweaked an ankle but salvaged second, only losing three points in the process.
In the second moto, KW followed Lamson around the first turn, grabbed the lead about halfway through the first lap and in a carbon copy ride to the first moto, he said "See ya'" and won again. Windham led every lap in both motos and collected his second and third moto wins of the year--it was a great performance on his Alley Semar-tuned YZ 125. Carmichael was right there off the start but he didn't have anything for Kevin. He made it into second and went down on an off-camber, dropping back to fourth at one point before crashing even further back. It wasn't a good day for the series points leader.
Carmichael would go on to win the championship, but Unadilla proved just another example of when Windham's on, he's on, and there's nothing anyone can do. Windham has collected three wins and six podiums at Unadilla, but his best day of all there may have come in 1997, where he was simply untouchable.