New Berlin, NY
Unadilla
AMA Pro Motocross Championship
This season we've been using The Vault to take a look back at some of the history from the upcoming weekend's featured round of the 2012 Lucas Oil Pro Motocross Championship, sanctioned by AMA Pro Racing. There isn't a better resource for diving into the history of our sport either; The Vault contains results from every single pro AMA supercross and motocross race in history. If you're stat fanatic, you'll be in heaven when you see the rich resource of information at The Vault that can be sorted by year, rider, venue or motorcycle brand. If you are Barry Carsten's biggest fan, you'll love being able to look at results from every single race he ever entered. If you're into fantasy motocross, The Vault can provide you with just about every piece of statistical information you can imagine from every racetrack on the circuit. No matter what aspect of the sport you're into, The Vault has something for you, so head on over there and take a look.
This week we're using The Vault to delve into the history of Unadilla, the ninth round of Lucas Oil Motocross. Out of all of the tracks featured in Lucas Oil Motocross, Unadilla is probably the closest we have to a European track. As a result, its rough, hilly, rocky, wide open natural terrain often produces good results from  racers who have made the jump from the GP Circuit. So, whether you're from America, New Zealand, Russia, South Africa, Australia, France, Brazil, Italy, Spain, Belgium, Japan or even Zimbabwe, tighten your helmet strap, slip on your gloves and get ready to roost into Unadilla's history!
The first National held at Unadilla took place in 1972, and it was won by Gary Jones on a Yamaha.

Stefan Everts raced his first, and only, National at Unadilla in 1997.
Jim Sanderson photo
Yamaha has not won an overall in the premier class at Unadilla since Pierre Karsmakers topped the podium for them in 1973.
Steve Stackable took the first of his two career National victories at Unadilla. The win took place in the 500 Class in 1976.
The tour stopped going to Unadilla after 1977, but in 1989, the rocky course was brought back into the fold. Damon Bradshaw topped the 125 field that day, with Jean-Michel Bayle of France taking top honors in the 500 Class.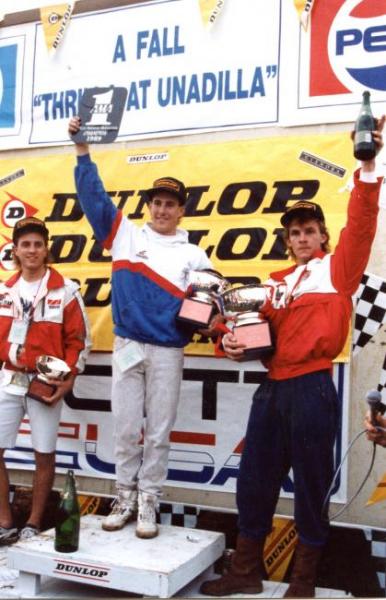 Mike LaRocco, Mike Kiedrowski and Damon Bradshaw graced the 125 podium in 1989.
Thom Vetty photo
British rider James Dobb secured the only National win of his career by besting Jeremy McGrath and Jeff Emig in 1993 in the 125 Class at Unadilla.
While Stefan Everts has raced in several USGPs, the one and only National he ever raced was Unadilla in 1997. He took third in the first moto, but finished fifth in the second after coming together with John Dowd and crashing in steep downhill section. He ended the day in fourth overall.
Although it isn't the last National that Travis Pastrana raced, Unadilla can, in a way, be considered the beginning of the end of the 2000 125 National champion's career. In 2001, Pastrana destroyed the competition in the first moto and was pulling a repeat performance in the second. Then, Pastrana went down hard on the last lap and knocked himself out. Never again would Pastrana win another AMA motocross or supercross race.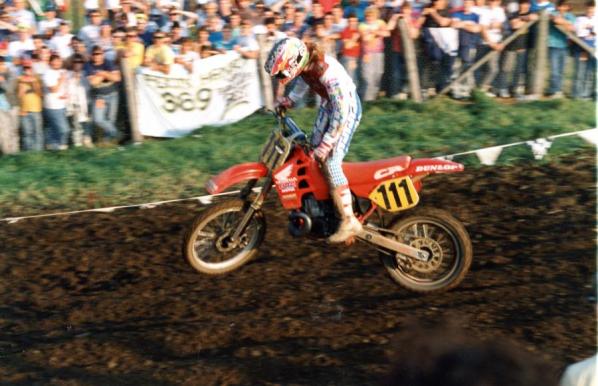 Jean-Michel Bayle won the 250 Class at Unadilla in 1989.
Thom Vetty photo
Any current fan of motocross is aware of the heated rivalry that has played out between Chad Reed and James Stewart over the past decade, but not everyone knows that it was born at Unadilla in 2002. Stewart had won the overwhelming majority of the races so far, but Reed felt that the only reason he wasn't beating Stewart was because he was having a hard time getting good starts, a belief that Reed was vocal about in the press. Eager to refute Reed's words, Stewart slowed down while leading at Unadilla, allowing Reed to catch and pass him. Stewart then proceeded to pass Reed back, opened a gap and went 1-1 for the overall.
In 2005, another famous incident took place at Unadilla between Stewart and another one of his rivals, Ricky Carmichael. Stewart was attempting to fight back after Ricky Carmichael had taken the lead from him in the first moto, but what can only be described as poor judgment on Stewart's part prompted Stewart to attempt a pass that ended with him landing on Carmichael's back, causing both riders to go down hard. Stewart was knocked cold, but an angry Carmichael picked Stewart's bike off of his own, remounted and went 2-1 for the overall victory.
In 2010 GP rider Clement Desalle came to the United States to try his hand in the American series for one race at Unadilla. In a stunning display of skill and an amazing ability to instantly adapt to the American system of racing, Desalle went 2-2 on the day for second overall. Along the way he bested James Stewart in the first moto, who was also competing in his first National that year, and led four laps in the second before succumbing to the attacks of an unstoppable Ryan Dungey.
Head on over to The Vault and share your own interesting bits of Unadilla history in the comments section below.