Lommel
Lommel

,

Belgium
MX of Nations
Motocross of Nations
Saturday was a very interesting day in American motocross. The results in the 450 Class were consistent with what we've seen all summer long, or at least since June: Red Bull KTM's Ryan Dungey won again—his seventh win in a row—and Mike Alessi finished second overall. The rain threatened but mostly held off, and the crowd was huge at Southwick Moto-X 338.
So what made it interesting? For starters, a highly entertaining second moto saw Dungey drop his bike while out front, have his gas cap pop off and spill enough fuel to alarm his team, and make a pit stop in order to finish the race—which he lost to a very capable Tyla Rattray. We also saw another page turn in the saga of Mike Alessi and family.
Mike is the fastest privateer on the planet right now. Sure, he has a big rig and great support from Mike Genova and MotoConcepts, but he's not getting any help from Suzuki, even though it's the bike he chooses to race and the team's factory riders—James Stewart and Brett Metcalfe—are both out with injuries. He remains the best starter I have ever seen, and he still works very hard at being a strong finisher. He's a solid (albeit distant) second in the points, and he's saying and doing all the right things right now. In fact, he's the only man who's finished every round of 2012 so far, counting both Monster Energy Supercross and Lucas Oil Pro Motocross.
But when time came for Roger DeCoster to name his three riders for the 2012 Motocross of Nations in Belgium next month, he passed over Alessi, a rider he worked with at both Suzuki and KTM. DeCoster elected instead to move up 250 Class rider Justin Barcia to the MX3 (Open) class for Team USA. Why did The Man choose to pass over a veteran rider who is having a consistent, solid season and peg the younger Barcia instead?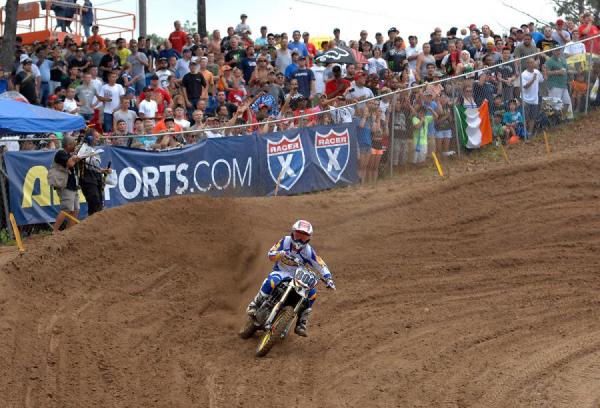 Mike Alessi, although second in the 450 Class points, was not choosen for the MXoN team.
Carl Stone photo
It has to do with team chemistry and gut instinct. DeCoster has worked with and against the Alessis—Mike and his father, Tony, should be considered a single entity, as they have worked closely together ever since #800 was on peewees—for enough years to know what they are capable of, both on and off the track. While Mike has been a stellar professional this summer, making the best of his situation, there's been a lot of water under the bridge. With DeCoster planning to have the entire team in Belgium for two full weeks before the race in order to train in the sand, team unity is a huge ingredient to his winning formula. It's a gamble to take a kid like Barcia, but it's also a sand race, and Justin has shown some real speed in the silica (though his results did not show it yesterday). Barcia will also have the full support of Team Honda, which is where Justin will begin working the day after Lake Elsinore—and that's key in a race where bikes and parts and different fuel and sound restrictions all might come into play.
Alessi definitely got the short end of the stick here, but he also got the short end of the stick when he didn't get picked up by any factory teams for 2012. He's earned a chance to be considered for Team USA, and he certainly was (and so was James Stewart, for the record). I know he badly wanted to go, and I'm sure he would have done well for Team USA.
However, it's ultimately Roger DeCoster's job to pick the team he feels has the best chance to win the Motocross of Nations. He's got the knowledge and the instinct to make difficult decisions—like getting Suzuki to sign an injured Ricky Carmichael in 2004, then risking his own career to go from Suzuki to KTM two years ago—which this decision for Team USA certainly was.
How it all turns out remains to be seen, but I say we have faith in The Man.