The Wick 338
Southwick

,

MA
Southwick
Lucas Oil AMA Pro Motocross Championship
Interviews by Steve Matthes and Jason Weigandt, with special (transcription) thanks to Haley Whisennand
Mike Alessi, MotoConcepts, 2-3 for second overall in 450 Class

Racer X: How did it go?
It was a good day, second overall. That's about it.

That was a crazy second moto. Did you know Dungey had gone down?
Yeah….pretty much handed to me on a silver platter. I couldn't execute. Just unfortunate. No excuses.

You said you made a few bike changes for moto two. Did that make a difference?
They were better in some sections, but worse, far worse, in others. The track was pretty much brutal.

How did the track compare to other years at Southwick?
I think it was definitely the roughest Southwick I've ever ridden, and one of the roughest tracks I've ever ridden in my life. It was pretty bumpy out there!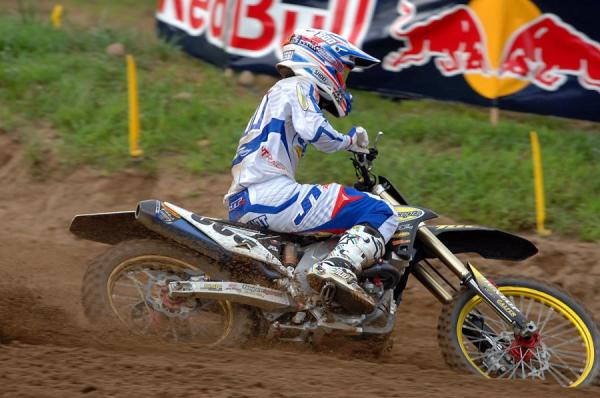 "Yeah….pretty much handed to me on a silver platter. I couldn't execute. Just unfortunate. No excuses." - Mike Alessi
Carl Stone photo
Broc Tickle, Monster Energy Pro Circuit Kawasaki, 6-4 for third overall in 450 Class
It was a good day, I'm happy to have been solid. But I'm going to go home and do even more, I feel like I could have been even better--I don't think you can ever really be perfect. It's all about leaving each race feeling positive and keeping a good attitude, and that's what is going to get me up here.
Eli Tomac, GEICO Honda, 1-3 for second overall in 250 Class

Racer X: Great first moto, great second moto charge.
Eli Tomac: First moto was good. I got a decent start and made my way to the front and just rode a sand track like I should. Second moto there, had to fight through a few guys and went to make a pass for second and got a little wild, hit the tree and the tree won. That's pretty much all I can say about that moto. I came out second, which wasn't bad. It was better than my previous years here, so overall a decent day.

At one point during the moto, you were 18 seconds down and then you started chipping off like four seconds a lap. You've got to be happy with the way you rode today. Obviously you're riding at the top of your game.
Yeah, I definitely rode the sand like I do back home, so I really like it. We went down to some dunes before here, so I think that got me comfy with the sand on the bike. It was a fun day.


Ken Roczen, Red Bull KTM, 4-2 for third overall in 250 Class

Racer X: Alright, let's talk about it.
Ken Roczen: You know what? I'm just glad to be back on the podium. It feels good. The first moto I didn't get the start again and I was kind of getting mad about it because, you know, you need a good start to fight up front. Second moto, that's just what I did. I started out second and I just tried to put on a charge at the beginning and I could pull away a little bit, but I knew that Blake [Baggett] was going to be strong in the end. He passed me once, I passed him back and it was all clean riding and I think we had a good fight. Last lap, I just let it go because I was pretty tired, but it's something I have to work on. Overall, though, I am really happy.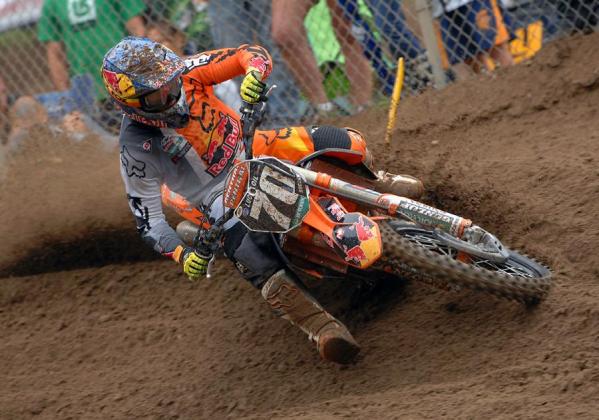 "He [Blake Baggett] passed me once, I passed him back and it was all clean riding and I think we had a good fight." - Ken Roczen
Carl Stone photo

Justin Barcia, GEICO Honda 7-4 for fifth overall in 250 Class

Racer X: Pretty crazy day for you.
Justin Barcia: Yes indeed. I'll call it crazy. That's pretty much how it went.
First moto did you fall or did you just get stuck?
Yeah, I fell in the second turn. Someone stopped in front of me for some reason. I don't know, I guess we were doing stops in the middle of the track. That's what happens when you get a bad start, though. I hit someone, went down and had to fight my way through the pack again. Came to seventh and the race was over from there. It was pretty crappy. But second moto was looking a little brighter. I didn't have any good starts for some reason today. I don't know why, but it just didn't go my way. I was up to third and smoked the GEICO tree.
That's what it's called now? The GEICO Tree?
Everyone on our team hit that tree today! I don't know what it was about it. But, yeah, my bars clipped the tree and I landed straight on my back. I got up quick and I had to pass like 10 guys again and came up to fourth that time. So a lot of fight today. It's trying to prepare me for a real sand track, I guess!


Tyla Rattray, Monster Energy Kawasaki, 20-1 for fifth overall in 450 Class.

Racer X: You've never failed to make a podium here in the 250 Class. Today, bad first moto but you won the second moto.
Tyla Rattray: Yeah, it was definitely good. I had a rough first moto, got caught in the first turn pileup then started coming back. A couple guys crashed again, so I had to start my bike and crashed again. That time it took me a little while to start my bike and by that time, I was already a lap down. I just had to go out and race there and just finish the moto just riding behind. Obviously, you don't want to pull off because then you get 40th gate pick and then you're screwed for the moto. So I just stayed calm and I'm pumped with the win in the second moto.
How was that? Did you have any idea that Dungey pulled off?
I didn't have any idea that he pulled off. I did see that he crashed and after that, I don't know if he was taking it easy, but our gap was staying about the same. But then I started creeping up on him and then, all of a sudden, my pit board said P1, so I didn't know what happened. And then I looked behind me once and I saw that Dungey was behind me and I knew, obviously, that I was leading. I never looked behind again and kept my head down and focused on the race.
Zach Bell, GEICO Honda, DNF-DNS

Racer X: Well it was an awesome way to start it. Take me through it. How did it go?
Zach Bell: I got the holeshot, just like at Loretta Lynn's and pulled my own lead and kind of gapped [Marvin] Musquin. [Eli] Tomac came in behind me and [Blake] Baggett. I was leading for about 20 minutes and just let Tomac go by so I wouldn't hold him up too long. I got in behind him and made a little bobble and hit my head. They say I've got a concussion, so I wasn't able to race the second moto. But we're going to take a couple of days off and get some rest and come out swinging at Unadilla.
The thing was, when Tomac passed you, you were just like "Alright, I'm going to settle in here." It wasn't like you were going for it, riding crazy at that point, right?
No, I was just riding my own race out there. I was having fun, excited to be winning my first pro race and thought it was going to be a good one. I wanted to podium. I wanted to show everyone that I could get a podium. A bunch of people have been ragging on me, saying I'd get top 15. But I did my best out there and I couldn't thank everybody enough. It was an awesome race and we're back up here under the tent, a little bummed, but just happy to be out there.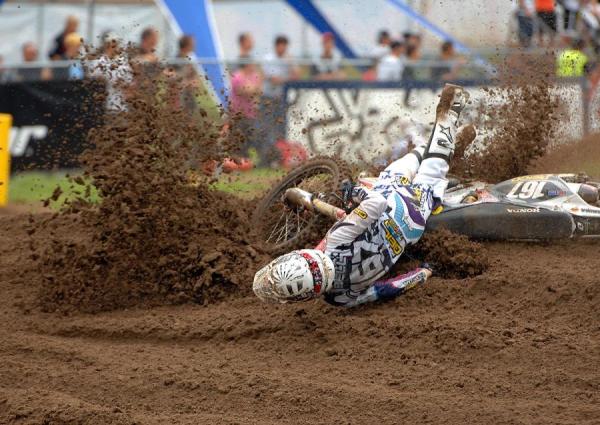 "I got in behind him and made a little bobble and hit my head. They say I've got a concussion, so I wasn't able to race the second moto." - Zach Bell
Carl Stone photo
Tommy Hahn, Team Honda Muscle Milk, 3-25 for 10th overall in 450 Class

Racer X: Great ride first moto, third place, and at one point you were the fastest guy on the track. Second moto, though, how are you? You crashed out.
Tommy Hahn: I'm fine. I just hit my head pretty hard. But I came up from eighth or ninth up to third. And I'm not just a sand rider. Everyone says, "Oh, you're good in the sand. You're good in the sand." No. I will be there next week.
You won Steel City.
I won Steel City and that's far from sand. No, I will be up there next week. I'm a good rider and I have confidence in my bike and I have confidence in myself, for once. I hit a rock and ricked the rear end out and I smacked my head a little bit. I didn't think to keep going, because I was dizzy, so I pulled off. Bottom line. But I feel good now and I'm going to ride my road bike on Monday and see how my head feels and go from there.


Wil Hahn, GEICO Honda, 21-9 for 13th overall in 250 Class
Racer X: How'd your race go? That was pretty normal, typical day. That first moto is pretty much what we're used to seeing. [Hahn went down in the second turn of moto one and was stuck under his bike, getting burned. Fellow racer Mike McDade, who had also went down, pulled his bike off of him].
Wil Hahn: Wow.

That was bizzare.
It was tough. I really had nowhere to go and ended up smashing into someone's bike, going over the bars and then someone hit my bike and me, somehow my bike got on top of me and I was burning. I could smell it. I didn't feel it. Luckily Mike [McDade] came over and helped me or else I would have been stuck there a lot longer. So I've got to thank him a lot for that.

And you were getting burned.
Yeah, I mean, luckily my chest protector saved me. It was a blessing I had that thing on today. Looking back at it, I've just got to put myself in different positions at the end of the day. Second moto was okay. I'm getting better. I still crashed. I crashed a lot today, so hopefully I got my whole season's worth of crashes in today. I'm probably the most tired I've been at the end of the day. I think I picked my bike up 18 to 20 times today.
Kicked it a bit?
No! I kept it running every time, or else I'd be really tired.
Malcolm Stewart, J-Star JDR KTM, 6-7 for sixth overall in 250 Class

Racer X: Pretty good, solid day, it seemed like.
Malcolm Stewart: Yeah, we went 6-7. That was pretty good. Pretty solid day, that's more consistent on my part. Definitely we need to get through the rest of the outdoors more consistent like that. I was stoked on today. The track was gnarly. It was a man's track, we'll put it that way.
So we can't just say, "Hey, Mookie lives in Florida. This is every day for him"?
No. That was definitely not every day to me! I see some pretty gnarly, rough tracks, but this tops the scale out of my career.
Probably the roughest track you've been on?
Definitely the roughest track I've been on. I felt good today. First moto, I had a pretty decent start. I worked my way up to sixth. Then second moto, I got a really bad start, mid-pack and I just started plucking away. A few guys went down as I charged up. Pretty much halfway, I was in like tenth and I picked off three more guys and then rode in seventh. I take nothing but good, positive things away from this. Definitely 6-7, I'm stoked on it and hopefully I can get in that top five soon.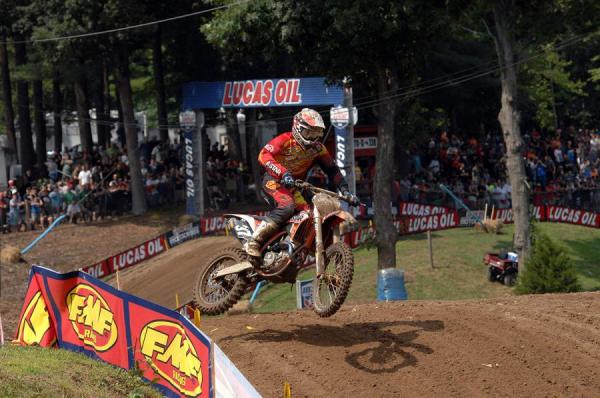 "I see some pretty gnarly, rough tracks, but this tops the scale out of my career." - Malcolm Stewart
Carl Stone photo
Mike Brown, FMF KTM Off-Road, 9-7 for sixth overall in 450 Class

Racer X: Sixth overall today. Good job.
Mike Brown: It was good and I think the main thing was getting off the start here if you're the same speed as the other guys. Getting the good starts and putting half the race in as fast as you can go, you get a gap on people. It was good, ended up good.


John Dowd, Chaplain Kawasaki, 10-16 for 14th overall in 450 Class
Racer X: Great first moto and the second moto…uh oh, he needs a couple of points!
John Dowd: Yeah, it started out really good. I actually got a decent start. I felt good, like I felt like I had it in me to put in a decent moto, but I caught someone's back wheel in a turn. I don't remember who it was. I went down, picked up the bike, the thing was in neutral so I hopped on and I fell over to the other side. I was like, 'Ugh! Come on!' After that, I was like alright. A couple guys I had just passed got back by me. I figured I had time still to get up and get going. It was early enough to still recover. So I got going and then I passed some guys and I fell again. That one really took the wind out of me. All those guys got back by me again.
Did you know what you needed to get your points? Were you aware?
Well, I knew I was somewhere right where I needed to be. Then that second time, the bike stalled and I had to kick the thing. I was so stinkin' tired by then, I don't even know how I was able to get up and get going. I think I was seeing stars at that point. I got a little lucky. I saw Kyle Regal on the ground on the last lap or something. He was one of the guys I'd seen a couple times, so I got up and gave it everything I had. I guess I ended up in sixteenth, which was like exactly what I needed for points. I'm going to Unadilla, but it takes the pressure off, you know? Hopefully I can have some fun. With any luck, maybe I can get a couple more, but it takes the pressure off.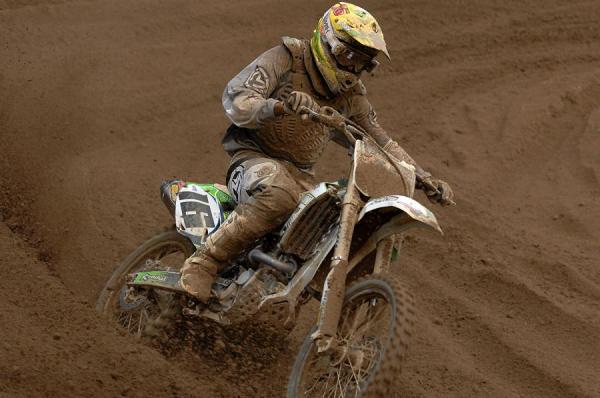 "I guess I ended up in sixteenth, which was like exactly what I needed for points." - John Down
Carl Stone photo