The Wick 338
Southwick

,

MA
Southwick
Lucas Oil AMA Pro Motocross Championship
Finally, twenty days after the last race, the Lucas Oil Pro Motocross Championship ramps back up in the sands of Southwick's Moto-X 338. This has been the home of outdoor motocross since right after the Vietnam War, which is fitting—the namesake American Legion next door built the track. Southwick is also the home of John Dowd, who turns 47 years old today! He is, without a doubt, the fastest 47-year-old on the planet, and he will again try to extend his longevity records by entering tomorrow's 450 National. We will also see the return of Ryan Dungey, who has a six-race winning streak going on in the 450 Class, as well as the resumption of hostilities in the highly competitive 250 Class, where GEICO Honda teammates Justin Barcia and Eli Tomac will be trying to track down series points leader Blake Baggett, as well as hold back Marvin Musquin and a hopefully reinvigorated Ken Roczen of the Red Bull KTM team.
Television coverage from Southwick begins on Saturday with live first-moto coverage of the 450 and 250 Classes on FUEL TV, beginning at 1 p.m. Eastern. Both motos will also be streamed live on AlliSports.com. NBC Sports Network will provide tape-delayed coverage of the second motos of each class on Tuesday, August 14, at 4 p.m. Eastern. (Unfortunately, NBC Sports is all backed up with post-Olympic coverage, so we didn't get as good a time as we normally do.)
Southwick is always one of my favorite events because the track is unlike anything else on the circuit. Its thick sand whoops out more than any other circuit here in the States, similar to Valkenswaard in Holland—but it's nowhere near what Team USA will be facing next month at the Motocross of Nations in Lommel, Belgium. Nevertheless, Team USA manager Roger DeCoster told me he feels good about the lineup he will likely name tomorrow as part of the opening ceremonies.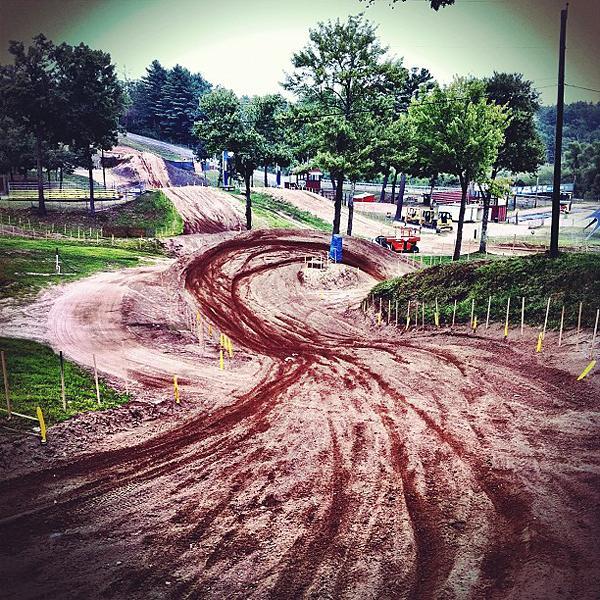 Southwick awaits.
DC photo
James Stewart will not be at Southwick, as he and the Yoshimura Suzuki team did not feel ready to rejoin the tour. With that said, I doubt that #7 will end up on DeCoster's short list for Team USA. Also doubtful is Ryan Villopoto, who is back on the bike but will not likely get behind a starting gate until the Monster Energy Cup in Las Vegas in October. (By the way, with RV coming back there, Stewart ready to shake down his Suzuki on an SX track, Chad Reed back on the bike, and Ryan Dungey one year into his KTM ride, the Monster Cup is shaping up as a very big deal this time around!)
We all know what Justin Barcia is capable of here, and he'll hope to get a second straight win in the 250 Class and close that gap on Baggett. What we don't know is how Roczen will do here, but from the sounds of it, he really likes the sand. I saw Roczen last year at Valkenswaard and he is very capable, no doubt. I just hope he settles down and races at his full potential and doesn't worry about all the question marks being lobbed his way on the forums and from the media.
Zach Bell adds another storyline to this race. He's the latest product of the GEICO Honda pipeline, and he was recently handed the AMA's Horizon Award for his outstanding efforts as an amateur, including a three-moto sweep of the 250 A Class at Loretta Lynn's. Bell also competed in Open Pro Sport aboard his Honda CRF250R, winning the last moto. He now follows the familiar footsteps of other GEICO Honda/Factory Connection riders: Trey Canard, Justin Barcia, Blake Wharton, Eli Tomac, Justin Bogle.... His number? It will be #167.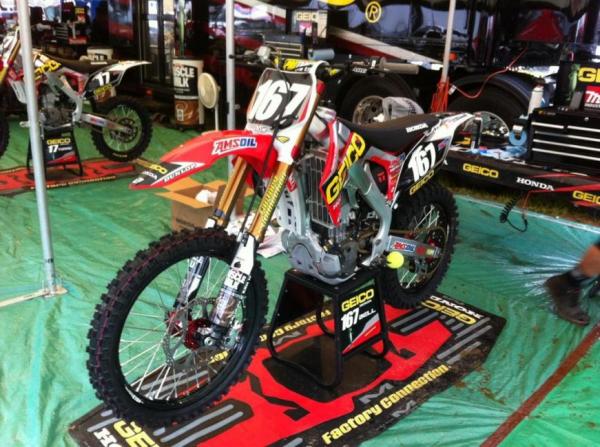 One week after winning the AMA Horizon Award at Loretta Lynn's, Zach Bell will make his pro debut at Southwick.
DC photo
Bell is not the only one making his debut here. Georgia Lindsey-Albertson was sidelined all summer long as a result of immigration processing (she's British, but she married Jimmy Albertson and became a U.S. citizen but could not work until she received her green card). Now Georgia has been cleared to participate on the TV programs as a pit reporter, so look for her to split time with the very good Kelli Stavast as the series goes into the homestretch.
Vann Martin is also here, as the Honda support rider is turning pro for real. He raced at his home race at Freestone and qualified earlier this summer but pulled out before he scored any points. Now he's here at Southwick, though he came the loooooong way. According to his dad, Shaun, they got caught in traffic in Houston yesterday and missed their flight, then got rerouted to Orlando. Upon landing, they were told that all of the flights were booked! They finally hopped a plane to Albany, New York, which landed at 3:30 a.m. But they couldn't rent a car there because the counters didn't open until six! Finally, just after eight this morning, the Martins arrived at Southwick. Vann will be entering the 250 Class.
And Jesse Wentland (#266) is here from Minnesota, fresh off of the Open Pro Sport Class title at Loretta Lynn's. He was supposed to be joined by his local rival Jeremy Martin, but Alex's younger brother is still on the mend due to the dislocated shoulder that knocked him out of the Red Bull AMA Amateur Nationals. Martin will likely line up for the Star/Valli Yamaha team at Unadilla.
Another new face to Lucas Oil Pro Motocross this weekend is KTM off-road legend Kurt Caselli. Caselli joins Mike Brown, who has raced a number of races already this year, at Southwick for the KTM off-road team. This will be Caselli's first-ever pro national.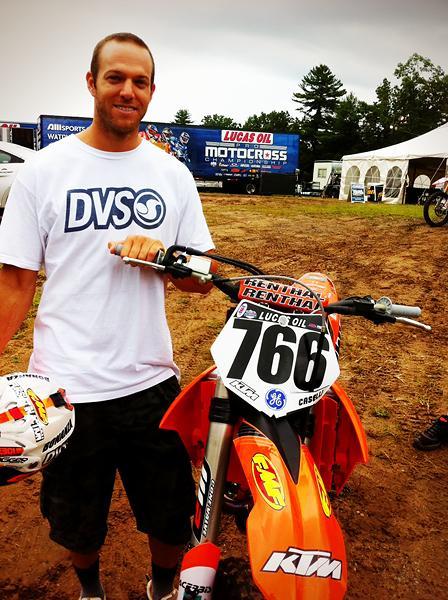 KTM off-road legend Kurt Caselli will race his first-ever Lucas Oil Pro Motocross race at Southwick on Saturday.
DC photo
Another Loretta Lynn's champion you won't be seeing at Southwick is Ricky Carmichael, the best sand rider this country has ever produced (go look at The Vault and all of his Southwick wins if you don't believe that!). Ricky showed at Loretta Lynn's that he's still very competitive and quite fast, but he's back into retirement as an active racer. But he is getting ready to share his knowledge with motocross-inspired students who want to learn from the very best at Ricky Carmichael University on September 10 at Lake Elsinore, the Monday after the Lake Elsinore National.
If you want a chance to hang out with RC and fellow champions-turned-instructors Jeff Emig, Jeff Stanton, and more, this is the motocross school for you. Check it out right here.
Congratulations to Zach Osborne, finally getting back up to speed on the Grand Prix circuit after injuring his shoulder early in the season. Zach grabbed third overall at the Czech GP at Loket, behind season-long frontrunners Jeffrey Herlings and Tommy Searle. He is set to return to America in September for a 2013 ride with the GEICO Honda team in Monster Energy Supercross and Lucas Oil Pro Motocross. Zach is also a Racer X columnist, so stay tuned for his updates in the magazine as he transitions back onto the AMA circuit and life at home.
Also, congrats to Tony Cairoli, the Italian legend who chalked up his 50th GP win in Loket, tying him with Joel Robert for third on the all-time Grand Prix wins list. The astonishing thing, though, is the fact that AC222 is still not even halfway to the career haul of Stefan Everts, the King of Motocross, who pulled down 101 GP wins during his career. Cairoli is also halfway to Everts' career titles, as he has five to Stefan's ten.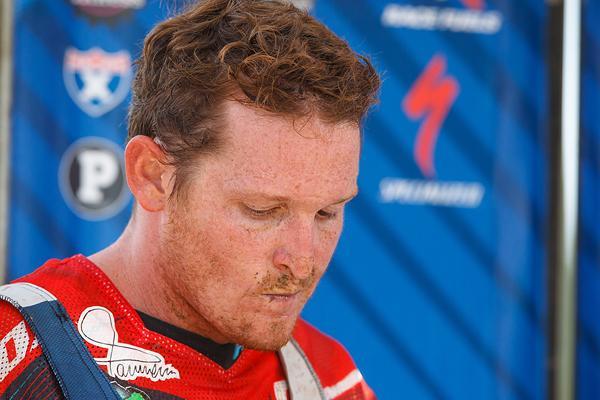 Ricky Carmichael University returns on September 10 at Lake Elsinore, the Monday after the Lake Elsinore National.
Simon Cudby photo
On Wednesday of this week a big anniversary quietly passed. August 8, 1982 was the day that "Bad" Brad Lackey accomplished his life's dream of becoming the first American to win the FIM 500cc World Motocross Championship. It took Lackey ten years in Europe to reach the top, battling the likes of Roger DeCoster, Heikki Mikkola, Graham Noyce, and Andre Malherbe along the way. He would be followed into the history books just two weeks later when Danny LaPorte became the first American to win the 250cc world title. Here's a look back ay Lackey's championship tale, courtesy of Todd Huffman and the MX Files.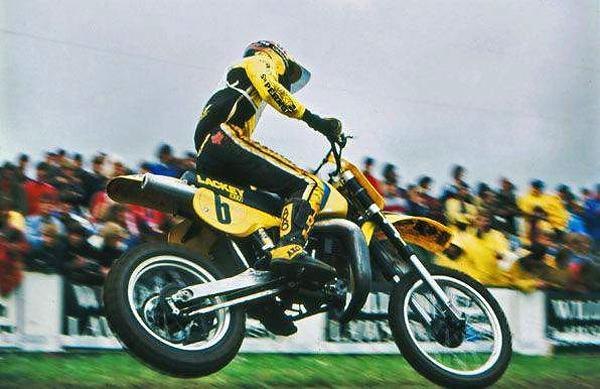 Brad Lackey in 1982 at the season-ending Luxembourg Grand Prix.
Okay, I need to get out there on the track and do a little rain dance—we need some today, not tomorrow. Let me hand it off to the other guys, beginning with Weege:
As DC mentioned above, no track on this circuit holds water better than Southwick, and good thing, because the skies opened up around noon here on Friday. I expect that to have zero impact on the racing tomorrow, as the water soaks right through the sand. We only have troubles when it rains during the races, and wouldn't you know that this is the situation we saw here in both 2009 and 2011. So it's always a possibility at this time of year.
It seems like a month ago since we were hanging out in the sauna known as Loretta Lynn Ranch, but indeed we were just getting started with third motos and championships at this time a week ago. We provided a ton of coverage of that race over the last two weeks, but there's one other note to share. I was really surprised how many international riders competed in the event—and many of them ran up front. The qualifying process at Loretta's is the same for everyone, so all riders must race an Area qualifier in the spring, then a Regional Championship usually around June in order to make the August National. We've seen top international talent do it before, as I remember well a French kid named Christophe Pourcel finishing third to Mike Alessi and Ryan Villopoto back in their Supermini days, and I remember Ken Roczen racing in the B class a few years ago. But the thing is that both riders struggled in comparison to the success they would ultimately find as pros. Pourcel was way, way behind the Alessi/RV battle, and Roczen could barely crack the top ten. We now know how talented these riders are, so it shows how hard it is to adapt to the Loretta's format, track, and weather.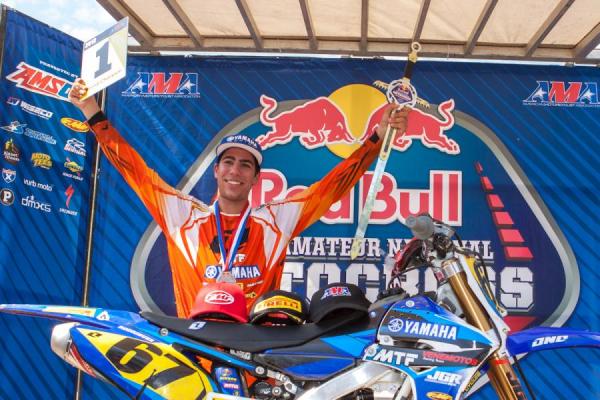 International riders, such as Venezuela's Anthony Rodriguez, shined at Loretta's.
Mark Pearson photo
But this year's crop was on it. Three Australians battled for titles in their classes, but they had the help of the Loretta's experts at the Millsaps Training Facility. Luke Clout battled Matt Bisceglia over and over in his B-class motos en route to a pile of podium finishes, and Mackenzie Tricker was just edged by Taylor Higgins for the Women's Championship. Also, 65cc rider Caleb Grothues was on the podium nonstop in his classes and also scored a moto win. Grothues still has to return to Australia to go to school, but Clout and Higgins both told me they hope these results will allow them to stay in the U.S. longer. Remember those names!
Venezuela's Anthony Rodriguez has become very familiar to followers of the U.S. amateur scene. He moved to the States when he was 13 to begin riding at MTF, and the work is paying off now with a B-class title at the Ranch and big support from JGR's amateur program. A-Rod, now 17, could make a strong pro in about a year.
By the way, Grothues came to the U.S. thanks to help from Arenacross legend Buddy Antunez, who was teaching some riding schools Down Under last year. I was texting Bud Man some congrats this week when we learned of the terrible news involving another AX legend, Josh Demuth. Buddy and Denny Stephenson have confirmed that Demuth suffered from an infection and had to have a leg amputated below the knee. This is just terrible news for Demuth, who has lived one of the wildest up-and-down roller-coasters of any rider I know. For Josh, the highs (multiple Arenacross titles and second on the all-time AX win list) have been high, but there have been far too many injuries and other problems. Luckily, he's proven he's a fighter, and I'm sure he'll find a way to work through this setback. We always say motocrossers are tougher than most, but I know Demuth is one of the toughest of all.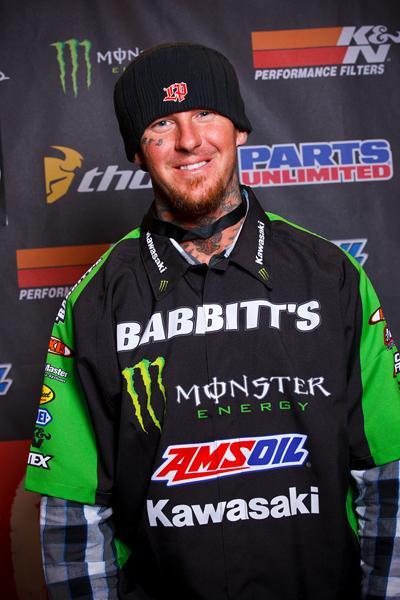 Get well soon, Josh!
Simon Cudby photo
Now over to Matthes:
Like sands though the hourglass, these are the days of our Southwick. That's right, people, it's the 'Wick this weekend, and I'm looking forward to it. With the weather threatening to come down, we could be looking at a repeat of our race last year. When the sand gets deeper, the track gets rougher and the bikes drop out left and right. The combination of sand and water is not one that today's modern EFI, fuel-pump-equipped bikes like very much. Remember the double DNF from Honda last year? Ouch.
Anyway, here's hoping the Junkyard Dog, John Dowd, gets the points he needs to hold onto that #16 for another year—he's got 10 and needs 15 more. So a couple of motos in twelfth place will do it for Dowdy. Who thinks that he's got that handled, barring any disaster?
The break between these races allowed me to get caught up with flipping through my old magazines and watching old races (thanks, Blazier!). It also got me thinking about how much I miss the locals coming out of the woodwork at the 'Wick and scoring some seriously good results. I don't count guys like Dowd, Henry, or Keith Johnson—those guys were great riders no matter what the track. I'm talking Mike Treadwell (sixth in '92), Pat Barton (fifth in '88), Tony Lorusso (third in a moto in '96), and others that used their sand skills and local track knowledge to give the big, tough, gnarly national dudes trouble. You just don't see that anymore, and that's a shame. Bring those guys back!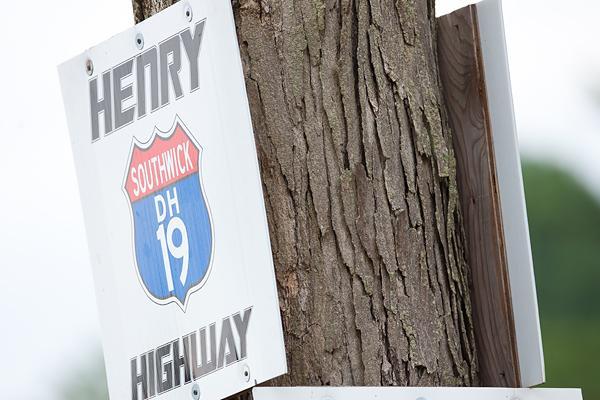 Sacred ground at Southwick: Henry Highway.
Andrew Fredrickson photo
I'm not sure what the AMA or MX Sports are going to do, or can do, for the drastic qualifying difference at Southwick. The track is so smooth for the very first practice that often times riders who really pin it can make it into the forty-man field and some really fast guys miss out. We saw it in 2011 when local rider Mike Sottile qualified with the very best time. He was almost a second faster than Chad Reed that day. In 2010, Andrew Short had bike problems in his first practice and could only ride the second one, and with a rough track could only place forty-ninth fastest. He was actually walking to his car when he was called back and put into the field by virtue of being in the top ten in points.
As I said, not sure what MX Sports can do to remedy this—maybe make only the second practices count?—but there's definitely some weird qualifying times each year here.
As I wrote in the Justin Barcia "Going for the W" column yesterday right here on the website, the 2012 MXoN team is going to be named, and there's a very good chance that Barcia is selected for the MX3 class on a 450. He's got that over him as well, as he's in the thick of the 250 title chase and has to perform on this, the track he's been so good on in the past. Needless to say, this weekend is BIG for Barcia and his fans.
By the way, it's not official yet, but it's looking like Barcia's going to be wearing Alias gear with SPY goggles and Alpinestars boots next year when he's on the 450 for the factory Honda guys. That could change, but it's looking likely.
Spoke with Barcia's coach/trainer/personal guru, Jeff Stanton, the other day and Jeff told me that Justin's been doing all the work and more for this championship. Stanton's not one to mince words, and as he told me, "If he wasn't doing it, I'd be out of there."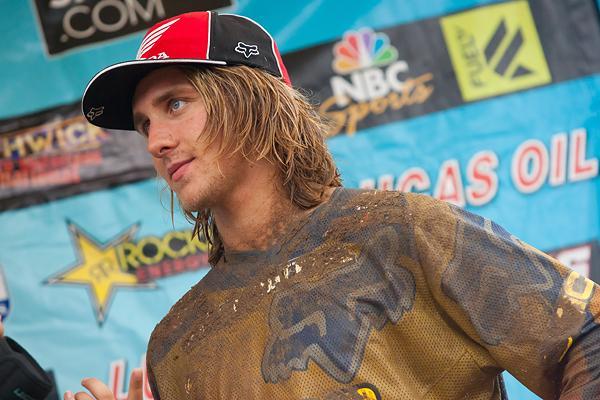 Can the sand-specialist, Barcia, make up ground on Baggett at Southwick?
Andrew Fredrickson photo
But even the six-time champ has been impressed with Barcia's work ethic and desire to win this thing. I asked Jeff if he was going to be at the races and he laughed and said there wasn't really any need for him there—his job is Monday to Friday. If Justin wants him there, he doesn't have a problem going, but Stanton said Barcia's fine on the weekends.
James Stewart's not coming back this weekend and I'm sad. I thought there would be no doubt JS7's hand would be healed after the two-week break, but guess not. Watching Stewart ride at Southwick is something to see—just ask Marc de Reuver.
Kyle Regal's fill-in ride at JGR Yamaha is done, as Davi Millsaps will be back this weekend after sitting out due to injury. JGR is equipped to handle two riders, but the way the Regal/JGR thing was going, it was probably best for both parties to just go their separate ways. Regal will be sticking with a Yamaha at (who else?) Merge Racing for the rest of the nationals.
I spoke with Coy Gibbs yesterday and he said that Millsaps coming back was a good thing for the team, and he's happy that Davi put the effort in to come back despite Millsaps having a contract for next year with another team. He then said he's working on a title sponsor for next year and waiting to see what riders like Justin Brayton are going to do. A reunion between JGR and Brayton seems like it's going to happen if Honda can't find the budget for Brayton. We'll keep an eye on this as it develops.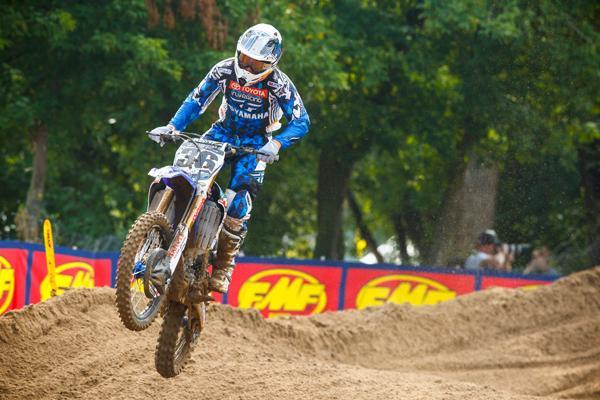 Kyle Regal and JGR have gone their separate ways. Regal has hooked up with Merge Racing again and will be at Southwick on a Yamaha.
Simon Cudby photo
Team Eleven10 Mods and "Filthy" Phil Nicoletti have gone their separate ways, and Nicoletti will be on a 450 privateering it for I imagine the rest of the East Coast races. I don't think it was a bad breakup, but Phil's had a ton of problems this year with his bike (some real freak issues) and crashes as well while showing some speed. It was probably best for both sides to get a fresh start, and the Eleven10 guys went out and signed local guy Mike McDade.
So you moto fantasy dorks out there, keep an eye on #715 in the 450 Class. Also, pick up Kyle Chisholm this weekend—he absolutely flies in the sand and will surely have his best finish of the year here.
I thoroughly enjoyed talking with Trampas Parker for the podcast we did this week—check it out. One thing I learned was that Parker did not just completely come out of nowhere to win the '89 125 world title. He was a multi-time amateur champion, made the podium in his second 125 SX, and really did have some impressive credentials. It was just me being from Canada and there not being any Internet back then—I had no clue who the guy was. And then, before his miracle '89 season, he was fast at some international races but had some bike problems. So indeed Parker had speed the whole time but just needed a platform to display it. Take a listen and hear it all for yourself.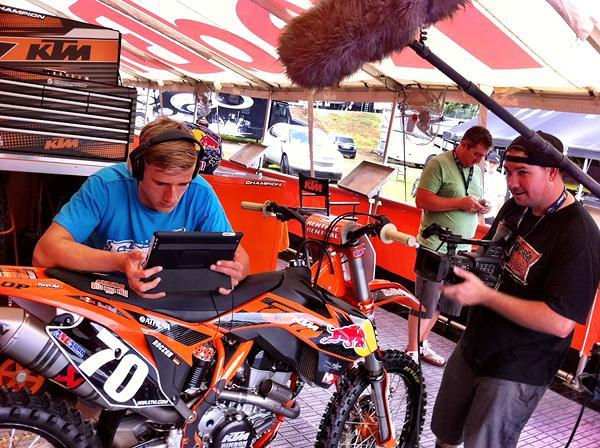 Roczen studies the Southwick track map.
DC photo
I told Parker we would need an hour for his podcast but it ended up being almost two by the time we were done. It was the fourth-longest individual podcast I've ever done behind Dave Arnold, myself (yeah, I know), and Jason Frenette. Good times indeed. Thanks for listening and sorry for the sore ears.
The PulpMX Show was gone for a couple of weeks but we will be back this Monday with none other than Ping in-studio to hang out and make us laugh. Tune in 6 p.m. on Monday for some real solid info on stuff.
Here's Ping:
I've seen some errors in judgment before, but none like this. Even after the pack went flying by, this guy continues to party and do no-handers. This guy puts the "ass" in last-lap-pass.
Tonight is the final round of the Friday Night Knockout Series at Lake Elsinore. Jeremy McGrath and his longtime friend "Lew" have put on a pretty cool series out here. Jeremy has even come out and raced a few times, and riders like Christian Craig, Mike Sleeter, and Nick Paluzzi have joined in as well. The idea was to get back to when racing was a fun time and not so results-focused, and I think they've done a great job. If you haven't been to one of these yet, get out there and check it out. Details are on the flier.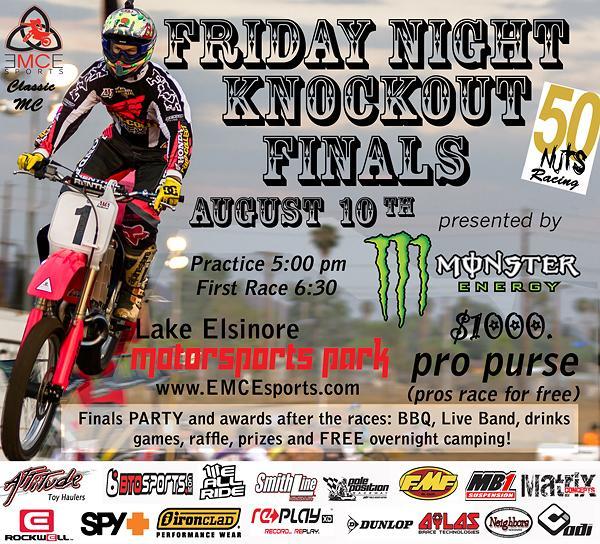 I got word this week of the finalized Rockstar Suzuki lineup and it's impressive. Davi Millsaps will be a full-time 450 rider over there, the team's first foray into the premier class. Jason Anderson and Blake Wharton, both of whom will be riding 250s, will join Davi. Also signed up are Nico Izzi and Ryan Sipes. Nico and Ryan will ride 250s in supercross and then likely switch to 450s when the series goes outside. I think this is a great team if they can all stay healthy.
Speaking of Suzuki, we were out at the Suzuki test track again to test the 2013 RM-Z250. We had Daniel Blair come down and ride the bike for us. Daniel is going to race Arenacross in 2013, and he's been trying to figure out which bike to ride. After hearing that Suzuki is bringing back its contingency program for pro racing next year, he was eager to ride the new bike. Look for a video from Matty Fran soon to hear Blair's thoughts.
I got this email from some two-stroke enthusiasts up in the Northwest. Looks like I'm going to have to book a ticket to Portland:
We are getting close to the First Annual 125 Dream Race at Washougal MX Park. I have been working with Brian Barnes to put this event together. This will be on September 16th at Washougal. It will be 125 only and open to Pro Intermediate and junior riders. It will be a blind team race. Qualifying in the morning and a two moto format in the afternoon. How will the team race work? After qualifying officials will team up riders to a two rider team. Fastest qualifier with the slowest qualifier or two mid pack riders together. This will ensure that all bikes on the track will be racing for points all moto long. Both team riders will be on the track at the same time. At the end of the day the team that has the most points wins. We hope to see a pro and a up and coming junior rider share a trophy and some cash on the podium and The 125 Dream Race Championship!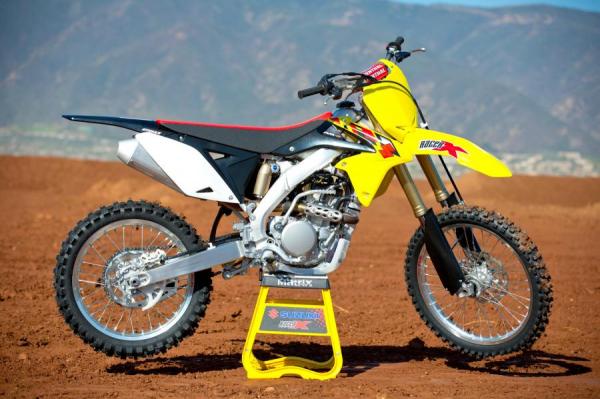 The 2013 RM-Z250.
Matty Fran photo
I too feel there is a need to bring back the 125 class to give our youth moto heads a place to build big bike skills before jumping into the big bike class. This and other races popping up around the country are creating the buzz we need. I would like to get all the media that have been putting 125 project bikes together and really show the industry how much fun you can have racing in a 125 only class.
After watching the video from last weekend's race at Crow Hill and now seeing this, I think we may see more of these pop up. It sounds like more fun than you can shake a bottle of Maxima 927 at.
Here is Aaron Hansel:
With just four races remaining in the 2012 Lucas Oil Pro Motocross Championship, we're entering the homestretch of the series, and in the 250 Class, every moto has the potential to provide pivotal moments in the championship chase. From here on out, every bad start, crash, or misstep could prove to be the undoing of Baggett, Barcia, or Tomac. Eli might be 32 points out of the lead, but he still has an outside shot at the title. The pressure is definitely on, and with the next two rounds being home races for Barcia, we're bound to see some extraordinary racing. Is it Saturday yet?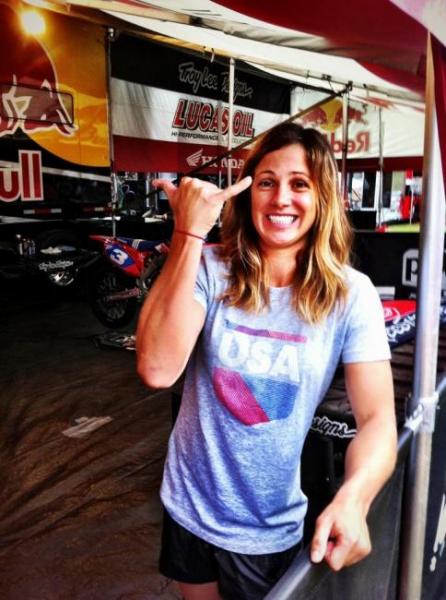 Tarah Gieger is ready for the WMX Championship battle.
DC photo
WMX is also set to provide some drama this weekend. Jessica Patterson, who broke her hand just before RedBud, holds a fragile two-point lead over Tarah Gieger, with Ashley Fiolek in third, just 11 points back. The ladies only have two races left in their season, so every moto is crucial. I must admit, I didn't expect things to be so close this late in the season. Patterson is fiercely competitive, and with the added fuel of losing the championship last year despite winning more races than anyone, I really thought she was going to come in and completely own the series. It hasn't happened that way, though, and as far as WMX racing goes, this truly has been the best season in recent memory. I can't wait to see how it plays out at Southwick and Elsinore.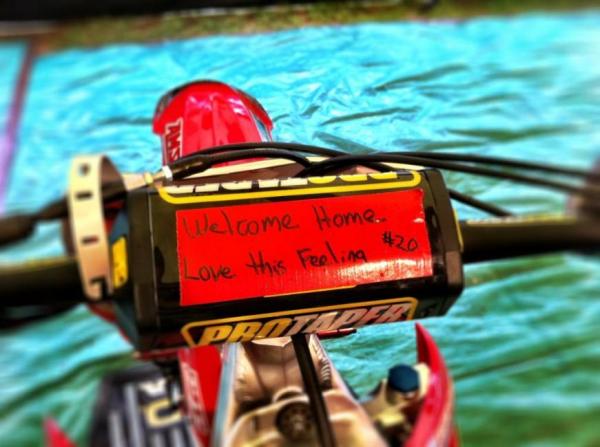 Barcia's encouragement from Schnikey.
DC photo
The injury-riddled 450 Class hasn't provided the same thrills this year—at least not since James Stewart got hurt at Thunder Valley—but like Ricky Carmichael used to say, a boring race is always good for one guy. That guy, of course, is Ryan Dungey, who has been setting all sorts of company records for KTM this year. Here's one of the more obscure records I found while poking around in The Vault the other day: With a total of 423 points scored in 2007, Mike Alessi currently holds the honor of being the highest-scoring KTM rider of all time in the premier class (Alessi also holds the same record in the 250 Class with 448 points scored in 2006), but with eight motos left and Dungey trailing that number by only 40 points, he's going to blow right past that record—probably as early as this weekend. It's crazy to think about, but Dungey has the potential to score 583 points out of a possible 600. That's amazing!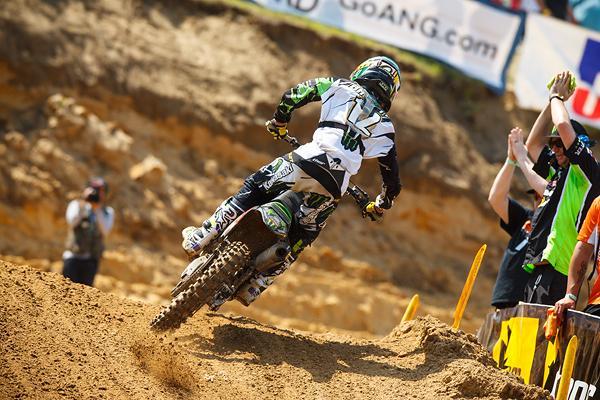 Blake Baggett looks to leave Southwick the same way he came in...with the points lead.
Simon Cudby photo
Speaking of amazing, the results from this year's Red Bull AMA Amateur National Motocross Championship are already listed in the Loretta Lynn's Vault. Check it out here and be sure to report any errors you find to vault@racerxonline.
Okay, we'll close with some random notes....
All you Southern Californian motocross racers, don't forget to come out this Saturday to the Lucas Oil MX Park (formerly known as Starwest) and enter and race the first round of the West Coast Classic Race Series. The entire series will be televised on MAVTV. What a great opportunity to bang bars with your riding buddies and then watch the results unfold on TV after. Series details below.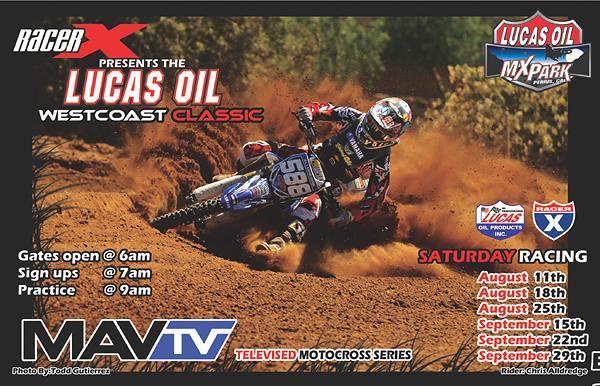 For a teaser of what Southwick looks like, check out Matt Wozney's press-day video right here featuring 250 Class points leader Blake Baggett of Monster Energy/Pro Circuit Kawasaki. The track was a little dry yesterday, but with rain in the forecast today and tomorrow, it should be perfect for the race. Southwick holds rain better than any track on the circuit.
FMF Racing has just launched an update to its highly popular 2012 national commercial campaign. The updated version features Mike Alessi as he continues to improve on his results and remains in second place in Lucas Oil Pro Motocross. This is perfect timing to lead into Mike's latest FMF ad campaign.
Congratulations to Hart & Huntington team boss and PulpMX Show co-host Kenny Watson on the birth of his baby girl, Brecken Renee.
Whether you're a gamer or not, you're sure to get a kick out of this very original trailer for Mad Skills BMX. It's the second game by Turborilla, who we partnered with on Mad Skills Motocross. It features animation by IMOV Studios and the song "Mission Statement" by Strung Out. The game hits the Apple App Store on August 16 and is compatible with iPhone, iPad, and iPod Touch.
Check out the lawn art produced by the Rockwood MX Crew for tomorrow's Southwick National. It was built earlier this week by a nearby group of friends and riding buddies.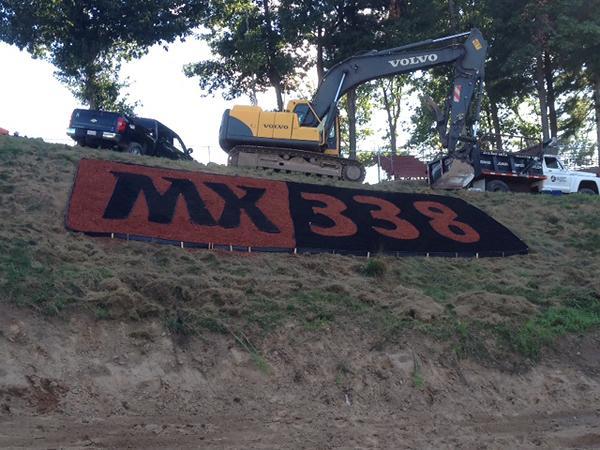 "The Rockwood Mx Crew—Dan Woodger, Nick Pitoniak, Sammy, Jeff Cyr, Ron Cyr, Pete Jakel and myself—got together and donated our time, and Dan the materials and put up this tribute to MX-338," said Matt Margolis. "It is all made out of mulch, which Dan and Sammy ground and colored themselves. Today was a long hot day for all of us, but seeing Diane (owner of mx 338) and her husband Ralph's appreciation really made it more than worth it.
"Dan Woodger has given us a track to ride every week and it has gone from riding buddies to a great group of friends that can almost be considered family," added Margolis. "I just wanted to thank him for all his hard work and generosity not only to us, but to the riding community as a whole."
Scott Wallenberg just got a call from former 500cc National Champ Chuck Sun to let us know he will be racing a Denton Engineering '80 480 Honda at the Veterans MX des Nations at Farleigh Castle in England next month. Speaking of MXdN, Chuck will also be appearing at the Racer X party in Boise on Wednesday night where exclusive footage from Todd Huffman's MX Files Vault of the 1981 Motocross des Nations in Lommel will be shown and Chuck will give a firsthand account of what it was like to be a part of that incredible moment in American MX history.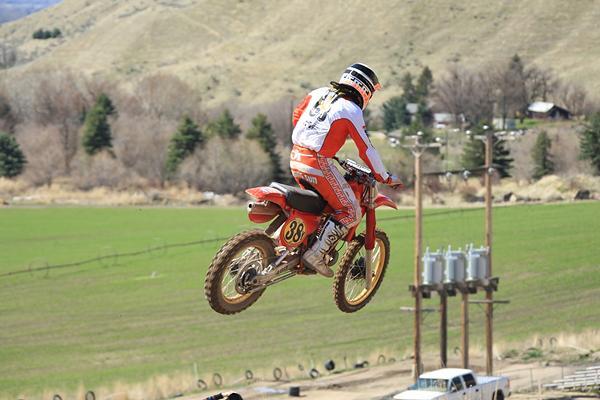 Chuck Sun will be racing a Denton Engineering '80 480 Honda at the Veterans MX des Nations at Farleigh Castle in England next month.
Did you catch the second episode of SX Ed with Miss Supercross? The series features ten episodes of Miss Supercross, Dianna Dahlgren, teaching you everything you need to know about the sport.
Check out the BMX track for the London Olympics.... How cool would it be to get out there on a 125?!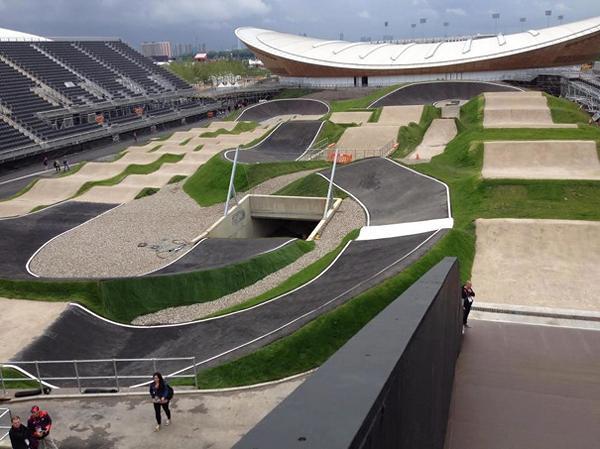 Just a reminder for you readers in and near Idaho that you're invited to attend the annual Racer X Fan Night at the Knitting Factory in Boise on Wednesday, August 15. Doors open at 7 p.m. and admission is free. Industry VIPs from the nearby WPS convention, rare motocross movies, live music, and Racer X swag will all be there.
Wish you could spend the whole day in the pro pits at Southwick? You can with the Racer X all-day pit pass! You'll have access to the pits from 9-5—five hours longer than the regular pit pass—plus you'll get a one-year subscription to Racer X, for $40. Need more than one pit pass? No problem! We can send a multiple-year subscription to one address, or you can give it as a gift to a friend. Don't miss out - only 300 all-day passes will be sold. Visit the Racer X booth on vendor row.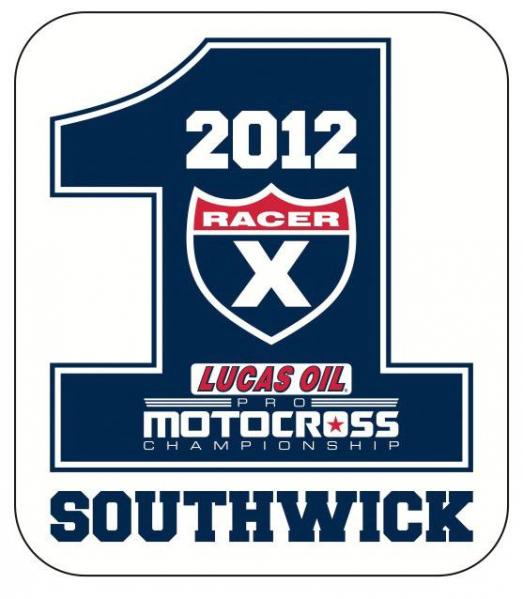 If you already have a pit pass, you can still subscribe to Racer X at Southwick - we're giving away a Racer X/Motosport camping chair, $10 gift cards to Motosport.com, and 13 issues of Racer X for only $20! We're also selling various Racer X Brand items—tees, koozies, umbrellas, and more—if you're looking for some new RX gear.
Racer X reader Ken Alder spotted this motocross sign in New York.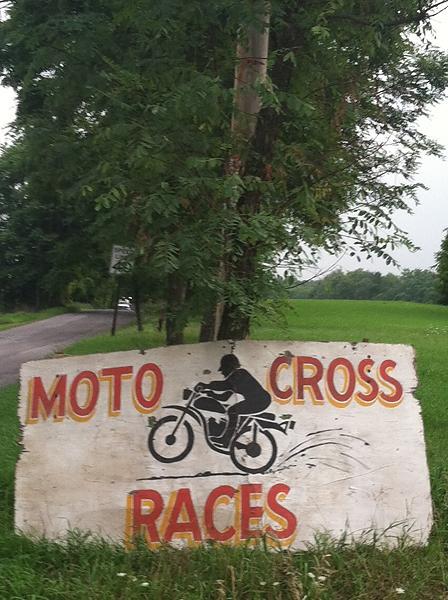 That's it from Southwick. Glad to be back at the pro races! Thanks for reading Racerhead, see you at the races.