Ride Day to Support Veterans
Veterans to Receive Support from Oklahoma MX Riders
Ride Day Aims to Provide Aide for Recovery
Wellston, OK - Plans are now underway for the inaugural Warrior MX Ride Day to be held at Reynard Raceway on September 15th, 2012. The ride day will be featuring professional motocross riders Trey Canard and Justin Bogle and is presented by Warriors for Freedom Foundation and Reynard Raceway.
Proceeds from the event will benefit the Oklahoma-based Warriors for Freedom Foundation. A non-profit, tax-exempt organization that provides support to our nation's heroes and their families in the areas of outdoor activities, scholarships, legal assistance, mental health and wellness as well as promote awareness of Post Traumatic Stress Disorder (PTSD), Traumatic Brain Injuries (TBI) and Combat Stress Reaction (CSR) in partnership with Real Warriors Campaign, Folds of Honor Foundation and other military non-profit organizations.
"Oklahoma residents have provided this country with strong military personnel, professional motocross riders and unparalleled patriotism," says Mark Russell, Chairman of the Warrior MX Ride Day.
"As a retired Marine and former professional motocross mechanic, we hope to bring military, motocross and patriotism together to raise awareness and support to help those who are fighting for our freedoms," says Russell.  "With Professional Motocross riders Trey Canard and Justin Bogle in attendance, we think this event will provide a fun atmosphere for both riders and fans alike," Russell says.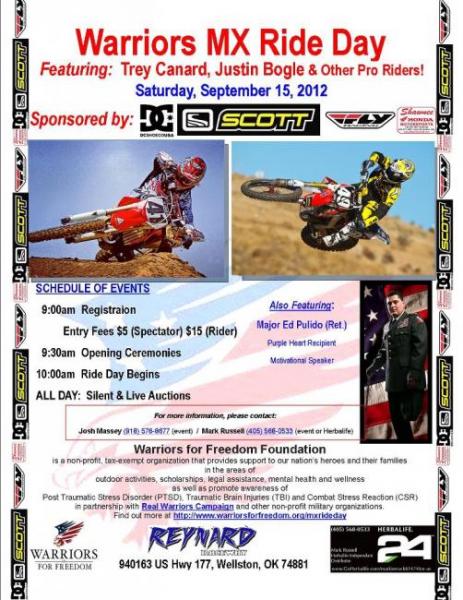 The founder of the Warriors for Freedom and retired Army Major Ed Pulido knows the impact of assistance for Oklahoma's military families. Pulido served nearly 19 years in the Army and was injured by an improvised explosive device (IED) in 2004.
"Warriors for Freedom in partnership with Folds of Honor is making immediate and lasting impacts everyday across Oklahoma and the country," says Pulido. "This event will help us make an even more dramatic impact right here in Oklahoma," Pulido says.
The Warriors MX Ride Day will be open for all ages of riders beginning at 10am. The event will offer auction items and autographed memorabilia.
For corporate sponsorship or more information call Josh Massey at (918) 576-8677, Mark Russell (405) 568-0533 or visit
www.warriorsforfreedom.org/mxrideday