Loretta Lynn Ranch
Hurricane Mills

,

TN
RedBull AMA Amateur National Motocross Championship (Loretta Lynn's)
Amateur National Motocross Championship
The second set of motos came to a close at the 2012 Red Bull AMA Amateur National Motocross Championship presented by Amsoil. Thursday's race action was at an all-time high as the anticipation level continues to grow with each and every moto that gets recorded into the history book. The third and final set of motos begin Friday morning and twenty-two racers will become National champions before Saturday's grand finale at the Loretta Lynn Ranch in Hurricane Mills, Tenn.
Adam Cianciarulo was heavily favored to take home dual championships this year, and so far he's shown nothing less than domination in the highly competitive Super Mini classes. Cianciarulo kicked off Day 3 with yet another win in Super Mini 1, gapping the second place of Andrew Pierce by nearly 30 seconds in Moto 2. Provided that Cianciarulo executes a smooth Moto 3, the battle for the remaining two podium positions will perhaps be some of the most exciting racing of the week. Pierce currently holds a 3-2 score in the Super Mini 1 class, but Kawasaki teammates Mark Worth and Mitchell Harrison are also going to be big players heading into Friday's class finale.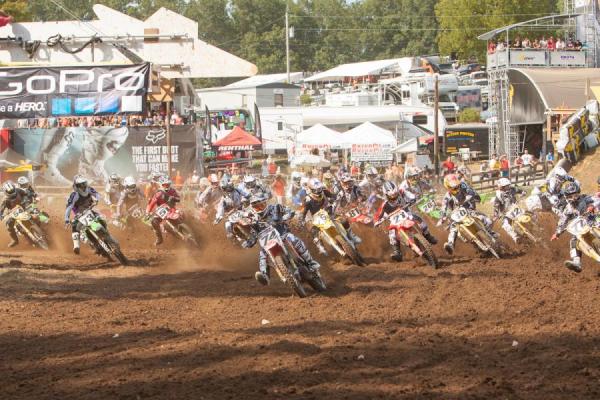 Mark Pearson photo
Another tight championship battle in the works comes from the 85 (9-11) Stock class between Suzuki's Jordan Bailey and Kawasaki's Garrett Marchbanks. The leading duo has split moto-wins after two rounds of racing and sit tied for lead points. Pennsylvania's Brock Papi has put in a pair of solid finishes with a 4-3 score, while Florida's Dylan Greer ran into bad luck in Moto 2 and finished twenty-first after scoring a podium finish in Moto 1. Although a championship is most likely out of the question, Greer still has the potential to contest a moto-win. Other notable finishers in the (9-11) division include Ciaran Naran (KTM), Parker Mashburn (KTM) and Ian Smith (YAM).
Also in the Mini division, California's Justin Hoeft continues to make a mark with four straight wins in the (12-14) Stock and Mod classes. Living in California isn't the only thing Carson Mumford has in common with Hoeft; the young gun also nabbed second win today to maintain his perfect score in the 65 (7-11) Mod class.
Thursday's race schedule highlighted some of the most experienced lineups in the sport. Beginning with 58-year-old Gary Semics, who has notably swept the 50+ class at nearly one decade older than the age division. In the same race but separate gate drop, it was 49-year-old Doug Dubach with domination in the first two 45+ motos, while taking his first Senior 40+ win Thursday afternoon. Oklahoma's Robbie Reynard put in a valiant effort to secure second place in the ultra-competitive Junior 25+ class, while Ricky Carmichael grabbed his second straight win in the class. Other notable challengers include Andrew Matusek, Mike Sleeter, Clark Stiles, Caasey Clark, James Evans, Jimmy Povolny and Justin Kelly.
Yet another Loretta Lynn's past champion and current American Motocross star Trey Canard joined an all-star lineup of past and present pros to demo Honda's 2013 model during intermission. Canard's ride on the Loretta Lynn's racetrack was one of few public rides he's had since becoming injured.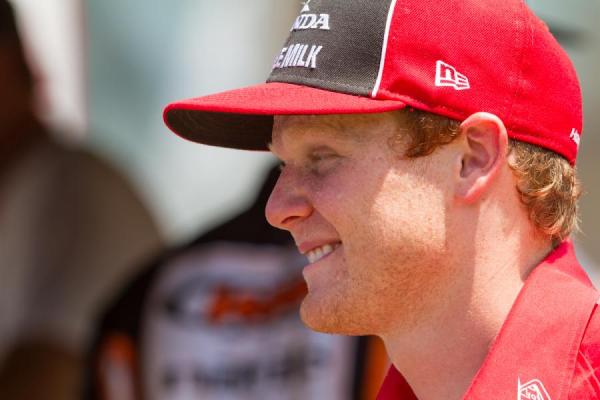 Canard was back at the Ranch and back on the bike Thursday.


Australia's Mackenzie Tricker got win in the Women's (14+) class after engaging in battle with Moto 1 winner Brandy Richards. While leading Tricker in Moto 2, Richards succumbed to the pressure and went down, giving Tricker the win. Texas native Taylor Higgins has a consistent 2-2 score, matching Tricker's 3-1, leaving the title up for grabs in Moto 3.
Friday morning begins the crowning of 2012 champions, which will take place on the podium over the course of Friday and Saturday's race schedule. Awards Ceremonies will then commence at 4 p.m. in the Amsoil Arena for all racers and their families.
The 2012 Red Bull AMA Amateur National Motocross Championship presented by Amsoil takes place Sunday, July 29 - Saturday, August 4 at Loretta Lynn Ranch in Hurricane Mills, Tenn. For more information, visit the series website at www.mxsports.com.