Loretta Lynn Ranch
Hurricane Mills

,

TN
RedBull AMA Amateur National Motocross Championship (Loretta Lynn's)
Amateur National Motocross Championship
National championships are beginning to take form as day two of racing at the 2012 Red Bull AMA Amateur National Motocross Championship presented by Amsoil has concluded at Loretta Lynn Ranch. The first set of motos has fully concluded and the introduction to the second round began Wednesday afternoon. So far, several riders have slated dual class-victories, thus becoming one step closer to becoming a National Champion.
Highlights from the top of the results board so far include Texas native Matt Bisceglia, who currently has two wins in the 450 B Stock Class, in addition to a second place finish in the ultra-competitive 250 B Mod Class. Orlando, Florida's Jordan Bailey secured his second straight win in the 85 (9-11) Modified Class, while Oklahoma's Robbie Reynard has gone two for two in the Vet 35+ Class so far. Other riders with an undefeated score thus far include California riders Justin Hoeft in Mini Sr. (12-14) Mod and Conner Mullennix in the 65 (10-11) Stock Class. Scappoose, Oregon's Cody Herzog has swept the 450 C Class so far, as well as Utah's Pierce Brown in the 65 (7-9) Stock.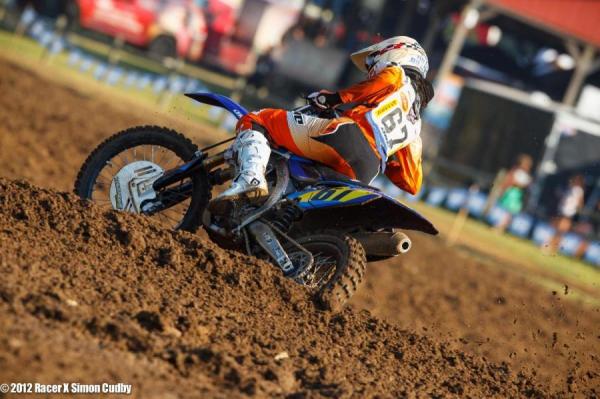 A-Rod has been on a tear in the 250 B Mod Class.
Simon Cudby photo
As always, some of the best racing and biggest names of amateur motocross exist in the B Class. Cairo, Georgia's Anthony Rodriquez has been the one to beat so far in the Modified side of competition, as the Yamaha rider has taken the Moto 1 win in both the 250 B and 450 B Mod classes. After two motos in the books, it's Newport, North Carolina's Cooper Webb leading the 250 B Stock Class overall after splitting race-wins with fellow North Carolina native Shane McElrath, who had a breakthrough victory in Moto 1 of the star-studded 250 B Stock Class. Although Webb's 2-1 moto score outweighs McElrath's 1-2 score for the 250 B Class lead, McElrath proved he was no fluke with a stellar follow-up performance in 450 B Mod, finishing a close second behind Rodriquez.
Wednesday morning kicked off day one of 51cc racing with all three 51 divisions racing back-to-back in order to provide the young riders a safe and manageable racetrack. Reigning 51 (4-6) AMA 1 Stock Class champion Ryder Difrancesco highlighted the 51cc hour as he took the Moto 1 win aboard his number-one-plated Cobra machine. In the 51 (7-8) AMA 2 Stock Class, the highly favored Gage Linville was well on his way to grabbing the Moto 1 win until a crash on the final lap took away his lead position in the (7-8) division, ultimately allowing Michigan's Jaiden Taylor to claim the Moto 1 victory instead. Linville also sits fourth overall in the 65 (7-9) Stock Class with a 14-4 score and one moto to go.
Just after the 51cc classes went to battle on the iconic Loretta Lynn's racetrack, attention turned to the opposite end of the spectrum as former Loretta Lynn's graduates and current American Motocross stars Ryan Villopoto and Blake Baggett took the track to demo Kawasaki's 2013 model line, Villopoto's first public riding appearance since a knee injury kept him away from racing this season. Later in the afternoon, two more former Loretta's graduates and American Motocross Stars-Malcolm Stewart and Mike Brown-hit the track to demo KTM's 2013 model line in front of a large crowd at the ranch.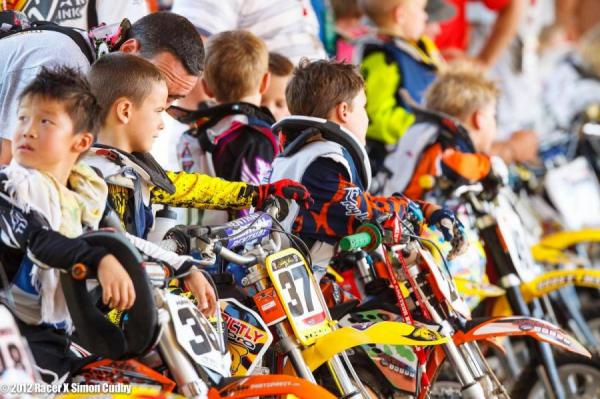 The wait to line the gate.
Simon Cudby photo
Brandy Richards, of Lake Havasu City, Arizona, continues to make her mark by grabbing the Moto 1 win in the Women's (14+) Class in a talented field of riders. In addition to her first win in the Women's class, Richards led most of the Girls (9-11) race on Tuesday, ultimately finishing second to Hannah Hodges.
Racing resumes Wednesday morning, beginning with the Super Mini 1 (12-15) class at 7:30 a.m. The 2012 Red Bull AMA Amateur National Motocross Championship presented by Amsoil takes place Sunday, July 29 - Saturday, August 4 at Loretta Lynn Ranch in Hurricane Mills, Tenn. For more information, visit the series website at www.mxsports.com.