Loretta Lynn Ranch
Hurricane Mills

,

TN
RedBull AMA Amateur National Motocross Championship (Loretta Lynn's)
Amateur National Motocross Championship
After a full day of practice and preparation on Monday, nearly 1,500 racers took to the historic Loretta Lynn's racetrack on Tuesday morning, kicking off day one of racing at the 2012 Red Bull AMA Amateur National Motocross Championship presented by Amsoil. Twenty-two moto-winners were awarded over the course of the day-ranging from Loretta Lynn's first-timers to past champions in both pro and amateur ranks.
Race action from the opening day at Loretta Lynn Ranch in Hurricane Mills, Tenn. set the stage for riders from all over the country to execute the final step in the Road to Loretta's journey-the National. Highlights from the premiere amateur divisions include Honda riders Matt Bisceglia of Weatherford, Texas and Zach Bell of Cairo, Ga., each of whom grabbed a pair of podium finishes in the first set of motos.
Bisceglia took the Moto 1 victory in 450 B Stock, before also claiming a hard fought second place finish behind 250 B Mod winner Hector Rodriquez. Bell began his day with a win over a very stacked field of competition in the 250 A class, and then followed up with a third place finish in Open Pro Sport.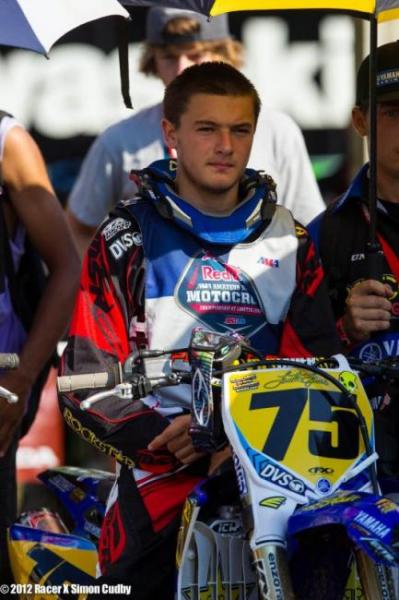 Cooper Webb had a strong first day at Loretta's
Simon Cudby photo
Newport, N.C.'s Cooper Webb slated two podium finishes in his first day of racing, taking second place in 250 B Stock before accomplishing an effortful comeback in the 250 B Mod class. Webb's performance gave him a third place spot on the Moto 1 podium. Dakota Alix came into the day with hopes of contesting Webb, but after a setback on the opening lap of the 250 B Mod Moto 1, Alix wasn't able to put himself into a podium position, although he did secure a third place in 250 B Stock Moto 1.
Florida's Adam Cianciarulo claimed the Super Mini 1 (12-15) class-win over Kawasaki teammate Mitchell Harrison in Moto 1. After taking four of six moto-wins in 2011, Cianciarulo is going for a perfect slate in his final year in the Youth division, before graduating to the Amateur ranks next season.
Perhaps some of the biggest excitement of the day was based around the 25+ class, where 15-time professional champ Ricky Carmichael competed at Loretta Lynn's for the first time since 1996. Pine Grove, Pa.'s Casey Clark pulled the Motorcycle-Superstore.com Holeshot Award atop some of the most decorated riders in the sport, but it didn't take long for the G.O.A.T to charge to the front on the opening lap of Moto 1. From there, Carmichael gapped the rest of the field, where most of the race battles were taking place.
"For me, it's just about coming here, having fun and experiencing this race in a different kind of light," Carmichael said. "When I was here at Loretta Lynn's during my younger years, it was a different kind of pressure. Now it's more about bringing my family and really just doing it for my sponsors and all the fans that have been following me throughout my amateur and professional career. I appreciate the support and I'm looking forward to two more races this week!"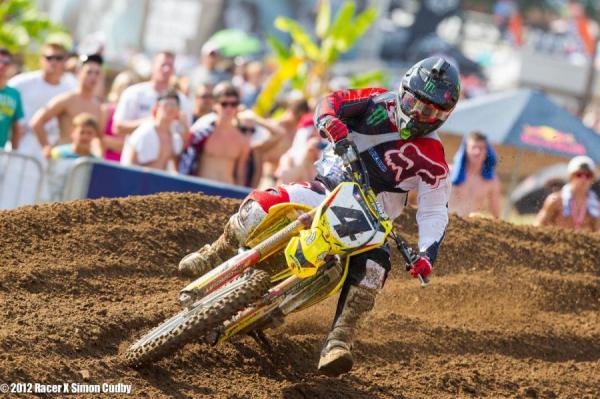 Ricky Carmichael dominated in his first race at Loretta's since 1996.
Simon Cudby photo
Other highlights from Tuesday's racing include Fayetville, Ga. native Andrew Matusek's emotion-filled second place finish in the 25+ class, where he came in only 10 seconds behind Carmichael. Oklahoma's Robbie Reynard took home the Moto 1 victory in the Vet 35+ class, while picking up an eighth place finish in 25+ after experiencing issues on the opening lap.
Racing resumes Wednesday morning, beginning with the Women (14+) class at 7:30 a.m. The 2012 Red Bull AMA Amateur National Motocross Championship presented by Amsoil takes place Sunday, July 29 - Saturday, August 4 at Loretta Lynn Ranch in Hurricane Mills, Tenn. For more information, visit the series website at www.mxsports.com.