While the definition of the word privateer may be blurred at times, it definitely fits WMX rider Jacqueline Strong. Until recently, the 19-year-old has been putting in marathon driving excursions to far reaches of the country to get to every round of the series. Still, Jackie has earned her spot in the sport as one of the fastest women in motocross. Currently ranked fifth in the WMX Class, we spoke to the Sedona, Arizona native to get the lowdown on the privateer life as a woman racing pro motocross.
Racer X: Ashley (Fiolek) and Jessica (Patterson) may be a bit ahead of the rest of the WMX girls, but after them it's all pretty close.
Jacqueline Strong: Yeah, that's very true. I had a rough start at Hangtown, but ever since then it's been getting better and better. I just try to take it race by race, and feel that a lot of times that I am getting closer to the podium speed—which has been nice. Sometimes Tarah [Gieger] has been up there, and sometimes she has been a little back with the rest of us. But you can definitely guarantee that fourth through eighth are all really close! I think that is actually where some of the most intriguing racing is, because everyone is really going for it. In this pack I don't think that really any of us get a lot of help, or support—so everyone is hungry, and really wants it!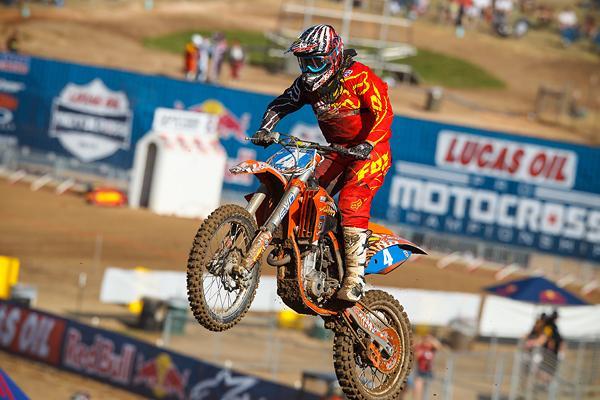 Strong in currently fifth in points in the WMX Class.
Simon Cudby photo
You bring up a good point. Not many of the WMX girls get true factory support, do they?
No we don't. Last year I was fourth in the championship, and while there were a lot of verbal promises made then, I never got any real support for 2012. I had nothing, except for my past year's race bike—that was all that I had. It ended up being cool though, because there was a local lady and her husband by the name of Bartlett who built me a race bike. This is actually the first time in a couple years that I had two bikes to ride. Without them there would be no possible way that I could be here. It's a shame that only the top three get much support.
You may be the fastest true privateer in the WMX Class. What else can you do to get factory support?
That's a question that I get asked all the time. I don't know how to even answer that. I can beat some of the fastest riders time and time again, but it doesn't seem to help. I've been pretty discouraged about it. Coming into this 2012 season I truly thought that there would be much more support. I felt that I had proved myself last year, and I didn't end up with anymore help, except for the local couple that I mentioned earlier. But no factory stepped in at all, so I am not sure what it will take for me to get more help. I try very hard to be friendly and personable along with trying to go fast. In the end, it almost seems to come down to knowing someone.
Let's expand on some of your races so far this year. You said that Hangtown started rough.
Hangtown was just awful. I crashed so much there. I'd like to forget that one! Freestone went better, and then Thunder Valley went even better. I think I finished 4–4 there. I started qualifying better and better, and then finishing better. High Point was great. I finished third and was just a fraction off of Geiger. Then in the second moto I was fourth, and right behind [Sayaka] Kaneshiro and Geiger, and Jessica was not that far up front. I was third fastest in qualifying at Washougal, but I just couldn't seem to carry that momentum into the two motos. Last year I was consistent, but this year I feel that I have much more speed, and bring more to the table. I've been able to go fast, and stay up which has been very important this year. As you can see with all the injuries, everyone is going for it this year. Everyone has been hitting the ground hard; it hasn't been just tipping over in a corner. You need to push yourself, but not to the extent where you knock yourself out of the series.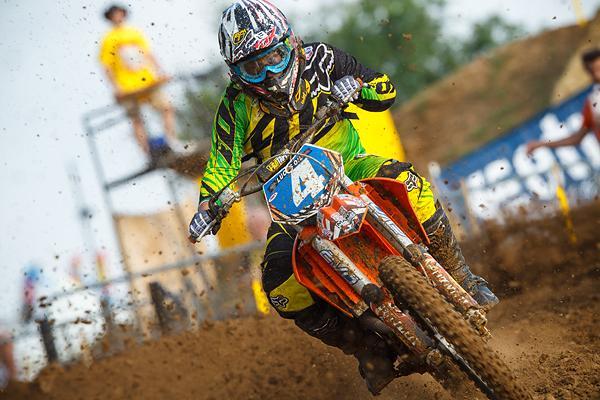 With two races to go in the series, Strong will need to hold off a charging Kasie Creson, who sits two points back, to capture fifth in points.
Simon Cudby photo
How have you been getting to the races?
We were driving to every round, which made for some very long drives. But with the Bartlett's getting me two race bikes it has been nice, because I can leave one on the road with Team Gus—who recently stepped in to help. They offered to take my bike to each round. That helped a lot as it enabled me to fly to the races. Now I don't have to drive thirty hours to show up to race. I am able to be much more rested when I fly rather than driving straight for a few days to get to a race. Let me add now that I don't want to appear ungrateful; I am very appreciative of the help that I do get. It's just that the support is nowhere near what some of the other girls have. I with that someone would just tell me what I need to do to get more help. I train so my fitness isn't an issue, I get faster as the moto goes on, and I do everything possible that I can. I just hope that I can continue to race and that the WMX series gets better and keeps growing.
Before finishing up is there anything that I missed?
I definitely want to thank the Bartlett family. They are the ones that gave me my bikes, and transformed my season to where I could keep racing. I also want to thank Team Gus for taking my bikes to the races, Fox Racing who have been with me for a while, Utopia Goggles, FMF, Rekluse, 5th Gear Sprockets, Rockwell, Dunlop, WSMX, Warhawk, Mana Strength and Conditioning, Adam's Chiropractic, Matrix, Leatt, D & K Service, Buckelew MX, Core Clothing, Maxima, Strong Cryogenics, Evo, Moto City, DT1, Hammerhead, RK, Excel, Applied, Acerbis, and definitely my family who has been with me every step of the way. They are the ones who have been making the biggest sacrifices to keep me going. My entire family has given up so much to get me able to race. I'd love to get factory support so I could finally give back to them!  Also, thanks to you guys for talking to me.
If someone may want to help you how could they reach you?
They could e-mail me at: Jacquelinemx254@aol.com