Lucas Oil Pro Motocross Championship


450 Points Standings

Ryan Dungey 383pts. KTM
Mike Alessi 303pts. Suz
Jake Weimer 280pts. Kaw
Andrew Short 247pts. Hon
Broc Tickle 220pts. Kaw
Justin Brayton 183pts. Hon
Josh Grant 169pts. Kaw
James Stewart 151pts. Suz
Brett Metcalfe 142pts. Suz
Kyle Chisholm 137pts. Kaw
Michael Byrne 122pts. Suz
Nico Izzi 95pts. Yam
Ryan Sipes 94pts. Yam
Davi Millsaps 85pts. Yam
Tommy Hahn 81pts. Hon
Cole Thompson 64pts. Hon
Jimmy Albertson 61pts. Suz
Matt Lemoine 61pts. Kaw
Tyla Rattray 58pts. Kaw
Vince Friese 58pts. Suz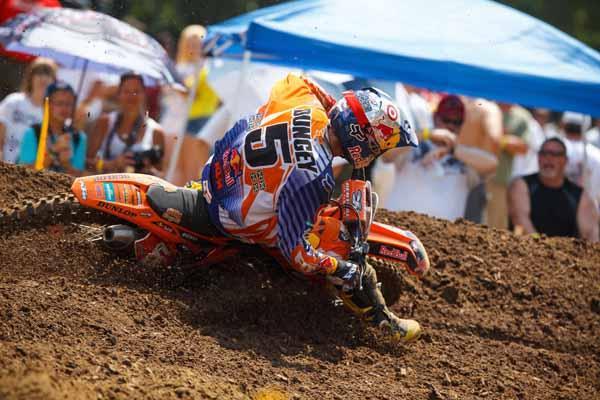 Ryan Dungey leads the 450 Class.
Simon Cudby photo
250 Points Standings
Blake Baggett 355pts. Kaw
Justin Barcia 344pts. Hon
Eli Tomac 323pts. Hon
Ken Roczen 305pts. KTM
Marvin Musquin 256pts. KTM
Wil Hahn 218pts. Hon
Blake Wharton 185pts. Suz
Jason Anderson 168pts. Suz
Jessy Nelson 144pts. Hon
Travis Baker 134pts. Hon
Jake Canada 132pts. Hon
Gareth Swanepoel 106pts. Yam
Ivan Tedesco 105pts. Kaw
Kyle Cunningham 96pts. Yam
Malcolm Stewart 94pts. KTM
Alex Martin 81pts. Hon
Kyle Peters 73pts. Yam
Justin Bogle 66pts. Hon
Martin Davalos 52pts. Suz
Dakota Tedder 40pts. Kaw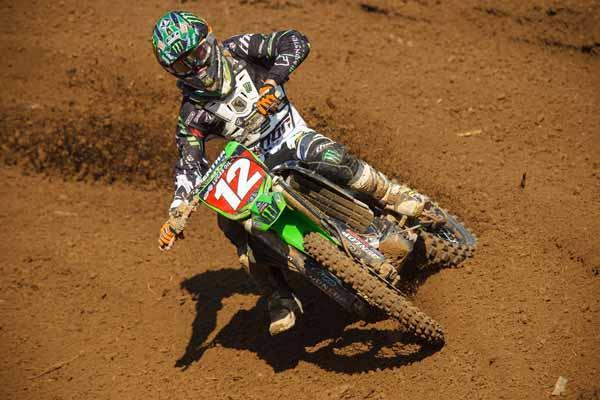 Blake Baggett leads the 250 Class.
Simon Cudby photo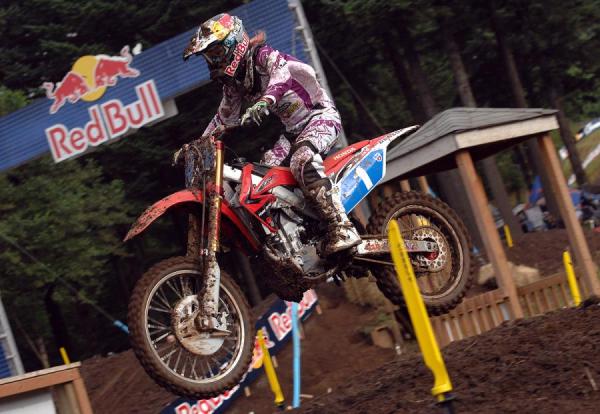 Ashley Fiolek sits third in points.Carl Stone photo
FIM World Motocross Championship
MX1 Points Standings

Antonio Cairoli 442pts. KTM
Clement Desalle 422pts. Suz
Christophe Pourcel 393pts. Kaw
Gautier Paulin 376pts. Kaw
Ken de Dycker 341pts. KTM
Kevin Strijbos 304pts. KTM
Xavier Boog 277pts. Kaw
Tanel Leok 253pts. Suz
Rui Goncalves 247pts. Hon
David Phillippaerts 212pts. Yam
Shaun Simpson 203pts. Yam

Evgeny Bobryshev 194pts. Hon
Jonathan Barragan 175pts. Hon
Sebastien Pourcel 166pts. Kaw
Davide Guarneri 136pts. KTM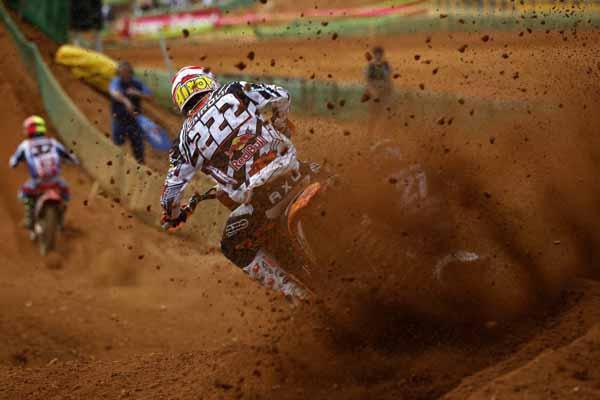 Antonio Cairoli leads the MX1 Class.

Ray Archer/KTMImages photo
MX2 Points Standings

Jeffery Herlings 478pts. KTM
Tommy Searle 429pts. Kaw
Jeremy van Horebeek 417pts. KTM
Joel Roelants 344pts. Kaw
Jordi Tixier 309pts. KTM
Jake Nicholls 289pts. KTM
Max Anstie 238pts. Hon
Jose Burton 218pts. KTM
Dylan Ferrandis 213pts. Kaw
Alessandro Lupino 196pts. Husq
Glenn Coldenhoof

175pts KTM
Harri Kullas 132pts. Suz
Christopher Charlier 131pts. Yam
Petar Petrov 131pts. Suz
Arnaud Tonus 121pts. Yam

Jeffery Herlings leads the MX2 Class.

Ray Archer/KTMImages photo
Can-Am GNCC Championship

XC1 Points Standings

Paul Whibley 225pts Yam
Kailub Russell 216pts KTM
Rory Mead 167pts KTM
Thad DuVall 138pts Hon
Jordan Ashburn 132pts Yam
Charlie Mullins 129pts KTM
Chris Batch 123pts BET
Garrett Edmisten 116pts Kaw
Takeshi Koikeda 100pts. KTM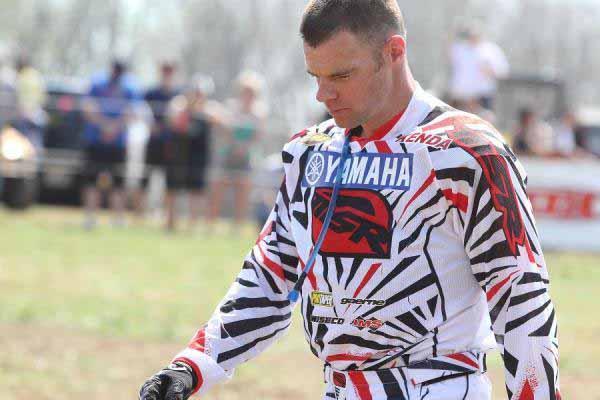 Paul Whibley leads the XC1 Class.
Ken Hill//GNCCRacing.com photo
XC2 Points Standings
Steward Baylor 200pts KTM
Jason Thomas 188pts HSQ
Andrew Delong 172pts. HSQ
Jesse Robinson 155pts HSQ
Jedediah Haines 153pts YAM
Brad Bakken 130pts YAM
AJ Stewart 107pts. Yam
Cody Gragg 91pts. Yam
Scott Grills 87pts. Hon
Zach Nolan 84pts. KTM
Monster Energy Canadian Nationals
MX1 Points Standings
Matt Goerke 292pts. Kaw
Bobby Kiniry 253pts. Yam

Dusty Klatt 190pts. KTM
Tyler Medaglia 182pts. Hon
Colton Facciotti 175pts. KTM

Gavin Gracyk 156pts. Kaw
Tyler Villopoto 155pts. Kaw

Morgan Burger 136pts. Kaw

Jason Burke 123pts. Hon
Shawn Maffenbeier 76pts. Yam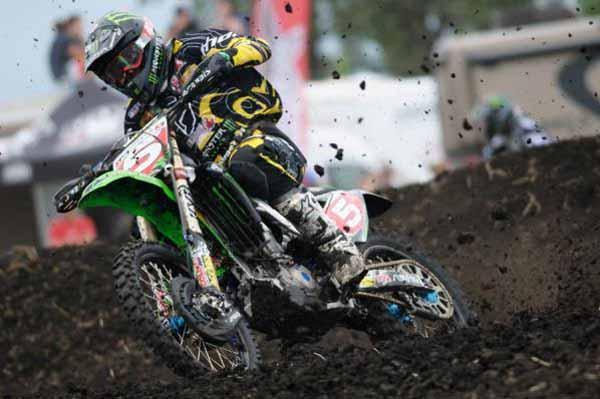 Matt Goerke holds a big points lead in the MX1 Class.
James Lissimore photo
MX2 Points Standings
Teddy Maier 278pts. Kaw
Jeremy Medaglia 251pts. KTM

Jared Allison 177pts. Yam
Kyle Beaton 168pts. Kaw

Topher Ingalls 166pts. Hon
Brad Nauditt 163pts. Hon
Parker Allison 143pts. Yam
Dylan Kaelin 141pts. Yam
Spencer Knowles 138pts. Yam
Richard Grey 122pts. Yam
Maxxis British Motocross Nationals
Hawstone Park
450 Overall
1. Kevin Strijbos
2.
Max Anstie
3. Shaun Simpson
4. Martin Barr
5. Jamie Law
450 Points Standings
Kevin Strijbos 388pts.
Shaun Simpson 339pts.
Matiss Karro 308pts.
Gert Krestinov 264pts.
Martin Barr 243pts.
Kristian Whatley 201pts.
Jamie Law 200pts.
Stephen Sword 198pts.
Alex Snow 186pts.
Dorron Coutts 170pts.
250 Overall
1. Mel Pocock
2. Nicolas Aubin
3. Neville Bradshaw
4. Grame Irwin
5. Elliott Banks Browne
250 Class Points Standings
Mel Pocock 343pts.
Elliott Banks-Browne 327pts.
Nev Bradshaw 271pts.
Steven Lenoir 254pts.
Nicolas Aubin 239pts.
Graeme Irwin 239pts.
Bryan MacKenzie 235pts.
Stu Edmonds 174pts
James Cottrell 152pts. .
Lewis Tombs 141pts.
Expert Points Standings
Taddy Blazusiak 69pts. KTM

Mike Brown 61pts. KTM
Taylor Robert 57pts. Kaw
Cody Weeb 57pts. Beta
Colton Haaker 51pts. Kaw
Kevin Rookstool 44pts. Husq

Destry Abbott 36pts. Kaw
Cory Graffunder 32pts. KTM
Bobby Prochnau 25pts. KTM
Justin Soule 25pts. Kaw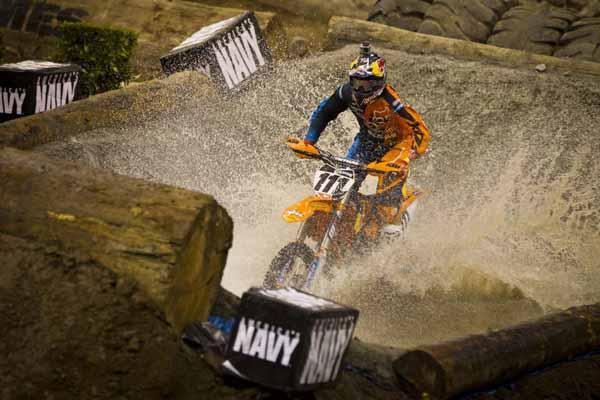 Taddy Blazusiak continues the Expert Class
.
Garth Milan photo

Monster Energy MX Nationals Austrailan Nationals
Round 8 - Appin, NSW

MX1 Overall
1. Josh Coppins Yam
2. Todd Waters Suz
3.
Jake Moss
Hon
4. Cody Copper Suz
5. Daniel Reardon KTM
6. Lawson Bopping Yam
7. Dean Porter
8. Billy Mackenzie
9. Jay Marmont Kaw
10. Brad Anderson Hon

MX1 Points Standings

Josh Coppins 480pts. Yam
Todd Waters 468pts. Suz
Lawson Bopping 420pts. Yam
Brad Anderson 412pts. Hon
Cody Cooper 388pts. Suz
Jake Moss 311pts. Hon

Jay Marmont 288pts. Kaw
Dan Reardon 278pts. KTM

Dean Porter 257pts.
Daniel McCoy 249pts. Suz
MX2 Overall
1. Ford Dale Hon
2. Josh Cachia KTM
3. Kade Mosig Kaw
4. Luke Styke Yam
5. Adam Monea Suz
6. Cheyne Boyd Hon
7. Kirk Gibbs Yam
8. Scott Columb Hon
9. Kerion Hall
10. Geran Stapleton

MX2 Points Standings
Luke Styke 477pts. Yam
Ford Dale 446pts. Hon
Josh Cahcia 429pts. KTM
Kade Mosig 395pts. Kaw
Adam Monea 374pts. Suz
Cheyne Boyd 366pts. Hon
Kirk Gibbs 347pts. Yam
Scott Columb 286pts. Hon
Justin McDonald 282pts. Hon

Lewis Woods 255pts. Suz