Welcome to Racerhead. It's an off-weekend for pro motocross in America, but just about every fast kid, vet, and amateur is here at Loretta Lynn Ranch in Hurricane Mills, Tennessee, for the 2012 Red Bull AMA Amateur National Motocross Championship. This marks the 31st year that the biggest race of all has been held on the ranch grounds of the famous country singer, going all the way back to 1982. The race has undergone quite a few changes over the years, but for the most part it remains the same: an even playing field, in the center of the country, on a track that's off-limits to any and every motocross rider for the rest of the year.
And for the first time, the Red Bull AMA Amateur Nationals at Loretta Lynn's will air on network TV. As part of the Red Bull Signature Series this event will be featured on NBC in the coming weeks. (We wanted them to cover Loretta Lynn's live, but they were busy with this whole Summer Olympics deal, so maybe next year....) Not bad for what my dad's friend Rick "Super Hunky" Sieman once described as "the best thing anyone ever did for a swamp."
Though practice does not start until Monday, the ranch is already filling up. Of course there will be people coming from the races in Oklahoma throughout the weekend, with the first drop of the gate here at the ranch not coming until Tuesday morning. Then it's three long motos for each of the thirty-five or so classes, wrapping up on Saturday afternoon to give all of the racers and their families a good start on getting home by work (or school) on Monday.
I rolled into town on Wednesday, pulling a trailer full of equipment behind the red Toyota Tundra that serves as my mobile headquarters here for the ten days or so I'll be here helping out. My brother-in-law Jeff Russell has been working on the track with Marc Peters and his sidekick Chad as they carved up the was green grass on Wednesday morning and have been prepping it with water, sand, sawdust, and a bunch of tender loving care. Everyone at MX Sports Amateur Racing prides themselves on giving every single rider a championship experience, so it's a lot of work but a great deal of fun.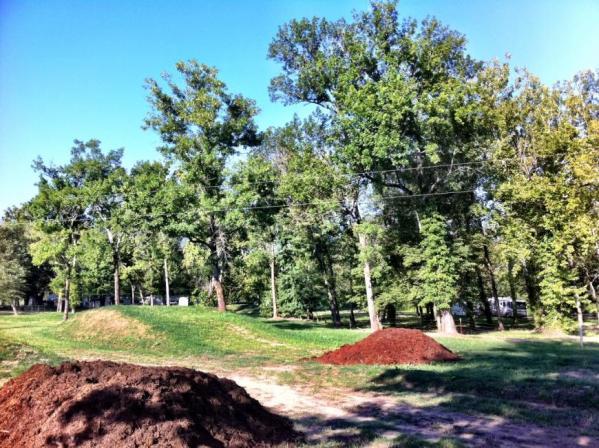 Loretta Lynn's Ranch hosts horses for the rest of the year, but next week it will be America's fastest young motocross stars … and some old ones!
DC photo
There will likely be lots of parties and bench-races and barbecues—there were people already set up and camping and fishing and just hanging out last week! Plus there's the famous beer tent, our little amateur nod to those canvas castles of debauchery we see every year at the Motocross of Nations in Europe. There's also demo rides, visits by top riders for autograph signings, and just a whole bunch of motos to watch.
And then there's Ricky Carmichael, who will likely be doing all of the above, plus racing in the Junior +25 class! RC, the Greatest of All Time, is back as an amateur, which he always promised me he would do—but I never really believed him. Carmichael's last pro race was the 2007 Motocross of Nations (we don't really count the Navy U.S. Motocross race or whatever that was in San Diego in the spring of '08) and he passes the muster for racing as an amateur again: He hasn't had a pro license for more than a full season and is no longer racing on the circuit.
Needless to say, there are some who disagree with the GOAT being out there, just as they did when Barry Higgins came back to race, and then Tony DiStefano, and then Marty Smith, and then Mark Barnett, and then Jeff Emig, Keith Bowen, Trampas Parker, Robbie Reynard, Doug Dubach.... Personally, I love the idea of guys coming back after their pro careers are up, so long as they race in age divisions and don't try to drop down to a B or B/C class.
Believe it or not, the most protests we've gone through as far as class structure goes this year have been in that Vet B/C class. Working closely with the AMA's Kip Bigelow and his team, we've managed to weed out some past pros and expert-level riders who simply did not belong in that division. We're also working to close the loopholes some guys have tried to use to drop back down for this class. Thanks to everyone who emailed me information and statistics, and I want to particularly thank everyone on the Racer X and MX Sports team who built The Vaults for both pro and amateur motocross—especially Larry Lawrence, Nick McCabe, and Tim Boryk, plus our engineer Cole Thorson. It's getting harder and harder to stray from your past results....

The GOAT makes his return to Loretta's next week.
Fran Kuhn photo
If you want to catch daily video coverage, check out MotorcycleUSA.com's MX Sports Center, hosted by Jason Weigandt, every night from the ranch. And stay tuned all week to Racer X Online for results, updates, photos, videos, and more. Also, check out what the gang at www.vurbmoto.com, www.insidermx.com and www.motoplayground.com have coming up—it's a big week for the amateur motocross media business, and these guys all have cool stuff in store.
Finally, if you want to follow along with all of the live timing and scoring, John Dains and his Trackside Scoring crew are here. We do not time practice here on Monday, so the timing and scoring will begin at 7:30 a.m. Central Time on Tuesday.
On a different note, congratulations to Nick Wey and his wife, Nicole, on the birth of Donovan Nicholas Wey on Wednesday. It's been quite a couple of weeks for NYK27: First he gets pummeled in that spectacular crash at Spring Creek, spends a week at the hospital, and is now thankfully home. "We have a bed set up for me downstairs to just hang with the baby," Nick told me on the phone today. Get well soon, and congratulations again!
Last week in Racerhead, we ran a photo of Ron Lechien with a beautiful Kawasaki KX500 that had been restored for the Vet MX des Nations in September—or so we thought! Turns out the image was shot by Dirt Rider Senior Editor Adam Booth, and the 500 that Lechien is posing with is actually a project bike built for the September issue of Dirt Rider.
"The machine was well-used and fairly neglected when we started, but by the end of the build the '96 Kawi was extremely similar to the KX500 that Lechien used to beat the world at MXdN in 1988," Dirt Rider's Chris Denison told us. "Ronnie hadn't been on a 500 in a while, but he was definitely grinning when he came off the track and he absolutely still rips on a two-stroke!" Readers can learn more over at www.dirtrider.com, or they can check the newsstand now for the full feature in September's Dirt Rider.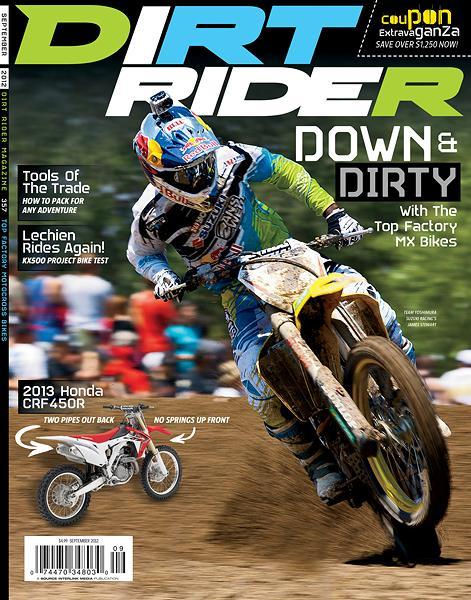 Look for Dogger and that beautifully restored Kawasaki KX500 in the new issue of Dirt Rider.
Finally, I was not at
Washougal
last week, but I was glad to see MotoConcepts'
Mike Alessi
get his first moto win in more than two years. It was also good to see the rock-solid
Ryan Dungey
work for it, and he certainly put on a charge in both motos on his way to the overall. Since I have nothing to cover on
Washougal
—well, nothing except for
Chad DeRosa's amazing Washougal Remastered video
for Racer X Films—I will turn it over to the rest of the gang here, starting with
Steve Matthes:
Nice to have another two-week break in the Lucas Oil Motocross Championships to take another breath and relax a bit ... unless you're one of the huge amount of industry people who are off to Loretta Lynn's Amateur National Championships, which means you're still wide open—maybe even sixth gear.
I haven't been to Loretta's since 1998, when I worked Honda Support at the race. I was working for FMF Honda and Danny Smith but he got hurt and I got sent to Loretta Lynn's. The cool thing about that trip was Honda gave me an old box van to drive out there and it was one of Skip Norfolk's old vans (you know, Jeremy McGrath's old mechanic). Anyways, buried in a cabinet was a binder with all these drawings of parts that Skip wanted made, notes from different races, things that broke on the bike, or whatever. It was a gold mine of coolness!
Anyways, I'm not going to Tennessee; I'll be manning the ship from here in Las Vegas. As we know the silly season is moving forward with the announcement that Dean Wilson has inked a deal with Jeff Ward Racing for 2013 with an as-yet-unnamed title sponsor (I'm hearing it's a casino) on a Kawasaki with factory help. One rider who's still out there is defending supercross champion Ryan Villopoto, and ears were perked up when Chad Reed made a comment that he's still looking to get Ryan on his team for next year. I expected this thing to be done a long time ago, to be honest. Why wouldn't RV go back to Monster Energy Kawasaki, after all? He's been with them forever, the bike is good, and when you look around, who could afford him? JGR Yamaha maybe, but Villopoto's not wanting to have anything to do with the controversial YZ450F. Honda? Nope, they have their team set. KTM has Ryan Dungey, and Suzuki, well, they have James Stewart.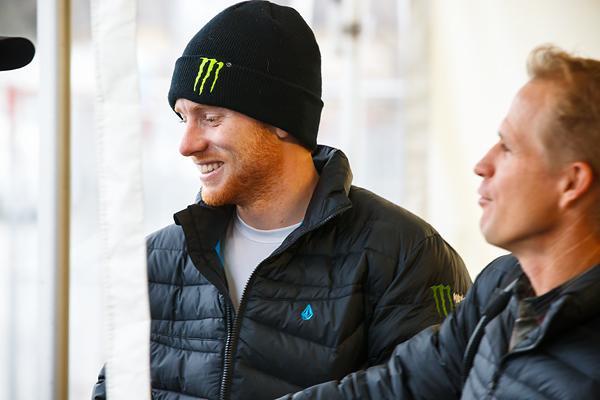 The RV rumors are starting to heat up.
Simon Cudby photo
The market for Villopoto is, just generally looking at it, not very heavy—especially for a rider who's probably commanding $2 million a year just from an OEM. But here's the thing: Why isn't it done? Isn't this a slam-dunk for everyone involved? You would think so, right?
My sources tell me that one of the hold-ups is that Monster Energy's deal with factory Kawasaki is up at the end of next year. Kawasaki offered a year to Ryan but clearly Ryan would want a multi-year deal and certainly deserves that. That's the hold-up right now, and it seems RV's agent, Bobby Nichols, has taken the chance to shop the six-time AMA national and supercross champion around.
And Reed is there, indeed, talking to RV. One would think that Monster is going to go where Villopoto goes, so to think that Reed could return to being a Monster Energy athlete if he gets the deal done isn't that big of a stretch.
Also in the mix is the Larry Brooks/Jeremy McGrath team, which is keeping Andrew Short next year and has made an offer to Villopoto. Manager Brooks told me two weeks ago that he was out of the deal—he couldn't make it work. But things have changed and he's back in, I'm told. And certainly Larry (along with title sponsor Chaparral Motorsports) has experience dealing with the top dogs in the sport.
One source told me he's going back to Kawasaki or he's going to L&Mc but I also heard that Reed's agents are pushing hard and pitching Monster all sorts of cross-promotions with the powerful WMG Agency. Sounds like the energy drinks are going to be deciding who goes where with their money.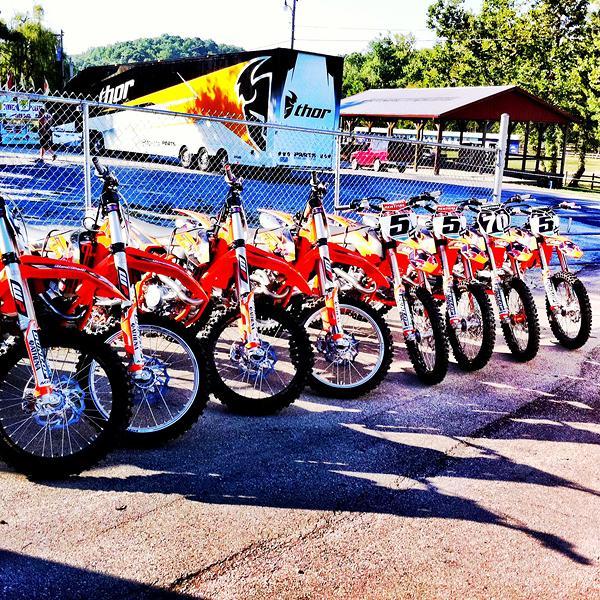 KTM is on display down at the Ranch.
DC photo
The longer this thing goes on, the less chance RV has of going back to Kawasaki, in my opinion. I'm betting he stays green, but there are some real talks going on behind the scenes. Imagine Ryan on a factory Honda. That would look pretty weird. So would Villopoto and Reed going back to the truck to study video together—but no weirder than Ricky Carmichael going to Honda in 2002!
With all this going on, Villopoto kick-started his Kawasaki KX450F yesterday in Florida and had his first ride back since injuring his knee at the Seattle SX. That's 96 days since he injured his knee and got a new ACL put in.
Hey, are you into the Primm Museum, the vault of motocross awesomeness? Well check out GP's Classic Steel over on Pulpmx, where Tony Blazier profiles a bike a week from the museum that's no longer around.
Look for Phil Nicoletti, who wasn't at Washougal, will return for the final four races on a 450. All season long, Nicoletti has had a hell of a time trying to keep his bike working and himself on two wheels. There have been flashes of brilliance here and there and some great results but also a lot of problems. Will he be on a 450 on the Eleven10 Mods team? My source says "I don't know."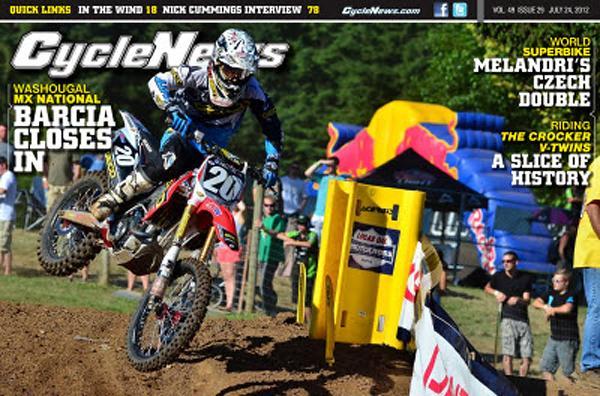 Justin Barcia graces the cover of this week's Cycle News after a solid win at the Washougal National.
Spoke with Langston/Whitt Racing's
Les Smith
at
Washougal
about his season. Les has had some good rides here and there but has also been plagued with clutch problems on his
Ryan Dungey
race-replica KTM 450 SX-F. In talking to Les, it seems that the KTM uses one giant diaphragm clutch spring and stock—it's not up to the task for Smith, a top rider. KTM factory guys have been helping out as much as they can but there's only four of the "race" springs in the world: two for Dungey's motors on the truck and two in Florida for his practice bikes. Just another reason why you have to admire Roger DeCoster and his KTM crew for not having any issues with the new bike all season long. In talking to Smith, you begin to realize just how great of a job they've been doing.
Lots of fun this week on the Pulpmx Show, where we reunited three members of the epically awesome Great Western Bank Team in-studio for our special 100th show. Buddy Antunez and Dave Castillo drove up from LA and Denny Stephenson flew in from Omaha. And "Factory" Phil Lawrence couldn't make but was on the line for a good portion of the show. The team was profiled in Racer X a few years ago, and it's a little unusual for that to happen, but the guys just captured '90s supercross with everything they did. Myself and co-host Kenny Watson had a blast (Watson has wrenched for three of the guys at different points here and there). Thanks to those guys for coming out.
And now over to Ping:
I got introduced to the 2013 Kawasaki KXF450 this week. The guys in green brought out a new machine for us to ride at Pala Raceway. We invited our friend, Team Green star Thomas Covington, to help shake it down. Matt Francis was there to capture the action on video and you can check out his awesome work right here. Thomas has been hard at work preparing for Loretta Lynn's, and he has been riding a 2012 450 during the week to prepare. That gave him some great perspective on the difference between that bike and the new model.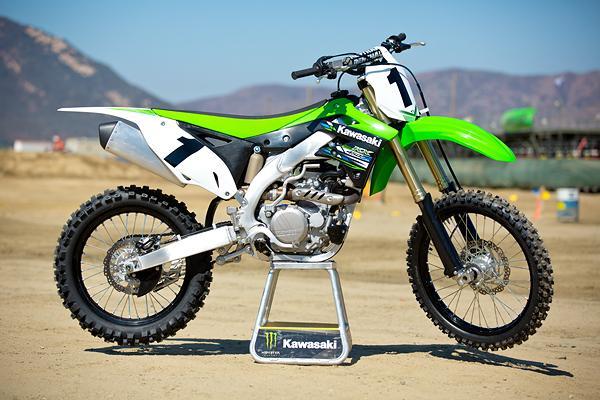 The 2013 Kawasaki KXF450.
Matty Fran photo
There are some key changes to the new green monster, including a redesigned piston, revised intake cam, and new mapping that make a big difference when you twist the throttle. There are some chassis changes as well including additional gussets on the swingarm to increase rigidity and rear wheel traction. Obviously the KYB air fork is a major addition. There is also a new front fender and number plate and several other cosmetic improvements.

For me, the fork and the engine were the two things that grabbed my attention. The fork works great and the ease of adjustability, coupled with the weight saving over the spring model, make it a definite improvement. I added two pounds of air from the standard setting, softened compression two clicks front and rear and also opened up the high-speed compression adjuster on the shock a half of a turn. Once I got it set up right for me all that was left was to twist the throttle. And, man, is that fun. I'll go on record right now saying that the 2013 Kawasaki 450 has the strongest engine of any other stock 450 I've ever ridden. It is a beast. The engine upgrades, which were direct descendants from Ryan Villopoto's race machine last year, focused on improving power from way down low to mid-range and they do exactly that. If any of the Kawasaki personnel involved in developing that engine are reading, well done.
Suzuki is introducing their new machines to the media next week and Honda and Yamaha should do the same sometime in August. Stay tuned for those updates and the ensuing shootouts later this summer.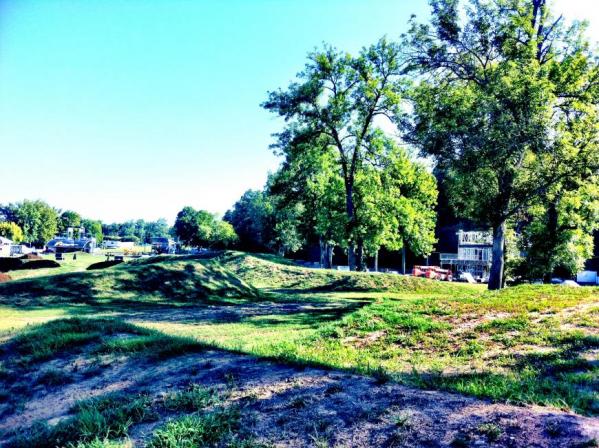 Stay tuned to Racer X Online next week for coverage from Loretta's.
DC photo
Here's Aaron Hansel:
In case you haven't noticed, the WMX is currently in the midst of one the most exciting seasons in the history of the class. Jessica Patterson continues to fight through injuries including a dislocated shoulder suffered at Hangtown and a surgically repaired broken hand, and Ashley Fiolek has heroically fought her way back into championship contention despite missing High Point with a concussion. It's great stuff, folks, and at Washougal the drama was ratcheted up a notch when Jessica Patterson lost a bunch of valuable points when stalled her bike while leading the second moto.
Patterson is obviously still very fast, but after watching her ride tentatively in practice and opt not to launch the triple like the other girls, it was evident that her hand was affecting her performance out there. It's definitely a bummer for her, but it sure has helped make things much more interesting in the WMX. Right now, Patterson still holds the red plate, but she's only two points ahead of Tarah Gieger and only 11 up on Fiolek, who is on a four-moto win streak.
We've been waiting for this kind of season in the WMX for a while, and now we have it. With just four motos left, Patterson, Gieger, and Fiolek are so close that accurate predictions aren't possible. Six-time champ Patterson still holds the lead and definitely knows how to win championships, but she's injured and Gieger is just a moto win out of the points lead. If Fiolek runs the table at the remaining rounds, she wins the championship! I'm definitely going to be following this story when the series resumes at Southwick, and you should too. If you're lucky enough to be in attendance, make sure to keep an eye on the action out there. Patterson and Gieger have banged bars a few times this year, and with the championship coming down to the wire, don't be surprised if they do it again in the sand.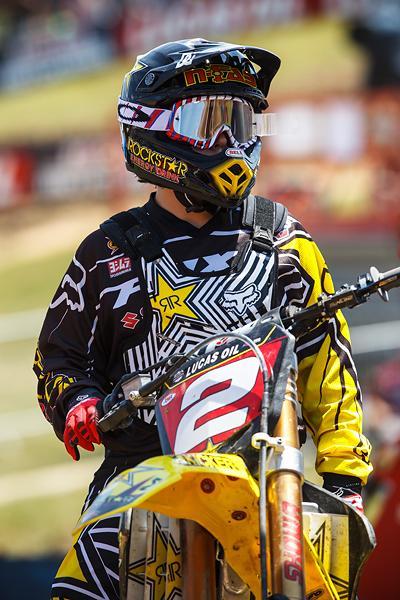 With only two races left, the WMX Championship is coming down to the wire.
Simon Cudby photo
Speaking of attending live races, I want to share a little secret about Washougal's best place to watch the start of a race. At the base of Horsepower Hill, which is a couple turns after the gate, there is a jump. If you stand just on the other side of it, it blocks the view of the pack as it thunders down the stretch. I know what you're thinking, why would you want to black your view? Just stay with me here. As you stand there, your anticipation builds as you hear the screaming engines get closer. Then, mere feet away, they just explode into sight over the jump. The combination of forty riders bursting into view, the sound hitting you in the chest and the wind they create as they pass, triggers an almost visceral reaction in even the most seasoned of race watchers. I always make sure to watch the beginning of at least one moto there, and it's never let me down. Check it out if you're ever at Washougal.
Lastly, be sure to check out the Racer X Vault if you haven't yet. It's the ultimate source for results from motocross and supercross that goes all the way back to the beginnings of our sport. For those of you that have had some trouble viewing the site in the past, the tech department has made a few changes, so head on back to The Vault and have a peak. If you run into any errors, be sure to send an email over to, vault@racerxonline.com. We may not have a chance to respond to you, but know that making sure that The Vault is the most comprehensive, accurate and reliable listing of race results is very important to us, and we read and investigate every single email that we receive.
Thanks, Hansel...
Okay, speaking of The Vault, check out this photo the guys back at the office unearthed. This is from twenty years ago, 1992, the year Deegan got third in 250/Open Expert but was DQ'd in the 125 A Stock class for having a modified bike. I was in that A class with Deegan, and when I went back and looked at the Loretta Lynn Vault I somehow went 17-13-2 for ninth overall. I remember working (and drinking) most of the week, racing as an afterthought. But my Dad gave me a good, cold stare after I barely made it to the finish in the second moto. So I focused really, really hard on that last moto, got lucky on the start with a holeshot, and just held on for my best moto ever there... And it was twenty years ago! Ouch.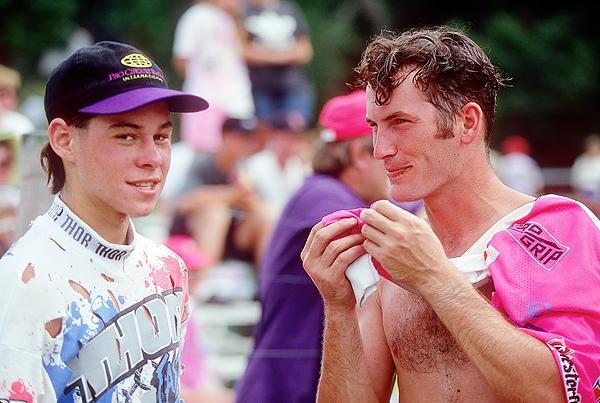 The Metal Mulisha's Brian Deegan and DC hanging out a race together at Loretta Lynn Ranch way, way back in the day!
And our friend Billy Disney (no relation) sent along this newspaper article he got published in the Stillwater News Press concerning local product Justin Bogle's return to racing.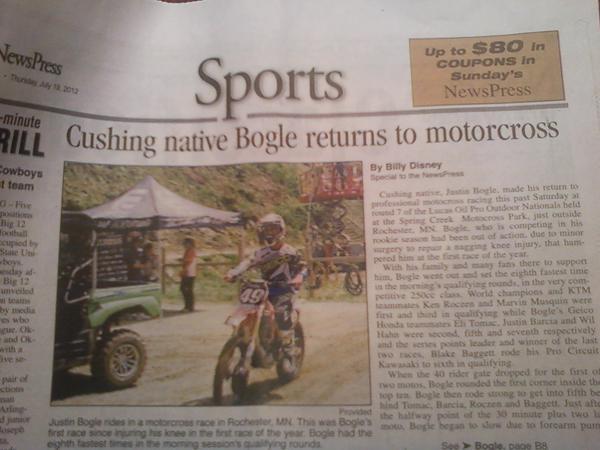 Check out what the Renthal boys found in their archives...believed to be the very first Renthal ad! It apparently came from Motorcycle News in the UK and it was published in 1969. It's older than Adam Duckworth!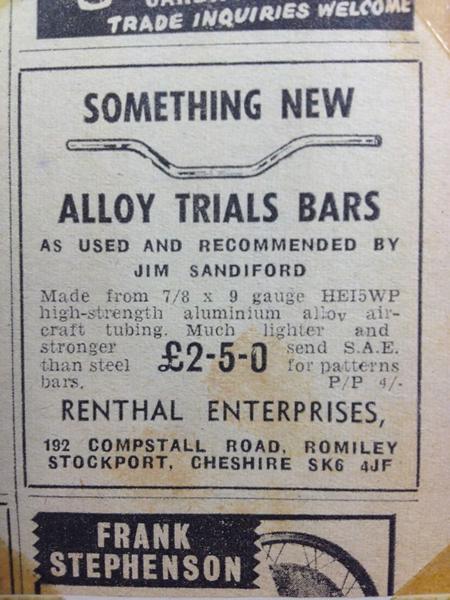 Motocross is set to embark on Uganda, the former war torn East African nation, for next month's FIM Africa motocross championship. Check out the full report here.
Bermuda, the beautiful island located in the Northern Atlantic, held another round of the Bermuda Motocross Racing Championship last week. Click here to read the full report.
Check out this footage of Ryan Villopoto throwing the first pitch at Angel Stadium last Sunday in Anaheim, with a little help from Miss Supercross, Diana Dahlgren.
We would like to wish Racer X's own Aaron Hansel a Happy 31st Birthday!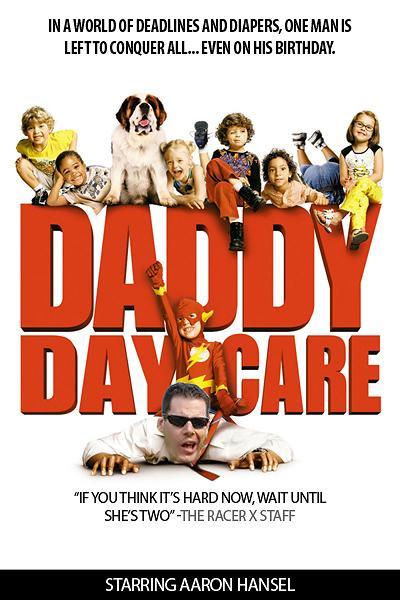 Racer X Publisher Scott Wallenberg weighed in on the happenings in Boise, Idaho. First off he had an experience of a lifetime with the help of Moto Tech's Loyal Gibbons and Husqvarna USA by taking an off-road adventure ride with AMA Hall of famer Broc Glover and Grammy Award-winning musician Lyle Lovett. It was a 97-mile trek that culminated in the last hour riding back in total darkness! Lyle grew up racing MX on Husqvarnas in Texas and still loves to ride when he can. His skills in the dark earned him the title "Nightrider." More fun ensued when Scott and Lyle grabbed a couple of guitars and did a little jam for Broc's video camera.
Also local Idaho Pro MX racer Cole Siebler is promoting the Idaho Supercross in Boise on August 3-4-5 in the Century Link Arena. For details go to www.idahosupercross.com.
Lastly, our 2nd Annual Boise Racer X fan party will take place on Wednesday, August 15 at the famous Knitting Factory concert club in downtown Boise, in conjunction with the annual WPS Convention. Admission is free and there will be a special screening of Belgian TV footage from the 1981 Motocross des Nations in Lommel, supplied by MX Files video guru Todd Huffman. This is the event where Team USA shocked the world, and USA Team member Chuck Sun will be in attendance to describe the action from his point of view. The evening ends with a live concert from the Blues Addicts. We hope those in the area can make it.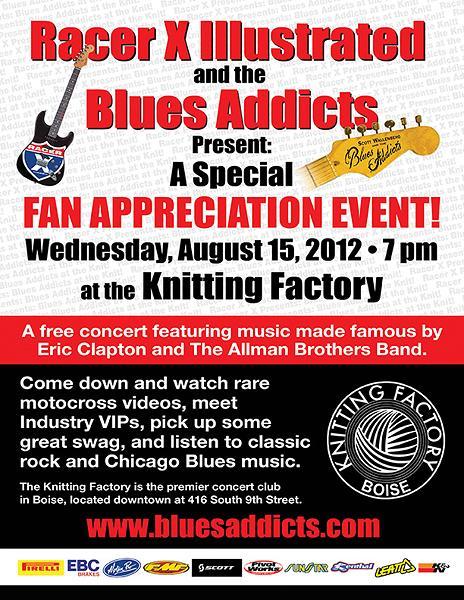 Finally, who's going to be on Team USA? Your guess is as good as ours! But here's what our crack-staff of bench racers came up with.
That's it! There's bound to be something to do out on the infield. Thanks for stopping by and reading Racerhead. See you at the races!