Washougal, WA
Washougal
AMA Pro Motocross Championship
Hanging on the edge of the top ten for the entire season is a challenge of its own. Eager to bounce back after a difficult 2011 season riddled with inconsistency and injury, Lucas Oil/Troy Lee Designs Honda's Travis Baker had a decent showing in the West Coast Supercross series, finishing tenth overall. With only the Nationals left before his contract is up, he looked to stay healthy and consistent in 2012. With only four rounds left to the season, Baker is looking to continue improving each week. We caught up with him for this week's Between the Motos.
Racer X: First off, start by telling us how Washougal went for you.
Travis Baker: Washougal was a struggle for me. I qualified tenth, which was pretty good. Top ten, I try to do that every round. Then I went into the motos feeling good, but I crashed on the first lap of both motos. So I came from the back in both motos and ran 14-15 for thirteenth overall. I showed a little bit of speed, but it was a struggle.
Was the reason you crashed on the first lap of both motos the same?
The first lap of the first moto, I washed out my front end. The dirt's tricky there. I just kind of felt like I could run it in. I couldn't, went down. Then second one, just got a bad start and got caught up in all the chaos and some guy just cleaned out my front wheel.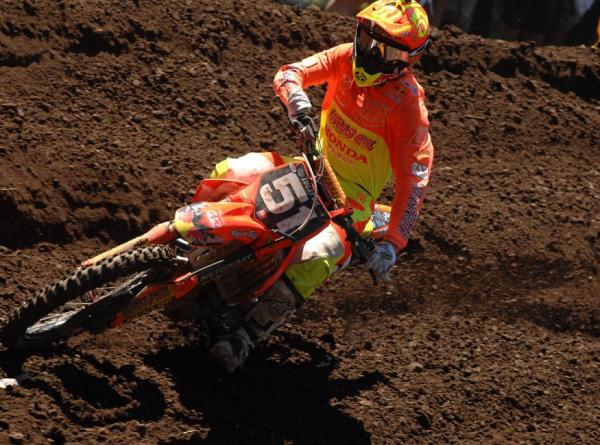 A pair of first lap crashes at Washougal would relegate Baker to thirteenth overall.
Carl Stone photo
A lot of riders said the track was really one-lined this year. Did you think the same thing?
Yeah, the track was really one-lined. I mean, there were some spots with a couple lines where there's that one really fast line and then one alright line. It was hard to pass guys. The top five guys went fast and then the group from like eighth to fourteenth, where I was, we all stayed in the same line, kind of.
Obviously you're doing a lot better so far this season than you were last year. What was your goal coming into this year?
The goal was to be a top ten guy. I just wanted to do better than that and to keep improving. Last year I struggled with being consistent and getting hurt. So that was my goal this year, stay consistently around tenth and just keep improving and getting better.
Is there anything in particular that you've been struggling with all season?
A little bit. I mean, really just going faster! Those top guys are good. I don't know. I just need to get more speed and build more confidence.
You had your best race at RedBud. Was there something about that day that really suited you?
It was hot. I don't know, I just felt good on the track. Actually, Budds Creek, there and Millville, I felt pretty good. Like I said, I'm taking this year to get better and better.
When I'm at the races, I notice that you and your teammates all seem pretty close. What is it like to have a team that's so close compared to some of the other teams that don't really spend as much time with each other?
Our team is really close. The team manager, mechanics, Troy [Lee] and the riders, we're always joking around. It's a good atmosphere to be around. You've got to keep the fun in the sport you love.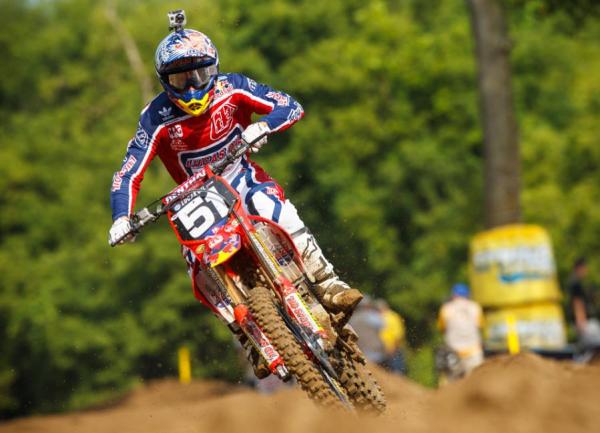 Baker's contract with Lucas Oil/Troy Lee Designs expires at season end.
Simon Cudby photo
Now you've got a few weeks off before you go into the last leg of the series. What are you going to be doing over the break?
Riding, trying to get faster so I'm not getting smoked and uh [laughs] no, I'm kidding. Just riding and getting better. Then I'll do a little jet skiing. Yeah, just trying to get better.
What are your goals for the end of the season?
I want to be, like I said, in the top ten and just try and get better. I've shown that I can, I just need to do it every round. I've just got to.
When does your contract run till?
This is my last year. I'm trying to figure it all out right now to see what's going on next year. We're talking, but nothing's signed yet.