Washougal MX Park
Washougal

,

WA
Washougal
Lucas Oil AMA Pro Motocross Championship
After five-straight weekends of racing, the Lucas Oil Pro Motocross Championship went on a two weekend break following the Red Bull
Budds Creek
National. Many riders said they'd come back better than ever after the break, but how much of a difference can two weeks really make? Can a rider's season really turn in 14 days, 336 hours, 20,160 minutes and 1,209,600 seconds? For a majority of riders, it doesn't. But for wounded warriors
Justin Brayton
, Derek Anderson and
Gareth Swanepoel
, it can. For inexperienced rookies Cole Thompson and Kyle Peters, who are still adjusting to the intensity and pure speed of the pro ranks, it can. For riders still making adjustments to new equipment, ala
Les Smith
, it can. And for privateers Mike McDade and Heath Harrison, it can.
In this week's Bench Racing Ammo we take a look at some of the riders who used the two-week layoff as a stepping stone to better results.
Brayton recently revealed that he was suffering from a concussion and hand injury early in the season, which helps explain his inexplicable early season results of 19th, 13th, 7th and 11th. The Iowa native really began to turn his season around before the break with a 5th at Budds Creek, and since the two-week rest, has been on an absolute tear. Brayton captured his first podium of the year at RedBud (second overall) and backed it up with a solid fourth overall at Millville.
Average Finish Before Break: 12.0
Average Finish After Break: 3.75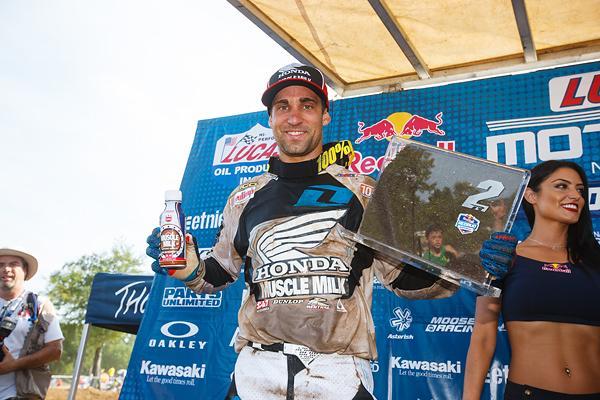 Justin Brayton has been on fire since the break.
Simon Cudby photo
Smith was a victim of circumstances through the first five rounds of the series. The only rider, besides 450 points leader Ryan Dungey, to compete on the new KTM 450SX-F, Smith was dealing with some mechanical issues early in the season. The two-week break obviously allowed the team, and Smith, to work out some kinks as Smith has put together his three best motos of the season since. Smith began the season with disappointing results of 28th, 24th, 19th, 32nd, and 18th, but turned the corner in the second moto at RedBud where he finished 12th. The South Carolina native then put together his best result of the season with a 7th overall at Millville.
Average Finish Before Break: 23.1
Average Finish After Break: 17
Cole Thompson:
While Millville will mark the last 450 ride of the season for Thompson, who earlier this week signed with Star-Valli Rockstar Yamaha to compete in the 250 Class, the Canadian privateer certainly left his mark. But that doesn't mean it didn't come with its own set of hardships. After a breakout ride at Freestone that put him on the map, Thompson went cold, scoring zero points until the second moto at Budds Creek. After results of 17th, 26th, 33rd, and 17th through the first four rounds (Thompson missed Hangtown) he has broken down the door with career-best results of 7th and 8th.
Average Finish Before Break: 24.5
Average Finish After Break: 9.25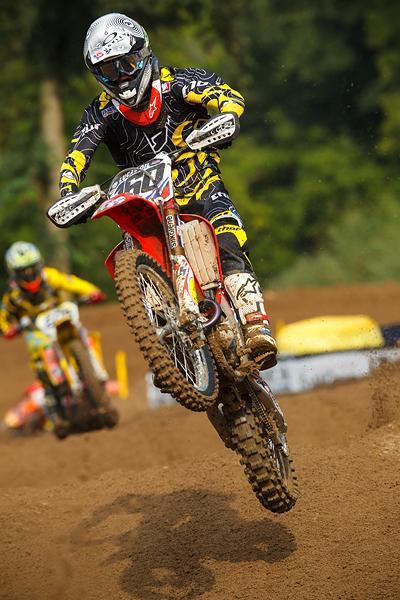 Cole Thompson has been explosive since the two-week break.
Simon Cudby photo

Derek Anderson:
Anderson was another rider that saw his stock rise with an early season top ten at Freestone. But an ankle injury two weeks later at High Point grounded his season to a halt. Anderson began the season with 23rd, 16th, 16th, DNQ, and 26th overall finishes but has begun to right the ship. Although the friendly Colorado native has yet to put together back-to-back motos, he reached the top ten for the second time this season at Millville, and scored his third best moto score of the season at RedBud with a 13th.
Average Finish Before Break: 19.125
Average Finish After Break: 15.75
After missing the entire outdoor scene last year due to surgery on both shoulders, Wharton was solid, but not spectacular, this year before the two-week hiatus. He did have a breakthrough ride at his home track, Freestone, in which he landed on the podium, but only scored one top ten overall finish after that. Finishes of 12th, 4th, 7th, 19th, and 12th before the break, didn't leave Wharton with too much to fine tune. But the Texas native obviously fixed a couple of things and has come out swinging with back-to-back top ten overall finishes—including a fifth overall at Millville.
Average Finish Before Break: 12.7
Average Finish After Break: 7.5
Quick, name the only other rider besides the Monster Energy/Pro Circuit Kawasaki trio of Dean Wilson, Blake Baggett and Tyla Rattray to win a moto during the 2011 Lucas Oil Pro Motocross Championship. If you guessed Gareth Swanepoel, you would be correct. The "other South African" had a breakout season in 2011—which included his first career moto win—but struggled with a knee injury through the first half of 2012. He finished 13th, 17th, 12th, 12th and 13th. Not exactly where he wanted to be, but nothing to be regretful of either considering the injury. The two-week break provided the South African a chance to rest up and it showed when he scored his best finish of the season with a 7th at RedBud. But the momentum swing didn't last long as Swanepoel suffered a broken leg a week later during the first moto at Millville. But he toughed out the moto and finished 15th!
Average Finish Before Break: 15.3
Average Finish After Break: 10.3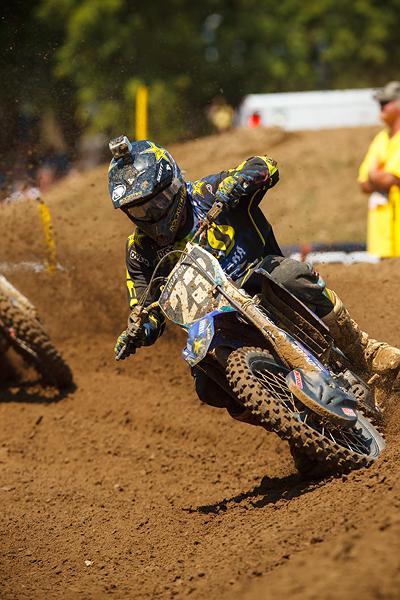 The turnaround for Gareth Swanepoel didn't last long.
Simon Cudby photo
Kyle Peters:
Peters is another rider that has been bombarded with injuries during 2012. He suffered a shoulder injury just before supercross and then came down with an illness before the Lucas Oil Pro Motocross season opener. The North Carolina native soldiered through the first half of the season scoring 17th, 14th, 19th, 14th, and 22nd place finishes. Peters has come out strong after the break, capturing a season high 11th at RedBud, which came just days after he injured his shoulder for the second time in 2012.
Average Finish Before Break: 17.6
Average Finish After Break: 11.6
Other Notables:
Reigning East Lites Arenacross Champion Mike McDade made his 2012 Lucas Oil Pro Motocross debut at his home track, High Point, but was unable to sneak inside the top twenty in his only two races before the break. The two-week break allowed McDade to make some adjustments to his program and has scored points in three of four motos since—including a season high 15th in the second moto at Millville.
Privateer Heath Harrison was another rider that had gone scoreless before the break. Since the two-week layoff, the Florida native has scored points in two of four motos.