The motocross world lost a very dear friend this past weekend when Chicopee, Massachusetts Art Jefferson passed away suddenly in Rochester, Minnesota from a stroke. A husband and father of two, Art traveled to each round of the Nationals as the Paddock Concierge. He was 52 years old.
Blessed with the ability to always see the positive and bring out a smile in everyone around him, Art was an extraordinary man who has touched the lives and hearts of everyone he met.
Jefferson had perfected the art of smiling, and you could always count on seeing a grin spread across his suntanned, welcoming face. He was never in a bad mood and would always greet you with a joke or a pleasant thought. That smile was effortless. And while Art has left us prematurely, he spent his life showing us all how to smile and encouraging us to keep a positive outlook.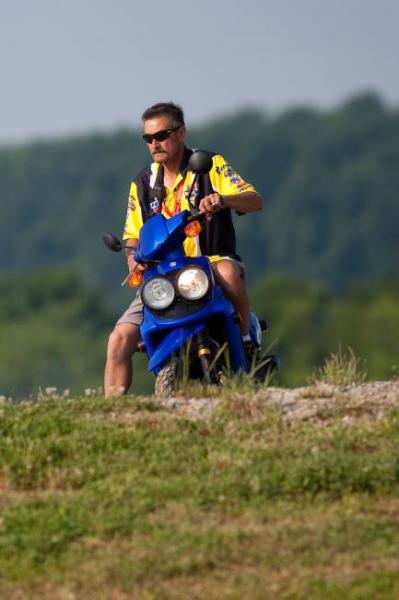 Just being around Art was enough to put you at ease. He'd always have a story about his two beautiful daughters and his incredible wife. He was a family man, and he was proud of them all; they, in turn, supported him through all his years traveling with the Lucas Oil Pro Motocross family.
Art was two years from retirement from the electrical union in Massachusetts, where he worked as a foreman installing traffic lights. Both of his worlds—the union and moto—were direction-oriented. He spent his life showing people which way to go. His was the first face any member of the moto industry would see when arriving at a National. In his eyes, his primary job was simply to make everyone happy, and he had a way of making everyone—from factory teams to privateers in box vans—feel like they had the best in all the pits. He loved zipping around on his blue Zuma and making everyone start their day with a smile.
The motocross industry is a big, crazy, dysfunctional family in a lot of ways. We all get to "live the dream" and participate in the sport we love, and we're surrounded by the most supportive coworkers, friends, and family members. Art Jefferson, more than anyone, truly loved every bit of this life and this family. This was his dream, the "job" he would keep long after his official retirement.
Art's wishes were to have a portion of his ashes spread at his home track of Southwick. MX Sports will have a quiet ceremony with close friends and family to fulfill his wishes at the Southwick National. While his ride here with us is over, his time in our hearts will never end.