Spring Creek MX Park
Millville

,

MN
Spring Creek (Millville)
Lucas Oil AMA Pro Motocross Championship
It looked like Blake Baggett was going to make a break away in the 250 Class of Lucas Oil Pro Motocross, but GEICO Honda's Eli Tomac showed great determination to try to stay with the Monster Energy Pro Circuit Kawasaki rider. Baggett crashed while leading the second moto of the Bob's Cycle Spring Creek National, and Tomac quickly snagged the lead position back and delivered his third win of the season. During the motos, he looked very aggressive trying to keep pace with Baggett, and that persistence paid off. He talked about it after the race.
Racer X: How did today go?
Eli Tomac: Today was awesome. I got the overall and finally got to lead some laps. I haven't led any laps since Mt. Morris for that last half a lap. It was overall just way better. Way better starts. First moto, there was a crazy battle between three or four of us going at it the whole time. Then we only had a 50 minute break between the two. So you had to come back, get recovered and come out swinging for the second moto. I got a good start. I was battling with Blake [Baggett] a little bit. He ended up making a mistake. I capitalized on that and just took it home from there.
How did you feel when you came past Blake and he was down on the ground?
He was going for it. It can happen to anybody. If you're riding the edge, some of those things happen. After that, I was like 'Man, I've got to stay on two wheels.'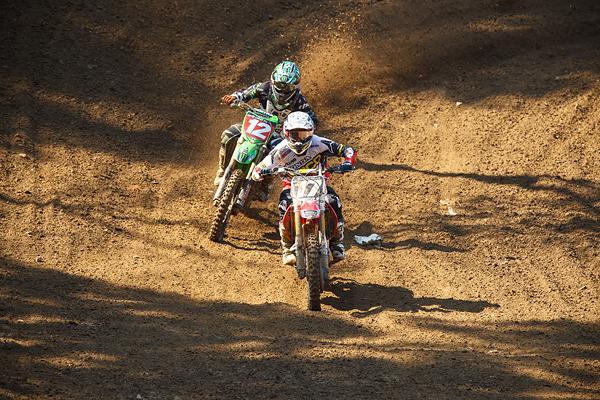 A crash in the second moto from Blake Baggett helped Eli Tomac capture the overall.
Simon Cudby photo
First moto to second moto, big difference. Did you maybe change the bike? What was the difference?
I think that first moto it was just straight up harder riding, basically the entire moto was the four of us. I got pretty out of control in that first lap of the first moto. Going back in sand whoops, I almost endoed, then I made a little mistake before that crazy Chad Reed memorial jump. So at the beginning, I was kind of going a little wild. But then we were all going so fast, so I just kind of settled into that pace and Blake ended up pulling through. It was definitely brutal recovering between the two motos because we only had 50 minutes until we had to be back out. I knew it wasn't going to be an easy one. I definitely needed a better start and I got it. Blake and I were going back and forth a little bit, and he made a mistake. It was actually pretty lucky I was right on him, so I saw he had crashed and I was able to avoid him. If I had been a little further back I might not have seen him because it was a blind jump. I just took it from there.
A few years ago, people were saying. "Oh, Tomac's fast, but when we get to some of those hot races, he's got some issues or he's struggled before." But recently, that's not the case. You showed that with your win in Texas and even today. It was a very hot, humid race and it seems like you're even stronger. What did you change that makes you stronger so you get used to it?
I really think it's just experience and just being older. You're coming into a pro race at 16 or 17 years old, so you're basically still a kid then. It just takes time to be able to build up the endurance and get the tracks down and everything.
I heard you say coming up to the podium that the heat was tougher than even last weekend [RedBud].
Yeah, it's just different. Like today, there was tons of humidity in the air, so you just didn't get that air. At RedBud it was 105, but for some reason, that first moto [today], it was tough. I felt pretty bad after the first moto!
You were obviously riding super hard in the first moto, but it looked to me like when Baggett got you, you almost went to another level. It looked like you were trying to get him back, but then once he got past Barcia, he kind of got away and that was the end of the battle. Does that motivate you even more, when he comes through and makes the pass? It looks like both motos when he got you, you stepped it up even further.
I'm just trying to look at what he does and trying to figure out what he does. He seems like the kind of guy that knows when to go, and when to hang back. So when he passed me, I was like, 'Okay, let's go now!' You know, he did pass Justin there and got away, so that kind of spaced us out. I was just trying to figure out what he does.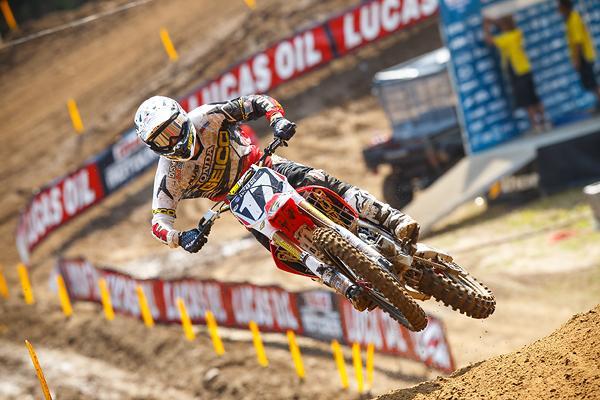 Tomac now trails Baggett by 34-points in the championship standings.
Simon Cudby photo
You're kind of in the thick of the points. It wasn't like that the first couple of years. How do you keep your chin up? Some weeks, you'll get a third or fourth. But you've won three races. How do you try to keep level emotionally when some weeks are just good and some weeks are great?
You try to go out there and get as many points as possible. Really, it's just important to get wins because they have that extra point. I gained a few points today. Not as much as I'd like, but we've still got like five rounds to go.
What do you do to recover between motos at these really hot and humid races?
I drink like crazy. You've got to get as many fluids in you as you can. I throw that ice vest on. Keeping that core temperature down is the most important thing. I try and get some food, too. During that time, it's just a little bit crazy.
How much of that is just adrenaline, too? Compare how you felt in between motos to how you felt during the motos. Is it one of those things where, once the race starts, you can do things that you probably didn't feel like you might be able to do?
For me, it seems like I feel better during the second motos. I don't know if that's just because I kind of just blow it out in the first moto or what. It's just all about relaxing in the first part of the race so you don't tense up and get tight for that second half.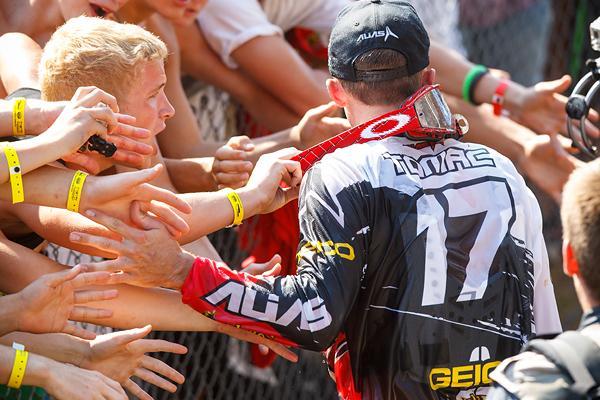 Tomac celebrates his third overall of the season.
Simon Cudby photo
A couple of riders commented that after the finish line, you would come around the second jump and you would see all these orange cones and detours to get through the whoops again. Were they really that brutal?
Yeah, I mean like from where Blake crashed, all the way to the sand whoops and out, it was just square edge city. You were just pounding it the entire time.
What are your thoughts and goals going into Washougal next week?
I think it's a good one. It has some cool terrain up and down hills. It's definitely a different kind of track. It's a little more hard pack and slick. I've just got to go out there and get as many points as I can. I've got to beat Barcia and Baggett. Right now, those are the two guys in front of me. So that's my goal.