Buchanan, MI
RedBud
Lucas Oil AMA Pro Motocross Championship
With the conclusion of the Red Bull
RedBud
National, we've hit the halfway point in the 2012 Lucas Oil Pro Motocross Championship.
RedBud
is one of the best races on the schedule, mainly because it seems immune to any changes. No matter what, the fans come out and watch the race. It's fallen around the Fourth of July for as long as I can remember and I suppose the Michiganders just automatically go there, like fans to an M. Night Shyamalan feature -- you don't know what you're going to see, but you just have to go. Although, M. Night has sort of lost me after that creature that lived in a hotel's courtyard.
The 450 Class witnessed another domination by Ryan Dungey, as he somehow managed to put even more time on the field at RedBud than he did at Budds Creek a few weeks ago. At Budds Creek he had a ten-second lead after ten minutes, but this week, that lead was up to seventeen seconds after just ten minutes! Dungey's on a roll right now and it's looking a lot like 2010 out there. He's crushing the field on his KTM, and along the way he's racking up records. I've said this before and I'll say it again, he's like the Terminator. He has no remorse for his competitors, and he's not affected by weather, heat, cold or humidity. He just never stops laying it on out there. He's the Dungenator! Anyone wanna' bet he wins this weekend at his hometown race in Millville?
The big news this weekend was James Stewart coming back to the series after missing time with an injured hand. With Dungey crushing it, it was tough for me to see James winning. Stepping into the scorching temperatures in a series that has been going on without you is not a recipe for victory. Plus, Stewart hadn't really ridden that much. When you consider the fact that before he left with injury, he was just a smidge faster than Dungey, then add in the improvements made to Dungey's bike, as well as his confidence, and you get what we saw on Saturday.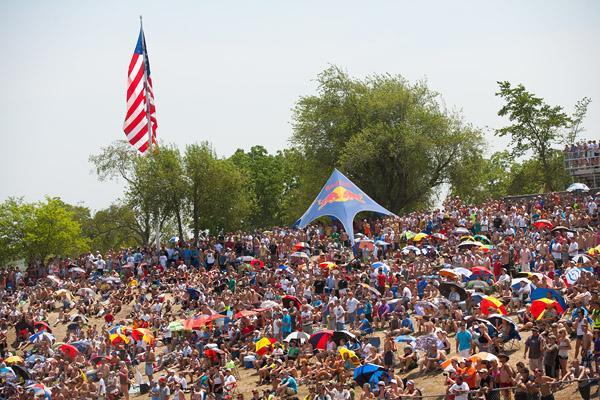 The fans always turn out in droves for RedBud.
Andrew Fredrickson photo
Stewart got into second in the first moto, but he didn't have anything for Dungey. The KTM rider slowly pulled away by a couple seconds a lap, and the best that Stewart could have hoped for on this day was a second. He wasn't as close to Ryan as I thought he'd be, to be honest. Later in the first moto, he fell, then he stalled and sixth was the best he could do. In the second moto, he didn't get a great start and by the time he worked his way into third, second-place Mike Alessi was gone, as was Dungey. But I didn't really have to type that last part, did I?
I know Stewart put on a brave face after the race and said the right things about him just coming back from injury, and that it's tough when these guys have been racing while he's been out. He even mentioned that he's only been able to ride four times up to RedBud, which is definitely going to hurt him when it comes to matching up against Dungey. Here's the thing though, he's only happy when he's winning. That's it. There's no getting beat each and every week if you're James Stewart. He doesn't like it and isn't conditioned to it. He'll start practicing, riding his bicycle and I'd look for a better performance from the Seven starting this weekend at Spring Creek. He's got too much pride to go 6-3 every weekend.
We're finally starting to see some separation in the 250 Class. Monster Energy Pro Circuit Kawasaki's Blake Baggett has a 19-point lead after his 1-1 ride at RedBud. He's now won three out of the last four motos and has twice as many moto wins as the next guy. Baggett's establishing himself and getting on a roll, much like his now injured teammate Dean Wilson did last summer. Baggett's ride at RedBud was masterful. He came from the back in the first moto, as he is known to do, and in the second moto, he grabbed the lead, fell over and took it back. He was the only 250 guy jumping LaRocco's Leap and really, it was curtains for the other guys on this day. His three main competitors better do something fast or this thing is going to be over before they know it.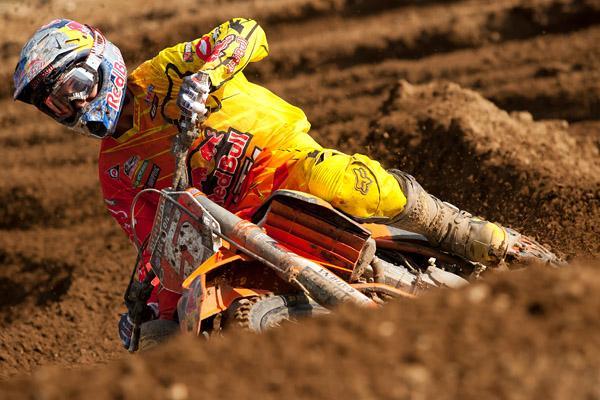 Dungey was on another level at RedBud.
Andrew Fredrickson photo
Baggett's in Florida for another week and then he's back to Southern California. A couple of weeks ago I spoke about how going to Florida helped out Wilson last year, and how I thought it would help out Baggett this year. Well, he went out there to train with Aldon Baker, ride some different tracks, practice with some different guys and he rode probably his best race of the season. Coincidence? I think not.
After the race Justin Barcia wasn't nearly as pissed off as I thought he might be. Bam-Bam is one of those guys that's intense about his racing and wants to win badly. And sometimes, he lets his emotions get the better of him. He wears them on his sleeve, you know. Anyways, he was pragmatic about his 2-2 day in which he led laps in both motos. We talked about cigarettes, mustaches, him not calling me back last week and pretty much just joked around about stuff. He said he rode his best, and what are you gonna' do? That pretty much covers it. He was very good on this day -- better than 38 other guys by far -- but he just wasn't able to stick with Baggett.
His teammate, Eli Tomac, has the worst starting position out of any of the big four (or the big five if you want to count Musquin) and this weekend was more of the same. Tomac caught the tail end of the fast four in the first moto but tipped over. In the second moto, he got a start and rode well (great battle with Musquin) and got third overall by the slimmest of margins. But just like what I wrote about Baggett a while back, you can't bank on coming through the pack. There are just too many variables with that. He's got to figure out his starts ASAP.
We've been wondering what is going on with Justin Brayton this year. Simply put, he's been stinky most weekends. On a factory Honda with his background and skills, he's got to be better. But then in doing some digging, it turns out he had a concussion and an injured hand coming into the Nationals. As a matter of fact, at the first outdoor test scheduled by Honda, Brayton only went a lap or two and went down. That was it for him; he backed off and concentrated on trying to get second in supercross.
Second overall at RedBud is a great result for the hardworking guy from Iowa. In fact it's a really, really, great result for Brayton. Sure, he benefitted from some inconsistency from Jake Weimer, Mike Alessi and others, but he still earned this result by getting great starts and putting in great laps. His fitness seemed on point as well. Many times we hear that the two-week break is going to result in a new and improved rider, but many times we see no difference. In Brayton's case, we actually saw a new guy.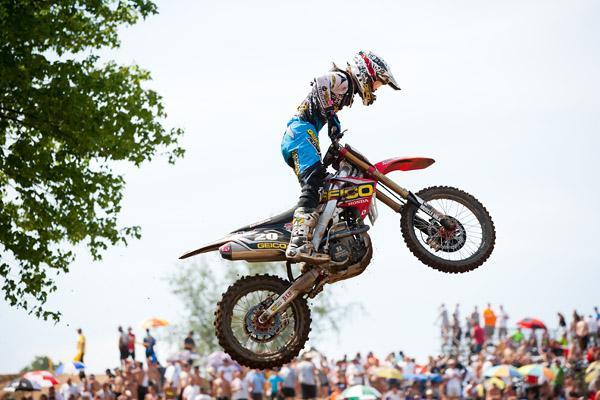 Justin Barcia lead for a majority of both motos, but could not hold off a charging Blake Baggett.
Andrew Fredrickson photo
What's he going to do next year? I have no clue. Honda's got Justin Barcia and Trey Canard already under contract and it seemed that after the supercross season, they were interested in bringing Brayton back. Now, it seems that it's up in the air as to whether he comes back or not. We all knew that Barcia was coming to the big team and Canard, well he's a multi-race winner and was most likely coming back too. Budgets and deals are very fluid this time of year, but I'd have to think Brayton's made a good enough impression to be strongly considered for a third spot at Honda.
Star Valli Rockstar Yamaha's Kyle Peters is in his first full year on the circuit and we can already see that the kid is a good starter. His problem has been staying up there. He had his best National by far at RedBud. He was on it! Maybe the two weeks off helped him catch his breath a bit. Whatever it was, his eleventh overall was great to see, for him and the team. I'm not sure if he's going to come back next year on the team or not but in my opinion, I've seen enough of Peters in supercross, and now in motocross, to give him another year to try and get to that next level.
Last season Jason Anderson came out of the amateurs ranks very highly rated and got a ride on the Rockstar Energy Drink Suzuki team. Then come the Nationals, and he was not performing. As a matter of fact he was going backwards and struggling badly. The team made a very rare decision to bench Anderson for a few races to relax, work on his fitness, clear his mind and come back when he was ready. When Jason came back, he was much improved. And this year, Anderson is looking good to take that next step up in 2013 where he might win some races.
Here's where I'm going with this: Traditionally speaking, Star Yamaha's leadership has made bad decisions over the years in letting riders go who didn't immediately succeed. They just tossed them aside instead of, like a gentle little flower, growing and watering the rider to try and see what they have. Want examples? Darryn Durham was one and done there, as was Wil Hahn. Both riders have turned out pretty good, wouldn't you say? What about last year's rookie Gannon Audette? He did pretty well for a rookie (fifteenth overall, with his best finish being fourth in a moto) and he was one and done. Now, the jury is out on Audette as to whether he's going to be a Durham or Hahn because this year he broke his wrist in practice at his first supercross, but I'll be keeping my eye on him because trust me, getting one and done at Star doesn't mean you don't have talent, as per Durham and Hahn.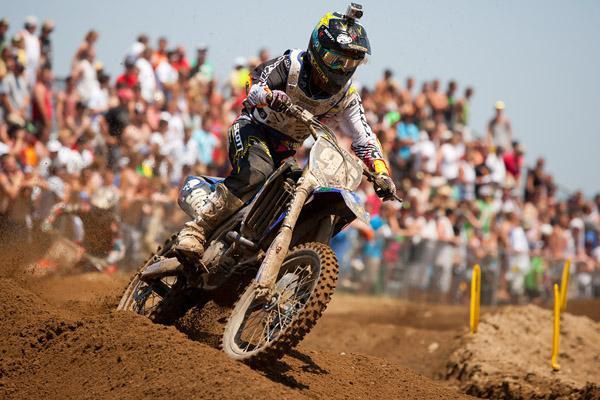 Kyle Peters had his best ride of the season at RedBud.
Andrew Fredrickson photo
We're halfway through the Nationals and using the Google has enabled me to provide you readers with these stats for the riders we just talked about. These are total points the riders had after RedBud in their rookie seasons with Star Racing:
2008- Wil Hahn – 52
2009- Darryn Durham- 72
2011- Jason Anderson-38 (rode for Rockstar Suzuki)
2011- Gannon Audette 72
2012- Kyle Peters 66
So as you can see, the rookie Peters is right in line with the other rookies that Star threw overboard too soon. He's also killing Anderson's rookie stats from last year. The point of all of this is:
A- Peters has shown enough to be given another chance (I hear he's out but who knows). Let's hope the team finally learns to fix the error of their ways.
B- If I was Jeremy Martin coming to the team after Loretta's this year, I'd be worried about this seemingly company policy of one and done for rookies over there at Star Yamaha. Remember, Peters' SX season got off to a late start due to a broken collarbone. It's not fair to let one injury set a rookie back and then decide he doesn't have "it" after just a few months.
Please keep Kyle Peters, Star Racing! I think the stats above, and Rockstar Suzuki's handling of Anderson, speak to this fact.
Let's take a look at the results shall we?
250 Overall Results
1. Blake Baggett 1-1 Kaw
2. Justin Barcia 2-2 Hon
3. Eli Tomac 5-3 Hon
4. Marvin Musquin 4-4 KTM - This just in, we're all talking about the big four while Moving Marvin The Martian/Marv Attack Musquin has quietly gone 4-4-4-4 in the last four motos. He's stepped up his game and he's in the mix. Man, watching him ride is pretty cool. He's got finesse just leaking out of his ears, which ironically enough, is also his downfall. He doesn't just pin it and hold on through the roughest part of the track when he needs to. Still, great job for Musquin.
5. Ken Roczen 3-6 KTM- Roczen's second moto was very out of character for him. He just stayed there in sixth the whole time.
6. Wil Hahn 6-5 Hon- Hahn needs better starts. If he can start with the big guys, he can finish with them. When he doesn't, he can't.
7. Gareth Swanepoel 9-7 Yam- No one talks about this guy. I don't know why, he won a moto last year at Southwick!
8. Blake Wharton 7-12 Suz- In my mind, Wharton should be closer to Hahn than he is right now.
9. Jessy Nelson 12-9 Hon
10. Travis Baker 11-10 Hon- Baker's best race of the year and a real eye opener for him. He was very good all day and in both motos.
11. Kyle Peters 8-13 Yam- I think I've made my case.
12. Tommy Weeck 19-8 Yam- Great ride for Weeck, who just got on the bike roughly a week ago. An eighth is legit and I'm sure Tommy is looking at the fact that he beat former teammate Jake Canada, and looking at MotoConcepts team owner Mike Genova asking, "What's up now?"
13. Jason Anderson 10-17 Suz
14. Malcolm Stewart 40-11 KTM- Stewart's bike broke in the first moto and his awesome year continues.
15. Jake Canada 13-19 Hon- Canada ran out of gas in the first moto, and it didn't get any better for the second. He told me that his crew did something wrong, and he was getting SPRAYED BY GAS the whole second moto. He had to stop at one point and get more gas because he was GETTING SPRAYED BY GAS during the race. I'm not making any of this up.
16. Zack Freeberg 17-16 KTM- Another good ride for Freeburg (who seriously needs a lighter on the back of his pants with "Freeeeeeburrrggg" under it. Think Skynyrd). He's the first guy in the points who you look at and wonder, "Who's that?" That's a good thing for him.
17. Phil Nicoletti 39-14 Hon- Filthy Phil was up there in one moto before crashing back. At least I think he crashed back. I also heard he has some small mechanical issues. The anvil keeps dropping!
18. Jacob Hayes 14-21 KTM- I don't know anything about this guy. Nothing. I know, that contradicts my rant on the Racer X podcast about announcers, but trust me, if I was announcing, I'd have reams of info about Hayes. (Editors Note: Matthes, you need to come to Loretta's one of these years. Does a body good. – Weege).
19. Killy Rusk 34-15 Hon
20. Dakota Tedder 15-22 Kaw- Good ride for the Tedder.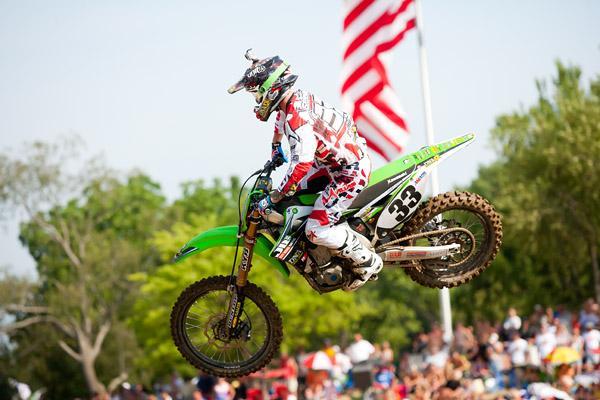 Josh Grant was solid at RedBud finishing 8th overall.
Andrew Fredrickson photo
450 Overall
Ryan Dungey 1-1 KTM
Justin Brayton 3-4 Hon
James Stewart 6-3 Suz
Tyla Rattray 4-5 Kaw- Rattray made his return this week, and a 4-5 is about what I expected. He'll get better as the series goes on. He's an animal out there and is as solid and as steady as you can get.
Mike Alessi 11-2 Suz- Alessi caused a big crash in the first moto when he got a little buck-wild going into the second turn, but in the second moto he did what he does. He got the start, led for a bit, got eaten up by The Dungenator and finished second.
Broc Tickle 5-9 Kaw- I was talking to Tickle before the motos and he was saying that we'll see who's been doing work and who's in shape after today. And then he said, "I hope it's me," which gave me one of my biggest laughs of the day. Solid day for Broc after his great ride at Budds Creek.
Cole Thompson 7-8 Hon
Josh Grant 9-7 Kaw
Andrew Short 12-6 Hon- Shorty had a tough day. He was so far back in the first moto after picking his bike up, it was ridiculous. The second moto was better for the Twenty-nine.
Jake Weimer 2-20 Kaw- Bummer for Weimer. He got "Friese'ed" in the second moto while coming through the pack after a fall early in the race. Weimer could'a, would'a, should'a had a podium finish.
Michael Byrne 10-10 Suz- Wow, Byrner gets screwed with a 10-10 netting him eleventh overall. Generally that should get you an 8th or so. He got eaten up by Thompson and Tickle in the second moto because he could barely hang on due to a nasty blister.
Kyle Chisholm 15-11 Kaw- It's just one of those years for Chisholm. He's not pumped with his bike's handling, he's not getting starts and he's crashing here and there. The Chiz's momentum to the top has stalled out this year.
Christian Craig 16-13 Hon- First race back for Craig and sweet Jesus he looked so tired out there. Still, great starts and holding on for dear life at the end of the moto appears to have worked out for him. He'll get better.
Robert Kiniry 8-23 Yam- Bobby did what Bobby does, which is come back from the Canadian Nationals and get eighth in the first moto. Meanwhile, for some reason, his team just doesn't seem to want to offer him a deal for a fulltime USA ride. Just take the triple guys, take the triple.
Nick Wey 17-14 Kaw- This was a much better performance than the last time we saw "part-time," which was out at High Point. As usual, Wey was making them laugh in the pits.
Derek Anderson 13-18 Kaw- Anderson was an early season surprise but then tailed off a bit. He was dealing with an ankle injury that I suppose has healed. RedBud was his first time getting points in both motos since Lakewood.
Les Smith 36-12 KTM- Great second moto for Smith, who may be the only other guy on the new Dungey-KTM 450SXF other than, well, Dungey.
Ben LaMay 14-22 Yam- Good day for LaMay who qualified ninth on the day. Ninth!
Kyle Regal 24-15 Yam- What is going on here? Does anyone know? Can someone figure this out? What's Jim Lewis's number?
Matt Lemoine 34-16 Kaw- Matt's good moto, bad moto season continues.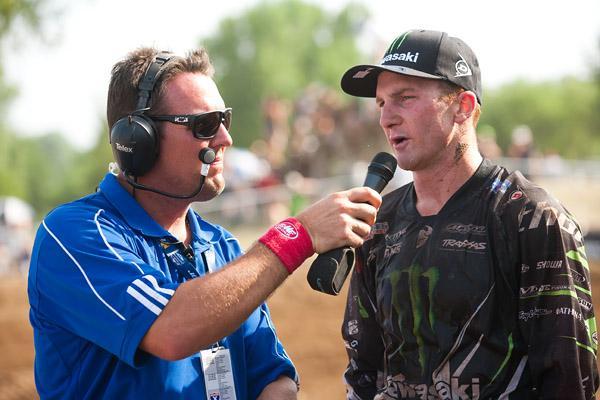 Tyla Rattray was fourth overall in his first race back from injury.
Andrew Fredrickson photo
Privateer Cole Thompson out of Canada had a career day going 7-8 in the 450 Class. Thompson has been at all the Nationals, except the first one, and this was by far his best finish on the season. Previously his best was a thirteenth at Texas. Cole detuned his bike and admitted that he's too small for his full-modded 450, and his arms were pumping up big time. Whatever it was, Thompson impressed with two solid motos. Now the trick is to do it again.
Thompson could have raced up in Canada this year for a modest salary, and he probably could have been a top three guy but instead he's spending his own money to try and make a mark in the toughest series in the world. More rides like what he did at RedBud will definitely help his cause.
Thanks for reading. Email me at matthes@racerxonline.com and we can talk about all things moto.