realMotocross Track Profile: Cycle Ranch
By Iain Grae / realMotocross.com

Cycle Ranch is a southern track located in Floresville, Texas and it features that famous red dirt we've all seen. There are four tracks on the property, with the concrete start main track that's approximately 1.7 miles in length featuring a lap time of about 2:20, a peewee track, a GP track approx. four miles long and a truck race track which is also used a beginner/quad track.
Cycle Ranch has some recognizable names that have ridden here including Andrew Short and Hunter Hewitt as well as several other fast Texans. The facility is 108 acres of red dirt and beautiful oak trees, with permanent bathrooms, private stalls with hot/cold showers, two covered pavilions with picnic tables and two sets of covered grandstands that seat 800 spectators.
Cycle Ranch has the ubiquitous "Moto-Shack" for parts and riding gear and you can clean your bike at the onsite bike wash. The "Moto-Shack" is located behind what they call the "Catchers Mitt", where you can see the racers up close and personal - a large step up into a 180 degree turn which shoots right back down the hill. From the top in the bleachers 90% of the track is visible, food is offered at the track and pitbikes and dogs are fine as long as on a leash (just the dogs not the pitbikes). Cycle Ranch also has wooded camping areas and camping is available via RSVP only Wednesday-Sunday, and features primitive sites or ones with electrical hookups.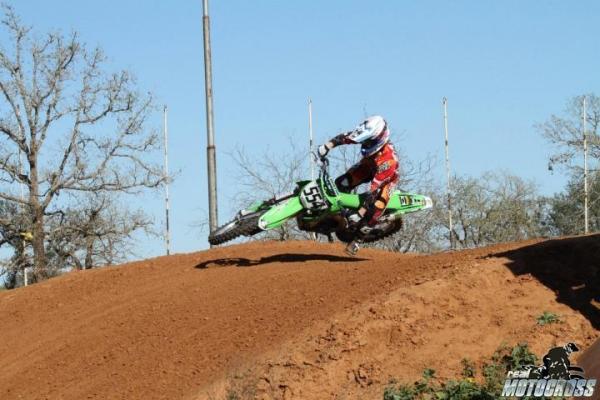 Cycle Ranch not only hosts Pro-Am Racing, but also the Texas 2-Stroke Spring and Fall Cup Series, the EVO Vintage MX Series, the South Central Loretta Lynn's Area Qualifier and the popular TORCS Series…as an added bonus, when you're finished riding, Cycle Ranch is close to the River Walk, Fiesta Texas, and Sea World which offer some après-moto fun!
The Cycle Ranch general schedule is noon to dark Wed-Sunday if there are no race events, so always check the Cycle Ranch website before you travel and for more info, track reviews, photos and videos check out Cycle Ranch.