Loretta Lynn Ranch
Hurricane Mills

,

TN
RedBull AMA Amateur National Motocross Championship (Loretta Lynn's)
Amateur National Motocross Championship
The second day of big bikes didn't disappoint and maybe provided the best racing of the week so far. The first main of the day brought together seventy 2-strokes qualifying down to a full forty man gate in the FMF 2-Stroke Challenge. Mike Sleeter, the KTM test rider showed everyone how it was done in the first qualifier and looked to be the front running going into the main. The other division winner Dean Spangler, one of the youngest riders competing in the class showed great speed in his qualifier.
When the gate dropped for the main it was the #31 of Michael Lapaglia grabbing the holeshot and leading a lap, only to hand it over to Sleeter. From there, Sleeter was able to stretch his lead out. Spangler soon moved into the second position and started to close the gap on Sleeter. But in the end it would be all the #111 of Mike Sleeter taking the overall. Spangler would finish second, with Cole Barbieri rounding out the podium.
In the 250 Int Class Jordan Smith was able to get his first win of the week. After running the same pace yesterday, he was able to keep it on two wheels today and hold on for a win. Nick Gaines would give him some serious pressure for a few laps, but would settle for second. Brandan Leith, the WORCS rider would come in third and Mark Braden would take fourth after leading the first three laps.
Other notes:
- Matt Bisceglia, yesterday's Int Class winner was leading the race and fell over on the first lap right before the finish line. He would remount in dead last and somehow put on an amazing show to get all the way up to the ninth position.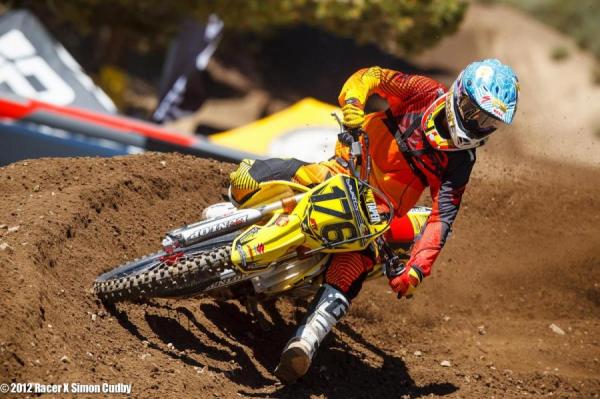 Joey Savatgy took home the overall in the 250 Pro Class.
Simon Cudby photo
The last race of the day is always dedicated to the Pro Class during the big bike week up at the mountain. With only twenty-seven entries in the 250 Pro Class today it became a two moto format. Joey Savatgy, who was out earlier yesterday, showed that he came to Mammoth to win. After starting second to yesterday's Pro Class winner Chris Plouffe, Savatgy would grab the early lead. A few laps later the #710 of Steven Tokarski took over the second position and began to hunt down Savatgy. Soon it turned into a battle and at one point it looked like Tokarski could get the pass, but Savatgy fought back and took home his first bear.
Other notables included Dillian Epstein, who rode the first moto to a fifth place finish win no clutch after the first lap due to a rock breaking the cases. The #8 of Epstien started mid pack and put on an awesome charge to grab a strong third place in moto two.
Click HERE for full results.