Washougal MX Park
Washougal

,

WA
Washougal
Lucas Oil AMA Pro Motocross Championship
Josh Hill turned heads early in his professional career when he made the jump to the 450 Class and started doing well almost immediately. He won the Minneapolis Supercross in 2008, and in 2010, found himself battling for the series lead throughout the first half of the season. Unfortunately, a string of crashes, a broken thumb and a few broken ribs took him out of the title fight. Later that year, Hill ended up seriously injured while learning how to perform a backflip in preparation for the X Games event, Speed and Style. Several more injuries, including a broken tibia and most recently, a broken elbow, have prevented Hill from competing in a single professional race in 2012, although that will change in a few weeks, as Hill has announced that he will be competing at The Caterpillar Washougal National this July. We got ahold of the Dodge Motorsports/Hart & Huntington rider to talk about his upcoming return to the dirt.
Racer X: How's the elbow doing?
Josh Hill: It's fine, I got released to ride pretty much the day of the Vegas Supercross, so I've been able to ride for a while now. I didn't get to ride Vegas because obviously I had no bike time, but I've been spending the summer riding as much as I can and I'm getting ready for one race. I'm going to go do Washougal because it's close to home and the team said they'd bring the semi up, so we're going racing.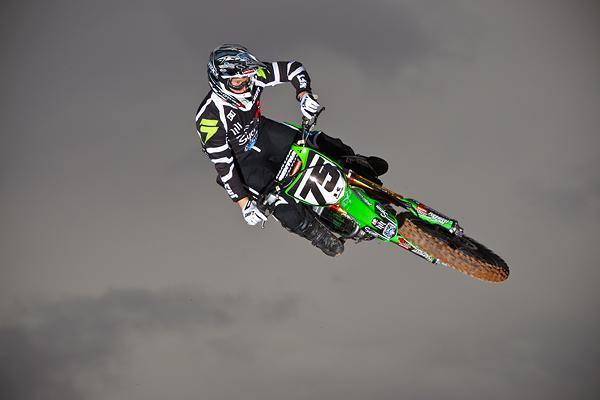 Josh Hill will make his return to racing on July 21 at Washougal.
Simon Cudby photo
Regarding Washougal, are you motivated to stay on the radar, or are you simply just aching to race?
I'm just aching to race. I haven't raced in two years pretty much. I need to go race. I tried to race Anaheim, but in a first turn crash I broke my tibia and heel, so that was my last race. Well, I've been doing some local races around here; it's just good to be back racing.
Growing up in the area, you've got to know Washougal pretty well, right?
Yes and no. I rode there growing up, but it's changed quite a bit since then. They've changed the track quite a bit and brought in different dirt. I actually haven't ridden there, except for the other day I went there to practice, but before that I haven't ridden there in three or four years, so it's been a good while since I've been out there. I'm going to have to readapt to it. But if you live in a similar area and ride on somewhat similar dirt, it's always a little bit of an advantage. I've got a 120-acre piece of land that I've got a bunch of tracks on, and I wouldn't say the dirt's the same, it's kind of between Washougal and Hangtown, but it's good practice.
With the slick dirt and shadows at Washougal, it seems like the local guys who ride there a lot always have a bit of an advantage.
I don't know I've got a lot of disadvantages too, because I haven't raced in two years. It'll be just me trying to check it out, get back in the racing scene, and see where I'm at. I'm not really expecting to set the world on fire. I've probably ridden there less than the rest of the field has, because they've been there the last few years for the Nationals. My last race there was 2008, but I think it'll be good. I like the way the track is; it suits my style with a lot of roll-on.
How about the guys that ride there a lot?
Yeah, there are a few guys that really know how to turn it on at that track. I think Tommy Weeck last year was riding good, I think he passed [Justin] Barcia for a little bit; he was on the gas. Jason McCormick won there back in the day, there's always a few guys that know how to ride it good. It's like that at a lot of places, like at Southwick, there are guys there that are just so fast! You don't even know their names until you get to Southwick. Every track that's been on the circuit for a while has their specialist, that's the cool thing about the Nationals.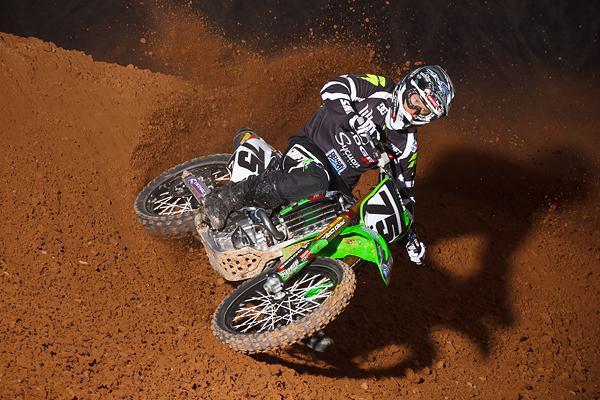 A series of injuries keep Hill off the gate in Monster Energy Supercross.
Simon Cudby photo
What would be a realistic finish for you at Washougal?
I don't even want to comment on that. I've been riding a lot, even today I've already burnt through five gallons of gas and I've done three motos over thirty-five minutes each. My goal for the weekend is to end the motos as strong as I started. If I can do that, I think I'll be able to hang in there with some people. Hopefully I'll get some points!
Injuries suck, but in addition to the injury itself, there's always a bunch of stuff that sucks that goes with it, like not getting to ride, or wondering if your contract is going to be renewed. What has been the single most difficult thing for you over the last couple of years?
Having a paralyzed foot. I can't really run, and I haven't been able to do some of the things I want to do. But it's getting to the point where my leg is getting strong enough to ride a dirt bike; it can take big hits, I can stub it in corners and it's getting loosened up so it can twist sideways a bit without causing me pain. I've learned to adapt to having the handicap, and I'm actually pretty pleased with the way I've been riding a dirt bike. It just sucks not being able to do what I want to do, like being able to work out correctly, but it's turning around. It's getting stronger, and I'm back riding and jumping BMX bikes and going to skate parks and stuff. That's probably one of my favorite things to do other than riding dirt bikes. I'm getting my hobbies back and it's all turning around, I just had to learn how to adapt.
Do you have plans to race the Monster Energy Cup?
I don't know, I haven't really even thought about it. I think if my team wants me to do it, I'm sure I'll go do it. I haven't really thought about it, but I probably will though.
Thanks for your time Josh, and good luck at Washougal.
Thanks.