Welcome to Racerhead. It's back-to-work week for everyone here, as two weekends off have been great, but my family vacation ended at about 5 a.m. Sunday when I had to catch a ride to Hangtown....
That probably sounds like an easy commute, but I was out on Cape Cod in Massachusetts, and Hangtown is outside Sacramento, California! KTM had invited me to host their annual dealer meeting, which included appearances by the many "Firsts" in the KTM family. Their first outdoor national winner, Kelly Smith, was there, as well their first Arenacross winner—also Kelly Smith! Smith was half a lap away from becoming their first AMA Lites Supercross main-event winner, too, before Ernesto Fonseca landed on him at St. Louis back in 1999.
First AMA 250 Motocross Champion Grant Langston was there, as well as living moto legends Chris Carr, Kevin Hines, Mark Hyde, Mike Lafferty, Kurt Caselli, Sarah Whitmore, Ronnie Renner, Jack Penton, and of course John Penton, the man who first got KTM interested in making lightweight, competitive dirt bikes back in 1968. KTM North America president Jon-Eric Burleson thanked Mr. Penton for his vision and leadership in the early days. He was joined on stage by Hubert Trunkenpolz of the "T" family in KTM, but not until after I fumbled his intro.... Oh well.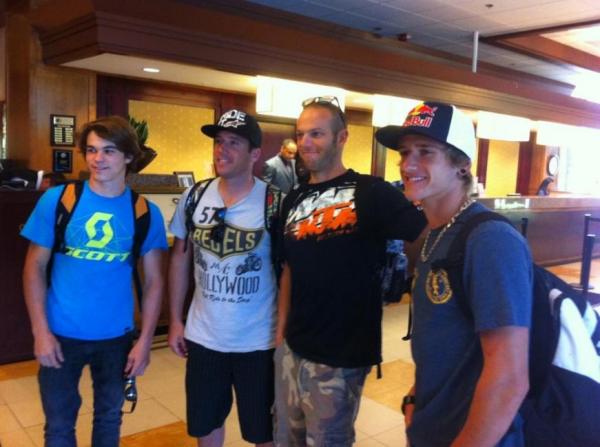 KTM riders Kailub Russell, Grant Langston, Kurt Caselli and Ken Roczen.
DC photo
KTM was always the underdog against the Japanese brands here in America, but now they're a market leader. They're winning races like never before, with Red Bull KTM's Ryan Dungey leading the way in Lucas Oil Motocross. If he continues on his winning tear, he will become the company's first premier-class champion in the 450 division. Ryan was on hand, along with his teammates Marvin Musquin and Ken Roczen and team manager Roger DeCoster. It was really cool to see the pride all the dealers had in what the company has accomplished since almost going bankrupt some time ago. They've come a long way with their "Ready to Race" philosophy, and Mr. Trunkenpolz got some big applause when he re-committed the company's continued involvement in two-stroke motorcycle development.
The next day all of the KTM folks went out to Hangtown to ride while I commuted back home to West Virginia and back to my real job, writing this column! Thanks to everyone at KTM for inviting myself and Simon Cudby out—it was a short trip but a cool one. I even bumped into Eric Eaton, winner of the 1985 Washougal 500 National! He's now running his family's KTM dealership in Tacoma.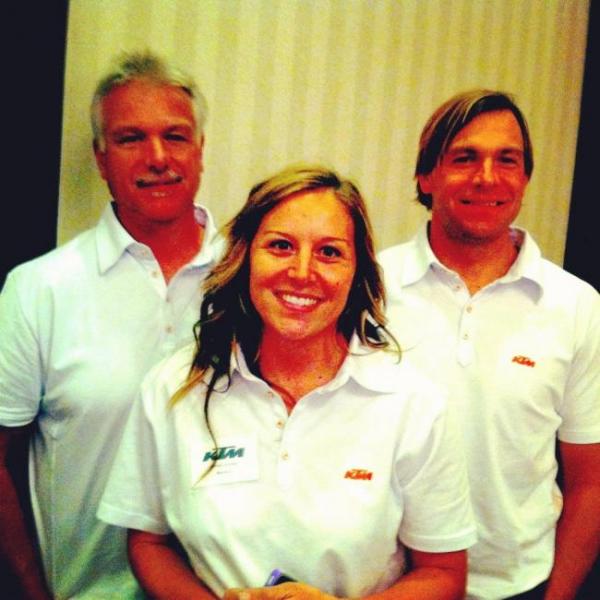 KTM's Tom, Christy and Jon-Eric.
DC photo
Oh yeah, I started out the meeting with a trivia question and pledged a beer later to anyone who could name the first winner of a major motocross race in America on a KTM. All day long, guys were giving me great guesses, but no one got close. But as the evening's presentation began I asked again, and standing over in the buffet line was Roger DeCoster—The Man had the answer! "Kees Van der Ven at Unadilla's 250 Grand Prix," said Roger, and he was right! It happened in 1982.
Before I leave KTM, two more things: Marvin Musquin, the two-time MX2 World Champion, let it slip through his smile that he has extended his contract for two more years. And while bench-racing with Ryan Dungey and Roger DeCoster, I asked Ryan how fast his neighbor in Tallahassee was going. He laughed and talked about riding with Ricky Carmichael more lately as RC gets ready for the Junior +25 class at Loretta Lynn's. Dungey said, "He will be just fine down there. He's getting in shape."
I laughed and said to Ryan and Roger, "No, I'm not worried about Loretta Lynn's. I want to know how he would do at Lommel in Belgium if we need him for the Motocross of Nations!" (Right now, my colleague MXGeoff just spit up a Carlsberg on himself and his laptop in the GP pressroom.)
Ryan Dungey's giving back to his community in a big way, working with his personal sponsor Target and the Livestrong Foundation with The MN Major River-to-River Ride on Sunday, July 15, benefitting St. Jude Children's Research Hospital. The event will feature bicycle rides of different lengths for all skill levels, riding along with two-time AMA Motocross and '10 AMA Supercross Champion Dungey and Target along the St. Croix River and Mississippi River. The ride takes place the day after Dungey competes at Spring Creek as part of the Lucas Oil Pro Motocross Championship. Racer X will be there to support Ryan and the whole event. If you're going to Millville or you live in the Twin Cities area, please visit www.MNMajor.com or follow the event at www.facebook.com/themnmajor and @themnmajor.
The cover for the latest issue of Racer X Illustrated, which features Ken Block and Travis Pastrana, landed on the Popular tab on Instagram yesterday. Nick McCabe wrote the feature about old friends and teammates Pastrana and Block getting together to film Gymkhana 5, the latest driving video in Block's wildly popular series. I don't want to give much away here, but it's truly a remarkable film. The imagination and creativity of Ken's team—let alone his amazing rally skills—are all right there on the film to see.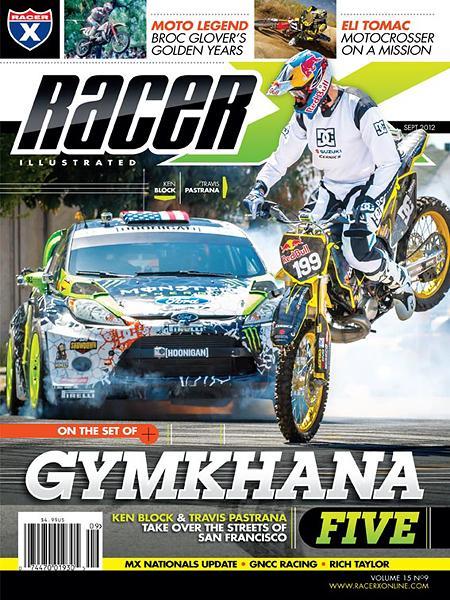 Here's a teaser for Gymkhana 5.
And speaking of covers. Our own David Pingree has landed yet another one—this time in Australia for Transmoto. Congrats, Ping!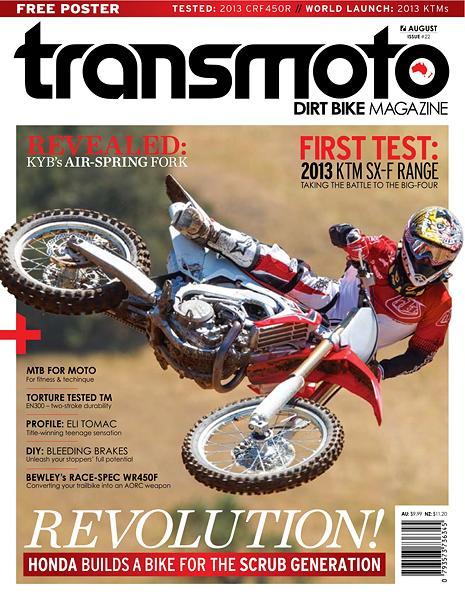 There is some racing in Europe this weekend: the FIM World Championships get back underway in Sweden, and it sounds like Zach Osbourne will finally be back for Steve Dixon's Monster Energy Yamaha team. You can watch the races live online for a small fee over at www.mx-life.tv.
And looking ahead to the Lucas Oil Pro Motocross Championship picking up again next week, here's some more cool old-school video—Washougal 2003 starring Kevin Windham—for your weekend viewing, courtesy of the always-delivering tblazier!
Let's start with Matthes:
Well, another weekend off and things are slowing down a bit here in the Matthes household. Last weekend I headed up to Edmonton to check out round four of the Canuck series, but this weekend it's a whole lot of R&R. As a matter of fact, my wife is also on holiday and today was supposed to be a "no work" day but then my Racerhead duties called and, well, here I am. So if my marriage crumbles, I blame Chase Stallo.
Anyway, in my Observations column I spoke about my frustrations with the CMRC (the AMA of Canada) and the things they do up there with the series. And the column hit home with a lot of you. My inbox filled up with people that share the same frustration in regards to the CMRC, the CMA, the MXDN team and others. I collected some of the emails and put them over on Pulpmx if you want to read them.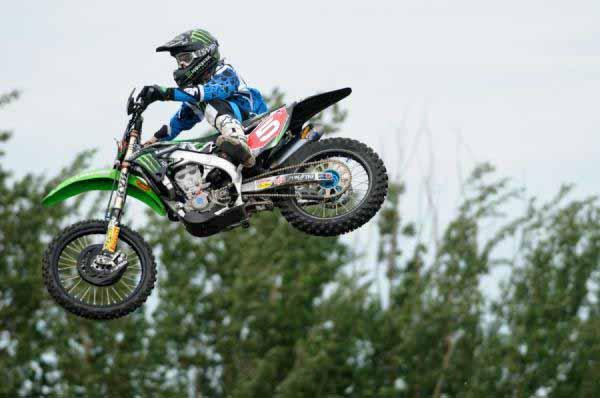 Matt Goerke has been dominate in Canada through five rounds.
James Lissimore photo
Really bummed to hear the news on Suzuki's Brett Metcalfe going down hard at Glen Helen while practicing. A broken tib, wrist, and collapsed lung are among the problems Brett's got, and he tweeted that he was going into surgery this morning. This will knock him out for the rest of the summer and that's a shame. Metty always does better outdoors than in, specifically in the second half of the season. And it's contract time for the Aussie so he was working on trying to attract a suitor for 2013 and beyond. Heal up, Brett, and see you soon back at the track!
Metcalfe ran out of gas at the end of a thirty-plus-one moto, which caused him to eat it at the worst part of the track. His tank was topped off so he and the team aren't sure what exactly happened. The tank should be big enough to do the required moto. I've been there as a former mechanic—sometimes crap happens,... Remember what happened to Dungey's 'Zook in Texas a couple years ago?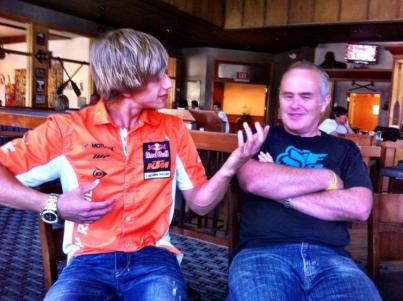 Ken Roczen was the latest in a long list of top riders to mistake Simon Cudby for Phil Collins.
DC photo
Last time I texted back and forth with Metcalfe's teammate James Stewart, he said it looked like RedBud was the return date, and now with Brett's injury, I'm sure manager Mike Webb is getting Tom to howl at the moon in order to help out James' recovery. And of course, the question is always there: Will Suzuki get a fill-in guy for Brett?
Last week in Canada I was very impressed with Matt Goerke of the Leading Edge Kawasaki team as he hunted down Bobby Kiniry and passed him late in both motos to go 1-1. On the year, Matt's only lost one moto (to Kiniry), and he's on another level. Last season he came in hurt, and we knew he'd be better this year, but this good? I don't think too many people saw it going like this. Then again, he did win an AMA Motocross National in 2009, so he's always had the potential—just too many injuries.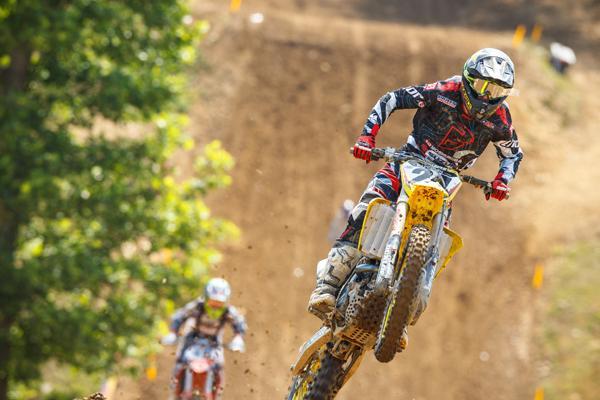 It was made official today that Brett Metcalfe will miss the rest of the season after a practice crash at Glen Helen yesterday.
Simon Cudby photo
Goerke filled in admirably for the BTOSports.com/BBMX Suzuki team in supercross, and the fact he raced all winter (and moving to California to ride the hard packed tracks) is a reason why he feels he's so on it. The BBMX guys were so happy with the job he did that they want him for next year SX and MX. Only one problem with that: The guys in Canada feel that they have Matt's commitment to race again up there and a first right of refusal for Goerke for 2013. The BBMX guys feel that they are able to sign Matt, and folks, the fight for Matt Goerke begins!
Bet you never thought that would be something you'd read at the beginning of 2012 but it's due to Matt's hard work and great riding that he's made himself this in demand.
The BBMX guys also have an announcement to make shortly that will be a big boost to their program. Stay tuned.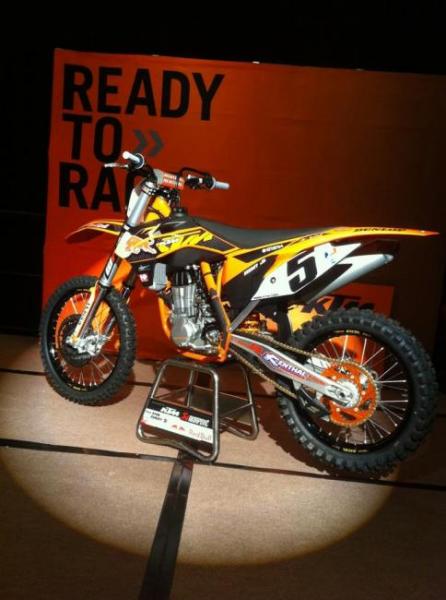 KTM is hoping this is the bike for its first AMA 450 Motocross Championship.
DC photo
Now over to Ping:
The Mammoth Motocross is winding down with 250 and 450 action kicking off this weekend. It's been an epic week on the mountain, and if you've never made the trip to Mammoth Lakes for the race (or just to check it out), it's worth it. I was up there for the first weekend, which hosted all the vet racing you could shake a bottle of Advil at. It had been almost ten years since I'd been up there for the race, and it's cool to see how little has changed at the track. Literally, the same bumps that I remember from my first trip up there in 1990 are still there challenging young riders this weekend. And the mountain-bike park is as good as anything in the country. In fact, the only place I've ever seen with a more complex trail system is Whistler in British Colombia. I did some riding with downhill ski legends Daron Rahlves and Chris Bentchetler up in Mammoth with a few of our friends and we had an amazing time. Matty Fran did up a cool video that should be posted soon. Be sure to check that out to get an idea of what it's all about.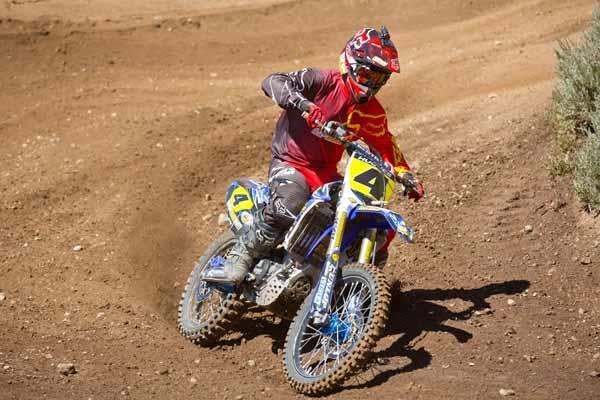 Ryan Hughes took home a title in the vet class at Mammoth.
Matty Fran photo
The usual suspects won during the vet weekend; Jeff Ward, Doug Dubach, and Ryan Hughes all had good races. The minibike days were a little bit of a surprise, to me anyway. Adam Cianciarulo had a crash that swelled up some fingers and held him back to fourth overall. Meanwhile, Tristan Miller and Justin Hoeft were busy doing some winning. Get used to hearing a lot more of those names in the future. And stay tuned to Racer X Online for updates from the mountain all weekend.
I was at Glen Helen Thursday for a media introduction to Golden Tyre, an emerging tire manufacturer out of Italy. They unveiled a new EnduroCross tire that was the craziest thing I've ever seen. It was literally as soft as a pencil eraser and you could grab the tire and squeeze it flat with one hand. As you can imagine, the thing grips like crazy when you're trying to navigate rocks, logs, and wet obstacles, and it's the tire to have in that discipline of racing. They have a Supermoto tire that is used as a spec tire in Europe, and they also have a few motocross treads that we got to try out. They worked pretty well at Glen Helen and we expect to put a little more time on them next week.
Unfortunately, I spent the better part of an hour that same day helping package up one of the sport's good guys, Brett Metcalfe. Here's hoping for a quick recovery for Metty.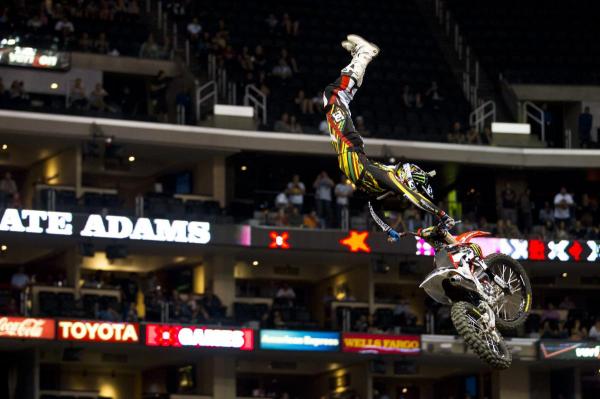 X Games began last night with Moto X Freestyle. You can catch Best Whip and Best Trick tonight.
Garth Milan photo
The X Games are taking over Los Angeles this weekend and, if nothing else, it usually makes for some good highlight clips. A great drinking game during Best Trick is to have a small sip every time someone crashes hard enough to need a ride to the hospital. Just be sure to have a ride home, and maybe even access to IV fluids the next day. Some crazy Aussie is picking up where Pastrana left off and pulling the trigger on a 720. These guys know Obamacare doesn't kick in for another year, right?
Tonight you can watch the Best Whip and Best Trick competitions (with a cameo on the Best Whip by Josh Hansen).
Here's Aaron Hansel with a quick note on Star Valli:
In last week's Racerhead I wrote that Star Valli Yamaha Rockstar was looking for a fill-in rider for the injured Kyle Cunningham, who is currently on crutches after injuring his ankle at The Red Bull Budds Creek National. The team looked at several riders, including Austin Politelli and Tommy Weeck, and this week they even had a look at Phil Nicoletti, but in the end, it was Weeck who earned the spot.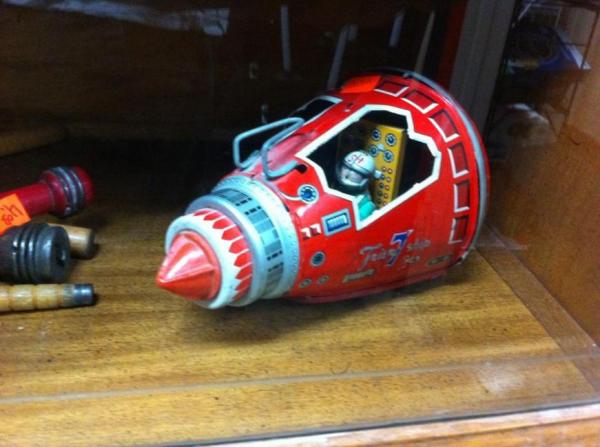 RedBud is coming...
I don't know about you, but this news excites me, as Weeck is extremely fast at Washougal. Remember last year when he came out of nowhere in the first moto? He came from outside the top ten and ran as high as fourth, even passing Justin Barcia temporarily, before finishing in sixth. It's going to be fun seeing how Weeck does on the Star Valli bike, especially at Washougal. As if the 250 class needed any additional excitement!
That's it from Ping. Okay, we will wrap up another off-week with some various notes and news:
We would like to welcome Maddison Isabelle Canfield into the Racer X family. Maddison was born June 27 at 7:51pm. She weighed 8 lbs., 6 oz.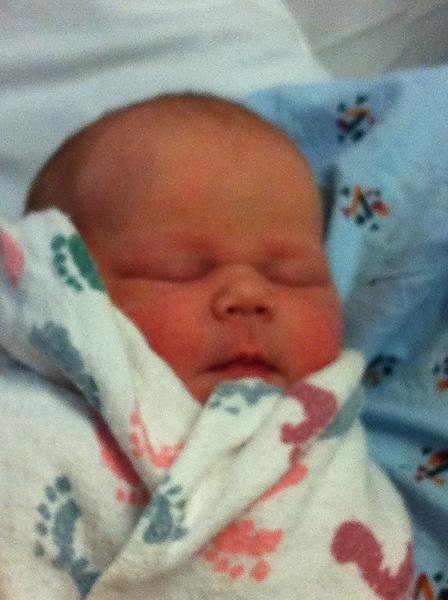 We would also like to welcome Calla Coombs—7 lbs., 11oz, 20.5 inches long—to the Racer X family. Calla was born June 28.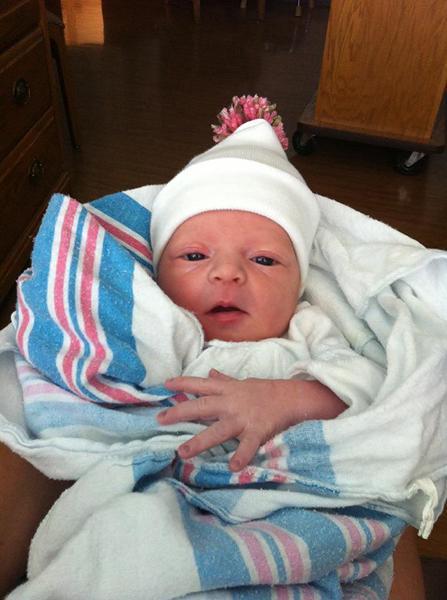 Reigning Monster Energy Supercross Champion Ryan Villopoto has been nominated as Best Action Sports Male Athlete at this years' ESPYs. Click here to vote, and be sure to watch the event live on ESPN Wednesday, July 11 at 9:00pm ET/6:00pm PT.
The ESPN Sport Science team wired up some of the best riders from EnduroCross with accelerometers and heart-rate monitors to measure the effort and forces they're subjected to during an event. The findings confirm that their heart rates are nearly maxed out the entire time, and the impacts from some of the obstacles are similar to taking a hit from an NFL defensive back. Over the course of a main event, they will experience accelerations of at least 5 Gs 115 times, which is similar to fifteen rounds of a heavyweight boxing match. These guys are tough.
"We all knew that EnduroCross was difficult but it is awesome to have the data to back that up," said Eric Peronnard, the creator of EnduroCross and organizer of X Games Enduro X. "Thank you to ESPN Sport Science for doing this".
Check out the ESPN Sport Science EnduroCross video here.
The latest issue of Motocross Illustrated is available online from our friend in Europe, MXGeoff.
That's it for Racerhead, thanks for stopping by. See you at the races.