Hurricane Mills, TN
AMA Amateur National Motocross Championship (Loretta Lynn's)
Amateur National Motocross Championship
The final day of minicycle action has concluded at Mammoth Mountain. The bears have been handed out and most parents have packed up the hauler and headed for home. Some of the lucky families will be sticking around enjoying the mountain and taking in the big bike action, which kicks off on Friday.
Brandon Hernandez was the man to beat (or boy, more accurately) in the 65cc 9-11 class. He won both days and took the overall.
The 85cc open class was a duel between Austin Forkner and Luke Purther as the two boys swapped main event wins over the two days. Forkner got the win on Wednesday and was awarded the championship.
Another big winner was Justin Hoeft who absolutely dominated the 85cc 14-16 class and also took home the title in the highly competitive supermini class via 3-1 main event scores. The weekend marks a big step in Justin's amateur career and hopefully he has some room at home for his trophies. Mark Worth was steady Eddie with 2-2 finishes and second overall while Tuesday's winner, Tristan Miller, came across in fourth on day two for third overall. Adam Cianciarulo started sixth in the main and moved up to third at the end. AC had some swollen fingers after a first-lap crash yesterday and toughed out some solid results netting himself fourth overall for the week.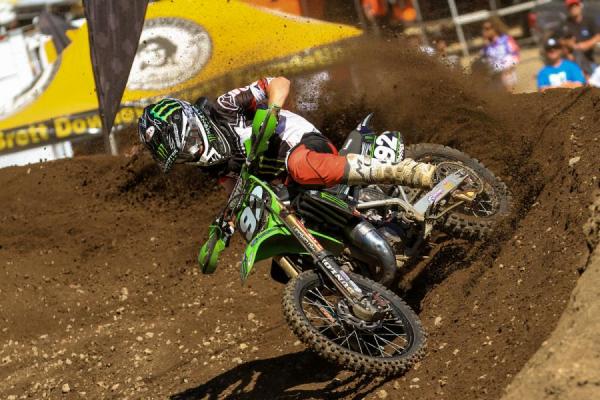 Adam Cianciarulo had some bad luck at Mammoth and finished fourth overall.
Nicholas Cade photo
There were a whole bunch of fast kids but one of the coolest things is looking down the starting line and seeing very familiar names on the back of jerseys. For instance, Justin Hoeft is the son of former pro racer Darren Hoeft. Maximus Vohland, who ended up third in the 85cc 6-8 category, is son of former factory rider Tallon Vohland. He's got a pretty fast uncle named Tyson as well. And I even saw a little Dubach running around on a 50cc bike. Carter, who does not yet have his doctorate, rode home with a sixth in his class so he'll have his dad bragging about his wins all the way home.
It was an amazing couple days of racing and if you missed this year's event be sure to mark it on the calendar for 2013. Balls start slicing and shanking tomorrow at the golf tournament as the racing action takes a small break. It picks back up on Friday with big bike practice and two days of racing on the famed Mammoth circuit to close out the 2012 Monster Energy Mammoth Motocross. Be sure to check back for big bike results and go to Racer X Films to see a video of the vet weekend action. For full results Click HERE.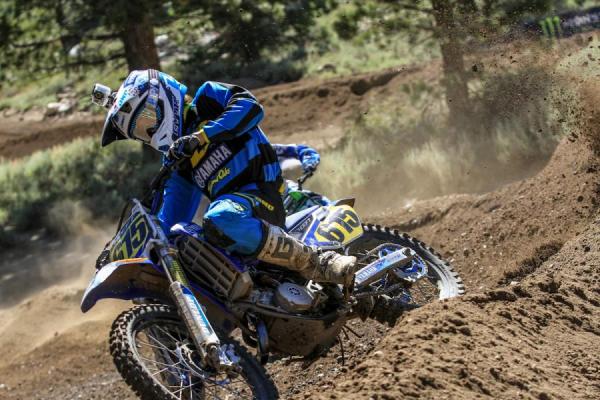 Justin Hoeft absolutely dominated the 85cc 14-16 class.
Nicholas Cade photo