BTO Sports is your number one source for all of your motocross parts, gear, accessories and apparel. BTOSports.com is a motocross company who is truly dedicated to the sport and to the customer. Proud sponsor of your Racer X Podcasts and the BTO Sports/BBMX Suzuki race team.
There wasn't a National this weekend in America but that doesn't stop the "observing" by any means. You know what we do when we get the first two-week break of the year since Jan 1? We go to Canada and catch round four of the CMRC Monster Energy Pro Nationals! I know, I've got to get some therapy for this addiction to motocross…
As most of you know, I'm Canadian and have enjoyed the racing going on up there over the years. But it's getting harder and harder to support the series as time and time again, Canadian motocross shoots itself in the foot over egos, pettiness and sometimes, just plain ineptitude.
If you just want to read about the race and not my dissertation of Canadian motocross, just skip to the words "Matt Goerke" and you'll be okay. Those of you that care, read on.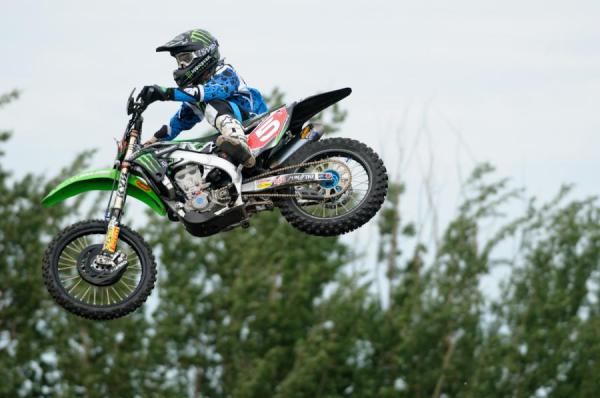 A red-hot Matt Goerke continued his torrid start to the season in Edmonton.
James Lissimore photo
As an editor of Directmotocross.com for about a year, I was trying to solicit advertisers for the site, produce content, cover the series the best way I could but all of the above things would make me want to tear my hair out. The CMRC owns a magazine and a website (much like Racer X and MX Sports are affiliated) but they don't want anyone to really know that. And I'm okay with that. That's competition and that's what makes the world go around. What I'm not okay with is the people running that magazine and website making it so difficult for anyone else to cover their series. One would think that any promoter interested in growth would welcome coverage—MX Sports rolls out the red carpet to Motocross Action, Transworld, even MXP when they want to come cover U.S. Nationals, and MXP did Racer X Canada no small amount of damage—but nope, much of the time is spent trying to keep a lid on their increasingly private party. It's cutting off your nose in spite of your face. The lack of cooperation with the media companies covering the series is making the Canadian National series itself suffer, as well as riders and teams.
Canada really should take a lesson from Feld Motorsports in the U.S., or Youthstream in Europe, as well as MX Sports, and learn that other media companies should be welcomed with open arms, not choked out. Those other series' all seem to be going quite well—Monster Energy Supercross, Lucas Oil Motocross, the Grand Prix tour—but the Canadian series' lack of growth and interest kind of speaks for itself.
Actually, they really are speaking for themselves. And that's the problem. But I digress...
Add to this, there are two racing organizations up there, the CMA and the CMRC. The CMRC picked up the ball in the early 90s when the CMA dropped it badly in terms of motocross racing. The CMA is a shell of its former self, a rag-tag bunch that control little pockets across the country here and there but the CMRC, when it comes to motocross, are it. As a matter of fact, independent clubs (like in Manitoba) and smaller racing organizations (like CMX) have now easily surpassed the CMA in regards to motocross racing in Canada.
But the problem is, due to apathy and more ineptness, the FIM is still recognizing the CMA as being the premier motocross racing organization in Canada (no word on what their feelings are on George Bush Sr. being elected president of the United States after Reagan's two terms were up. Obviously, they're that far behind the news cycle over there in Switzerland) so when it comes to the Toronto Supercross every year (sanctioned by the FIM who hands control to the CMA) and the Motocross des Nations, the CMA is still in charge, which is laughable.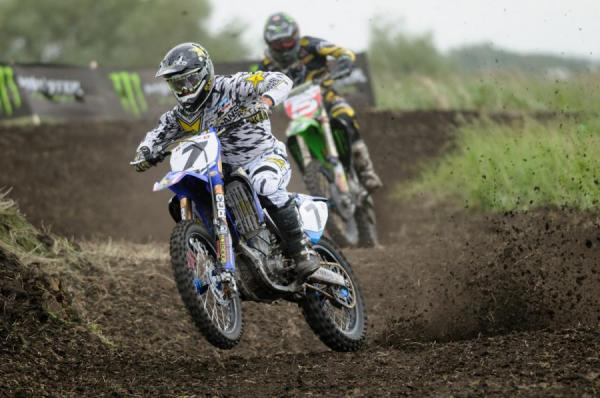 Kiniry was unable to hold off a charging Goerke in both motos.
James Lissimore photos
And because of this turf war between CMA and CMRC, Canada hasn't been represented very well at the MXDN. The CMRC won't support the event and as a matter of fact, sometimes tries to discourage teams and riders from going. And the CMA… well, they have no juice. They have no money, no organization and nothing beyond some real fancy white suits for their officials. It's sad but true. It's like a mom and pop convenience store going up against a Wal-Mart. There's no contest.
So our best riders, many times, do not line up at the MXDN or in some years, we don't even field a team. It's embarrassing that the country that has produced top five AMA finishes in supercross and motocross can't get their crap together to show up on the world's stage. If I believed that we would suck and be the Iceland of the event then I wouldn't complain much about this. But I really believe our very best riders can easily be a top ten country year in and year out. Name another country out there that is as fast as Canada and doesn't even go to the event? Exactly.
And once again, the promoters of Montreal Supercross have put their event on the same day as the MXDN so the Canadian teams are contracted to be there. Don't look for the best to go this year either. When I asked about trying to convince the Canadian sponsors that going to the MXDN is more important that the Montreal Supercross my question is just looked at with amusement. These are the things that want to make me light myself on fire.
As far as the 2012 series, much like down here in the U.S.A. KTM is going big in Canada while others are trying to maintain, or are shrinking. Yamaha pulled back significantly which caused the powerhouse Blackfoot Yamaha team to fold its tents. Honda is a series sponsor but not really doing anything. There's no Suzuki support whatsoever, and Kawasaki helps out the Leading Edge team with some support. KTM however got the Blackfoot Red Bull money and went all in this year in signing Dusty Klatt and Colton Facciotti. The series has been hard hit as well with not much presentation, a TV package that wanders around the channels, no outside sponsors to speak of and a general malaise about everything. The CMRC finally got live timing and a proper electronic scoring format going this year but it's been ripe with mistakes and DNF's. It's hard to be a Canadian moto fan, trust me. If you took a Canadian National pits and atmosphere from around the turn of the century to now, it'd be like comparing a rave to a funeral. Just like down here the economy is part of the blame, no doubt about it, but some of it is just poor leadership at the top in my opinion.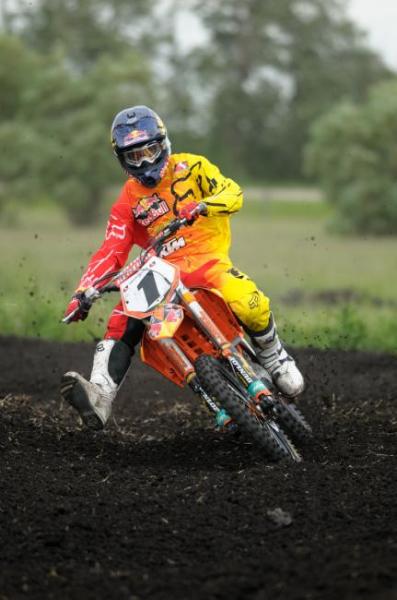 Colton Facciotti's 2012 season has been hindered by a shoulder injury.
James Lissimore photo
I can go on and on (1000 words or so is enough methinks), as this is just the tip of the iceberg. I stopped promoting Canadian moto down here on my site and Racer X, and I didn't attempt to do a feature story on Canadian moto (and DC was probably grateful on that as he didn't have to hear it). I was done with it. As a matter of fact, I didn't go to a Canadian National last year for the first time in six years—that's how over it I was. But like that one gay cowboy said to that other cowboy, "Canadian moto, I can't quit you." Or something like that.
So onto Edmonton and Castrol Raceway which is by the airport and not far from the city center. It's a world-famous drag strip and has the potential for a really good venue. The crowd was pretty good considering the lack of promotions that I saw and as I said, there are things that work really well for the series. The track is pretty flat which sort of sucks and isn't very technical at all but like in real estate, it's location, location, location—which is pretty beneficial for everyone.
Matt Goerke. Okay, I had to put that in there so that people who skipped my complaining would know where to pick this thing up at. Last year Goerke showed up and couldn't even ride two laps for his poster shoot a week before the first round from a wrist injury. Matt was like a wounded seal for most of the year but started to get healthy and get fast near the end of the series. He even beat the mostly unbeatable Colton Facciotti in the sand last season. He definitely showed promise for 2012.
And now here we are. He came into the season healthy and through the first eight motos, Matt's only lost one and in that one, he took a close second. He's on another level right now for the Leading Edge Kawasaki team and with two of his specialty sand tracks coming up (remember this guy won an AMA National at Southwick) it's hard to bet against him for the title. At Edmonton, he didn't get the starts he wanted but he showed great speed and fitness both motos as he caught and passed Bobby Kiniry twice.
Goerke's going to be the first American to win the title since Paul Carpenter in 2007 (and if he doesn't win it, the other American, Kiniry, will) but he won't have a chance to defend his title as he's already signed with BTOSports.com/BBMX team for a full AMA series in 2013. Goerke's supercross season was pretty good and if you talk to Matt he'll tell you that moving to California and riding the hard pack tracks is a big reason for his improvement as a rider in 2012.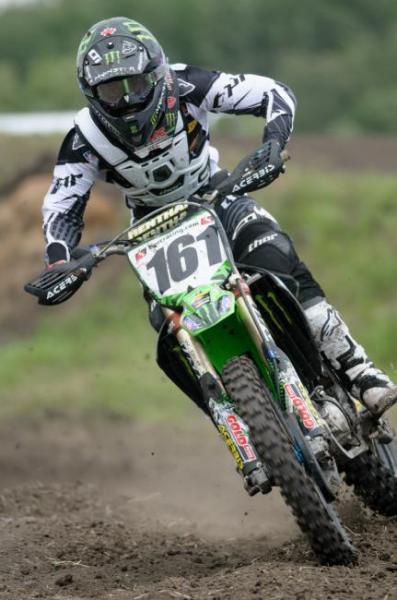 Tyler Villopoto has had a successful beginning to his pro career in Canada.
James Lissimore photo
OTSFF Yamaha's Bobby Kiniry led both motos for a long time before getting eaten up by Goerke. In the second moto he was hauling the mail but was forced to toss his goggles due to the driving rain, which slowed him up quite a bit. This allowed the goggle-wearing Goerke to catch and pass Bobby, and on this track you definitely didn't want to be behind someone with no specs. Kiniry won last week in Calgary, went 2-2 this week and is establishing himself as the next guy behind Goerke.
Both Kiniry and Goerke raced a full season of supercross (Kiniry even did the first two Nationals for Rockstar Star-Valli Yamaha) and then went right into the Canadian Nationals, which has caught the Canadian guys a bit flat-footed. Compared to last year when Goerke was injured and getting used to the new Kawasaki and Kiniry didn't race supercross. Both riders raced at the highest level all winter, were comfortable with their set-ups (Kiniry's basically has his U.S. bike with him) and were ready to rock 'n' roll from the word go.
The KTM duo of Facciotti and Klatt are on new machines and didn't do any pre-season races, Yamaha's Kyle Keast (who raced one local race) broke his femur at round two and is out for the year and Tyler Medaglia is also on a new bike, new team and had no racing to speak of. Add that all up and you have a recipe for the Americans rising to a new level.
After four rounds of the nine round series, Goerke has more than a one-race lead over third (Facciotti) and a moto on Kiniry. Clearly it's going to be one of these two that take home the 450 title.
I think very highly of Facciotti and his talent level. The guy is effortless on a bike, highly skilled and in shape as well. Unfortunately for Colton he fell in the third moto of the year and suffered a third-degree separation of his right shoulder. And that was all she wrote for Colton. He's not riding during the week, he's fading in the motos because of weakness in the shoulder, but amazingly enough he's still getting thirds! I was very interested in seeing how he would do on the orange bike and at the very muddy opener he went 2-2 behind Goerke, so clearly his speed was pretty good.
At Edmonton, it might have been the worse race for him yet as he was caught and passed by Medaglia in the second moto. After the race, his arm in a sling, I asked him about the injury. He's hoping that the two weeks off until the next round helps him out or he might just pull out and rest it—which is the only way it's going to get better. As it is, he's not doing himself or his team any favors just riding around out there at 70 percent of what he can be. It's a real shame he's not 100 percent because I know he'd be right there with the top two, or maybe even better.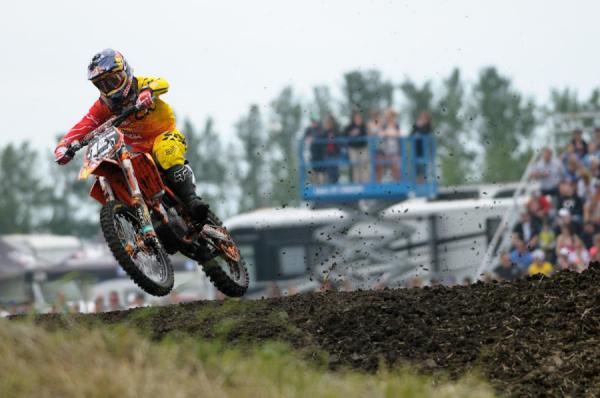 Jeremy Medaglia captured the overall in the MX2 Class.
James Lissimore photo
The number 1b rider in Canada to Facciotti's 1a is Dusty Klatt and he's been having a miserable season so far. Crashes, unhappiness with his bike, mechanicals and bad starts have left Klatt a distant sixth in the points. In Edmonton he rode well in the first moto to end up fourth but the second time out he caught his shifter in a rut and bent it badly. That was it for him, as Klatt was stuck in second on the high-speed track and had to salvage the best he could. Dusty's really looking for some of that old magic on the KTM and I know the team is going suspension testing in the downtime to try and make Klatt happy. For a number of reasons, the Klatt/KTM thing hasn't worked the way that he or the team thought it would.
I really wanted to see Tyler Villopoto ride, in fact that's one of the main reasons why I went up to Edmonton. The younger brother of Ryan quit racing at one point before ultimately deciding to get serious one more time and the Leading Edge Kawasaki team took a flyer on him. And it's been a great gamble for LE Kawaski as Tyler has shown some serious speed on the 450 (a bike size that he's hardly ever ridden before). He's sniffed the podium a couple of times already in four races and in Edmonton, I was looking forward to watching some TV. Get it? TV. Tyler Villopoto…I'm so clever.
But it wasn't a good Edmonton for Tyler as he qualified third fastest but missed his gate pick when his team was forced to do a last-minute motor swap as Tyler waited there for his machine. They got it done but Tyler got 40th gate pick and predictably, didn't get a very good start. I had him in 28th at one point.
He rode great to get to a lonely seventh in the first moto and in the second, with the rains coming down, he didn't get a start and went down early. And then again at some point. A twelfth was the best he could do, which lead to 12th overall on the day. Oh what could have been for Tyler. He still rode well, his fitness is fine (even with him being very tired during the week according to Dan, his dad. He will have some tests done soon to see what is the cause behind this) and he's got some talent there. You can see it.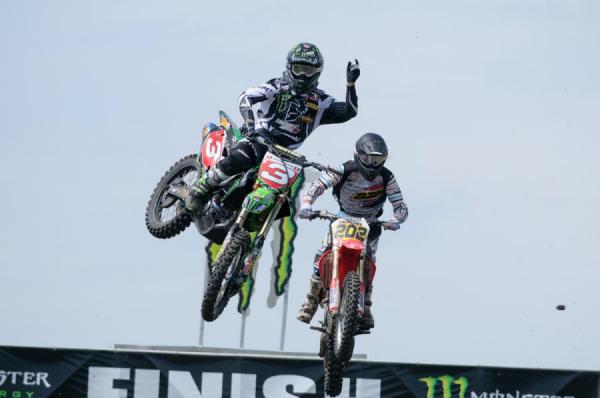 Points leader Teddy Maier finished second in Edmonton.
James Lissimore photo
In the MX2 (250) class it's been the Teddy Maier show as the former MX2 Champion had won five of six motos going into Edmonton. And in the first moto, Maier and KTM's Jeremy Medaglia ran away from everyone else in a great race. Both guys were hauling ass and Medaglia was right there two or three seconds behind until some lappers hurt J-Dags. These two pushed each other hard, so hard in fact that Maier got sick in between motos and threw up. Great racing by two fast guys.
Second moto it was Kyle Beaton's turn to run away as the rain fell hard. Beaton had a pretty big lead and Medaglia was forced to stop for goggles at one point. No matter, Jeremy got on his horse, caught and passed Beaton near the end of the moto. It was a phenomenal ride by Medaglia. Maier, after shaking off the sickness, hit the gate off the start and then eventually worked his way up to third. Still a nice points lead for Teddy with five races remaining and unless Beaton can get into the mix, it's going to be the M&M show the rest of the way.
Beaton himself is just happy to be going to round five. The last two years the kid hasn't made it out of the first turn of the first moto. I'm serious. A knee injury and a hand injury have derailed his last two seasons and the new Beaton is one that is trying to be more steady and avoid the big crashes. And so far he is doing just that. But Maier and Medaglia are flat-out better than him right now.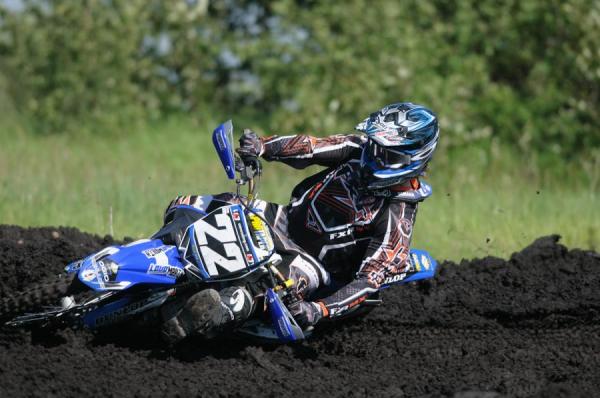 Dylan Kaelin finished fourth in the MX2 Class.
James Lissimore photo
Privateer Jared Allison rode great to get third in the first moto and in the muck was fourth before going down. He's the best of the rest after the top three and trying to take that next step up.
I used to wonder about the next batch of Canadian riders after Medaglia's, Beaton's and Facciotti's came through as it didn't seem like there was anyone ready to be the future stars of Canadian moto. Well this weekend I came away impressed with a trio of Yamaha riders. Spencer Knowles (who we've all known has great talent but can't seem to ever put it together), Dylan Kaelin and Richard Grey. These three (Grey is in his second year as a pro, Kaelin I believe third) all showed speed at Edmonton and can indeed become pretty good riders for the next batch as they go on.
Thanks for reading, I enjoyed reconnecting with Canadian motocross and going to Edmonton. Thanks again and email me at matthes@racerxonline.com to chat.