Works Connection Factory 4 Stand
WORKS CONNECTION FACTORY 4 STAND
Part # Various                         Retail $109.95
Designed for the 4-stroke market and featuring an Industry leading 12" x 12" stand top. The new, large stand top area, lower stand height and its aluminum construction create a stable, flex-free stand you can trust. Durable Black or White powder coat finish and five attractive decal colors to choose from: Blue, Red, Green, Yellow or Orange.
12" x 12" Stand top
Quality grade 5052 and 6063 aluminum construction
1" oversized extruded and formed leg tubing
Hand TIG welded craftsmanship
Heavy-duty, logo embossed, 10mm industrial grade top mat
Removable tool tray
Logo panel for sponsors
Black or White powder coated finish
Decal options: Blue, Red, Green, Yellow, Orange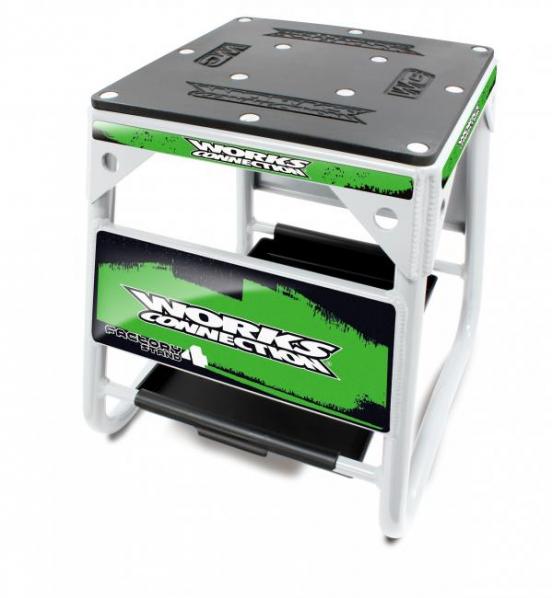 Company Name            Works Connection
Product Name               Factory 4 Stand
Retail                              $109.95
Part Number                  Various
Website                          www.worksconnection.com
Phone number               800 349-1475
About Works Connection:
Established in 1989 with the desire to produce 'Works' type products and make them available to the general riding public, Works Connection continues that original idea today through constant evolution and expansion of their unique product line developed from 'race-tested' feedback and product research.