Strung Out to Perform at Mammoth
Whiskey Creek to Host Strung Out Show at 2012 Mammoth Motocross
Whiskey Creek Mountain Bistro will be hosting a one of a kind punk rock show for this year's crowd up at the 2012 Monster Energy Mammoth Motocross. Infamous punk rock drummer and Moto XXX owner Jordan Burns had the idea to "bring punk rock back to moto" by having his band "Strung Out" make the trek up the mountain to put on a show for the fans. With the help of  Whiskey Creek's very own, DJ Rodney'O, this event has come together and will be memorable!
The show is set to go off at 8:00pm on Thursday, June 28th 2012 at the Whiskey Creek Bar & Restaurant. Opening for Strung Out will be local Bishop bands "Erabyss" and "Smear Tactics." Tickets will be available on a first come first serve basis for $20 at the door. Due to the limited amount of tickets available for the small town venue, pre-order of the tickets will not be an option, so get there early to secure yourself a ticket to the show.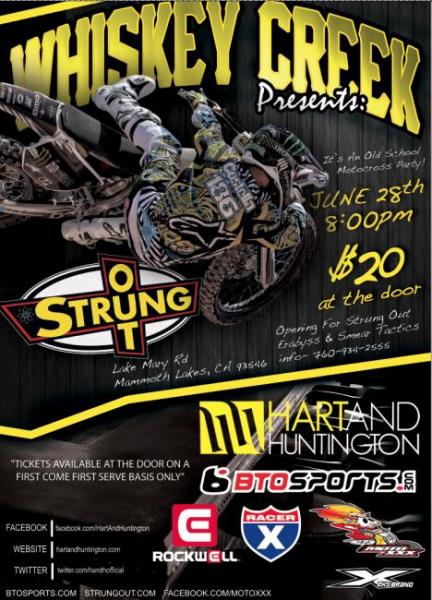 Burns has been a long time fan as well as a race competitor of the annual Mammoth Motocross race, and with that enthusiasm it was not hard for him to round up a colorful list of sponsors to help get the event into motion. Hart and Huntington, BTO Sports, Rockwell Watches, Racer X Magazine, Moto XXX,  and Eks Brand Goggles are all on board as official event sponsors, and each plan to bring more to the table to make the show and the event as a whole a great time for the fans.
For more information, visit: