It was round four of the CMRC Nationals in Canada this weekend and Leading Edge Kawasaki's Matt Goerke grabbed his third win of the year in a great 1-1 ride. Both motos he had to catch and pass Bobby Kiniry near the end and with a couple of sand tracks ahead, that he rides oh so well, this series may be already decided barring injury. We caught up with Goerke after his third win in four races to begin the season.
Racer X: Another win for you. Bobby Kiniry rode great and pushed you, but in the end you prevailed.
Matt Goerke: It went good today. My starts were a little off, so I had to come from behind again. I'm kind of bummed on that. But the way the track was, you couldn't push too hard. Every time I tried, I'd lose time on those guys, especially the second moto because it was so slick. Then I'd just try to pace it and ride smooth and I slowly gained on them. It worked out.
No doubt you've been on fire this year. Where do you think you were a little quicker than those guys?
In that second moto they pulled me because I was trying too hard. Then I just slowed down and I think I was just flowing better. I felt like when I slowed down and just sort of rolled through the ruts, I started gaining on them. It was so slick.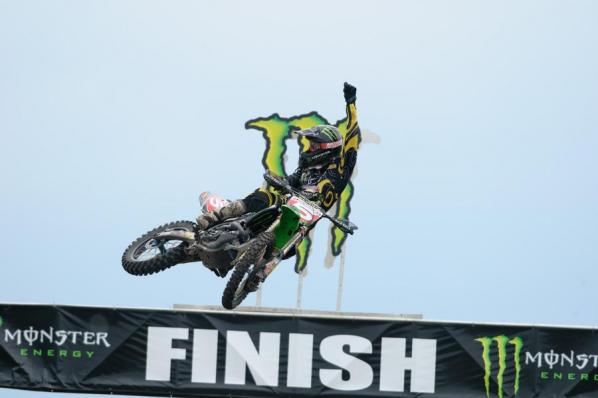 Goerke celebrates his thrid win in four races.
James Lissimore photo
It's almost like you wore Bobby down a little bit, fitness wise, too. And he's in pretty good shape.
I don't know. Yeah, he's in pretty good shape. But I just slowly gained on him at the end. I didn't know if I was going to catch him at the end. I was giving it everything I had.
How bad was the track when it was raining?
Yeah, it was so slick. I'm surprised that neither of us fell!
What did you think of this place? This is one track you hadn't been to.
In practice, it was really fun. First moto it was pretty good too. It didn't get very rough, but it was fast. Like, really fast. Then, I mean, second moto it was slick because of the rain. But all around, it was a pretty good track.
We talked after Nanaimo. You won there but it was a mudder. And now you've only lost one moto all year. What's the reasoning?
My team's been great. My bike's awesome. I feel like I'm fit and I'm in great shape. Just, everything's going good.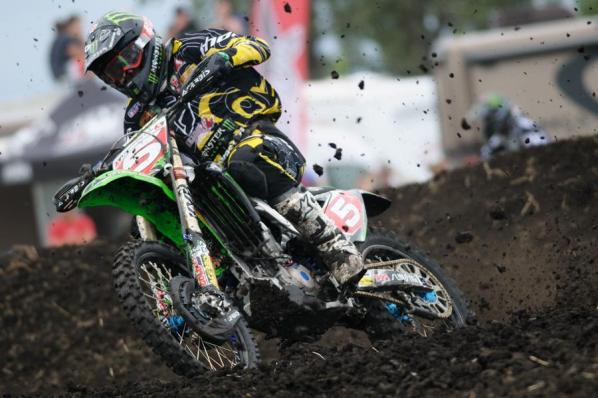 Goerke holds a commanding 28 point lead over Bobby Kiniry through four rounds.
James Lissimore photo
You have kind of a big points lead. Do you think about that at all?
Yeah, a little. But I just want to win each race. I mean, it's fun winning and I'm trying to just focus on that.
Any U.S. stuff for you?
I plan on doing the last two. Hopefully I can with the team. I think I'll do well. I'm feeling good.