After coming to the U.S. in 2011 to fill in for an injured rider in the Can-Am GNCC series, New Zealand's Rory Mead has taken a liking to the American way of racing. Since then, Mead has an impressive two overall wins and several podium finishes in his short time here. The long-time trials rider nearly won last year's Motosport.com Snowshoe GNCC overall, giving him high expectations heading into yesterday's race. Factory FMF/KTM's Kailub Russell gave Mead a run for his money but in the end it was the Kiwi who came out on top, giving him a second victory on the season and throwing him into the championship title chase with five rounds remaining. We caught up with Mead after winning America's Toughest Race—The Motosport.com Snowshoe GNCC.
Racer X: What was your mentality going into Snowshoe knowing how well you did last year and just your experience riding tough terrain?
Rory Mead: I guess it was easier last year because I was an underdog and nobody really knew me. This year everyone was coming past the pits saying, "Aw man you're going to win today," and I thought I was going to do well, but I didn't want to say I was going to win. I tried not to think about it too much but I knew I was going to be strong, but I didn't expect everyone else to be so strong! I thought I rode pretty well and Kailub Russell was right there at the end with me [six seconds back].  I was confident with the KTM 300 two-stroke today; I think it was a good bike for this race.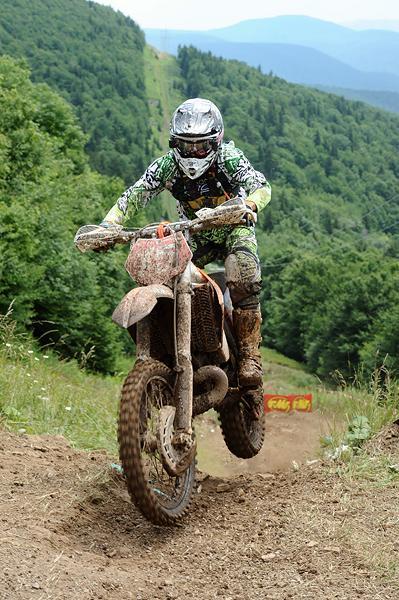 Rory Mead was able to outlast Kailub Russell to win the Snowshoe GNCC.
Ken Hill / GNCCRacing.com photo
You started this season on a four-stoke, but switched to the KTM 300XC two-stroke. How are you feeling about the switch?
I think this will actually be it for the two-stroke. I pretty much only wanted the two-stroke for this race [Snowshoe] because I felt it was the best bike for me to win on. I want to get back on a four-stroke for the last five GNCC's though.
It seemed like everyone expected you to do well at Snowshoe, did you feel any pressure coming into this race?
No not really. I've been planning this race for a while now and I knew it was a strong one for me but I was just going to ride my own race. I really wanted to race the track more than I wanted to race anyone else.
You grew up in New Zealand and have a little bit different riding background than the other guys. Talk about that.
In the early years of my riding I did more technical stuff with trials riding, which helps with these kinds of races. It definitely still helps in some of the other races on the circuit but I lack the moto skills that are needed at some of the other races when it comes to aggression and jumps. But the trials experience helped at this race for sure.
How did you feel about the track today?
I've done this race once before and people were saying it was the fastest Snowshoe so far. There were a lot of roads and it was pretty dry but there was plenty of technical terrain out there and it was a lot of fun.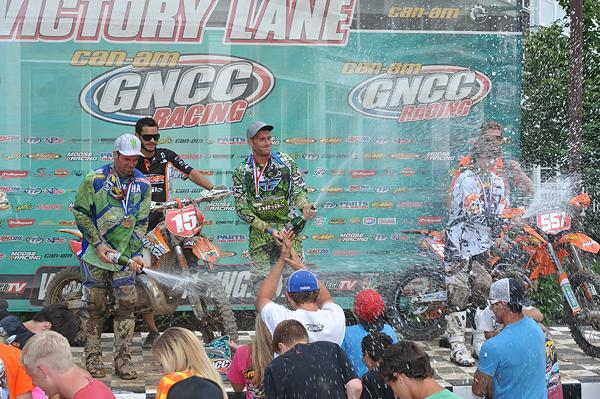 Mead (center) celebrates his second win of 2012.
Ken Hill / GNCCRacing.com photo
They call this race The Toughest Race in America, do you agree?
I would say so. I think it could definitely be one of the toughest races in America, but compared to the world extreme stuff it doesn't seem as bad. But then again, you can't have something that difficult and expect to do seven laps of it. Every race is hard in it's own way and this was definitely a hard one.
At one point you had almost a two-minute lead on Russell but each lap he would close in a little more. Where do you think he was catching you?
I think it was the really fast road sections because I had the bike set up to be really smooth, but it had no hit. I was going down the road thinking I was going like 40 MPH but really I wasn't. I think he was making up a lot of time there and those sections really suited the KTM 350 four-stroke much more.
Now that the name Rory Mead has entered the title chase, will GNCC be making room for another Kiwi to stick around?
I'm going to head back home to New Zealand during the summer break and take care of my citizenship stuff so I can be in the U.S. full-time. I definitely want to be here for the next ten years and continue to pursue GNCC's because I really like the series and it has the best competition!