Finally, a chance to relax. After five straight weekends of racing, the 2012 Lucas Oil Motocross Championship, sanctioned by AMA Pro Racing(hi CZ), gets a couple weekends off. The riders and teams have been grinding through the schedule, from California to Texas, then Colorado, Pennsylvania, and Maryland, and now they get to regroup. We're on a mini-vacation too, but Racerhead never really stops.
So far, I believe the series is going really well, albeit with some letdowns and problems. The racing in the 250 Class has been downright superb, with U.S. kids Blake Baggett, Justin Barcia, and Eli Tomac battling it out every moto with the boys from Europe, newcomer Red Bull KTM's Ken Roczen and hold over Marvin Musquin. The 450 Class, on the other hand, is where we had a setback. A big one. James Stewart's crash at Thunder Valley, following the unwise decision of a professional photographer to cross the track on the backside of a very fast downhill tabletop, really let the air out of the tires in that class. Stewart had won the first four motos over Ryan Dungey, but then Ryan has won everything since. The Yoshimura Suzuki-backed Stewart did try to gut out a finish at High Point, but his throttle wrist kept locking up, and he wisely called it a day after the first moto.
So when will James be back? I really, truly hope it's for RedBud, the biggest race on the entire American Motocross calendar, but I would not be surprised if he decided to wait longer. In the meantime, Dungey is riding with great confidence and speed, and he's literally gotten better in every single moto on that Red Bull KTM. I know things would be different if James were out there—let alone Ryan Villopoto and Chad Reed and Trey Canard—but right now Dungey is riding better than I've ever seen him on a 450, and that's saying something.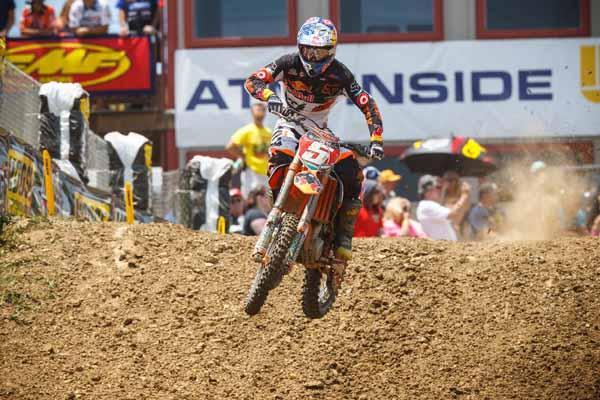 Ryan Dungey holds a commanding lead in the 450 Class after five rounds.
Simon Cudby photo
Mike Alessi has always been a pleasant surprise. We all know #800 can ride, and he remains the best starter I have ever seen, at every level, but he's not on factory equipment and that's a must on tracks as rough and at a pace as fast as what you have in the outdoor nationals right now. But the MotoConcepts rider never gives up, and he's put in two strong finishes in the last two weeks. If he could only get some more backing, or if Dungey actually got a bad start himself, Alessi could pull off a true privateer win.
I was also stoked for Broc Tickle at Budds Creek. The Monster Energy/Pro Circuit Kawasaki rider put in the two best motos of his career to come home second overall. He was also the subject of Austin White's Racer X Films' feature from Budds Creek. If you missed it, check it out right here.
Tickle will also have his former teammate on Pro Circuit Tyla Rattray back for competition at RedBud. Tyla was spotted at Glen Helen yesterday by our own Simon Cudby, and he's trying to get back up to speed after his injury from the opening round when he cracked a bone in his hand at his debut 450 National at Hangtown. Rattray will be in the Monster Energy Kawasaki truck alongside full-timer Jake Weimer (who I have heard signed an extension with the team).
Here Simon's film from Thursday practice, which also includes Musquin, Weimer, Jake Canada, Vince Friese, Tommy Weeck and more.
And while you're getting your moto video fix, Austin White also knocked out our Remastered piece on Budds Creek—his first film for Racer X—and it was downright impressive.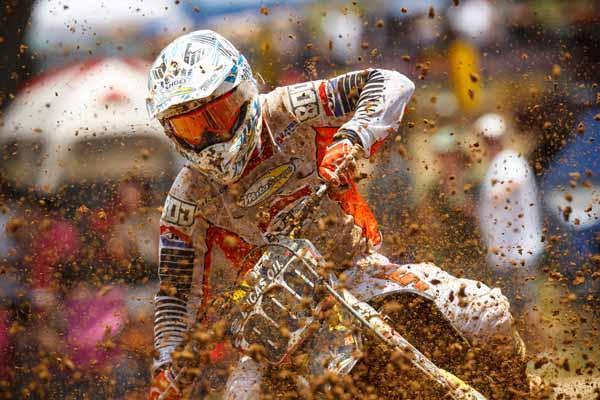 Trying to slow down Ryan Dungey has been a tough task thus far for Mike Alessi.
Simon Cudby photo
The time to select Team USA for what will be a try at eight straight Motocross of Nations wins is drawing closer. It was on a few people's minds in Belgium last weekend, where sidelined two-time AMA Supercross and four-time AMA Motocross #1 Ryan Villopoto was vacationing at the Bastogne GP. When he was asked about his injury and whether or not he might be racing again anytime soon—and specifically on September 30 at Lommel, Belgium, site of the MXoN—RV told our contributor Adam Wheeler: "I've heard that they want me to race the Nations but as of right now I haven't started riding yet and might be able to in the first week of August. So a couple more weeks. I don't know how it would work but I assume I'll have to race some U.S. Nationals to be in the running to go. We'll see. It is very up in the air and there is no real plan." You just know that has struck fear in the hearts of a few riders and journalists in Europe....
Christophe Pourcel is giving chase to Tony Cairoli in the FIM World Championships. He also introduced a new line of casual clothing this week called 377, which of course is his riding number. Here's a short video of some of the gear.
As for the future, he's already said he would like to return to America. The man certainly has the skills to succeed here in the 450 Class, especially in Monster Energy Supercross. But will he get another chance?
Cairoli, on the other hand, will probably never come to America full-time. Like Stefan Everts, he reigns supreme on the Grand Prix circuit, and he's got years of good riding ahead of him. Racer X contributor Adam Wheeler spoke to Tony after the GP of Bastogne last week about the possibilities of him one day taking up the challenge of a race here.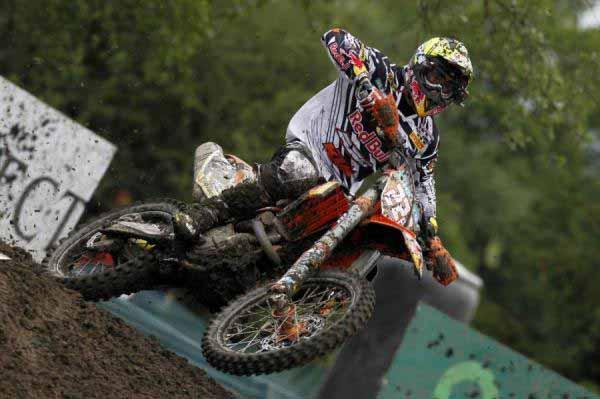 Although Cairoli will probably never come to America full-time, it would be nice to see him at some select rounds.
Ray Archer photo
"The dates are really hard to make it happen," said the Red Bull KTM rider. "The championships finish at pretty much the same time and it's a shame. It is risky trying it in the middle of our season. I've already spoken about it with KTM, and for them it's no problem, but they also would love to win the World Championship again. I hope someday I can find the right race to be able to go, because I'd love to have a go at those tracks. I felt that today at Bastogne it was like a National because there were not many bumps and ruts but it was fast."
The man he would be chasing here, sidelined U.S. superstar Ryan Villopoto, took a working vacation to Belgium for the event for Monster Energy and Parts Unlimited Europe. He worked with the excellent Paul Malin on the MX-Life.tv webcasts and got the GP press room whipped into a little frenzy when he mentioned that he might like to go to Europe for a full season, maybe after three more years here in the States. But I wouldn't get a tattoo that said "RV-GP-16" just yet....
And then there's the persistent rumor that Villopoto is in talks with not only Monster Energy Kawasaki but also Honda for a new contract. I have not spoken to RV about this, but I do know that nobody is afraid of the knee injury he's out with right now—the teams learned that lesson when Ricky Carmichael went down in the fall of '03 with a knee injury, missed SX '04, and could not get the deal he wanted with Honda when he returned. So he signed with Suzuki for '05, even while preparing to ride the Honda CRF450R outdoors that summer. He then put on one of the all-time dominant displays of motorsports racing when he went 24-0 and practically led every single lap along the way. Then he went to Suzuki and gave them four major titles in four tries. In the wake of that recovery, Villopoto's stock didn't go down a dime when he tweaked his knee in Seattle.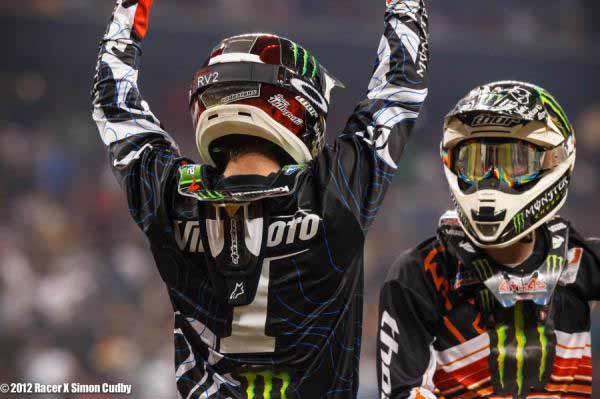 Don't buy stock in the "RV-GP-16" just yet....
Simon Cudby photo
As for his "maybe I will race in Europe" comment about 2016, I am afraid I really don't see that happening. But it would be cool to trade RV for Tony Cairoli for a season, or Jeffrey Herlings for Blake Baggett, though Herlings will already be there by then.
Want to see more on RC's 2004 AMA Motocross masterpiece? Check out this link to The Vault, presented by Kawasaki.
And speaking of The Vault, there was once a very rough track in Michigan called Midland that hosted three 125 Nationals in the seventies, back when Red Bud was known for it's Trans-AMA races. You can find the results to all three races right here in the Vault.
Let's start with Weege:
First, a shout-out to my guys (and gals) racing the Snowshoe round of the Can-Am Grand National Cross Country Series this weekend. The race takes place at a ski resort in West Virginia, and they start the race on the streets of the ski village. You can literally watch the race while sitting at Starbucks. It's awesome and a very much underrated challenge. Europe has Erzberg and all of those crazy extreme races, but this one is a much more accessible challenge. Plus, 4,200 feet of elevation makes for a cool summer getaway. You can rent a cabin for the family to hang out in while you race. If you think you're a bad dude on a dirt bike, you should try this race one year. It's seriously one of a kind.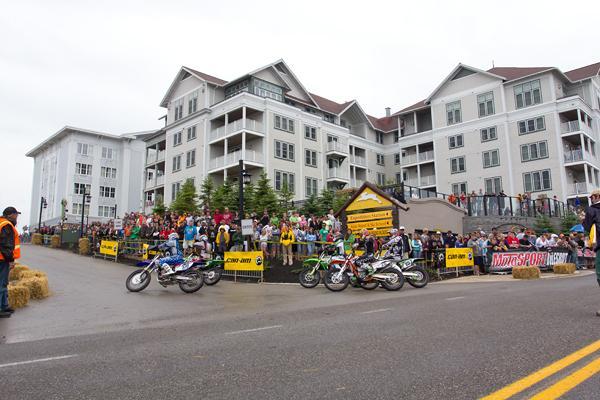 The picturesque view of the start of the Snowshoe GNCC, which is taking place this weekend.
Andrew Fredrickson photo
If you listened to our BTOSports.com Racer X podcast show this week with myself, Matthes, and Jason Thomas, you heard us joking about how just every rider and team believes they will be much better after the two-weekend break between Budds Creek and RedBud. Perhaps unrealistically so—a break is nice, some more testing and training time is nice, healing up from some nagging injuries is nice, but we've seen time and time again that the riders are who they are and end up where they end up. Improvement year-to-year is hard, let alone in two weeks. So we'll see if anything actually changes by RedBud.
Every Thursday, I do a guest spot on All-Action Sports Radio to give them the rundown on the latest on the supercross and motocross scene. It's good to do a show with a bit of an outsider's perspective. We often get so lost within our inner circle of folks that watch and follow every race, then dissect and bench race it all to death. You forget that some folks have some basic questions. There's nothing wrong with that. I watched every game of the NBA Finals, but that doesn't make me as knowledgeable at the NBA as I am motocross. I watch MotoGP and F1 races, but I don't know those sports are well as moto. But I am interested in them and do have some basic questions and ideas.
Anyway, this week the AASR guys brought up the proverbial "asterisk" question surrounding Ryan Dungey's 450 MX title drive. If you're following the races closely, you know by now that the asterisk deal is debunked. Dungey proved last year that he can run with anyone (it's not like he got blown away in 2011 SX and MX once Villopoto, Reed, and Stewart were back. If not for some bad luck that was out of his control, he could have defended his titles), and while Stewart did beat him in the first two races this year, again, Dungey proved he was on the same level, speed-wise. The AASR guys were wondering if Stewart could have completed the perfect season had he not hat that photographer problem at Colorado. Sure, the results say yes (he was undefeated at the time), but even Stewart knew the races were much, much closer with Dungey than they were in 2008. Another 24-0 wasn't going to happen. Yes, Dungey is cleaning up with his main competitors out, but even those main competitors know they'd merely be battling him if they were out there—they wouldn't be waxing Dungey every weekend by 30-some seconds.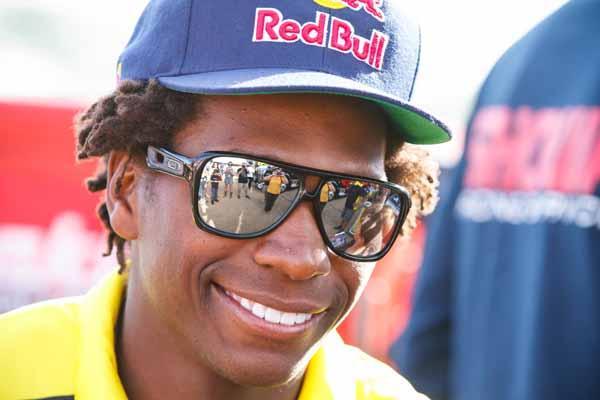 Will Stewart make his long-awaited return at RedBud?
Simon Cudby photo
Better yet for Dungey, think of what he gains while they're out. Not only more win bonuses and points, but every week on the race track is a chance to improve, and Dungey takes that task quite seriously. If everyone else really improves in the two weeks between here and Red Bud, well, he'll improve, too. And he'll be even better at Millville. And even better in 2013 than he was in 2012. And that means it will just be even harder for everyone else to beat him when they do come back.
Now over to Matthes:
And finally, on the fifth week, MX Sports said we can rest. But not for me. I must have something wrong with me because I'm heading up to Edmonton, Alberta, Canada, for round four of the CMRC Nationals up in my motherland. I didn't go to a national last year for a number of reasons (schedule, distaste for the politics up there) but I figured I should go check one out. The Edmonton track is also a newer one on the circuit and I haven't ever been there, so why not?
Last time I was in Edmonton was 1989 for the Canadian amateur championships (the Loretta Lynn's of Canada except it rotates tracks) where I went 7-7-7 in 80 Expert for, yep, seventh overall. I get in tomorrow afternoon and plan to go check out the West Edmonton Mall and most likely at some point grab some poutine.
As far as that series, it's a Leading Edge Kawasaki runaway with Matt Goerke (450) and Teddy Maier (250) winning every one of the first six motos except for one, which was last weekend when Bobby Kiniry managed to beat Goerke. The defending champion Colton Facciotti moved to KTM for this year (when Blackfoot Yamaha folded) and was on Goerke's level but then separated his shoulder in the third moto of the year and it's been a struggle since. His teammate Dusty Klatt has also struggled to adapt to the KTM.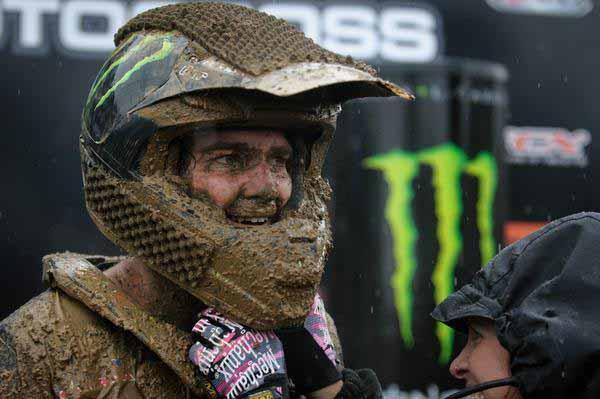 Matt Goerke is off to a hot start in Canada.
James Lissimore photo
One thing to note is that both Klatt and Facciotti are on the old KTM 450 SX-Fs and not on the Dungey replica. I do believe that this is a bit of a factor in their performances but the folks at KTM Canada don't agree with me. Imagine that.
Looking forward to seeing Tyler Villopoto, who's racing up there this year and by all accounts doing quite well. He doesn't have a lot of time on the 450 but he's consistently in the top five (although the depth up there in Canada due to some injuries and the economy is not what it used to be) and showing some serious skill and fitness.
I helped out a bit in getting Tyler up there—Ryan asked me to put a word in with a couple of team managers, and RV couldn't have undersold his brother any less. He mentioned just finishing the motos, then trying to get into the top ten and then going from there. He definitely shouldn't be an agent once he hangs up his boots, because there was no "building the hype" with RV. And because of this, I undersold Tyler to Pat O'Connor of Leading Edge Kawi. Meanwhile, TV is solidly inside the top five most times and threatening to get on the box! Got to make Ryan, Tyler, pop Dan and LE Kawi manager O'Connor pretty pumped.
Did anyone hear Bobby Kiniry's story of his missing gear bag for round one on the Pulpmx Show? His bag didn't show up and the race was on Vancouver Island. Let's just say it involves a sea plane, a fairy, Orlando and getting his eyes washed out. Crazy stuff, listen to last Mondays show for the whole story.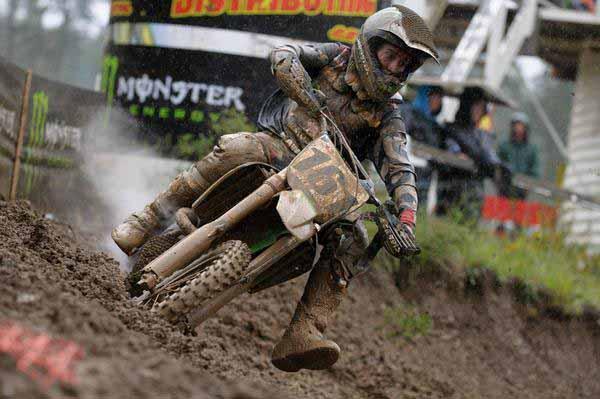 Tyler Villopoto, younger brother of Ryan, has shined in Canada thus far.
James Lissimore photo
Now over to Aaron Hansel who has some news on the Star-Valli team:
If you were watching the Red Bull Budds Creek National on television, you probably saw the shot of Kyle Cunningham being helped off his bike in obvious pain after catching his boot in a rut and further damaging an already injured ankle. If you want the details, check out this story we ran earlier in the week. Cunningham talks about getting hurt at Budds Creek, as well as some of the other injuries that have held him back this year. If you already read the story, you know that thanks to a couple of tears in his ankle, Cunningham is on crutches, and might even be out for the season.

With Kyle Cunningham suffering from an ankle injury, the Star-Valli team could be looking for a fill-in rider.
Simon Cudby photo
It's a bummer for Cunningham, who was looking forward to letting his previously injured ankle heal up during the break, and it leaves the Star-Valli Rockstar Yamaha team in the unfortunate position of searching for a fill-in rider. Right now the team is looking at a few guys, most notably Tommy Weeck, who was formerly with the MotoConcepts team, and privateer rider Austin Politelli. Both riders had mixed results in the Eastern Regional Supercross Lites series this year; Politelli's best result was a ninth, while Weeck's best finish was a seventh, and Politelli edged Weeck for sixteenth in the standings by a mere two points.
It sure seems like a tough call, and I'm glad I don't have to make those kinds of decisions, but with Washougal not too far away, Weeck seems like a good choice. He flies on that track, and it'd be good to have totally comfortable on the bike when the series heads to Washington State. We'll make sure to post an update when we find out more on this situation.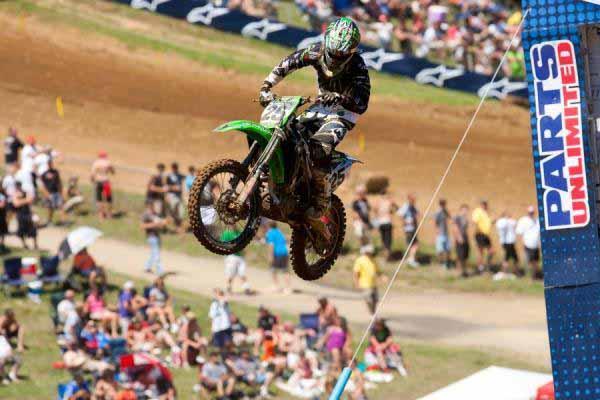 Austin White was at Budds Creek to catch all the action from Broc Tickle's career day.
Andrew Fredrickson photo
Some random notes to end the week:
Some cool Instagram photos from Budds Creek, right here on the Allisports.com website.
Budds Creek offered up a very cool trophy—maybe the coolest of the year so far: guitars by Knaggs Guitars, donated by Jeff Lanahan. I mention this because every year MX Sports has a contest to see who comes up with the coolest trophies for their national, and last year's winner was Washougal, after Tavi Huffman pulled together a really cool neon sign award. The winner, voted on both the Racer X staff, gets a free full-page ad in the magazine for their local events.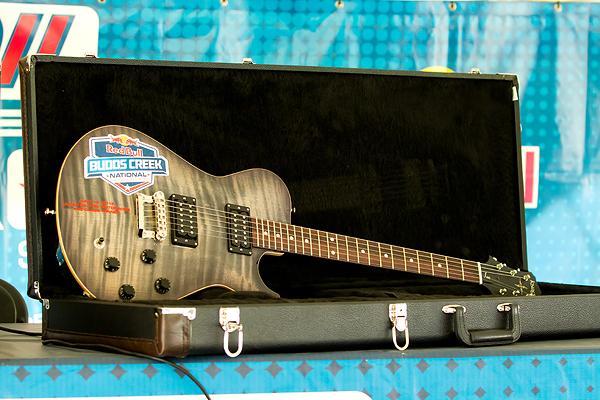 Knaggs Guitars hooked up with the Budds Creek winners with these sweet axes.
Andrew Fredrickson photo
Here's another look back at Budds Creek, this time on Facebook by Brad Whitworth, shooter for the Heroes & Legends of Motocross tour.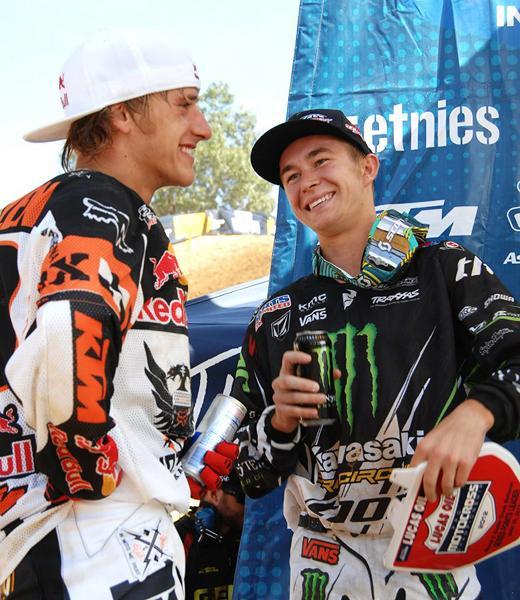 Good to see that Roczen and Baggett can still share a smile, but later on, this championship will probably get much more tense...
Brad Whitworth photo
Want to catch a glimpse of one of Europe's next big things? There's a kid in Holland named Davy Pootjes who is hoping to follow in the footsteps of Red Bull KTM rider Jeffrey Herlings, and before them Marc DeReuver, Pedro Tragter, John Van den Berk, Davey Strijbos and more. He will be racing in the big International Youth Weekend in the Netherlands that's coming up. Thanks to Jean-Paul Maas for sending this very slick video! For more in the event, which takes place July 13-15, go here.
Check out this crazy shot of the "human race" they recently held at Washougal. Look for more and more of these to pop up around the sport....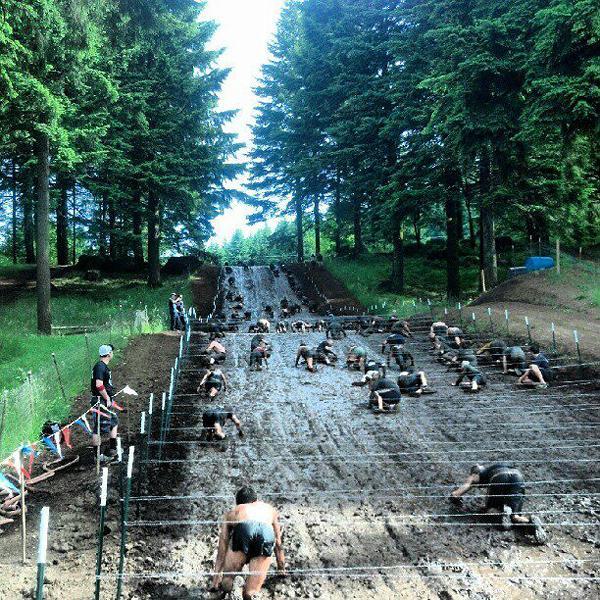 My buddy Jeff Cernic just added a real gem to his collection. Check out this old Kawasaki KX250! With the cool rear fender panels, it's an early eighties work of art. We have one of these in the lobby at Racer X, on loan from longtime Team Green tech Greg Quador. Good stuff!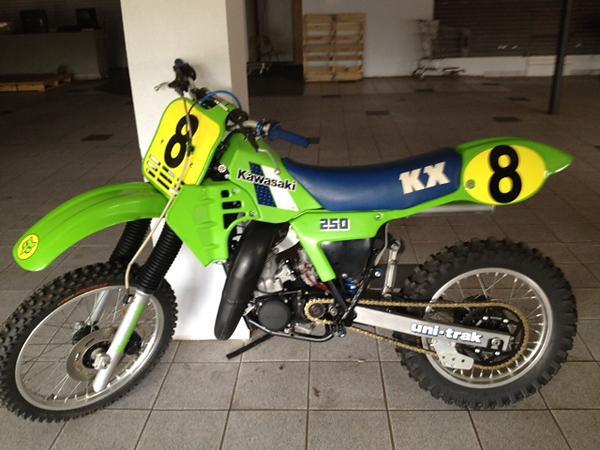 Jeff Cernic's latest work of art.... Somewhere Billy Liles must be smiling!
Cernic's bike is an '84, by the way. Can you name the members of Team Kawasaki 1984?
If you missed Ashley Fiolek on Conan the other night, you can catch it here. Fiolek comes on at roughly the 28:00 mark.
Score a win for the off-roaders of the California OHV Program who recently won a court victory to keep the popular state managed motorized park open in the S.F. Bay Area. Click here to read the entire article.
Sorry, I found this new FMX "No Mercy" team's plea to join their Facebook page and so on and so forth... So I clicked on it and...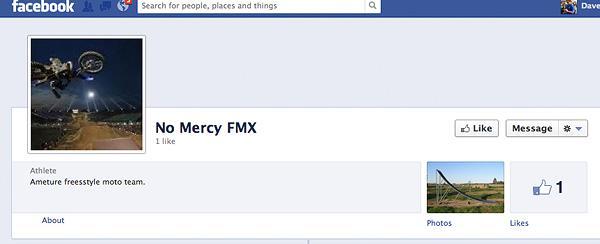 In more social media news, any motocrosser that travels to England this fall for possibly the Birmingham SX should be careful what they tweet. According to a report the Brits are not very fond of athletes or really anyone tweeting an advertisement-style message from or about their sponsors with directly labeling it to be an advertisement. It just got football star Wayne Rooney in trouble—the same Wayne Rooney who scored a header against Ukraine in Euro 2012—when he tweeted a message and added "#makeitcount," which is a new Nike ad campaign....
But I'm not really sure what the British would think of some of our boys' tweets anyway. Take the hilarious Darryn Durham, for instance. He tweeted "Miss Supercross is about to Polish my helmet! Don't miss a spot..."(@DarrynDurham)
Not sure if that's an ad for his helmet-polish sponsor or something for the supercross series itself....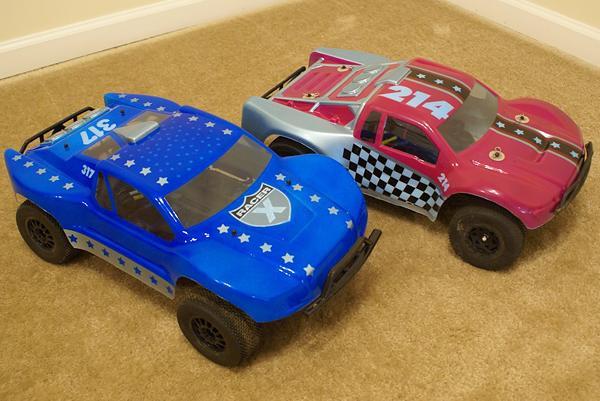 Ed Palanko sent us this cool RC car.
Dave Derringer snapped this photo of potential Flagman Hall of Fame candidate Kevin Windham working the track at the Del Mar Moto Derby... Looks like K-Dub has his summer cut going!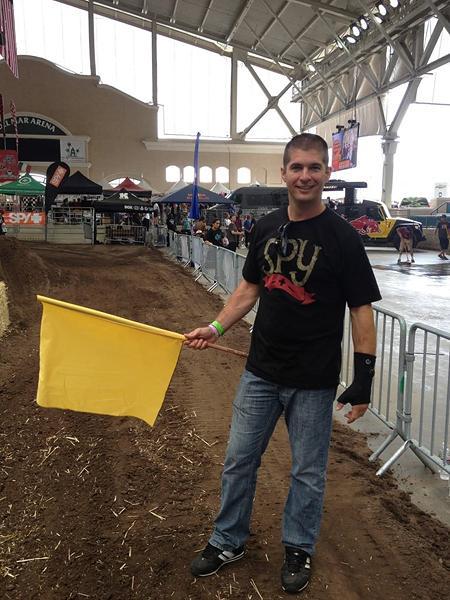 K-Dub has a new job for the summer.
Dave Derringer photo
You may have been checking out the new August issue of Racer X Illustrated and read the Appalachian Offroad MC Dealer Spotlight feature on page 185. If you tried giving them at call at the number we listed, you may not have gone too far. We made a mistake and printed the wrong phone number and website—the correct number is 304-932-0437, and website is www.ktm-parts.com.
Okay, that's it for the week—a very hot week in much of America! Stay hydrated, enjoy the off-weekend, and see you at Reeeeeedddddddd Buuuuuuuuuud! Thanks for reading Racerhead.