Budds Creek Motocross Park
Mechanicsville

,

MD
Budds Creek
Lucas Oil AMA Pro Motocross Championship
After spending four years under the prestigious Team Green Kawasaki tent, many expected Jacob Hayes to make the upward transition to Monster Energy Pro Circuit Kawasaki. But things didn't pan out for the North Carolina native with the quiet Southern drawl. When the off-season musical chairs stopped, Hayes was left empty handed. Finally able to land on his feet, Hayes signed with AG Motorsports/Cernics KTM to contest the Lucas Oil Pro Motocross Championship and is hoping to put his name back on the map.
[Here's a video shot with Hayes last week before his pro debut]

Racer X: After graduating from the amateur ranks last year, you kind of disappeared. You didn't compete in supercross, but I did see your name pop up at a couple local Arenacross events. Can you fill us in on what you have been up to since leaving amateurs?
Jacob Hayes: Right after Loretta's I was going to do the last four Nationals with Kawasaki, but that didn't end up working out. I tried to pull something together for supercross, but with it being a little tough economically right now I wasn't able to find a deal. Then I finally found a team, AG Motorsports, which picked me up and wanted me to start getting ready for the outdoors. During that time I was racing a couple of arenacrosses here and there to stay racing.

We finally made it to Budds Creek and I would say it went okay. It didn't go as good as I wanted it to go; we're still working on a couple of things with the bike, but we are getting there. We'll be doing the rest of the Nationals from here on out, so hopefully by the end of the year I'll have some better results.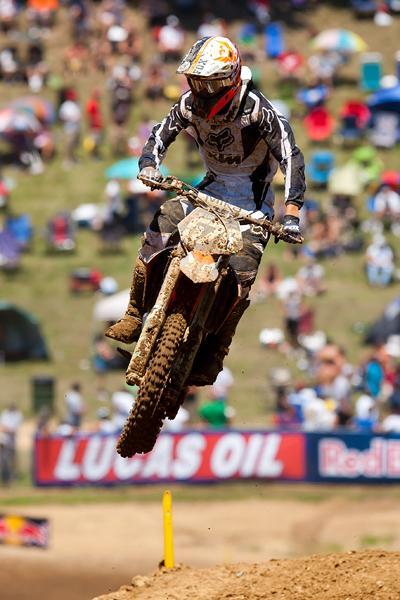 Hayes made his long-awaited pro debut at Budds Creek.
Andrew Fredrickson photo
It's been close to a year since you last raced against this level of competition. Where you surprised at the speed and high level of intensity? Also, how big of an adjustment was it getting back to that level again?
You know, it was [an adjustment]. It was kind of just to get back in there. It has been almost a year since my last big race, which was Loretta's. Going back out there, the intensity is really high, but you have to start doing it again. Once you layoff for a little bit and all you're doing is practicing it is nowhere near as high intensity as the race is. But you have to work your way back into it and that's what we are trying to do right now.

A year ago when you graduated from the amateur ranks, many considered you one of the highest ranked prospects—alongside Justin Bogle and Kyle Peters. But when the off-season musical chairs stopped, you were left out.
I was just trying to talk with Mitch [Payton] a little bit after Loretta's and was trying to see if I could do anything with him. And I think he just ran out of budget. You know, he picked up [Darryn] Durham and the whole thing with Broc [Tickle] didn't work out so he had to start a 450 team, and I think I got pushed to the side a little bit and everyone else had already picked their riders and I had to take a little bit less this year. But I'm trying to make it work right now. I really like this team and they have an excellent bike and I think we can make it work and get some good results under our belt.

You spent a majority of your amateur career under the Team Green Kawasaki tent. How serious did the talks get with Pro Circuit about moving to their team for this season?
I went to Mitch's office a couple of times and I talked to him at Unadilla and he was letting me know how the budget was going and that he really didn't have anything. His budget was really short this year, so I tried to look for a couple of other rides but nothing worked out. I was kind of bummed because I had been with Team Green for four years and I was trying to make the next step. But it didn't happen, which I'm okay with, things happen. So now I'm just trying to regroup and get things rolling again.

You mentioned that the deal fell through late in the season. Do you think that set you back when it came to trying to find another ride?
Yeah I do. When you start looking for rides later in the year, everyone has already settled in and signed their contracts and teams have already put their entire budget together. You really can't go looking for rides late in the year—it's kind of tough. We had been trying to do it and then we finally found something with AG Motorsports and have been working with them since.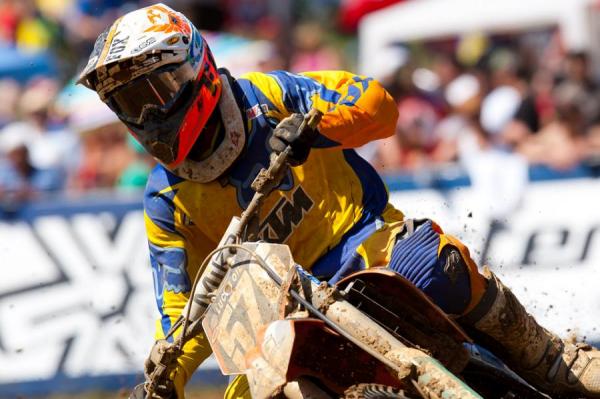 Hayes would finish 34th overall in his pro debut at Budds Creek.
Andrew Fredrickson photo
You rode KTM's early in your amateur career. Has that made the adjustment from Kawasaki easier?
At first I didn't think it would be that bad, because it had a linkage and everything. But when I got on it, it was a pretty big adjustment—especially with the power between the two brands. One has a little bit different power here and there. It was a little tougher than I thought so it took me a couple of months to get used to it, but I'm really starting to like it now. We have been making some changes with the setup and I really think that RedBud will be one hundred times better. Budds Creek was kind of a deal just to see where you were at, and it was nowhere near my own expectations. But we are going to keep working at it and hopefully have some good results by the end of the year.

What are your realistic expectations moving forward?
I think by the end of the year would be to have some solid top ten finishes. Like you said earlier I was running with Bogle at the end of the year and he has done really well in the professional ranks. I think a great goal for the team would to be a solid top ten team every weekend.

Who would you like to thank for helping you out this season?
AG Motorsports, Cernics, Motorex, Liquid Performance, All Balls Racing, Torque One Racing, DT-1 Filters, Fox, Oakley, EVS, Rekluse, Dunlop, Asterisk and Flu Desings.