MotoBin from MotoConcepts
Spokane, WA - ­Looking for the perfect item to store your gear in the garage or trailer? Try the well-built, durable, 'Made in the USA', MotoBin from MotoConcepts.
The MotoBin organizes any garage or trailer and provides a factory look with quick and easy accessibility.  Constructed from injection-molded composite, the sleek design offers a generous 24" x 16.5" platform and easy accessible drawer.
The MotoBin supports a helmet, pairs of boots, with an adjustable tie-strap for securing gear down down the highway.  The large storage bin is an ideal spot to store gloves, goggles, tubes, shop towels and lubricants while the specifically designed hooks on each side support T-Handles and Tie Downs.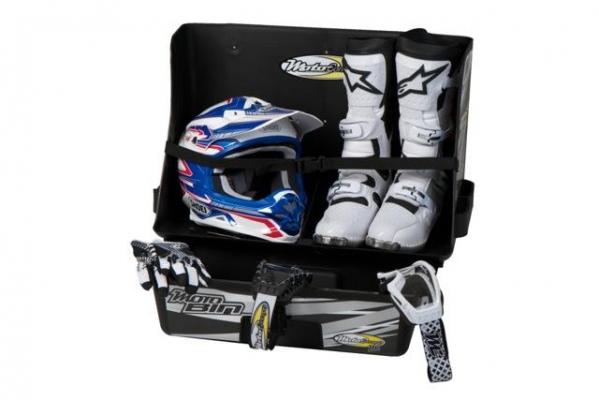 You'll find the great design and stylish storage area enhances any work area and adding additional MotoBins on the wall, possibly for your mountain biking/road bike training equipment, is almost a certainty.
At $79.95 the MotoBin is the perfect accessory for all riders. Order directly from MotoConcepts at www.motoconcepts.com or stocking dealerships nationwide.
MOTOCONCEPTS:
Building on decades of experience, MotoConcepts brings US (Spokane, WA) manufactured premium-quality products to those who as passionate about riding as our employees.  MotoConcepts principals include extensive support for the sport, charitable organization donations, to using 100% recycled material exemplifying core American business values.