1.7 Cleaning Solutions Brush Kit
1.7 Cleaning Solutions is now shipping the Professional Brush Kit which includes everything you need for detailing your bike or off road vehicle.
1.7 Cleaning Solutions 6 - pack Brush Kit can be purchased at www.1pt7.com, please visit us to learn more about the full 1.7 cleaning system.
INCLUDES
- Soft spoke and wheel brush.- Large Scrub brush with built in scotch brite panels.- Large soft nylon brush for bike washing.- Hard nylon scrub brush for parts and chain cleaning.- 2 Small scrub brushes for deep detailing - 1 wire & 1 nylon brush.- Comes complete with netted nylon bag with drawstrings.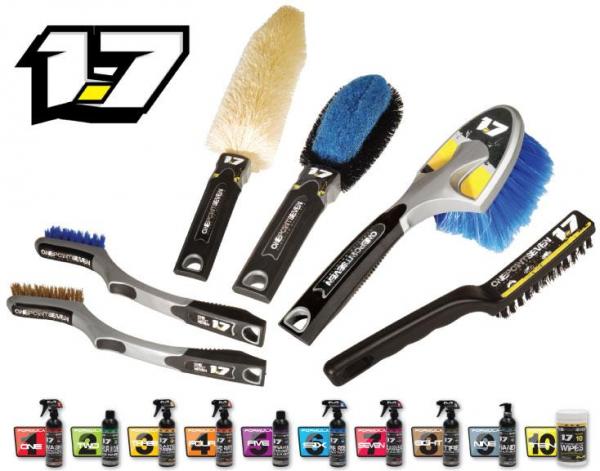 Click on the 1.7 to view 2012 brochure
About 1.7 Cleaning Solutions:1.7 Cleaning Solutions is based in Valencia, California, and developed by the top mechanics in racing, in conjunction with one of the largest cleaning company's in America. All 1.7 cleaning chemicals are blended and packaged here in the USA, and are used and endorsed by some of the top teams in USA along with MX/SX legend Bob "Hurricane" Hannah. 1.7 has everything you need to clean and detail your motorcycle or off-road vehicle. 1.7 is part of the Matrix Concepts family of products, the brand leader in motorcycle related garage and track necessities. visit: www.1pt7.com