Budds Creek Motocross Park
Mechanicsville

,

MD
Budds Creek
Lucas Oil AMA Pro Motocross Championship
Hello again, old friends! It's been a few weeks. I take this time every year after I have prepared my riders for Loretta Lynn Qualifiers to head down to the Emerald Coast for a family vacation. I must say, each year it gets harder and harder to return home. Anyways, let's do what we came to do. Let's Breakdown High Point, shall we…
I've discussed the art of the scrub or as I like to call it "putting English on it" with your jumps in previous Breakdowns. This photo of Jason Anderson is text book of putting some English on the jump. Let's look closer.
Let me start with saying I have always liked Anderson. He's a great kid with a great family and is figuring out pro racing. Now let's look at the photo. You see how his approach to the jump face is arched? This is what sets the tone for scrubbing the jump because it already leans the bike.
Now, the biggie. Look at his outside foot and at his toe and knee. This shot really captures the angle and the feel for doing a turn down the right way.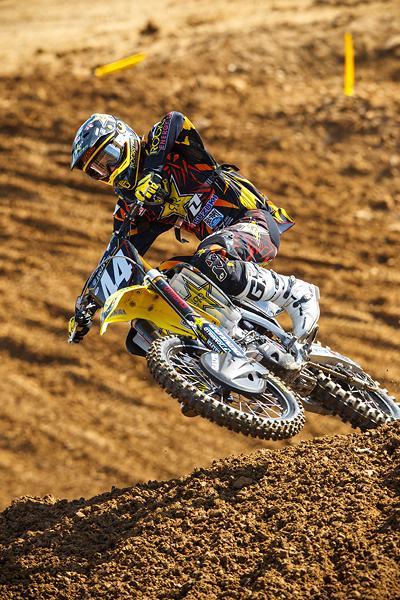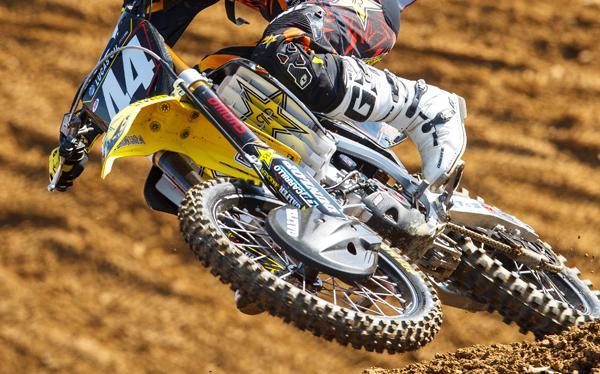 Simon Cudby photo
His outside knee is digging into the tank to help lean the bike. And his toe is out as far as it can go without falling off. His toe is really a major asset to the whole shot. It helps dive that knee further into the tank. If his toe wasn't where it is his knee couldn't pitch the bike over as easy.
The outside elbow being up and "pointy" is also a major asset. I like to tuck my inside elbow into my ribs, while the outside is pointy. This helps lean the bike even further.
Here is another scrub shot from a different angle. I wanted to use this shot because it shows a different angle than I've been using.
Notice how Dungey places his heel on the outside peg allowing his outside knee to be higher up on the tank. I don't like to do it this way because it allows the knee to be on the fat part of the shroud as opposed to inner tank. It's still cool either way, but this way you can't pitch the bike as sideways. But knowing this jump you don't want to scrub too hard because you can't set up for the section ahead.
That's another tip. Only scrub hard enough to where when you land, the bike is set-up accordingly to the section ahead. This is probably what Ryan is doing here.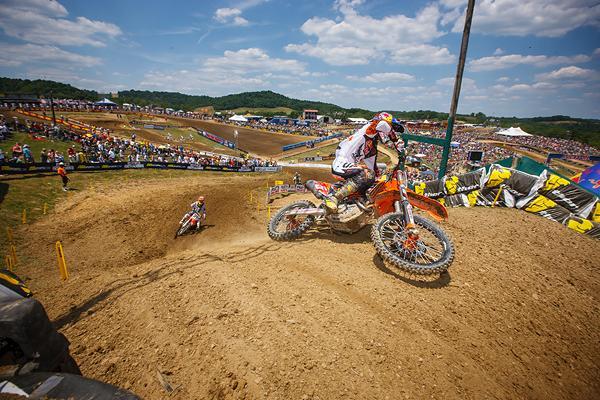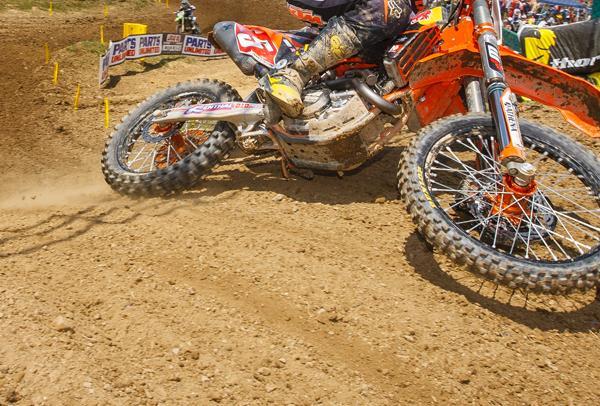 Simon Cudby photo
Here is another shot that you normally don't get to see. Tomac was able to set Kenny up in the section before and did what I like to call "outside in". The problem with "outside in" is once you make the pass your on the inside, which in this section puts Tomac at a bad angle for the jump.
Like I said before when you scrub you arch the face. But because Tomac made the "outside in" pass he couldn't arch the face. Hence the inside foot off the peg. Had Tomac not taking the foot off the peg here his toe would have caught the lip of the jump. Taking your inside foot off allows you to put that extra English on the bike to stay as low as possible.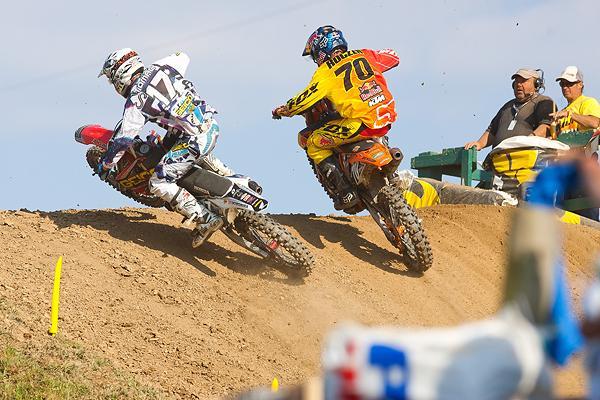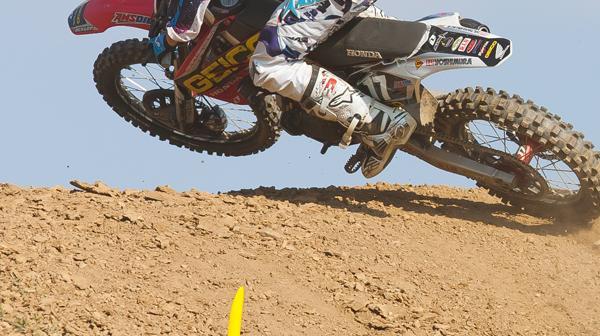 Andrew Fredrickson photo
I wanted to use this photo to remind you guys of something. Always try landing with your heels down, toes on the pegs. High Point is notorious for rutty landings. With rutty landings if your toes are not flush with the motor casing you run the risk of getting a tweaked knee or ankle.
Notice Sipes feet in this picture. Everything about it looks right. I love that his heals are down and his toes are in.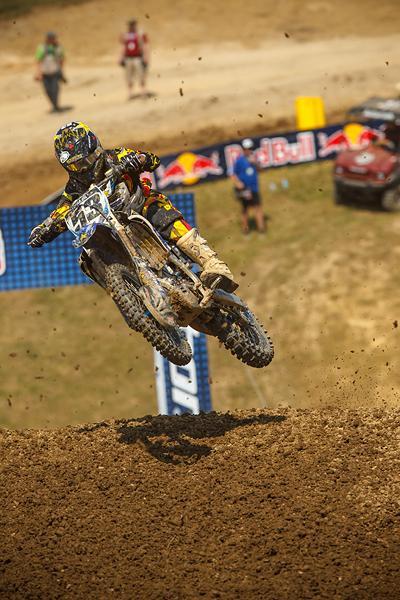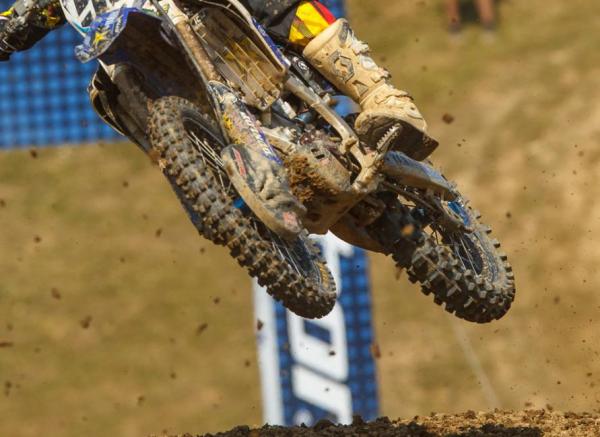 Simon Cudby photo
That's going to do it this week for the Breakdown. It's back to building sand castles and crazy Moto-X tracks with Camden my three year-old!
On a closing note I want to add this riding tip. Because of the sunny, hot weather try a tinted goggle lens while you're motoring. It really helps with eye strain. It's crazy how much difference it can make!
See you guys next time!
Matt Walker