Budds Creek Motocross Park
Mechanicsville

,

MD
Budds Creek
Lucas Oil AMA Pro Motocross Championship
Welcome to Racerhead and another perfect-looking weekend for Lucas Oil Pro Motocross. This time we're coming to you from Budds Creek Raceway, home of some of the most memorable motocross races of the last twenty-five years. Tomorrow afternoon all four motos in the 250 and 450 Classes will air live, albeit on different networks. It's another big step up for the series and the sport in general, in my opinion. Of course, I am biased on that front, and some will point out that it's like watching the first half of a baseball game on one channel and the second half on another. But it's not, I'll argue. It's really like watching TWO baseball games simultaneously—a 250 game and a 450 game, their halves overlapping....
The good news is that the High Point National last weekend earned the second-highest live-event rating ever for a FUEL TV show, with over 200,000 viewers—and it also streamed live online at the same time, with equally impressive numbers. The motocross viewership has been excellent, and networks notice that. I have a pretty good feeling that all-day live for every event is not far off, albeit on a couple of different channels.
Here's the tricky part: Tomorrow's Red Bull Budds Creek National begins at 1 p.m. live on FUEL, with the 250s going off first, then at 2 p.m. we switch over to NBC network for the opening 450 moto. Then at 3 p.m. the 250s go off again, back on FUEL, and then at 4 p.m. it's the last 450 moto, this time live on NBC Sports Network. Add it all up, and it's four straight hours of live motocross, on three channels, featuring two classes, from one racetrack.... I know it's hard to get your head wrapped around, but it's the sport we have—two classes, two motos—and we're doing what we can to keep it that way and also show it live. Make sure you have fresh batteries in the remote control, and enjoy!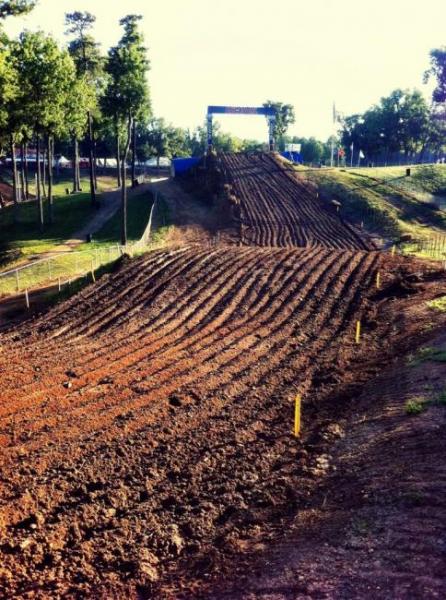 Henry Hill awaits fast company.
DC photo
Also, if you've missed any of the first four rounds of the 2012 Lucas Oil Pro Motocross Championship, sanctioned by AMA Pro Racing, all of the motos are archived right here for your viewing pleasure. Check out the second 250 moto from High Point: instant classic!
Yesterday the Red Bull KTM and JGR Yamaha guys showed up bright and early to help promote the Budds Creek race by doing local TV morning shows and newspaper features in the D.C.-Baltimore area. Then we opened the track for them to ride a long moto—that's the trade-out for coming in a couple days early and doing all of that press work. Ken Roczen and Marvin Musquin were having a blast out there. Neither has raced here before—Ken was in Europe last year and Marvin was hurt—but they definitely liked the GP-style flow of Jonathan Beasley's race track. Both are in dire need of a win to stay in this, and K-Roc has now let two moto wins slip through his hands, including last week's thriller at High Point. I would not be surprised to see either of these very friendly guys finally get a win tomorrow.
In the 450 Class, Ryan Dungey is acting like the locomotive that Jason Weigandt and Jeff Emig described him to be in last week's show. He's riding strong, fast, and smart, and when you have a man that talented and that driven, well, he's going to be tough to beat. But Mike Alessi certainly gave him hell last week in both motos, and with the right breaks—a good start for #800, a not-so-good one for Dungey—and we could have quite a race here.
Here's a look at yesterday's press day activities at Budds Creek, featuring Red Bull KTM riders Roczen and Musquin, JGR Yamaha's Davi Millsaps and Kyle Regal, plus some local privateer favorites. Matt Wozney of MXPTV made the film.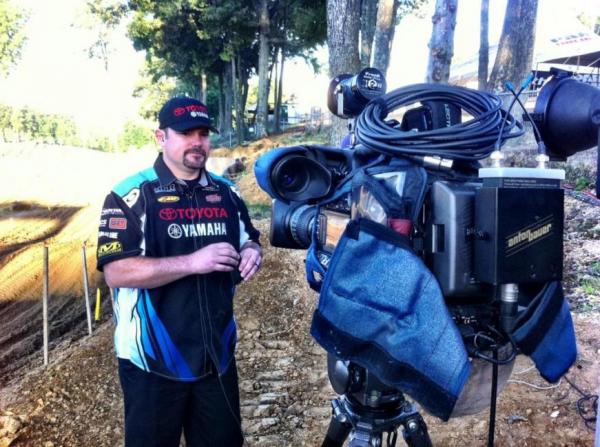 Coy Gibbs works the morning show for his team.
DC photo
One rider who will not be at Budds Creek is James Stewart, and for that I can speak for everyone at MX Sports and say we are incredibly bummed out that we lost our series points leader and one of the most popular riders of all time due to the unfortunate events of Thunder Valley. Unless you've been hiding under a camera bag, you surely know that a photographer errantly crossed the track right in front of him without looking, distracting Stewart and setting off a crash that left him with a bum right wrist. James was done for the day, though he did try to come back for High Point last week and try to salvage his championship hopes. But after gutting out a fifth in the first moto, he realized that it was unsafe for him to continue.
I have watched James ride since he was on a white Yamaha Y-Zinger, and I have never seen him ride as tentatively as he was at
High Point
. His aggressive style and great expectations have always made it hard for him to just coast, and you could see him trying to work out his wrist during that first moto as if he had arm pump. I think he made the right call, and I am sorry that the whole event—the shooter walking out in front of him—happened at an outdoor national. But I hold out hope that when he rests up, gets his wrist dialed in, and gets all of the feeling back, he will return. My fingers are crossed for
RedBud
, but I am an eternal optimist.
I do think you will see him no matter what at the Monster Energy Cup in Las Vegas in October, an event that's starting to shape up with some very interesting story lines. Ryan Villopoto could be back by then, and Chad Reed will almost definitely be ready to go. Trey Canard? Check. And Dungey will have a full year under his belt on orange.... Now add James Stewart and you have one helluva off-season race to attend!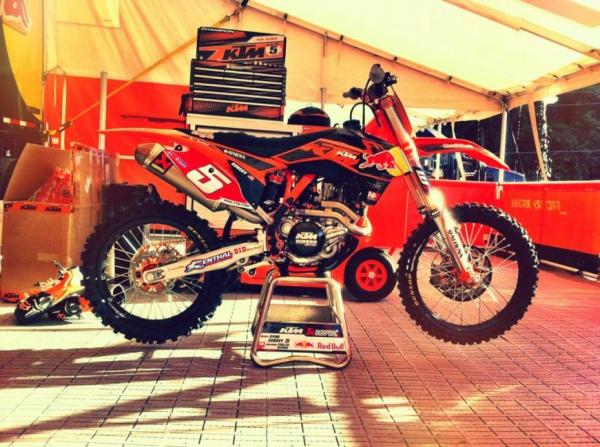 Which would you rather ride? This pristine Red Bull KTM...
DC photo
And speaking of the Monster Cup, here's a look at the design process that Ricky Carmichael is participating in right now (or at least he was before he left for England to conduct his first international Ricky Carmichael University motocross school). Check out what RC has cooking right here.
That leads me to this interesting stat: In twenty-eight career outdoor starts in the premier class, Red Bull KTM's Ryan Dungey already has an eye-popping sixteen overall wins. He's batting at about .570! Dungey jumped up to the 450 class in 2010, though his first race was a win at the 2009 Motocross of Nations in Italy. Dungey won the '10 Lucas Oil Motocross title, but then lost last year to Monster Energy Kawasaki's Ryan Villopoto. Now he's back in the driver's seat, albeit with unfortunate help from injuries to the '08 champ (James Stewart), the '09 champ (Chad Reed), and the '11 champ (RV). But that's the nature of racing: taking advantage of every opportunity you find.
By contrast, Ricky Carmichael won twenty of his first twenty-eight outdoor premier-class races, so he's got the nod there from his '00 and '01 seasons. But then the number gets a little crazy: From 2002 through 2005, RC won an astonishing forty-five out of forty-seven overalls... The only two races he lost came at the hands of Kevin Windham in 2003. If you want to learn more about the career stats of either RC or RD, check out the Racer X Online Vault, presented by Kawasaki, which has every result from every outdoor national race since 1972, and every AMA Supercross since '74.
So what makes Dungey tick right now? Racer X Films and Chad Derosa sat down with him at High Point for this in-depth video feature.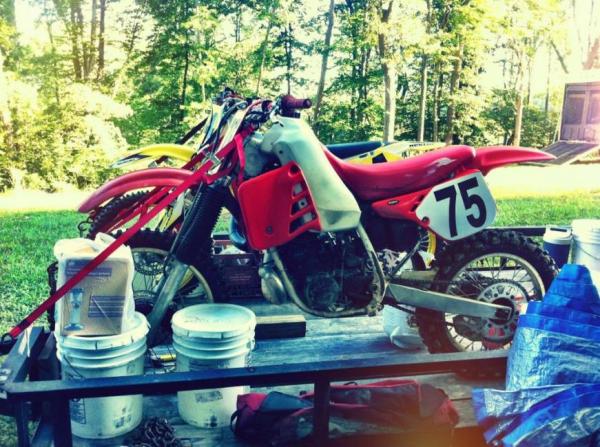 ...Or this bitchin' time machine?!
DC photo
Congratulations to lifelong friend and co-worker Tim Cotter of MX Sports on receiving a Legends & Heroes Award during opening ceremonies. Cotter was presented the award by Justin Barcia of the GEICO Honda team, along with Alex and Carol Moroz of the Legends & Heroes of Motocross. You may not know Cotter's name, but if you've been to Loretta Lynn's in the last thirty-two years, or any of the High Point or Steel City Pro Nationals, or really any pro national in the last decade, you have heard Tim's voice as he calls the races or welcomes the crowd. Cotter has evolved into an executive role over the years, and is now the Director of the Red Bull AMA Amateur National Motocross Championships at Loretta Lynn's. His workload is immense, but he somehow always gets it done. I can't think of a more deserving race enthusiast and foot soldier in our entire region (and maybe the country) than Tim Cotter, so congratulations on a long overdue award....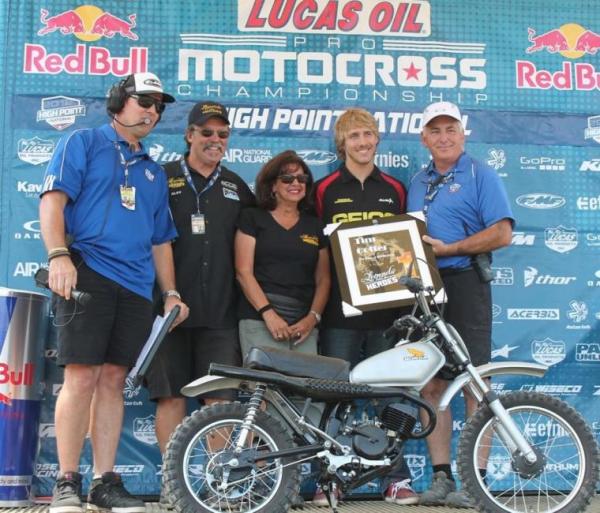 Tim Cotter (far right) was presented a Legends & Heroes Award at High Point.
Okay, I need to get back outside and help the track crew; let me turn this over to Ping right here...
Budds Creek has always been one of my favorite tracks. Whether you are riding or spectating, the valley that the track runs through makes the perfect amphitheater. I do miss the off-camber turn though; that rut got so deep that if it was still there you could probably peer down into it and see James Cameron in his little submersible pod. Some of the best photos from that place were of guys dragging their bars as they ripped through there. I also remember James Stewart railing it at about 70 mph, sweeping past guys on the outside on the first lap in 2003—the year it ran backward and he introduced his scrub. A decade later, it's a part of every rider's every-lap arsenal.
The racing this weekend is going to be hot, especially in the 250 Class. There is something great going on here between four different riders, and I just hope they all keep it on two wheels and stay healthy, because it's really fun to watch. Blake Baggett has been the red-plate holder for most of series while Eli Tomac has won the most overalls. Ken Roczen is the guy who has been expected to come in and win as the world champ but, as close as he's been, it hasn't happened yet. And Justin Barcia is just flat-out flying. But Tomac, in my opinion, is the guy to watch. He is outriding the others and his fitness is there, but he hasn't been able to get the starts that Justin has. If he can figure that last piece out, he is going to go on a run. Either way, if you're at Budds Creek or any other national this summer, you're going to see good racing.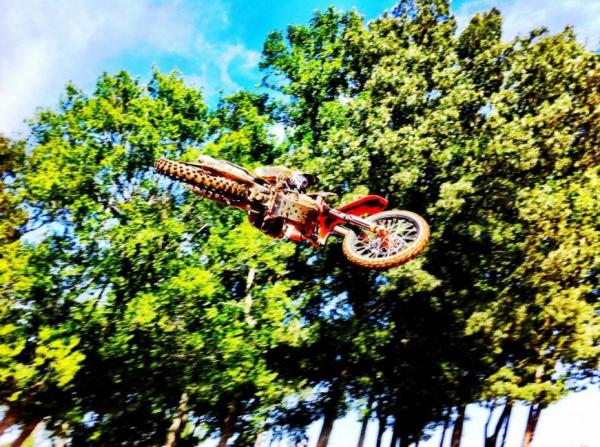 Marvin Musquin plays around on the revamped Big Gulp.
DC photo
The Del Moto Derby is this Sunday night at the Del Mar fairgrounds. In case you missed the PR, Kevin Windham will be racing along with Jeremy McGrath, Grant Langston, and twelve other very fast pro riders. That's right, this race is taking place in 1997. The race is being held in conjunction with the Del Mar Fair so there should be a nice crowd. Check it out if you are in Southern California.
Next week kicks off the Mammoth Motocross in Mammoth Lakes, California. This annual event, which nearly came to an end a few years ago, is back and stronger than ever. The vet weekend kicks off one week from today and things are pretty much wide open for the following ten days. There is a golf tournament, a pit bike race in the village, a Monster party and all the mountain biking you can shake a derailleur at. And the great news, for those who like to ride mountain bikes, is that the dismal snowfall this year has allowed the mountain bike park to open early. The trail systems are clear and ready so bring your bike.
See you there!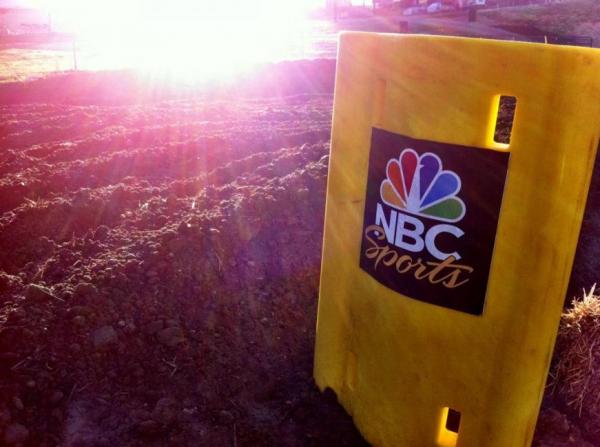 The new soft-rubber inside corner barriers have proven safe and effective.
DC photo
Here's Weege:
It's hot out here at Budds Creek, but the riders are saying the track is superb. Well, at least the four main series riders who rode it for press days yesterday and today: Red Bull KTM's Ken Roczen and Marvin Musquin and JGR Toyota/Yamaha's Davi Millsaps and Kyle Regal. This is the first press day for Roczen and Musquin since they were part of the bigger factory program at Hangtown, so for both of them—who are trying to learn these tracks with just two short practices on Saturday, which is much, much less track time than the weekend-long GP schedule—this could be a big advantage. I'm still going to say that anyone who thinks Roczen has underdelivered so far is crazy. He's been right there every week and has been just a few corners away from some wins. He shouldn't be expected to dominate, just be in contention, and he is.
But I'm also noticing that Roczen draws more attention than other riders, kind of in that James Stewart fashion—win or lose, we're talking about him more than others. So, since everyone else has probably mentioned him here in Racerhead, I'll move on.
At the JGR front, Kyle Regal is said to be heading back to Michigan (his real home, as Texas was his adopted place) over the next two weeks in hopes of a big rebound at what will then be a home race at Red Bud. Or maybe it will come this weekend? No doubt, Regal's outdoor performances so far have been one of the biggest mysteries of the season, perhaps alongside the rider who rode in his spot last year, Justin Brayton. These guys have more in them than we have seen. So when will we see it?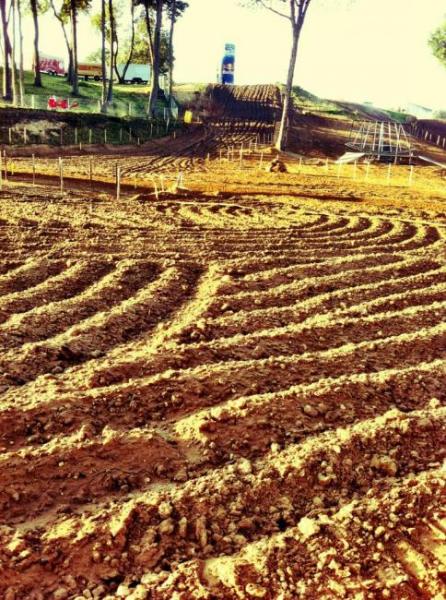 The Budds Creek loam looks delicious...For a Dunlop!
DC photo
Another rider to watch here could be Andrew Short, who won the first moto at this track over Ryan Dungey in 2010. Shorty has been hot and cold this year, which makes it hard to know which Shorty we're going to see. I think this weekend will be the good one, and maybe, just maybe, if things work, he could turn those moto wins into overalls.
Like DC said, tomorrow is a big day on the TV front. We'll have NBC talent Tiffany Simons and X Games king Jamie Bestwick joining Emig and myself in the booth. This track holds some cool history for my man 'Fro, who won the 125 National Championship here twenty years ago. But by the way, if Ryan Dungey wins this one, he'll pass 'Fro for all-time wins in this class with seventeen, which will put him into sixth all-time. And Stewart already went by 'Fro with his win at Freestone! Time isn't kind sometimes.
Here is Aaron Hansel from the West Coast...
Earlier in the week I was looking up some stats, and I came across some interesting bits of data. Through four rounds of the the Lucas Oil Pro Motocross Championship, Roczen, who has yet to win a moto and sits fourth in points behind Blake Baggett, Justin Barcia, and Eli Tomac, actually has some of the better race stats of the group. His average start is fourth, versus Baggett (7.4), Barcia (5.5), and Tomac (11.0). He's led the same number of laps as Tomac (27) and four more than Baggett. He also has yet to finish the day off the podium, which is something that Barcia, Tomac, and Baggett can't say.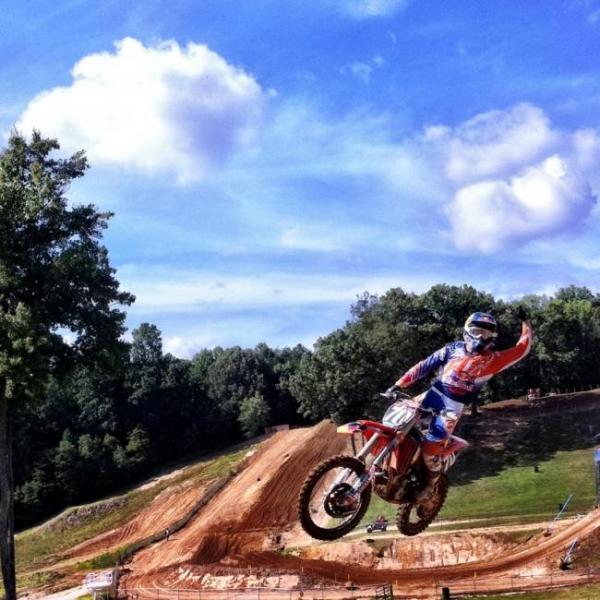 Ken Roczen worked on his one-handed goon-jumping during the presser...
DC photo
Still, it seems surprising that he hasn't won a race yet. It almost reminds me of 1997, when Jeremy McGrath finished second in the supercross championship. It's an outstanding result, but since it was McGrath, who had won the title four years in a row and had completely dominated the '96 supercross season, it was considered a bad year for the King of Supercross, who of course had switched to Suzuki from Honda at the last minute. Yet I have to say he's still doing quite well, especially when you consider that he's having to adapt to the American way of motocross, which is substantially different than what he's used to in the GPs.
It got me wondering how Barcia, Baggett, or Tomac would do if the Alpinestar was on the other foot. If they went overseas and raced in the GPs, Roczen's comfort zone, how would they do? There's no question they'd do well, but would they still be beating him, or would they be the ones straining to break through for a win every weekend? That's a tough question, and I'm not sure what the answer is, although I do believe the Americans would have a much tougher time beating him over there, and they aren't beating him by much here! Feel free to share your thoughts on this hypothetical question in the comments.
I want to finish by sharing some Regular Joe perspective on High Point's big double, or hip jump, that was right after a right-hander. It was a booter, and most of the guys were launching it all day (which produced several heart-in-the-throat moments), while some of them were ducking way inside and turning it into a pair of singles. Well, High Point held an open practice on Friday, and thanks to Racer X's Jordan Roberts, who I still owe a beer or ten, I was able to borrow a bike and check out that double firsthand. It was no big deal for the pros, of course, but for a rider of average skill like me, that thing might as well have been Robbie Maddison's leap across San Diego Harbor!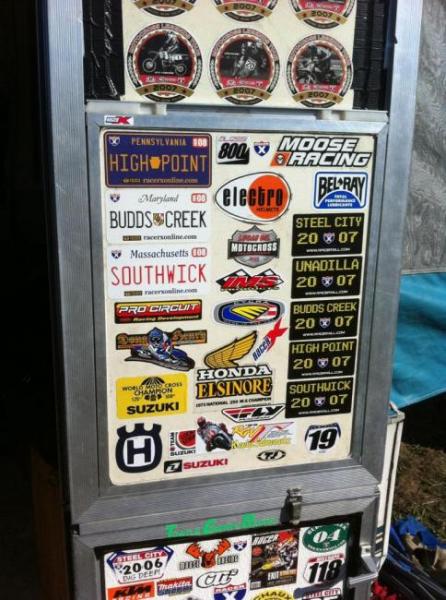 One fan's prized race-sticker collection.
DC photo
It's not the longest jump on the circuit, or probably even that track, but the difficulty lies in its proximity to the preceding corner. It is literally right out of the turn, and you're still on a significant lean angle when you leave the jump face. If I'd have tried to do clear it, I would have either cased it badly (which was absolutely not an option, thanks to Jordan's badly blown fork seals, a sore shoulder, and a few thousand other excuses) or spun out and high-sided myself right off the jump face. I would have never heard the end of it. All I can say is that it's downright impressive than anyone jumps that thing.
Here's Racer X Films' Deconstruction of the "Incredible Huck" at High Point:
Just that little bit of firsthand knowledge really made me feel more connected to the action on race day, which is always the case any time you ride any National track. It's fun watching the pros shred a section or bust out a creative line in a race situation on the same track that you rode the day before (of course, if you live in Southern California this is every day for you), and if you have a chance to ride at any of the remaining tracks on the schedule, I recommend doing it.
Here are some closing notes:
The Vurbmoto.com continues to put out some amazing videos, and this week's third episode of "Road to Loretta's" is another gem. If you missed it, here's the link. It's a great series that really tells the tale of the pressures and challenges, as well as the excitement and entertainment of amateur motocross in America.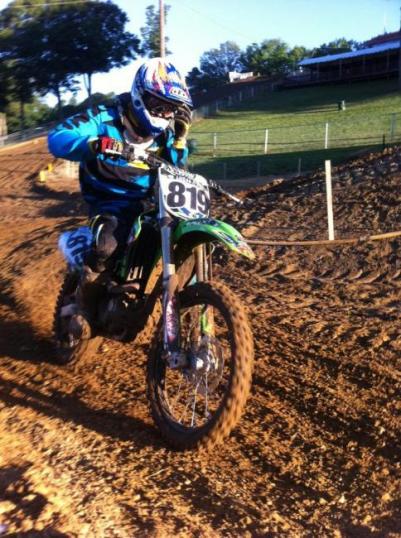 Josh Stein helped out this morning with some press riding.
DC photo
Spotted this post from Marty Tripes -- yes, THE Marty Tripes -- on the VitalMX.com Forum. Once one of the fastest men in the world, Tripes has put on some weight in his retirement, and he now wants help in his battle to shed some weight:
My Friend's and Fan's.
My favorite National outdoor number is 14, This year Biggest Loser is in their 14th season, I would like nothing better to get a chance at showing our sport as Moto Crosser's how committed and dedicated we can be when the need is called on oneself. I have gained a lot of weight since 1991, now is the time in my life to be healthy again, as I want to race again with all my old friends and new friends that are still racing today. I need this challenge to get my head back into becoming healthy. You my Friend's and Fan's from around the world would make me fully committed as I seem to care about others more than myself. That's from my Mother's side, everyone Loved Mama Tripes. So I am asking if you would help me by, if you like what might happen here in the short future by recommending me to Biggest Loser, tell the casting directors what you feel about me, some of you have wrote me in the past and said that I changed their life's, a couple have said that I have saved their life's. Write them why I should be on the show as a contestant. Please tell your friends, get on face book and all media, tell the Motocross World and get the word out. Thanks for your consideration on this. Send your e-mails to: BL14nominations@gmail.com.
Marty Tripes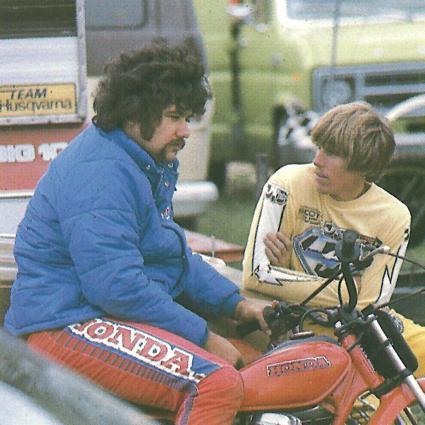 Marty Tripes (left) speaks to Bob Hannah in the late seventies.
Back to High Point for a second: It was the best day of the year in the MotoConcepts pits for a couple of reasons. Mike Alessi admittedly had his best day since 2009, leading both motos and finishing a solid second to Ryan Dungey in the 450 Class. But even more important was the fact that his mechanic, Chris "C-Lo" Loreda, welcomed the arrival of his baby boy Landon on the morning of the race. The baby was born in California, but ever the team player, C-Lo stayed at High Point to help #800, then bolted straight for the airport.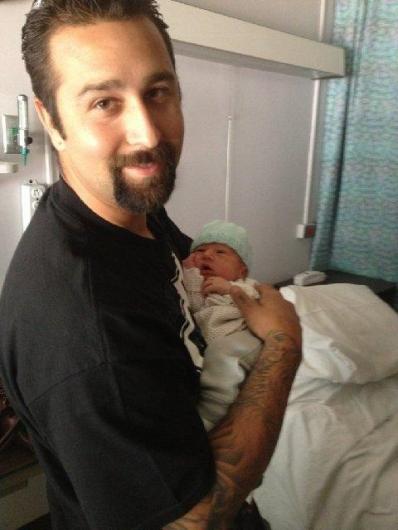 Chris Loreda and his new son Landon were part of a great day for the MotoConcepts team.
Some families just have racing in their blood. Crank up the volume and check out this video of Gene LaMay, father of Rock River Racing's Ben, laying down a scorching, 170 mph run in a blown alcohol dragster he built himself.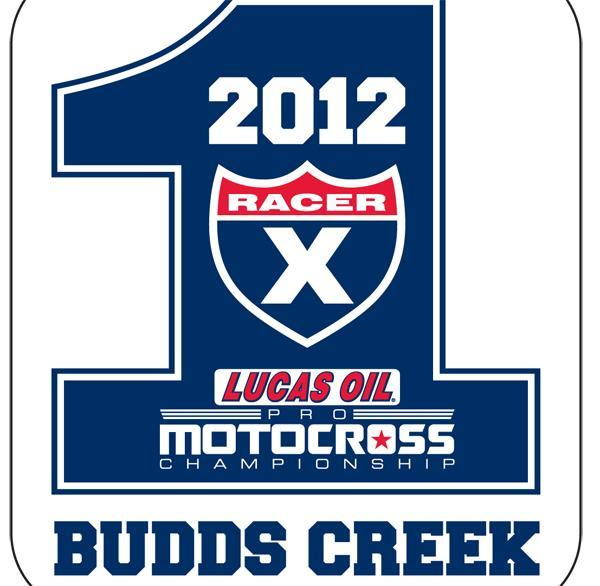 Don't forget to stop by the Racer X booth to pick up your Budds Creek 2012 sticker this weekend! You can also subscribe or renew and get a set of Racer X pint glasses! For just $20 you get thirteen issues of Racer X and two Racer X pint glasses, plus a $10 gift card to Motosport.com.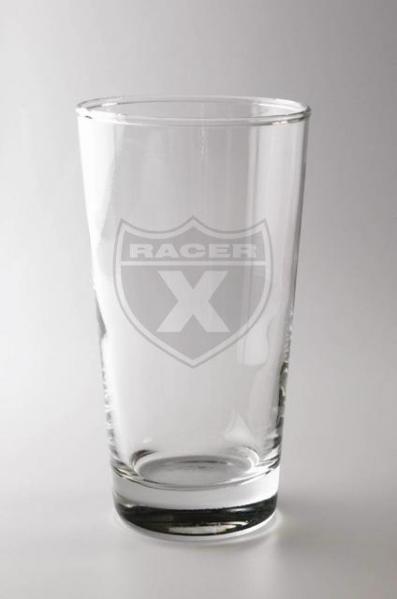 Okay, that's it from a very busy Budds Creek. Please try to check out some of the races on TV tomorrow—there will be a lot of them. Or log on to www.allisports.com to watch the live stream of the first motos. Thanks for reading Racerhead, see you at the races!