Budds Creek Motocross Park
Mechanicsville

,

MD
Budds Creek
Lucas Oil AMA Pro Motocross Championship
A developing story has hit the lay of the privateer land. After scoring just one point in all of 2011, Team Tedder/Monster Energy Kawasaki's Dakota Tedder already has fifteen times as many points through four rounds in 2012. The laid back, California kid, with the help of Steve Lamson, has taken his riding to new levels early in the season. We caught up with Dakota earlier this week to talk about his career-high at The FMF High Point National, his sibling rivalry with brother Myles, and his passion for surfing.
Racer X: You scored a career-high sixteenth overall at High Point. Can you take us through your day?
Dakota Tedder: It was pretty good. I think I qualified twenty-first for like the third round in a row. Then at the start, I ended up getting like twenty-fifth on the first moto start or something like that. It was real wet when I did the parade lap, so I took the first couple laps really easy and a bunch of people ended up crashing. I moved up to like, twentieth without even trying. Then I had a couple guys that were locals and I passed them pretty easy. I ended up seventeenth in the first moto. Then in the second moto, I started off I think a little bit better. I started off like sixteenth or seventeenth and then worked my way up all the way to [Jessy] Nelson. [Travis] Baker went down or something. I noticed I was in twelfth for a while and when I saw Baker's outfit there in front of me, I really wanted a top ten. So I pushed on that for about a little past halfway. I kind of moved my stuff up just a little bit but I think I just knew I wasn't going to pass both of them, so I just kind of held in there for twelfth. Then [Alex] Martin ended up getting me, I think, with like one or two laps to go. So I held in for fourteenth. I was super stoked. That's my best finish yet.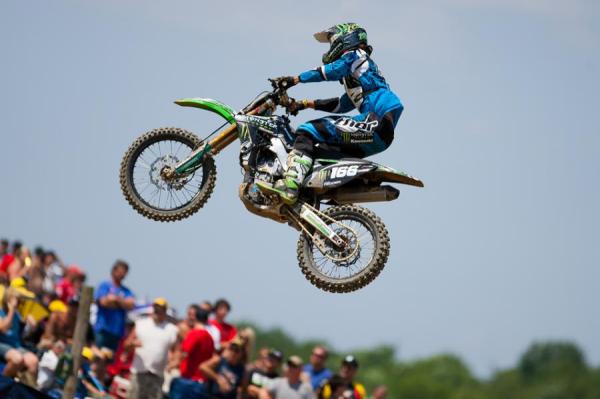 Tedder finished a career-high 16th overall at High Point.
Andrew Fredrickson photo
This has to be quite the confidence builder for you moving forward.
Oh, hell yeah. I feel really good. I actually was feeling really good going into supercross, but ended up breaking my wrist then I tried doing the East Coast. It was a little harder than I thought and I didn't bounce back like I should have. It was kind of a struggle, but just had to finish the season off as best I could. That way outdoors was, hopefully, a fresh start. Hopefully, I'm just going to build from here because I feel better every race I do with my wrist, my conditioning and just the whole team really worked together. I want to break into the top ten by the end of the year.
You've had quite the turnaround this season. Last year, you scored one point, but through four rounds thus far, you already have fifteen points. What, if anything, can you point to for this drastic improvement?
We actually changed a lot from last year to this year. We got Damon Conkright, He's a really good mechanic. He's got my bike dialed in. The suspension is just getting better every time I ride. Mitch [Payton] and Paul, they've been giving me more and more every time I do better. We hired Steve Lamson this year and he's just been kicking my butt with running, training and doing lifting. It's super gnarly, like more than I've ever done. I think that, and then just the drive with knowing that everyone around me is giving it 100 percent, I just feel bad if I'm not giving it as much or more than they are. So I think with them pushing me really hard, it's making me push even harder. I think we're just going to see how far we can go, you know?
You mentioned bringing in Steve Lamson this year. How much do you think that's helped you make this incredible leap in 2012? Also, how much have you learned by having such an icon like him around and how much have you be able to take away from him?
I'm squeezing everything I can out of him. From what he experienced, obviously he's a multi-time champion, so he's got a lot of things he can tell me as far as how to run up front and what to do during the week that he did. It helps a lot more when someone has already done it themselves so you know it works. Everything he tells me I take it to heart because I know it works. So believing it is a lot easier. It's a big deal to get starts, so he's actually changed up the bike a little bit to get the bike where we want it to start good. You've got to run up front to finish up front. At least for the smaller guys like me, you also get faster like that.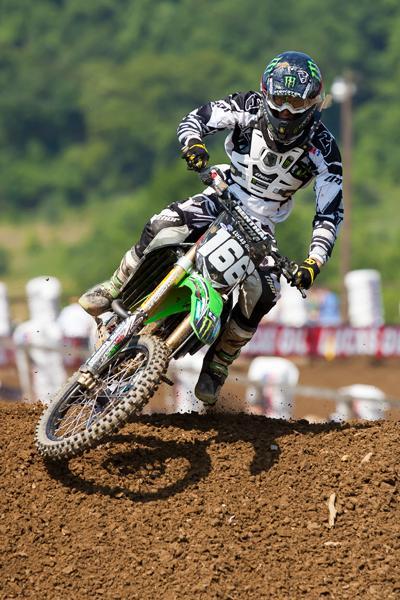 Tedder looks to build upon his career run at High Point.
Andrew Fredrickson photo
You and your brother Myles, who is also part of the team, had quite the battle at Thunder Valley where you crossed the finish line at almost the same time. What does it mean to be able to race against your brother each week and how much of a sibling rivalry is there between the two of you?
We battle pretty good. It keeps us pushing because I want to beat him. I don't want him to beat me. It actually helps out a lot just having a person that you don't want to beat you. At Thunder Valley, I just didn't want him to beat me, so I was trying my hardest not to let him beat me under the conditions I was in. But obviously the fans liked it. It was good for my brother because he came running up there. He was ready to get the points. He finished 24th, I think, last weekend, so he's right there.
You grew up in Surfside, CA, and I've heard you have quite a passion for surfing. Can you draw any parallels between surfing and motocross, or is it just a hobby that takes you away from the bike, and helps you clear your head?
Yeah, I love surfing. It's definitely really fun and relaxing. My brother and I do that. We live right on the beach, so we can do that every day we don't ride. Steve actually gets mad at me because he says I do it too much. I'll come worn out the next day for riding and he'll be like, "What the hell?" But it's a hobby of mine that I love to do. It's kind of cool because I'm not very good at it, the way I look at it. Some people might think I'm good, but I think I suck because I compare myself to how I do in racing. So I'm like a B rider in surfing. But it's just fun because you can progress so much at a sport that you're not so good at. It kind of keeps you [more] alive and it's better than sitting at home and playing video games.
Who would you like to thank for helping you this season?
I'd like to thank Monster Energy Kawasaki, Thor, Parts Unlimited, Dunlop, Motorex, Renthal, Hansen Electric, Malcolm Smith Racing, Steve Lamson, Damon, my mechanic; he's done a lot. I would also like to thank my mom and dad, and my girlfriend.