High Point Raceway
Mt. Morris

,

PA
High Point
Lucas Oil AMA Pro Motocross Championship
"One more lap!" That was the sentiment in the rowdy High Point crowd at the end of the first 250 moto as winner Justin Barcia streaked across the finish line two seconds ahead of Eli Tomac, and another two seconds ahead of Blake Baggett. Tomac had come from way back to close in on Barcia, while Baggett had put on one of his patented charges from even farther back to do the same thing to Tomac. Had there been just one more lap, an extraordinary battle for the ages between some of the best 250 motocross racers in the world would have certainly erupted. Fortunately, there was another moto left, and this time, there would be one more lap, although the battle it would produce would be between Tomac and Ken Roczen, as Barcia had faded out of the fight late in the race, and a pair of crashes had taken Baggett out of contention.
The chance of late-race thrills became a reality when Roczen, who had accumulated a very large lead, went down late in the race. He was able to remount and get back under way with his once huge lead still intact, yet much smaller. Unfortunately for Roczen, Tomac was riding flawlessly, and when Tomac saw the German in his sights, it was all the motivation he needed to push his already crazed pace to the next level.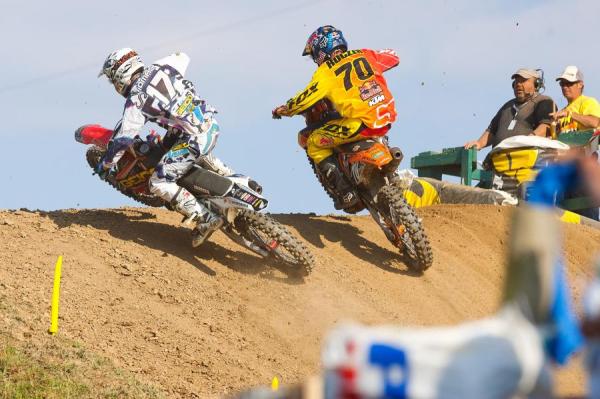 A late-race pass on Ken Roczen helped Eli Tomac capture his second overall on the season.
Andrew Fredrickson photo
"Man, that second moto, it was a lot of work. I just never really gave up, I kept fighting, and then Kenny made that little mistake right there at the end and I was able to capitalize on it," Tomac said in the post-race press conference. "I didn't see him go down. All of a sudden I just looked up, and he was right in front of me! I was like 'What the heck happened? I can win this thing!'"
Tomac closed the gap, and in single moment in the twilight of the race, deftly maneuvered past Roczen to take the win, accentuating what he would later describe as the best ride of his entire career.
Just as the case has already been several times this season, the day's overall winner was decided by last-lap heroics. With the season still two races away from reaching the halfway point, and incredible moments like these seemingly a dime a dozen in the 250 class, 2012 is shaping up to be a great year for fans of American Motocross.