It is somewhat ironic that in a season where the premier MX1 class of the FIM Motocross World Championship is as strong, unpredictable and varied as perhaps it has ever been in its nine year history so far that the soap opera that is taking place largely off the track continues to vie for headlines and obscure some riveting action.
For the Grand Prix of Portugal, and round seven of sixteen, Rockstar Suzuki's Clement Desalle became the fourth winner in the campaign to-date (the Belgian setting an impressive three year streak of victory at Agueda) and was part of a quartet of riders involving Red Bull KTM's Tony Cairoli, Kawasaki's Gautier Paulin and CP377 Monster Energy Pro Circuit Kawasaki's Christophe Pourcel in the second MX1 dash to the chequered flag. In MX2 Jeffrey Herlings notched win number five in a controversial blur but his second race with Floride Monster Energy Pro Circuit Kawasaki's Tommy Searle was equally fascinating.
Before any of the action started the climate had its say. The rain just won't leave the FIM Motocross World Championship alone. It announced its presence at the season opener in Holland, wanted to have a starring role in Brazil, kept relatively distant in France but then demanded equal billing in Portugal last weekend. Luckily Agueda is no stranger to showers drifting over from the Atlantic only fifteen miles away and the loose terrain with a hard base drains pretty good. The decent crowd had to weather two processional and damps first motos but the party really kicked off with sunshine, a rougher surface and more racing lines for the second showpieces.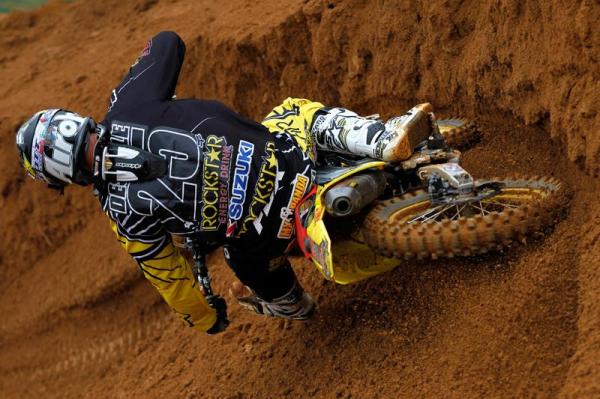 Clement Desalle captured his first overall of 2012 in Portugal.
Ray Archer photo
Desalle, just six days after the funeral for his grandfather to whom he was very close, grabbed an overdue and confident first moto win and then pushed aggressively to the lead in the second. Two mistakes by the Belgian then caused him to lose the rear wheels of the superb Paulin and Cairoli as Pourcel remained adrift in fourth. Cairoli had his fourth Grand Prix win of 2012 in his hands for only three corners on the last lap before Paulin retaliated and bumped the Sicilian to second and therefore Desalle to the top step for the third time with the Suzuki in Portugal.
MX1 rounded off the meeting perfectly after the temperature had risen with the afternoon sun but also after Honda World Motocross team's Rui Goncalves had thrown a punch at British rookie Jamie Law crossing the finish line of the first moto and was caught live on TV. The former MX2 championship runner-up was under the cosh at his home GP and was given a warning by the FIM. It would not be the first moment that day where a backmarker would attract the ire of works rider and the governing body would have to be reviewing video evidence.
Jeffrey Herlings revealed that he had received hundreds of stinging messages through the week after his tough and deliberate move on the Arnaud Tonus the previous weekend in France.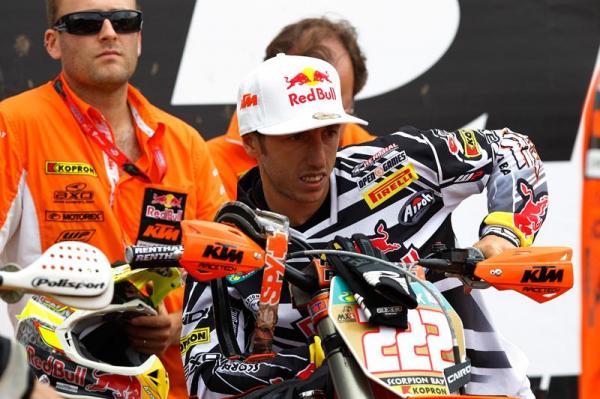 Antonio Cairoli finished third overall but continues to lead the MX1 class points standings.
Ray Archer photo
Some, allegedly, even threatening to pelt the Dutchman with stones the next time he took to the track. Either by neat coincidence or some gentle manipulation on the part of Youthstream Herlings was placed next to Tonus for the Saturday press conference and the seventeen year old again offered his apologies and appeared to have buried the hatchet on Grand Prix racing's moment of melodrama. Tonus – one of the universally accepted nice guys of the paddock – said: "It wasn't fair [Herlings' move] but I'm happy he has apologized. It is good that we have some respect for each other." The situation would explode on Sunday.
Herlings was furious after the second moto when Searle was able to glide past on the penultimate lap in the wake of Mel Pocock holding up the pair in the process of being lapped while in seventh position. The catch? Pocock is Tonus' Monster Energy Yamaha teammate. The Brit was shown the blue flag and - as he stated afterwards – held his line and slowed down.
Searle had already been in a similar situation earlier in the race with another KTM rider Glen Coldenhoff. Herlings picked the same rut as Pocock, tried to evade the Yamaha by switching and made a mistake that conceded the win. He still gained the overall triumph but voiced an angry response on TV afterwards, citing a conspiracy by the Yamaha team as some sort of revenge pact for France (actually Pocock is good friends with Searle as much as he is teammate to Tonus). The FIM duly fined him the maximum penalty for 'unacceptable behavior' and saw fit to give Pocock a dressing-down. There is little doubt that karma was in evidence in what was a reversal of fortune for what Herlings had enacted in France seven days previously.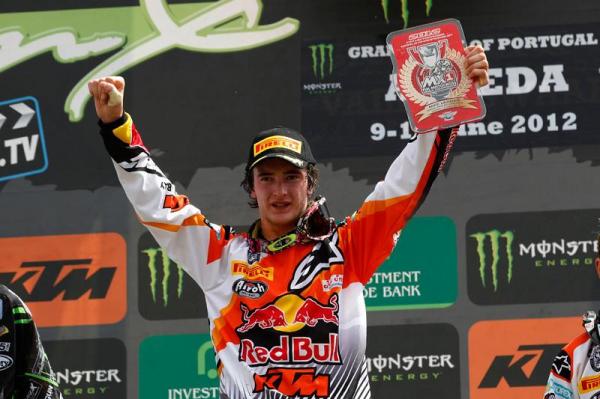 It was another win for Herlings in Portugal, but was once again surrounded by controversy.
Ray Archer photo
"Sometimes you win from the backmarkers and sometimes you lose," said Searle. "I think I would have passed him anyway on the last two laps. There seems to be a lot of drama going on at the moment and it is quite funny but we are also trying to get a job done and it does make it a bit more complicated each weekend. Right now things don't seem to be going smoothly. I think when you keep on doing bad things to people then it is going to come around to bite you. You can't keep doing silly things."
"Hat off to Tommy and we were setting a great pace," offered Herlings. "I didn't make it easy on myself but there are three months to go and then I have all winter to think about what I have maybe done wrong. The racing is good with Tommy and me again and we made a 'fair play' and that's one thing out of my mind. For the rest I don't think I have many enemies on the track…apart from Mel Pocock and Arnaud Tonus, maybe. When the two-lap board came out I lost two seconds in five corners. I don't know. I thought he [Pocock] might clean me out. Maybe it was a plan from Dixon [Steve, Yamaha Team Manager] for what happened with Tonus."
What had happened before the press conference could have repercussions for Grand Prix of Belgium next week and alters a dynamic in the paddock. Herlings allegedly approached the Tonus motorhome and an altercation occurred that involved a highly personal insult to the Swiss family. Listening to the Tonus' account of the episode it was unsavory and unnecessary and you have to questions Herlings' mindset and mentality to the point of sympathy. He is an extremely talented adolescent, barely out of school age, bearing a lot of pressure and clearly not coping with it too well.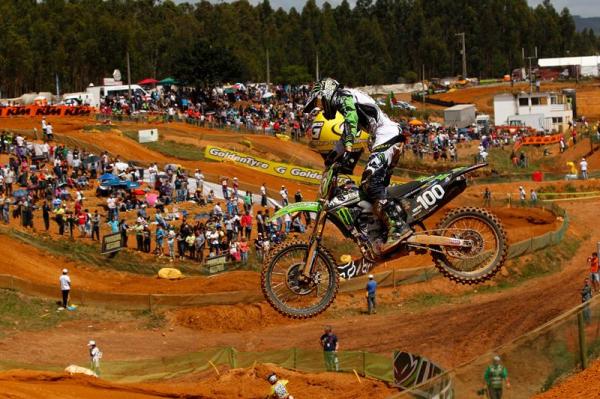 Searle captured the second moto win, but would have to settle for second overall.
Ray Archer photo
Michael Leib's Grand Prix renaissance was blunted by news of the dreaded Epstein Barr virus, which should keep him on the sidelines for a few weeks. The Californian's woes added to Yamaha's extraordinary catalogue in 2012 as Christophe Charlier missed the GP with a dislocated shoulder and Steven Frossard is out for the season after opting for a knee reconstruction. In the second MX2 moto first corner melee Valentin Teillet broke his left collarbone. In brighter news Zach Osborne is back on a motorcycle and could be entering the final phase of his Grand Prix career by round nine (Sweden) or ten (Latvia) in mid July.
Not making light of its history during the last century but Bastogne could be home to more conflict by the time round eight occurs this coming weekend. Where the MX2 saga will go and where the next MX1 winner will emerge from is anyone's guess.
MX1 Moto1
1. Clement Desalle (BEL, Suzuki), 40:04.024; ;
2. Christophe Pourcel (FRA, Kawasaki), +0:06.155;
3. Antonio Cairoli (ITA, KTM), +0:16.903;
4. Gautier Paulin (FRA, Kawasaki), +0:23.550;
5. Ken de Dycker (BEL, KTM), +0:41.323;
6. Jonathan Barragan (ESP, Honda), +0:43.183;
7. Xavier Boog (FRA, Kawasaki), +0:45.298;
8. Sebastien Pourcel (FRA, Kawasaki), +1:13.177;
9. Matiss Karro (LAT, KTM), +1:16.143;
10. Shaun Simpson (GBR, Yamaha), +1:16.869;
MX1 Moto2
1. Gautier Paulin (FRA, Kawasaki), 39:04.520; ;
2. Antonio Cairoli (ITA, KTM), +0:00.484;
3. Clement Desalle (BEL, Suzuki), +0:25.785;
4. Christophe Pourcel (FRA, Kawasaki), +0:29.957;
5. Ken de Dycker (BEL, KTM), +0:31.550;
6. Rui Goncalves (POR, Honda), +0:33.435;
7. Evgeny Bobryshev (RUS, Honda), +0:38.248;
8. Tanel Leok (EST, Suzuki), +0:43.679;
9. David Philippaerts (ITA, Yamaha), +0:48.689;
10. Kevin Strijbos (BEL, KTM), +0:50.250;
MX1 Overall

1. Clement Desalle (BEL, Suzuki), 45 points;
2. Gautier Paulin (FRA, Kawasaki), 43 p.;
3. Antonio Cairoli (ITA, KTM), 42 p.;
4. Christophe Pourcel (FRA, Kawasaki), 40 p.;
5. Ken de Dycker (BEL, KTM), 32 p.;
6. Xavier Boog (FRA, Kawasaki), 24 p.;
7. Rui Goncalves (POR, Honda), 22 p.;
8. Jonathan Barragan (ESP, Honda), 22 p.;
9. Tanel Leok (EST, Suzuki), 21 p.;
10. David Philippaerts (ITA, Yamaha), 21 p.;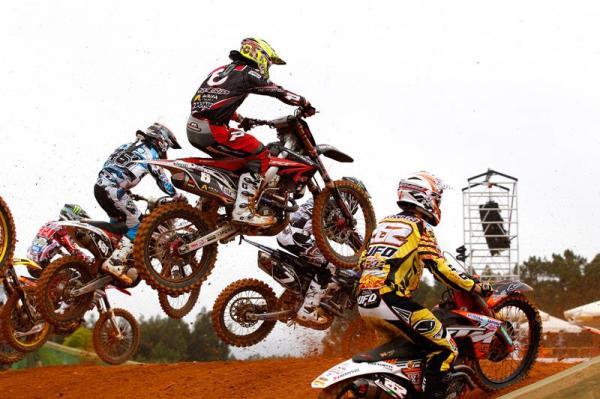 Max Anstie's third in the second moto marked a seasons best for the Brit.
Ray Archer photo
MX1 World Championship standings after 7 of 16 rounds
1. Antonio Cairoli (ITA, KTM), 295 points;
2. Clement Desalle (BEL, Suzuki), 258 p.;
3. Gautier Paulin (FRA, Kawasaki), 255 p.;
4. Christophe Pourcel (FRA, Kawasaki), 254 p.;
5. Ken de Dycker (BEL, KTM), 211 p.;
6. David Philippaerts (ITA, Yamaha), 190 p.;
7. Xavier Boog (FRA, Kawasaki), 185 p.;
8. Kevin Strijbos (BEL, KTM), 171 p.;
9. Rui Goncalves (POR, Honda), 156 p.;
10. Tanel Leok (EST, Suzuki), 142 p.;
MX2 Moto1
1. Jeffrey Herlings (NED, KTM), 39:10.276; ;
2. Jeremy van Horebeek (BEL, KTM), +0:24.395;
3. Tommy Searle (GBR, Kawasaki), +0:34.653;
4. Jordi Tixier (FRA, KTM), +0:38.290;
5. Valentin Teillet (FRA, Kawasaki), +0:44.211;
6. Jake Nicholls (GBR, KTM), +0:50.077;
7. Arnaud Tonus (SUI, Yamaha), +0:58.699;
8. Glenn Coldenhoff (NED, KTM), +1:02.894;
9. Joel Roelants (BEL, Kawasaki), +1:07.030;
10. Max Anstie (GBR, Honda), +1:28.511;
MX2 Moto2
1. Tommy Searle (GBR, Kawasaki), 40:43.230; ;
2. Jeffrey Herlings (NED, KTM), +0:20.811;
3. Max Anstie (GBR, Honda), +1:14.010;
4. Dylan Ferrandis (FRA, Kawasaki), +1:22.077;
5. Jake Nicholls (GBR, KTM), +1:24.427;
6. Jeremy van Horebeek (BEL, KTM), +1:55.160;
7. Mel Pocock (GBR, Yamaha), -1 lap(s);
8. Romain Febvre (FRA, KTM), -1 lap(s);
9. Harri Kullas (FIN, Suzuki), -1 lap(s);
10. Alessandro Lupino (ITA, Husqvarna), -1 lap(s);
MX2 Overall
1. Jeffrey Herlings (NED, KTM), 47 points;
2. Tommy Searle (GBR, Kawasaki), 45 p.;
3. Jeremy van Horebeek (BEL, KTM), 37 p.;
4. Max Anstie (GBR, Honda), 31 p.;
5. Jake Nicholls (GBR, KTM), 31 p.;
6. Jordi Tixier (FRA, KTM), 28 p.;
7. Mel Pocock (GBR, Yamaha), 24 p.;
8. Romain Febvre (FRA, KTM), 20 p.;
9. Glenn Coldenhoff (NED, KTM), 19 p.;
10. Dylan Ferrandis (FRA, Kawasaki), 18 p.;
MX2 World Championship standings after 7 of 16 rounds
1. Jeffrey Herlings (NED, KTM), 317 points;
2. Tommy Searle (GBR, Kawasaki), 293 p.;
3. Jeremy van Horebeek (BEL, KTM), 268 p.;
4. Joel Roelants (BEL, Kawasaki), 204 p.;
5. Max Anstie (GBR, Honda), 191 p.;
6. Jordi Tixier (FRA, KTM), 187 p.;
7. Jake Nicholls (GBR, KTM), 175 p.;
8. Alessandro Lupino (ITA, Husqvarna), 129 p.;
9. Jose Butron (ESP, KTM), 126 p.;
10. Dylan Ferrandis (FRA, Kawasaki), 125 p.;