High Point Raceway
Mt. Morris

,

PA
High Point
Lucas Oil AMA Pro Motocross Championship
Have you checked out www.Vault.racerxonline.com, our online database to every single pro AMA Motocross National and Supercross race ever? If you haven't, you're missing out on some quality bench-racing ammo. That's right; the Vault contains the results to every MX National and Supercross race ever. Ever! From obscure local pros who raced one national ever, to a rundown of every race Ricky Carmichael ever competed in, to a list of every venue that ever hosted a Supercross or National, the Vault has it all. You're going to' get lost in there!
This week, we're opening The Vault to highlight the history of this weekend's host site for Lucas Oil Pro Motocross, High Point Raceway in Mt. Morris, Pennsylvania.
Located on the Holbert Family Farm, High Point Raceway was named after Hi-Point Racing Products in an attempt to form a dual marketing effort, similar to what mainstream ball sports were doing at the time (and continue to do to this day) with stadiums. The $500 deal ended up falling apart, and race promoter Dave Coombs Sr. (father of Racer X Illustrated founder Davey Coombs), was left with seemingly worthless "Hi-Point" signage. Coombs solved his dilemma by breaking out some plywood, paint and a chainsaw, and adding a, "gh," effectively giving the world-famous motocross track the name it still bears to this day.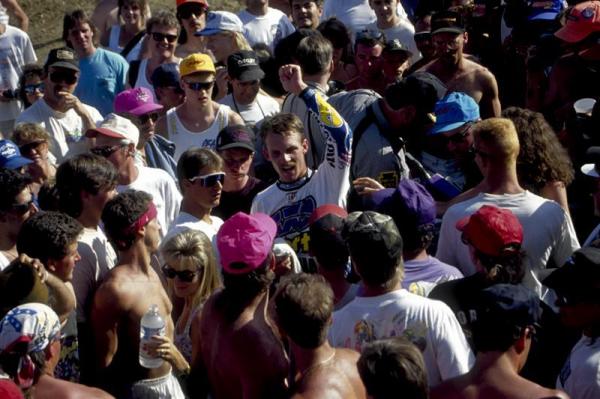 Damon Bradshaw is a legend at High Point.
Fran Kuhn photo
The venue itself is beautiful, and the green, grassy hills offer a unique amphitheater-like setting that allows for nearly 100 percent viewing, no matter where you are on the track. The soil, which is a blend of clay, sand and sawdust, offers fantastic traction when properly watered, but if the rain comes down (which happens often thanks to the erratic weather patterns of the Northeast), it's like riding on ice. With the uncertain and varying conditions of High Point, it's no wonder the venue has played host to some of the craziest races in the sport's history.
The first National at High Point was held in 1977, Tony DiStefano topped the field on a Suzuki.
In the mid to late 1980s, Jeff Ward and Rick Johnson used to go back and forth with wins at High Point. In 1985, Ward took the win only to be topped by Johnson the following year. In 1987, Ron Lechien came in and topped them both!
In 1991, Jeff Stanton and Damon Bradshaw had a battle for the ages and ended up trading moto wins. Stanton got the win by way of a victory in moto two. In the 125 class, Brian Swink took the first, and only, outdoor win of his professional career.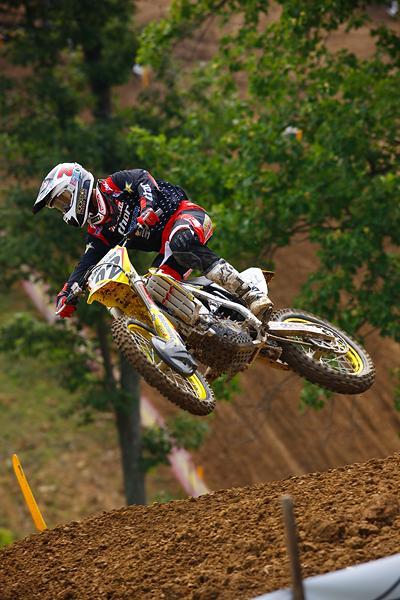 Chad Reed claimed his first career 450 overall at High Point.
Simon Cudby photo
And who can forget the return of the best? After taking a burnout-induced hiatus from the sport, Damon Bradshaw would recommit himself to racing, with his best result coming when he won in 1997 at a very muddy
High Point
. It would be Bradshaw's final motocross victory, while 125 competitor Scott Sheak would go on to record the first, and last, win of his racing career that very same day.
The year 2000 turned out to be the year of firsts at High Point. In the 125 class Travis Pastrana secured the first moto win of his career, while Kelly Smith took the 125 overall to deliver KTM their first National win in the United States. David Vuillemin kept the trend going by nabbing his first outdoor win in in the 250 class.
[Click to view 250 results]
Like so many other tracks, High Point Raceway has been good to Ricky Carmichael, who won every single premier-class event there from 2002 – 2007.
As old and storied and full of history as High Point is, one of the wildest Nationals the venue has ever hosted took place just last year when a short but intense storm cell came through between motos and turned a beautifully prepped track into a soupy mess. Local hero Darryn Durham led nearly every single lap of the first moto before fading, and Blake Baggett put in outstanding charges to go 1-1, despite crashing in the second moto and somehow twisting his visor backwards. Mike Alessi had a massive 450 lead going in the second moto before crashing, and Ryan Villopoto would record his first win of the year en route to becoming the 2011 450 National Champion.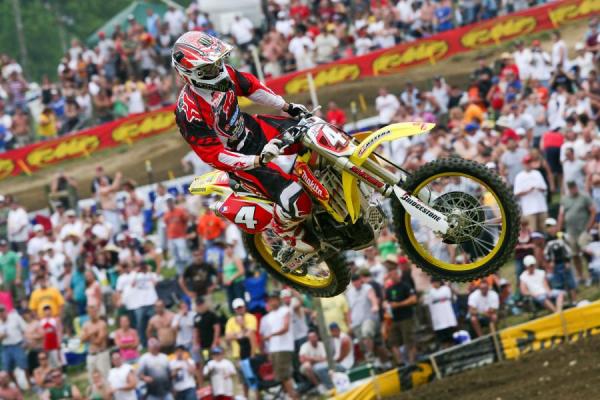 The GOAT owned High Point from 2002-07.
Simon Cudby photo
As previously mentioned, David Vuillemin got his first big bike win at High Point. DV is not alone in this club, as both Bradshaw and Chad Reed also joined the premier class winner's circle at High Point. On small bikes, Reed, Tim Ferry, Mike Alessi, Villopoto, Tyla Rattray and Sheak all recorded their first wins at High Point as well.
For a complete look at every National ever held at High Point Raceway, head on over to The Vault.