Monster Energy Kawasaki Wins Baja 500
South of the Border Triumph! Monster Energy/Kawasaki's
Bell, Hengeveld & Pearson win the Baja 500
Monster Energy's off-road motorcycle trio of Robby Bell, Steve Hengeveld and David Pearson did what no other Kawasaki riders could accomplish over the past 15 years … defeat the mighty Honda factory team and win the famous Tecate SCORE-International Baja 500.
The charge around the historic loop on Mexico's Baja California Peninsula for Team THR and the superior Kawasaki KX450F was highlighted by Bell's charge to the checkers today that had everyone checking their stopwatches as – ultimately - time ran out on the Honda program.
"It's been a wild couple of weeks, but I'm so pumped to be able to finish it off like this," said a charged-up Bell at the finish line in Ensenada. "The whole team was awesome. We built such a great bike and it was blast to ride all day." Note: Kawasaki last won the Baja 500 in 1996 with Ty Davis and Paul Krause standing atop the podium where Bell, Hengeveld and Pearson stand today!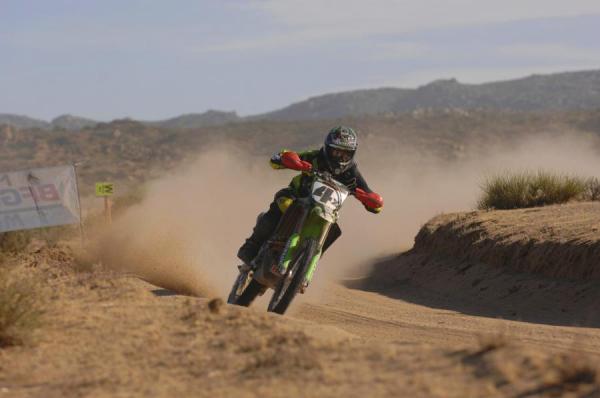 Today's turning point for the Monster Energy THR Kawasaki team came when Bell nearly threw the lead away - blowing past a scheduled pit stop and nearly running out of gas.
"Yeah, it started out a little sketchy. "I missed Pit One and had to get some gas from the locals," explained Bell. "Took about eight or nine stops, but I finally found a couple that had some gas – and they were more than happy to help out."
In all Bell figures he lost about five minutes on the mix up, but it was time that Team Honda couldn't make up as Hengeveld and Pearson put in extremely strong stints on the KX450F as well.
Building on the long-running heritage of the Team Green program, the Monster Energy-backed THR Kawasaki Baja team today wrote another successful chapter into a Kawasaki off-road race program that began in 1987. Debuted then by now off-road legends Larry Roeseler and Ted Hunicutt Jr., the premier Baja "Class 22" division was won for the first time in Kawasaki's very first year of off-road racing. Hunicutt was then joined by Brett Howell later that summer and the two combined for Kawasaki to win the Baja 1,000 as well. Kawasaki would go on to win the next nine-consecutive Baja 1,000 races, with the aforementioned riders joined by the likes of Ty Davis, Paul Krause, Danny LaPorte, Danny Hamel and Paul Ostbo.
Next up on the SCORE-International Off-Road Series tour is the 45th running of the Tecate SCORE Baja 1,000 from Ensenada to La Paz, Mexico, Nov. 14-17.