Andrew Short Podiums in his Home State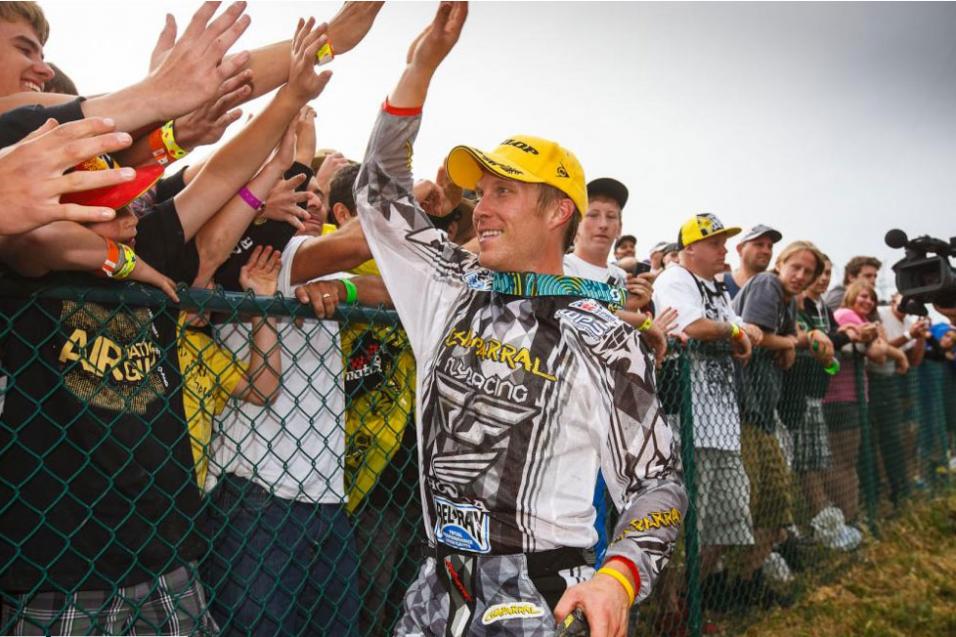 The 2012 Lucas Oil Pro Motocross Championship made it's way to Andrew Short's home state of Colorado this past weekend for the 3rd round of what is already shaping up to be an exciting series. Clouds loomed overhead for much of the day, some races were actually delayed but bad storms held off to produce some stellar racing.
The Chaparral/Honda 450 class rider didn't exactly shine during practice on the hilly course, producing only a 12th best qualifying lap time. He found himself towards the front though at the start of the first moto, coming out of the first turn in 2nd behind Hahn. He lost a few spots on the hectic first lap, passing the finish line in 5th place. Andrew then suffered a simple tip over and continued to lose a few places due to a self proclaimed "handful of bad laps." Things stabilized around lap 8 where he began to put solid laps together. Andrew would eventually finish in 7th place, complacent but not happy with his moto score.
The second 450 class moto produced another great start, with Andrew coming out second to Dungey after the trademark 1st gear uphill start at Thunder Valley. Andrew would keep Dungey in check for a bit but eventually would lose a bit of ground on the KTM Factory rider. Andrew defended his position against charges from both Weimer and Tickle but would persevere and maintain his second place at the checkers.
Andrew's 7-2 moto scores netted him 3rd place overall, allowing him to climb the podium in front of his parents and hometown crowd.
Coach Seiji is very proud of Shorty and feels honored to be a part of his program and his circle of friends. Congrats to Andrew Short, his entire team, family and Texas based crew!