Things seemed pretty standard at St Jean D'Angely. Tony Cairoli blasted back from a Brazilin mire two weeks ago to go 1-1 for his third MX1 victory from six in 2012, and Red Bull KTM teammate Jeffrey Herlings won for the fourth time in MX2. The stony and occasionally bumpy terrain in France was to the liking of some and the distaste of others and the close lap-times meant those not within the top six or seven around the first lap could wave goodbye to the chance of the chequered flag.
With KTM reasserting some authority after the blank sustained in the mud of Beto Carrero a degree of expectancy was restored to the results sheets. Cairoli attacked the hillside layout with gusto. His des Nations accident from last September clearly erased from recollection and he beat local Kawasaki heroes Christophe Pourcel and Gautier Paulin on the box. Herlings was permitted a superb chance from the outset when Floride Monster Energy Pro Circuit Kawasaki's Tommy Searle messed his first moto start and had to rally from eleventh to third but lost the duel on this day. Herlings' teammate Jeremy Van Horebeek recovered from a suspected broken foot picked up that morning in warm-up to again spray podium champagne. Aside from the fine victories, a few race incidents added some spice to paddock relations and dominated post-event chatter.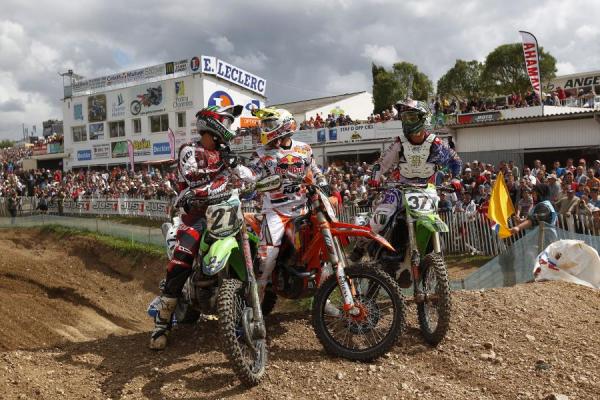 Cairoli celebrates another win in Frace.
Ray Archer photo
Herlings received a slap on the wrist from the FIM for his frustrated and blatant manoeuvre on Monster Energy Yamaha's Arnaud Tonus for second position in the second moto. (See it here) After a previous indiscretion with Searle off the line in Italy the run-in did not do Herlings' standing any favours and he mixed words of regret with bullish defiance afterwards. It was another moment that highlighted, on the track, these (often) young individuals are in an elite sphere of operation but off the mud they are still learning how to handle pressure and develop maturity in unusual social circumstances. The Herlings-Tonus episode was further complicated by the fact that Tonus was making his first (impressive) return from a broken wrist and dislocated shoulder and Herlings' long-term girlfriend is actually the Swiss' sister; for an extra touch of the soap opera. "It was an aggressive racing accident made by me and I regret doing it and I may have caused some trouble," said Herlings. "He came back from injury…and I respect him a lot. Tommy overtook him and I was straight on his back wheel. He was really fighting for his position and defending it more than he had to. He was breaking my lines and going all over the place. I saw he was over the limit and he almost crashed to be honest. I went into him and I really didn't mean to take him down but just do what he had been doing to me. Obviously he crashed and I didn't mean to do that but that's racing and all I can say is that I'm sorry."
Tonus labelled the move 'stupid' and was not alone. Searle: "He [Herlings] does what he wants and that's it…I can only focus on me. Tonus was riding a good race and I think it was difficult to pass. Out there with the roost and stuff it makes you a bit angry but it is a dangerous enough sport as it is without doing stupid things on the track."
Herlings ended up regaining two of the points he lost to Searle in Brazil and other notable elements from MX2 included poor luck for Dylan Ferrandis (suspected broken wrist) and Christophe Charlier (dislocated right shoulder) while the new French MX2 hero was Jordi Tixier, the third of the factory KTMs with fifth overall. Sadly Michael Leib was ruled out of the Grand Prix after a virus left the Californian searching for energy. "I feel like I've done a marathon with every muscle in my body," he said after barely coming through the 20 minute qualification heat on Saturday. He is due to have several tests this week and will also chat a bit more about his future in the coming days.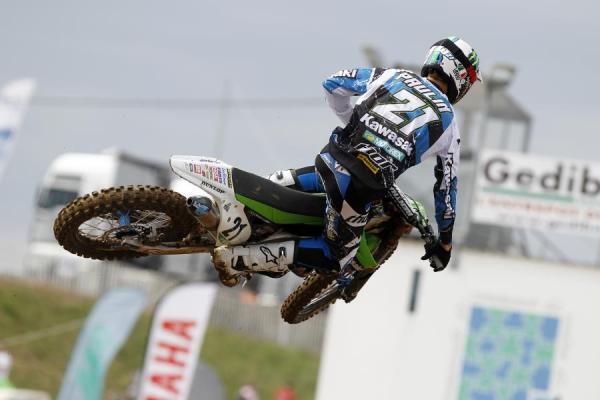 Gautier Paulin finished third at his home race.
Ray Archer photo
Herlings' words had been keenly sought in the post-race press conference but the media had already been surprised by an unexpected spat between the darlings of the noisy crowd: Pourcel and Paulin. A close dice for second position in the first moto was slammed by the former SX Champ and apparently some ill-feeling had begun prior to the action in both races by some gamesmanship over gate picks. "Gautier came back and made what I thought was a stupid move," Pourcel said in what could be a dose of mind games with his brand-mate. "If he showed he was faster than me at the end of the moto then I would have let him go because we both don't want to crash and lost points for the championship. Anyway I don't like him and that's fine with me and I'll fight to the end."
Paulin, looking a bit bemused, did not rise to the bait and it will be interesting to see where this goes next as the duo have tussled, fairly and entertainingly, in Bulgaria and Italy already. They are clearly operating on a similar level and both need to start beating Cairoli again to begin talking about the title with the Scilian sitting on a cushion of 39 points. One rider still chasing a win when he already had three at this stage last season is Rockstar Suzuki's Clement Desalle. The Belgian- fourth overall - was slightly (and understandably) distant at St. Jean after the sudden death of his grandfather on Thursday. Monster Energy Yamaha's David Philippaertss (sixth overall) disliked the lower technical demands of the track. The organisers had expected forecast rain on Sunday but aside from several very light and brief showers it remained dry. The Italian's teammate Steven Frossard proved the missing ligament in his right knee might not be such as obstacle in his participation for the rest of the season after leading all but two laps of the second moto. Honda World motocross pairing Evgeny Bobryshev (bad start and crash and subsequent DNF through a broken water pipe) and Rui Goncalves (arm-pump in both motos) are still waiting for lady luck to appear in the factory awning.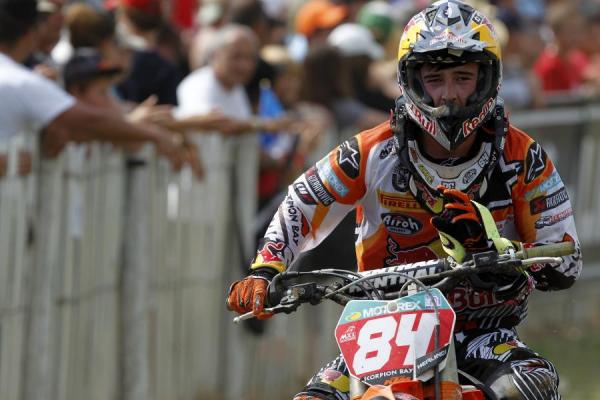 Herlings win in France didn't come without controversy.
Ray Archer photo
France was also the setting of the first round of seven in the European MX2 championship, in effect the final step on the ladder before a Grand Prix ride. Nineteen year old Mel Pocock – quite a different figure to the young and outpaced kid that attempted a full GP term in 2010 – fought off the attentions of Maxime Desprey to go 1-1 and look immediately as the hot new bet for '13 in terms of a world championship saddle.
Trips to Agueda in Portugal and then the inauguration of Bastogne for the Grand Prix of Belgium will keep the Grand Prix teams busy and on the road for the next two weeks.
MX1 Moto1
1. Antonio Cairoli (ITA, KTM), 38:29.928;
2. Gautier Paulin (FRA, Kawasaki), +0:02.258;
3. Christophe Pourcel (FRA, Kawasaki), +0:14.964;
4. Xavier Boog (FRA, Kawasaki), +0:17.382;
5. Clement Desalle (BEL, Suzuki), +0:21.858;
6. Evgeny Bobryshev (RUS, Honda), +0:23.566;
7. Ken de Dycker (BEL, KTM), +0:27.154;
8. Steven Frossard (FRA, Yamaha), +0:30.296;
9. Rui Goncalves (POR, Honda), +0:30.832;
10. David Philippaerts (ITA, Yamaha), +0:41.517;


MX1 Moto2
1. Antonio Cairoli (ITA, KTM), 38:51.915; ;
2. Christophe Pourcel (FRA, Kawasaki), +0:04.043;
3. Gautier Paulin (FRA, Kawasaki), +0:10.331;
4. Clement Desalle (BEL, Suzuki), +0:14.353;
5. David Philippaerts (ITA, Yamaha), +0:16.055;
6. Sebastien Pourcel (FRA, Kawasaki), +0:21.310;
7. Xavier Boog (FRA, Kawasaki), +0:21.501;
8. Steven Frossard (FRA, Yamaha), +0:24.767;
9. Rui Goncalves (POR, Honda), +0:29.120;
10. Ken de Dycker (BEL, KTM), +0:45.782;


MX1 Overall result
1. Antonio Cairoli (ITA, KTM), 50 points;
2. Christophe Pourcel (FRA, Kawasaki), 42 p.;
3. Gautier Paulin (FRA, Kawasaki), 42 p.;
4. Clement Desalle (BEL, Suzuki), 34 p.;
5. Xavier Boog (FRA, Kawasaki), 32 p.;
6. David Philippaerts (ITA, Yamaha), 27 p.;
7. Steven Frossard (FRA, Yamaha), 26 p.;
8. Sebastien Pourcel (FRA, Kawasaki), 25 p.;
9. Ken de Dycker (BEL, KTM), 25 p.;
10. Rui Goncalves (POR, Honda), 24 p.;


MX1 World Championship standings after 6 of 16 rounds
1. Antonio Cairoli (ITA, KTM), 253 points;
2. Christophe Pourcel (FRA, Kawasaki), 214 p.;
3. Clement Desalle (BEL, Suzuki), 213 p.;
4. Gautier Paulin (FRA, Kawasaki), 212 p.;
5. Ken de Dycker (BEL, KTM), 179 p.;
6. David Philippaerts (ITA, Yamaha), 169 p.;
7. Xavier Boog (FRA, Kawasaki), 161 p.;
8. Kevin Strijbos (BEL, KTM), 154 p.;
9. Rui Goncalves (POR, Honda), 134 p.;
10. Tanel Leok (EST, Suzuki), 121 p.;


MX2 Moto1
1. Jeffrey Herlings (NED, KTM), 38:43.782; ;
2. Jeremy van Horebeek (BEL, KTM), +0:08.542;
3. Tommy Searle (GBR, Kawasaki), +0:20.337;
4. Joel Roelants (BEL, Kawasaki), +0:30.338;
5. Valentin Teillet (FRA, Kawasaki), +0:32.786;
6. Jordi Tixier (FRA, KTM), +0:40.229;
7. Arnaud Tonus (SUI, Yamaha), +0:41.359;
8. Christophe Charlier (FRA, Yamaha), +0:42.563;
9. Jose Butron (ESP, KTM), +0:52.544;
10. Jake Nicholls (GBR, KTM), +1:01.570;


MX2 Moto2
1. Tommy Searle (GBR, Kawasaki), 38:42.069; ;
2. Jeffrey Herlings (NED, KTM), +0:03.695;
3. Jeremy van Horebeek (BEL, KTM), +0:04.651;
4. Joel Roelants (BEL, Kawasaki), +0:05.462;
5. Jordi Tixier (FRA, KTM), +0:22.371;
6. Alessandro Lupino (ITA, Husqvarna), +0:37.195;
7. Max Anstie (GBR, Honda), +0:37.856;
8. Jake Nicholls (GBR, KTM), +0:44.540;
9. Valentin Teillet (FRA, Kawasaki), +1:02.571;
10. Petar Petrov (BUL, Suzuki), +1:08.058;
MX2 Overall result
1. Jeffrey Herlings (NED, KTM), 47 points;
2. Tommy Searle (GBR, Kawasaki), 45 p.;
3. Jeremy van Horebeek (BEL, KTM), 42 p.;
4. Joel Roelants (BEL, Kawasaki), 36 p.;
5. Jordi Tixier (FRA, KTM), 31 p.;
6. Valentin Teillet (FRA, Kawasaki), 28 p.;
7. Jake Nicholls (GBR, KTM), 24 p.;
8. Max Anstie (GBR, Honda), 23 p.;
9. Petar Petrov (BUL, Suzuki), 19 p.;
10. Romain Febvre (FRA, KTM), 18 p.;


MX2 World Championship standings after 6 of 16 rounds
1. Jeffrey Herlings (NED, KTM), 270 points;
2. Tommy Searle (GBR, Kawasaki), 248 p.;
3. Jeremy van Horebeek (BEL, KTM), 231 p.;
4. Joel Roelants (BEL, Kawasaki), 188 p.;
5. Max Anstie (GBR, Honda), 160 p.;
6. Jordi Tixier (FRA, KTM), 159 p.;
7. Jake Nicholls (GBR, KTM), 144 p.;
8. Alessandro Lupino (ITA, Husqvarna), 118 p.;
9. Jose Butron (ESP, KTM), 110 p.;
10. Dylan Ferrandis (FRA, Kawasaki), 107 p.;