Wortham, TX
Freestone Raceway
Lucas Oil AMA Pro Motocross Championship
BTO Sports is your number one source for all of your motocross parts, gear, accessories and apparel. BTOSports.com is a motocross company who is truly dedicated to the sport and to the customer. Proud sponsor of your Racer X Podcasts and the BTO Sports/BBMX Suzuki race team.
Round two of the 2012 Lucas Oil Pro Motocross Championship took place at Freestone, Texas, this past weekend and what a series this is shaping up to be. The top two 450 riders are apparently just going to push each other until one of them collapses from exhaustion and in the 250 class, we've seen two world-class performances from two different riders. All I can do is try to capture the excitement of each round, and I'm truly jacked up before the gate drops every Saturday because I just know I'm going to see some great racing.
I don't think any of the riders will say that the Freestone track is one of their favorites, but it's also not really anyone's least favorite either. It's like vanilla ice cream, it's just there. Tony Miller, the track owner, seems to put more and more money into it each year, and the facility has become very nice. The track definitely wasn't as rough as in years past (calm down orange-helmeted guys, it's not "Ayers and Son smooth" either) and that was done on purpose because every year at Texas, the heat and humidity is the real enemy. It's a smart move to not rip it deep and water the crap out of it because trust me, it's still rough and the guys are still heroes for racing on it. Tom Shields, one of Miller's right-hand guys, indicated to me that future plans include adding some elevation to the venue. They know that is the major complaint right now and they're working on it. Maybe Weege can get in there and design some mountain like his famed Englishtown Raceway in New Jersey has?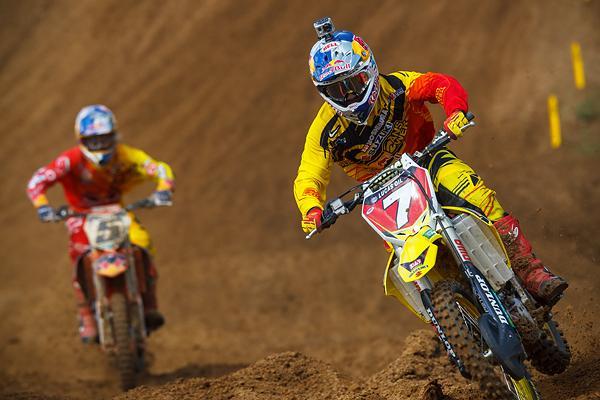 Welcome to James Stewart's day, as Ryan Dungey hounded him for two motos.
Simon Cudby photo
(Note from Weege: Depends on how high above sea level the track is. At Englishtown, they dug a huge trench and got down to the water, hence creating a sick Jet Ski pond and getting enough dirt to create a mountain on an otherwise flat motocross track. Now that's what I call win-win!)
Yoshimura Suzuki's James Stewart and Red Bull KTM's Ryan Dungey certainly put on quite a show at Freestone, with Dungey shadowing Stewart around the track each and every lap on his way to a 2-2 finish, while Stewart remains perfect on the year with a 1-1. It was pure perfection for both riders, and it was uncanny how Stewart seemed to know exactly when and where Dungey was going to push. The "book" on Stewart states that if you pressure him, he will wick it up more and more in attempt to win by a huge margin, only to start making mistakes and eventually crash. This has been proven more than a few times before, and I know for a fact that this is what competitors want to do to Stewart.
Maybe it's time to re-write that though, as you can't put any more pressure on a guy than Dungey put on Stewart this past weekend. He just shadowed the 7 all the way around the track, and if Stewart had made one mistake, it would have been over. Stewart was calm and collected, and has erased any doubts regarding his outdoor fitness. It seemed that both riders had the same strategy at the same time and amazingly enough, they both set their fastest lap times in the first moto on the second to last lap.
It's been remarkable to watch Stewart go four-for-four at the first two Nationals. I know that I and some of my media buddies got some crap for reporting on his great performances at these races, but people, he went 1-1 at both races! He should get the most praise and back slaps because, well, he's won all the motos, and four weeks ago, he wasn't even planning on racing the Nationals. The switch to Suzuki has paid off in spades and some guys at Kawasaki that have been watching Stewart ride forever (many years on their team) told me that the 2012 MX Nationals James Stewart looks different than any Stewart that they've seen before.
So if you're Ryan Dungey, are you happy with what's happened or are you bummed out? Well, I don't think he should be either, really. It's still early and after all, he beat third place Mike Alessi by over a minute in the second moto to log what may have been the fastest 2-2 in history. The track wasn't the easiest to pass on and every time he got alongside Stewart, he just wasn't in a position to get by the Suzuki.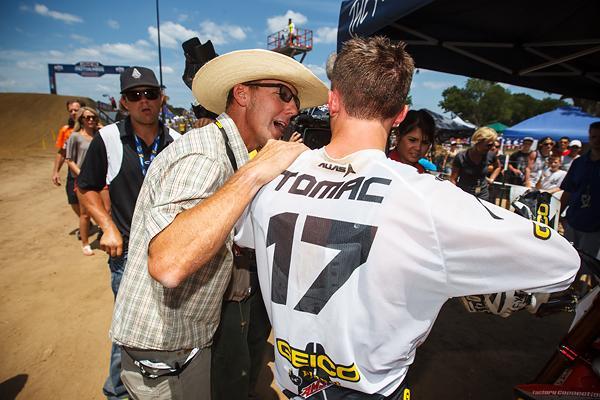 Eli Tomac and his father, John, celebrating Eli's first win since 2010.
Simon Cudby photo
Dungey has got to be feeling some personal frustration over all of this. After all, Stewart is on the same bike that Dungey wanted off of last year, and is riding for the same team manager that Dungey didn't want to work with. Still, I thought he was very good in Texas, and there wasn't much to separate the two guys. If I'm Dungey, it's the same plan as always, although in two of the last three motos, Stewart has passed him in the opening laps. Next time he tries that, do everything, short of gang tackling him, to keep him behind you.
Eli Tomac's personal hell is Texas and he knows it. Tomac's 2010 season went off the rails when he overheated while leading here,  and it took him a long time to recover from that. Last year, while not as bad as '10, he again suffered in the Texas heat. Trainers in this sport will be the first ones to tell you that the body takes a very long time to recover from even mild heatstroke. Just because the heat affects Tomac doesn't mean he isn't in shape or anything like that, it's just that heat affects different people in different ways. Tomac and the GEICO Powersports Honda team know this, and have got to be happy that the large hurdle in their 2012 championship chase that was Freestone, is now behind them.
I'd say that Tomac earned an A+ for his race, as he absolutely destroyed the field with a 1-1, and incredibly, set a faster lap time than both Stewart and Dungey in the process. He didn't holeshot either moto, but it wasn't long before he was in front and checking out. I would have loved to have seen last week's winner, Blake Baggett, get out with Tomac because he was the only guy able to somewhat match Tomac's speed. Unfortunately, Baggett's starts just weren't there, and he wasn't able to catch up with Tomac.
After the race I was talking to Tomac's dad, John, and he admitted that they knew this was going to be a big race for Eli. In talking with him, it was obvious that he was pleased with the way it turned out. Sometimes the racers (and their families and entourages) pretend that they don't read the media stuff and that they don't care what people say, so it's refreshing to hear the Tomacs admit that, yes, the heat does indeed affect Eli and that yes, Texas was a big race for him. That's not speculation or media bullshit, it's a fact: Freestone has been a big obstacle for Tomac the past two years. Tomac knew it would be a test this year, and he passed it with flying colors.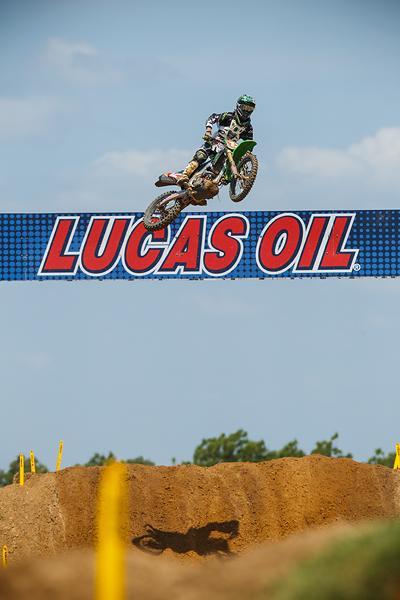 Yeah, that just happened.
Simon Cudby photo
Baggett put in a great ride also, coming from the back in both motos to go 2-2 and maintain his points lead. He was launching off a single jump into the sand whoops to make up some time and it was gnarly, no doubt about it. It was also faster, no doubt about that. Full credit goes to KTM privateer Tevin Tapia, who started doing the leap in practice before anyone else, but Baggett, man, he did it about every lap, surprising and passing many riders in the process.
A big thing going on right now is the legalization of GPS for the Nationals, something that wasn't legal in supercross. Remember traction-gate at Phoenix from the L&M team last year? Well one of the things that wasn't picked up by many was the GPS sensor on Kyle Regal's bike at Anaheim 1. What it does (and it's been in the GPs for years) is allow the teams to "map" the layout of the track using GPS, and then overlay what the ignition is doing at each point on the track. Now, instead of the rider guessing what the bike was doing in that turn by the tree, the team can pull up the actual turn by the tree, click a button and see what the bike's throttle position was, what the air-to-fuel ratio was, where the RPM's were and more.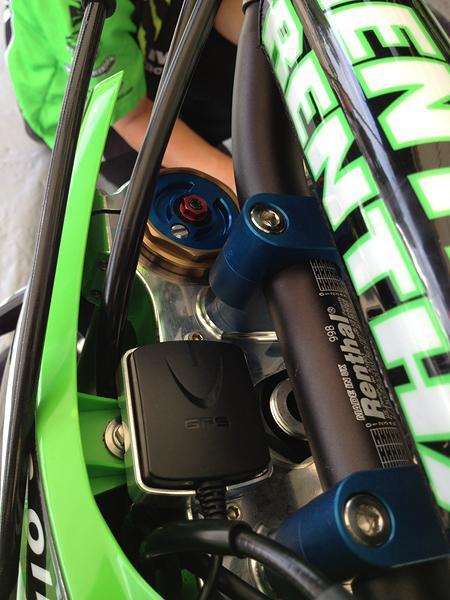 Jake Weimer's GPS system.
When the teams showed up at Hangtown, many of them did not know that GPS tracking was legal for the Nationals (rumors have it legal in supercross next year as well), so the rush was on to get going for round two and most of the top teams are now using this technology. It's an invaluable resource, although the fear is that we're turning into Formula 1 with this stuff. But really, even with this technology, we're still Jenga compared to Formula 1's being Playstation 3.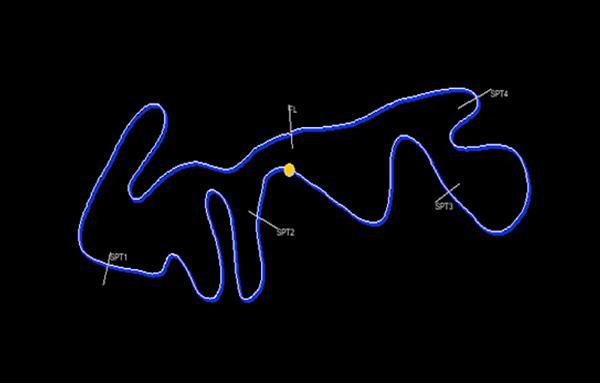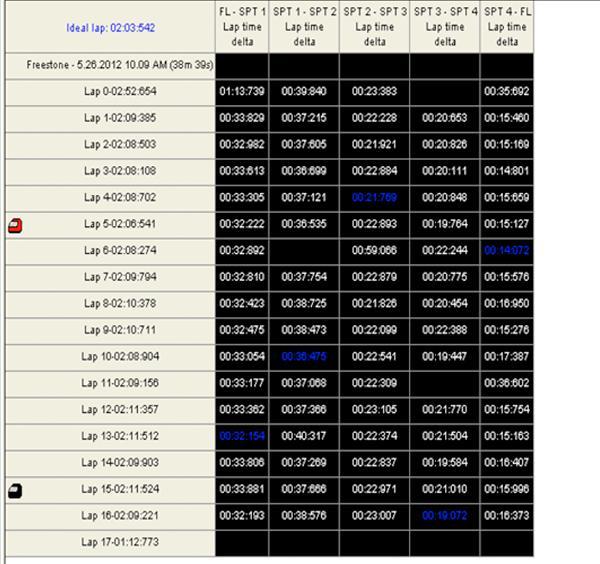 As you can see here, there were six splits established at Freestone for this Yamaha rider and the riders best split times are highlighted here. You can add those together and get an "ideal" lap time for the rider. The yellow dot on the track layout is movable and you can put that anywhere on the track and figure out the bike's settings on that particular lap on that particular section. For example, at Texas one rider said his bike bogged off the start, so the team went in and saw that the rider had dumped the clutch too fast, and that it wasn't a motor issue after all. The orange, green and blue lines behind the track map could represent any setting you want but right here they are just fake squiggles for the sake of illustration. Pretty cool stuff indeed and one company that's helping out a lot of the teams is GET. You can check out their website HERE and you can contact Dan Truman at 855-895-1102 for more info.
Let's take a look at the results shall we?
250 Overall Results:
1. Eli Tomac 1-1
2. Blake Baggett 2-2
3. Ken Roczen 3-4 - Two races, two podiums for Roczen, and nothing to be upset about if you ask me. He's so close to winning a moto or an overall, it's ridiculous.
4. Blake Wharton 6-3 - I helped out "Rocket" Rob Buydos in the tower this weekend with some announcing and I called Wharton as my sleeper pick of the day. Slash didn't ride outdoors last year so some people forget about him, but he rode well in his home state.
5. Justin Barcia 4-5 - Of course after Weege went on and on about Barcia's starts in our podcast the last few weeks, and this weekend Barcia sucked at starts. First lap positions of nineteenth and eighteenth aren't going to get it done. Still, he kept his head down and salvaged the best results he could. I was going to interview him after the race but he looked pissed.
6. Marvin Musquin 5-8 - The Marv Attack is battling a hand injury that he got screwed and plated, and his fitness and seat time have been limited. The week following Hangtown was the first time he was able to even ride during the week.
7. Jessy Nelson 7-9 - Nelson holeshot both motos (!?!) and shades of Christian Craig last year led the first moto for a while on a 450 Lucas/TLD Honda. Some people weren't impressed with Nelson, telling me that Hangtown, his hometown race, would be his best race of the year. Well, I guess that theory is out the window as Nelson topped his first National performance with an even better second one.
8. Wil Hahn 12-6 - I said last week that I thought (and logic sort of dictated that he would be) Hahn was out for next year at GEICO Honda, but GEICO is bringing him back in 2013 to form a powerhouse five-man team consisting of Hahn, Zach Bell, Justin Bogle, Eli Tomac and Zach Osborne. Anyways, Wilbur rode pretty well in Texas, coming from the back in the first moto. Like, he was fortieth place after one lap. Fortieth!!!
9. Jake Canada 8-14 - Jake Canada just did what Jake Canada does; finish in the top ten overall, although he had a bit of a backwards race. He started twentieth in the first moto and ended up eighth, and in the second moto, he started fourth and slid to fourteenth.
10. Kyle Cunningham 13-12
11. Martin Davalos 14-13
12.  Jason Anderson 22-7 - Anderson went down hard in the first moto and kept going on a Suzuki that was bent up and missing a front number plate. Props for that. In the second moto his front number plate fell off again, just for good measure.
13. Travis Baker 18-10
14. Kyle Peters 9-23 - Good ride for Peters in the first moto. He's got to be one of the quieter riders on the circuit. He doesn't get that much press, but he's sixteenth in the points despite only finishing two motos in scoring position. Not bad.
15. Alex Martin 16-15
16. Zach Freeberg 15-16 - Don't know much about Freeberg but he's on Langston's team and so far is twentieth in the points after two races. He's the first guy in the points that makes you go "Who's dat?"
17. Gareth Swanepoel 10-38
18. Malcolm Stewart 39-11
19. Ivan Tedesco 11-22 - Two first turn crashes did him in. Screw discussing the eleventh place, let's talk about how IT was probably fifteen seconds down on the next guy when he finally got going in the second moto. From there he put his head down and rode to a 22nd when many guys would've pulled off. It's the little things that show you a lot.
20. Hunter Hewitt 17-20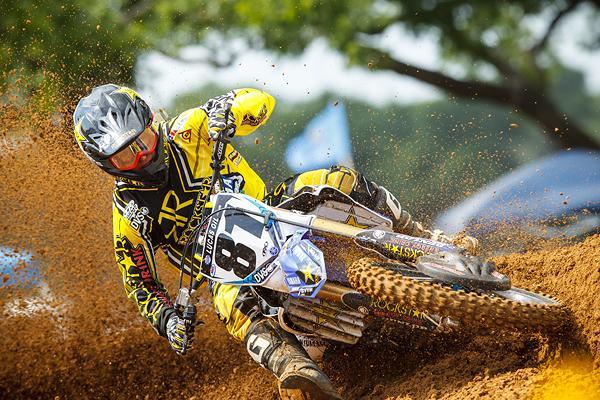 Kiniry is returning to Canada to race the Nationals but will be back for RedBud.
Simon Cudby photo
450 Overall
1. James Stewart 1-1
2. Ryan Dungey 2-2
3. Mike Alessi 5-3 - After being forced to take the fortieth spot on the gate when he missed the staging call, Alessi somehow pulled out a top ten start in the first moto and brought it home for a solid fifth. In the second moto, he was very good and finished in third. That's two third overalls in two races for the 800 on a bike I would guess is maybe ten pounds heavier than some of his competitors' bikes.
4. Jake Weimer 3-6 - Weimer got the first podium of his 450 motocross career in the first moto in a great ride. Something happened to him in the second moto, and he came from way back to take sixth. Great day for "Pete" Weimer at Freestone.
5. Josh Grant 6-4 - Grant rode very well at Freestone and could be getting some of his old magic back. In the second moto he tracked down Short from a ways back and a fifth overall is strong indeed. Don't look now, but Grant just might be starting to get some of his old mojo back.
6. Andrew Short 10-5 - Shorty got a terrible start in the first moto and came from outside the top twenty to get tenth. The second moto was more what we expected to see from a former moto winner at Freestone.
7. Tommy Hahn 9-7
8. Brett Metcalfe 13-10 - Metcalfe is definitely affected by the heat, more so than some of the other riders, and I'm sure he just wanted to get through this round.
9. Nico Izzi 4-25 - Heartbreak for Izzi, as he was in fourth in the second moto and looking good to get his career best finish when he crashed. Nico's been a real surprise this year, and it looks like he's really taking advantage of the second chance opportunity he was given over at Star/Valli Rockstar Yamaha. And by the way, Izzi had long scraggly hair at the rider's meeting but sometime before the second moto, he was shaved down.
10. Ryan Sipes 8-17- Sipes had a weird race. His first moto was good, and in the second moto he was on the move. He went from nineteenth after the first lap all the way to ninth! It was an awesome race for him, and I thought he crashed but nope, he told me on Twitter that he just got tired and faded back. Weird race; nineteenth to ninth to seventeenth without crashing.
11. Michael Byrne 12-15 - Byrne's bike ran out of gas on the finish line in the first moto and in the second moto it was, uhh, a little short of that. He pushed it across the line and lost two spots because of it, which would've given him tenth overall. For Byrne, that's a good day.
12. Robby Kiniry 17-11 - Meathead is heading up to race in the Canadian Nationals and won't be back until RedBud.
13. Justin Brayton 14-14 - Brayton is in shape, but things just aren't working out for him so far this summer. As usual, he's got a good attitude, and things will get better for JB, no doubt.
14. Broc Tickle 7-40 - Tickle continued his fine riding by taking seventh place in the first moto, but a bike issue took him out of the second.
15. Kyle Regal 25-8 - Not a good day for Regal. After briefly leading the first moto, he crashed, then later pulled out with apparent bike issues. When the team couldn't find anything, he went back out. In the second moto he took eighth place, his best result so far as a member of the JGR team.
16. Derek Anderson 22-9 - Did you know that Anderson was national number 64 in 2010? I didn't. Anyways, a ninth is a great ride for the full privateer. He's from Colorado and rides Lakewood all the time, so fantasy moto dorks, get ready!
17. Cole Thompson 19-13 - Hey! Look here! A Canadian! With the balls to race in the USA! Yay! Anyways, first ever AMA national for Thompson and he did pretty damn well, methinks.
18. Matt Lemoine 11-27 - Good to see Lemoine get an eleventh in the first moto.
19. Kyle Chisholm 30-12 - The Chiz is still battling bike setup a bit out there and is going to be testing suspension this week to try to work everything out.
20. Kevin Rookstool 16-19 - I saw this guy race an Endurocross last year and now he's scoring points in both motos at a National. If they ever put a tire crossing in at a National, he could win!
You won't see his name in these results but I've got to give a shout out to Filthy Phil Nicoletti, who led the first moto for a little bit on his privateer Eleven 10Mods Honda. Filthy has to have the worst luck of any rider in professional motocross right now. If Phil was in a Bugs Bunny cartoon he would constantly have the anvil landing on him. In supercross, when his bike stayed together and he didn't crash, he was fast. In Freestone he was eighth after leading the first moto when his bike quit. In the second moto he went to the gate thirty-fourth (because of the DNF) and managed to come from that starting spot to twelfth before crashing out. Years from now, MX historians will look at the 2012 Freestone race and see that Filthy Phil went 34-39 on the day, but you had to be there to see that it should have been much better.
Thanks for reading, email me at matthes@racerxonline.com if you want to chat. See you next week!