Freestone Raceway
Wortham

,

TX
Freestone Raceway
Lucas Oil AMA Pro Motocross Championship
Welcome to Racerhead, coming to you from the cool shade of the media tent here at the Freestone National in Wortham, Texas. This is Memorial Day Weekend in America, which means we honor the men and women who have given their lives to build and defend this country, and help others all over the world. Thank you.
It's also Round 2 of the Lucas Oil Pro Motocross Championship, this time coming to you from Texas. You can watch the first motos live and free on
www.allisports.com
, as well as on FUEL TV, beginning at 2 p.m. ET, which means sometime around 8 or 9 p.m. in Europe (and a lot of people are watching the online feed from other there, as we had a record number of viewers!). The second motos will air Saturday night on NBC Sports. If you somehow miss all of that or hit a false neutral on your TiVo or DVR, we'll have all the motos archived on
www.allisports.com
early next week. There's also the Racer X Motocross Show, which will be up sometime early Sunday morning, courtesy of our partnership with Allisports.com and the Vurbmoto.com crew.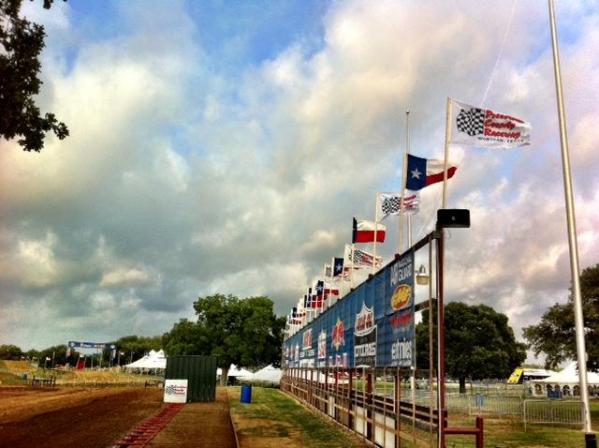 Welcome to Texas, home of the Freestone National.
DC photo
It's been a fairly hot week down here at Freestone, and tomorrow sounds like it's going to be a scorcher across much of America. Fortunately, the folks here in Texas are used to it, and after last week's fairly warm and incredibly rough Hangtown National opener, I imagine most of the riders are too. I know I saw Mike Alessi out on the track today and his hands looked pretty bad, and he said the Hangtown track was brutal, but he enjoyed it and was happy with his ride.
Same goes for James Stewart, of course. It was great to see #7 back outdoors, and the Hangtown faithful gave him a great welcome. Then he gave them two excellent motos in his debut race on a yellow bike. He also seemed genuinely thrilled to win again. For a man who was raced winning pretty much everything, the past couple of seasons in supercross must have been a challenge. Now he looks like the old "Bubbalicious," having lots of fun on his Yoshimura Suzuki, and the huge Hangtown crowd really helped remind him how much fun outdoors can be.
And I thought Red Bull KTM had a great day. Even though Ryan Dungey and Ken Roczen did not actually win, the brand and the team had to be pleased to be up there in both classes battling for the lead. The Dirt Diggers who host the Hangtown National had a sizable group of KTM dealers and VIPs at the top of the big hill where they have the double jump they call "Big Mo." Every time Dungey or Roczen (or Marvin Musquin, who rode very well for having been hurt just a few weeks ago) passed, the orange-clad throng of dealers would wave and scream for their guys, while many of the rest of the crowd rooted for Justin Barcia, Eli Tomac, or eventual winners Stewart and Blake Baggett.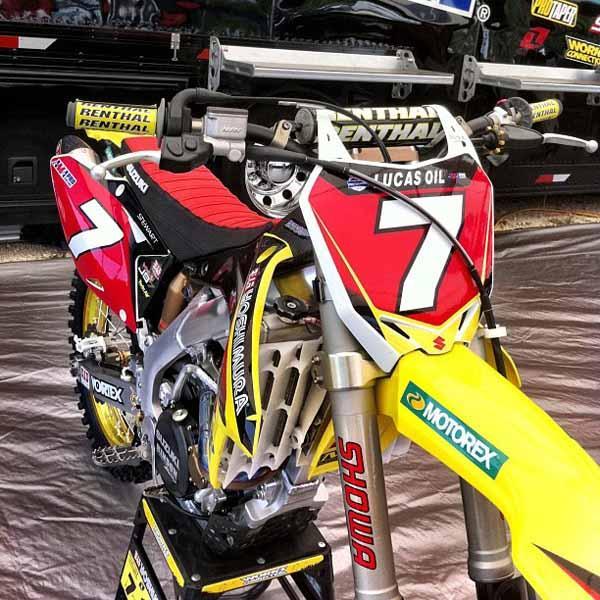 Look who's wearing red this weekend...
DC photo
Baggett, by the way, rode the way I thought he would ride at the MXoN last year—as a superbly fast, smart, and methodical racer. He loves Hangtown, and on his day I believe he's the fastest 250 rider on the planet right now.... But it's those other days that he needs to work on.
As for Roczen, he was very impressive. He didn't win, but he showed that he could battle with our best guys, even while he's learning the U.S. system: rougher tracks, one-day format, less practice time and no warm-up races, frantic and immediate sprinting, and just a brand new track that he had only seen on video. When he gets comfortable, there will be days when he's the fastest 250 rider on the planet too. And then there's Barcia and Tomac and Musquin.... Check out Chad DeRosa's Racer X Film on Roczen's first day on the Lucas Oil Pro Motocross circuit.
But tomorrow is going to be a hot one, and I'm curious to see how the German teenager fares. The track will be rough and soft to his liking, but there's no place in Europe as hot as the Lone Star State. I would not be surprised to see him win, but then again, I wouldn't be surprised to see him be second-best KTM behind the one-week-healthier Musquin, who got hurt here last year and is long overdue for a win in the States.
After the race last Saturday, I hobbled over to the Asterisk Mobile Medics' Unit to see if Doc Bodnar or Eddie Casillas or one of the guys could take a look at my knee. But the unit had a few riders in there and I didn't want to bother the medics with my minor issue. One of the guys in there was Ivan Tedesco. He had literally left it all on the racetrack, gutting out a fourth overall against the kids in the 250 Class on what must have been one of the roughest outdoor nationals Hangtown has ever hosted. Tedesco came back to race because wants to ride outdoors again, but the Hart & Huntington team he rides for doesn't have an outdoor program in place for 2012. And when Mitch Payton suddenly had an opening, Tedesco said, "Sure, I'll do it...."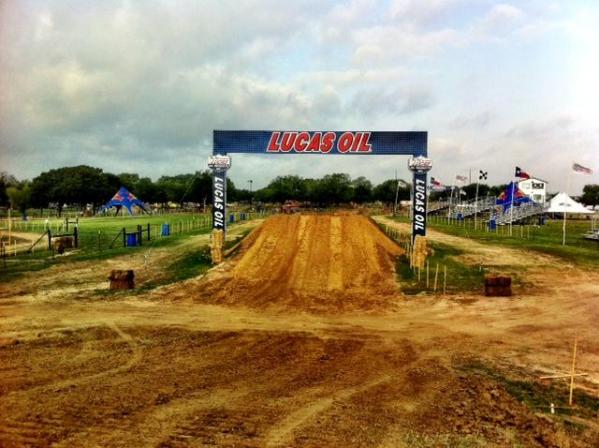 The takeoff into the 12-Pack.
DC photo
He later told me he had no idea how rough it was going to be, which makes sense because the 2005 AMA 250 Motocross Champion hasn't been riding outdoors the last couple of years, and the tracks have grown rougher and the 250 Class is top-to-bottom faster. Ivan was fun to watch, and he gave it all he had. I hope he gets up there and gets in the mix—he's still one of my favorite riders to watch.
And then there was the wildest class of all at Hangtown, the WMX. Rockstar Energy Suzuki rider Jessica Patterson somehow emerged as the winner with 2-2 scores despite crashing, popping her shoulder out of socket, then popping it back in! She lost the first moto to the very fast and serious Ashley Fiolek, but then the #1 Muscle Milk Honda rider fell in the second moto. That seemed to give TLD/Lucas Oil Honda's Tarah Gieger a straight shot at the win, but then she couldn't get around the impressive newcomer from Australia Meghan Rutledge. The rookie ended up winning the moto, even after Patterson recovered, got by Gieger, and closed in... It was good stuff!
Actually, pretty much everything was good stuff at Hangtown. The Dirt Diggers once again delivered a great event, a great crowd, and a true motocross test. Well done!
Okay, lots of work to do here in Texas. Let's start the round-up with David Pingree:
Hangtown didn't disappoint for motocross fans around the world. Many of the questions about James Stewart were answered, finally. And I, for one, am glad because I couldn't stand one more thread about how he'll do and whether or not it was really the bike.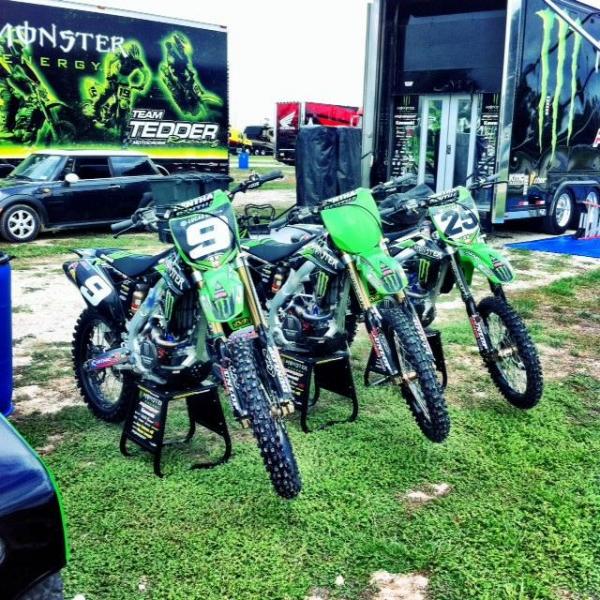 That's Blake Baggett's bike in the middle. It will have some red on it come tomorrow.
DC photo
For me, the surprises of the weekend were definitely the rides of Andrew Short and Brett Metcalfe. I expected the three riders who finished on the podium to be there, but I didn't know if Metty and Shorty would show up with enough speed to run at the front. They certainly did.
Blake Baggett was an animal last weekend. His biggest test will be whether he can summon that speed on a regular basis and minimize his losses on his bad days. I expect Justin Barcia, Eli Tomac, Ken Roczen, and a few others to be right there in the hunt every weekend. I also think Ivan Tedesco deserves a tip of the hat for his ride on Saturday. His fourth was a better result than I expected.
As DC said, Ivan was pretty beat after the races, and he is going to be tested this weekend in the Texas heat. Ivan has been working through some blood-sugar issues, and his diet is very strict and very clean. However, in taxing races like Freestone this weekend, it helps to have some energy reserves at the end of the motos. Hopefully, Hot Sauce can keep it cool this weekend.
I know Dean Wilson is bummed, as are all of his fans, but getting his shoulder fixed now is the best thing for him. I didn't think he was going to make it through the season, and I think it's good news that he's learned that now. If he gets it fixed he can be 100 percent ready for 2013 and either come back into the 250 Class swinging for that SX title he doesn't have or put some time on a 450 and make a solid leap into the premier class. Decisions like that are hard to make but he can rest easy knowing that he's already won this championship. Heal up quickly, Deano.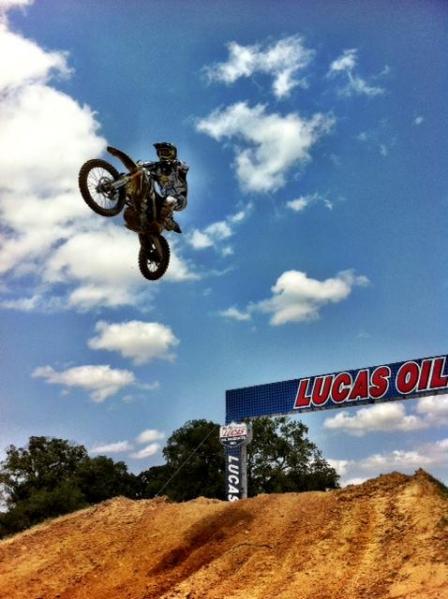 Texas native Hunter Hewitt going BIG at press day.
DC photo
If you missed the video we posted this week with the Racer X Yamaha YZ125, be sure to check it out. I'm a big believer in that particular motorcycle, as I believe there is a gap in size, price and displacement right now. Jay Clark helped us put the piece together and I think it came out pretty cool.
Okay, here's
Steve Matthes
with his stuff....
Howdy, partner! We're in Texas this weekend for round two and really, Hangtown was just the tip of the iceberg for this series. Things are going to get hotter, nastier, and greasier from here on out... Can't believe I just mentioned an iceberg and Texas in the same sentence, because they can't coexist otherwise in this weather.
Did you hear James Stewart on the Pulpmx Show last Monday night? He was reminiscing about Hangtown and about how he hung out on Friday and had a BBQ with friends and family. He was talking like he enjoyed his first full-time national in four years, and the crowd on Saturday seemed to has as many #7 fans as anywhere else. I couldn't help but think of the parallels to his buddy Chad Reed and the things he said and did when he returned in 2009 on a Suzuki. There's just something about the motocross series that the guys revel in once they get back into the swing of things. As I said predicted before, I think going outdoors is going to be a great decision for James, win or lose.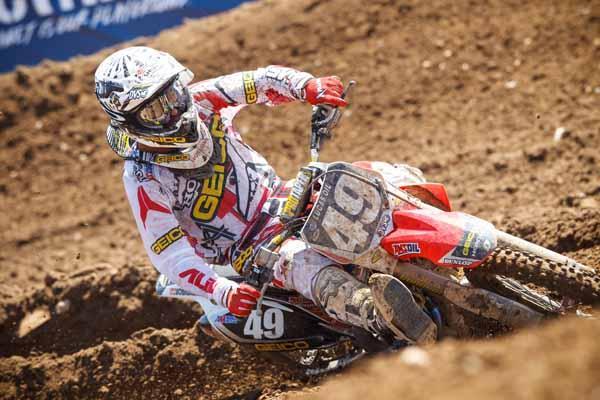 Justin Bogle will miss Freestone with a knee injury.
Simon Cudby photo
The heat and humidity of Texas is going to be test number two out of twelve that Stewart's going to have to deal with. Last time he raced here he went 1-1 but KTM's Dungey goes very fast there as well. I think Dungey and his team will have learned a lot from round one, and he'll be very hard to beat in Texas, methinks (and Texas owes him one from last year when he ran out of fuel).
So what's Mitch Payton going to do? The powerhouse Pro Circuit team went into Hangtown with three 250 riders and one 450 guy, but Wilson is now done for the year with the shoulder injury. So that leaves the winner (Baggett) and the very surprising Ivan Tedesco as the team's 250 riders. ("I'm glad I'm not bald yet because being bald and in the 250 class is not cool," IT remarked to us on Monday night (and by the way, thank Jesus I don't have to use the term "Lites" and "Supercross" for class names anymore).) Injured Darryn Durham won't be back for a while and let's not forget he's got Broc Tickle out there in the 450 class.
Payton told me that he told Tickle that if injuries hit, he could be asked to drop down to the 250 for the good of the team, but then again, he was top Kawasaki at Hangtown and rode very well. So not sure if Mitch wants to go there just yet. Keep your eye on this development, as we may see Tickle drop down if this 450 season isn't going well, or maybe Mitch signs a fill-in guy. And after this Tedesco thing worked so well, may I suggest Mitch call Larry Ward and see what he's doing?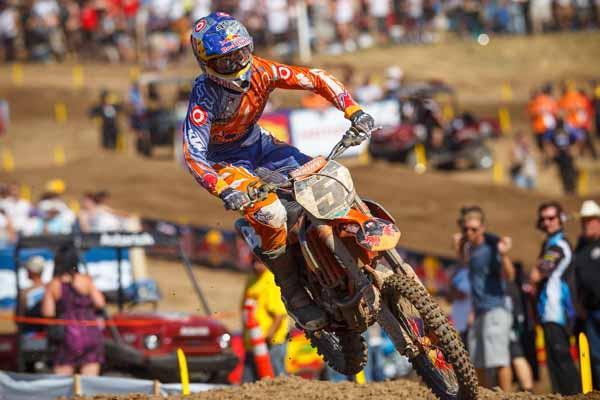 Ryan Dungey looks to slow down James Stewart in Texas.
Simon Cudby photo
By the way, the factory Kawasaki team lost Payton's old guy Tyla Rattray to a hand injury on the first lap of the first moto. He'll be out until RedBud or so, and I heard Kawasaki is not going to fill in that spot for now.
Look for Chaparral Honda's Andrew Short to really surge into contention these next two races, as he's home for Texas this week and next week we're in his old home in Colorado. Certain riders just ride certain tracks well, and for Shorty, both of these are ones that he's got the checkmark besides. This is a good chance for Andrew to make some hay in the points after Hangtown went better than most of us though it would. It seems that Andrew's bike breaks, he crashes, or something at Hangtown every year, but not last Saturday.
I was speaking with Shorty after the race and he was telling me that less testing is better for him. After he won Seattle, he struggled at the next two races and then just went home to Texas to get away from it all. Sometimes the teams just want to test themselves (and the rider) into the ground and very little real, actual motos get done while the guys get ready for Hangtown.
In Short's case he just went home and had faith that his Honda was ready to go. And it was. He also remarked to me that his suspension settings are in left field compared to what Tommy Hahn and Justin Brayton are running on the factory team. The Chaparral team has its own suspension guy but all data is shared with the factory teams, but for whatever reason, Short's out on an island with his stuff. Whatever it is, it's working!
Check out the Pulpmx Show on Mondays for some of the illest moto news out there. Did I just say illest? Yes, yes I did.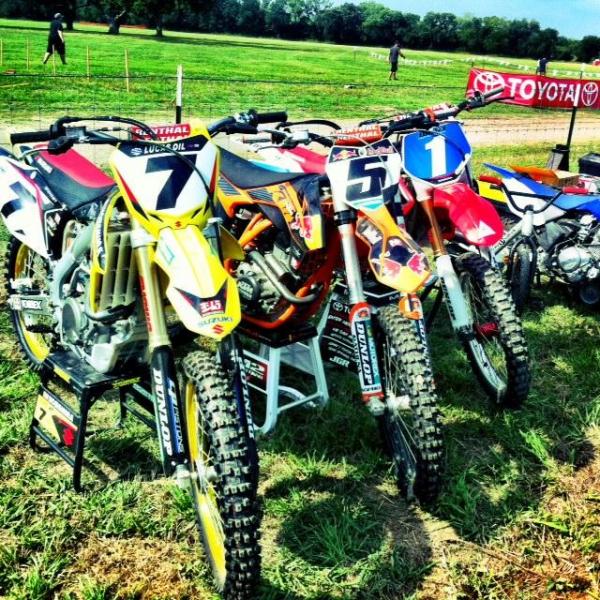 Team U.S. Co-Ed?
DC photo
Here's Aaron Hansel:
The action at the front at Hangtown received a lot of coverage over the week, so let's take a moment to talk about a couple of surprises from Hangtown. First off there's Tickle, whose 6-7 moto scores earned him a sixth on the day. Broc had some good indoor results on the 450 earlier this year, but I would be lying if I said I expected him to place that high at Hangtown. I certainly didn't see him beating guys like Jake Weimer, Davi Millsaps, and Justin Brayton, although those guys each had issues of their own at Hangtown.
Nico Izzi was also a nice surprise. He got tenth via 11-10 moto scores, but that doesn't tell the whole story. Izzi had crashes in each moto and even had to come back from outside the top thirty in moto one. Great speed from Izzi, and although he's got a little work to do still if he wants to battle with that group inside the top five, I'm looking forward to seeing where he ends up if he can keep from crashing, something he's been doing a lot of lately.
One of the biggest questions remains unanswered, and it's regarding Blake Baggett. Yes, Baggett was unreal at Hangtown, but we can't start talking about a Pro Circuit title just yet. We saw rides like this last year from Baggett, only to see him perform way below his potential at the next round. Blake himself was quick to point this out after the race in the press conference, saying that he wants to "level things out" this year in order to be in the championship hunt once the season enters the homestretch in September.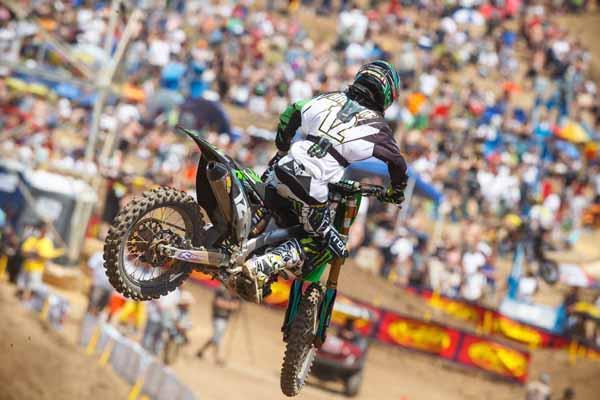 Blake Baggett looks to make it back-to-back wins this weekend.
Simon Cudby photo
Okay, are you heading to Thunder Valley in Colorado next weekend? Spend the day in the pro pits with the Racer X all-day pit pass, available now online.
There are only 300 of these passes, and this is the only way for you to get into the pro pits past noon. Spend five more hours in the pits! For $40 you get twelve issues of Racer X plus an all-day pit pass, good from 9 a.m. - 5 p.m. You can get the subscription for yourself or send it as a gift when you fill out the subscription information on the order page. If you need to buy more than one pass you can get a multi-year subscription to the same address.
Also next week, June 1-3, is the inaugural MX Rewind at Unadilla. The final preparations are coming together and the list of legends looks like a who's-who of Unadilla History, beginning with Larry Maiers, who will be the event MC and will be calling all the action on the the famed hills of Unadilla. There are a ton of events planned, and even some racing! Past Unadilla legends who will be on site include Mark "The Bomber" Barnett, Ron "The Dogger" Lechien, Jeff Stanton, Carlo Coen, Guy Cooper, Tony D, Donnie Hansen, Barry Higgins, Dewayne Jones, Gary Jones, Mickey Kessler, Brad Lackey, Gunnar Lindstrom, Trampas Parker, Pat Moroney, Jimmy Weinert, and many more. If you are on the East Coast, this is one cool event that you won't want to miss.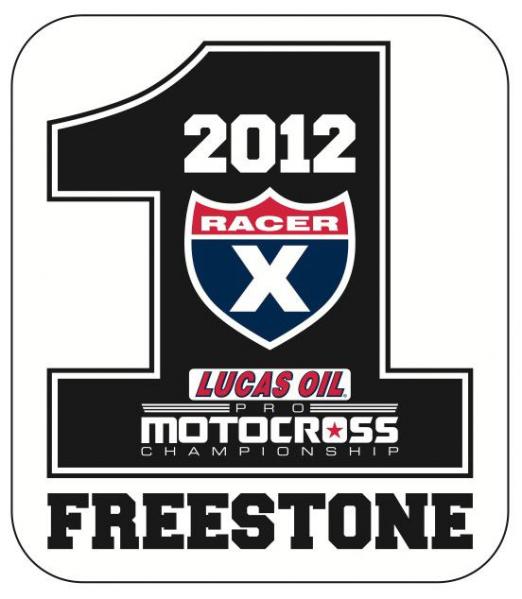 Don't forget to stop by the Racer X booth to pick up the collectible Freestone 2012 sticker!
Here are some photos of Chad Reed, Ellie, and Tate out at Dade City MX for a BeTheMatch.org event to help get people signed up for the marrow registry: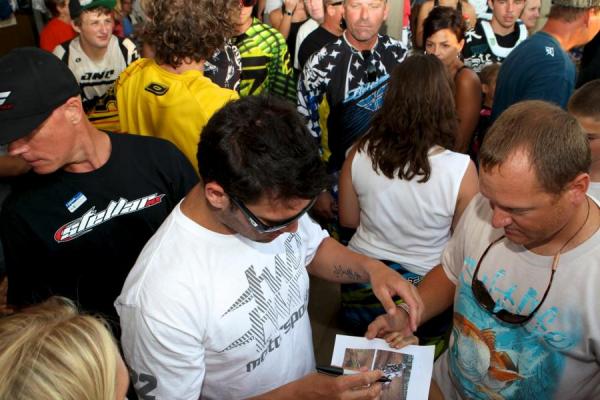 Rob Koy photos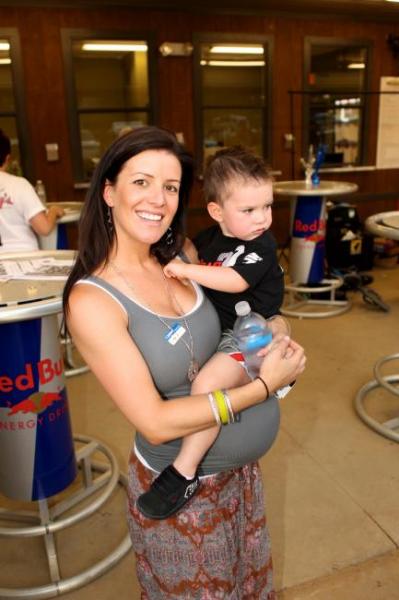 Okay, thanks to everyone for checking out Racerhead—sorry it came in so late. Enjoy your Memorial Day Weekend, and maybe tune it to some motocross racing. Thanks for stopping by, see you at the races.