2013 Kawasaki KX250F Information
Refined Champion Slims-Down to Chase Another Title
For almost a decade, no other bike has spent more time on AMA Supercross and Motocross podiums than the Kawasaki KX™250F. The race-proven technology of the quarter-liter motocross leader returns for 2013, with an all-new plug-and-play adjustable ECU, narrower new frame, upgraded Separate Function Fork (SFF) fork and slimmer ergonomics, so the KX250F is poised to continue its class dominance in 2013.
The KX250F continues to lead the way, on the race track and with the enthusiast publication critics, who consider it to be one of the best 250F's to ever put a wheel on the race track. The KX250F offers cutting-edge technology right off the showroom floor, to give riders the winning edge on the circuit. Along with the KX250F's race-proven performance, no other production motocross bike offers as much adjustability, fine-tuning capabilities and rider customization when it comes to motor and suspension. Right off the production line, the KX250F gives a factory advantage to the privateer racer – it could be the difference between qualifying for the main and making the podium.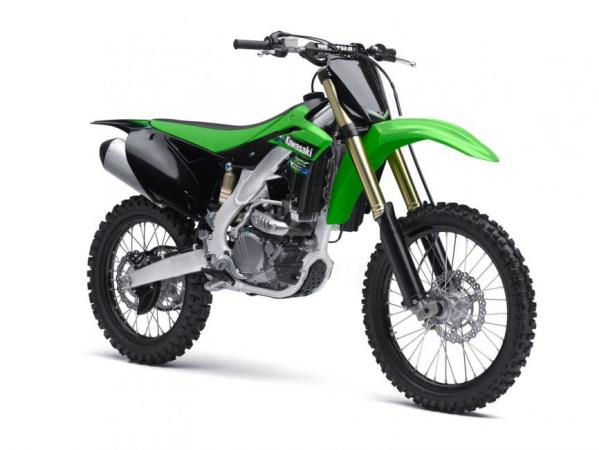 Kawasaki maintains its title-winning formula by advancing the theory that slimmer means faster and better handling. So they made the new 2013 KX250F frame 4mm narrower across the main spars for improved ergonomics and enhanced rider control. Since a slimmer chassis allows the rider more freedom of movement on the motorcycle, the radiator shrouds are also significantly smaller and slimmer where they contact the rider's legs. The side covers were made as small as possible as well and form a smoother line with the redesigned airbox for freer rider movement. Since a motocross racer moves around so much, Kawasaki incorporated a flatter design of the seat and tank interface to provide greater freedom of movement and facilitate sitting farther forward.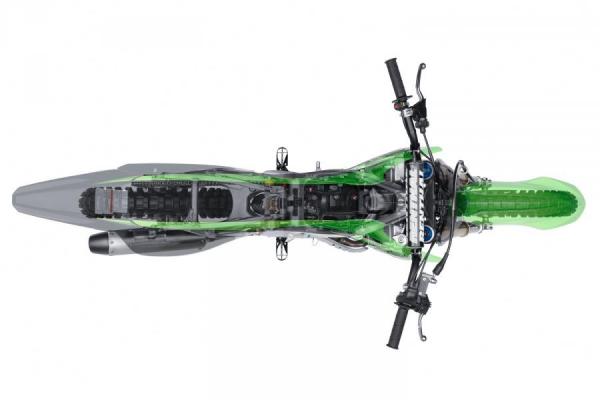 The slimmer new frame also has revised steering head gusseting, a new rear shock mount tower and a new curved left rear engine hanger bracket which all help to slightly reduce rigidity for lighter handling and increased rear wheel traction. Adding to the ergonomic enhancements the KX250F has new longer grips with a lower density compound for increased comfort. The longer grips allow the rider to mover their hands up to 20mm closer to the centerline of the bars, for a more compact riding position.
Kawasaki was the first to incorporate a dual-injector fuel injection system on a production 250 four-stroke. For 2013, Kawasaki's Digital Fuel Injection (DFI®) system with dual fuel injectors returns with enhancements. The second injector is located upstream of the throttle body and helps build a wider and more potent spread of power as rpm climbs. The two fine-mist atomizing injectors that feed the 250cc four-stroke power-plant have different body sizes, but deliver the same total capacity, per-cycle. Together, Kawasaki's dual injectors pack a one-two punch, delivering a second dose of fuel on acceleration to maximize the high-rpm power and overrev capabilities of the KX250F.
Kawasaki engineers widened the intake ports and straightened the intake tract for more direct air flow from the airbox to the combustion chamber. The enhanced downdraft configuration contributes to stronger top-end performance.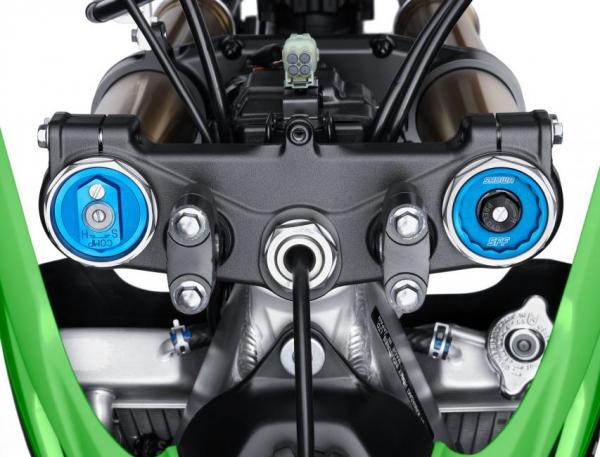 They also shortened the cylinder by 0.1mm to increase the compression ratio and add to overall performance. Plus, the revised intake cam retards timing by four degrees to help boost top-end performance and a heavier rotor optimizes inertia to suit the new engine settings.
Performance is also enhanced via an all new exhaust system. The exhaust header is 30mm shorter for increased performance and now has a resonator chamber to help enhance low-end power and reduce noise. The reshaped, KX450F-style muffler is not only 30mm shorter but also features a 12.5mm larger cross section to help centralize mass while meeting sound requirements.
Revised ECU settings compliment the new engine characteristics. And the piston profile features a softer arc at the point of greatest pressure for increased reliability. The bridged box-bottom piston and cylinder walls both feature special surface treatments to minimize wear and enhance long-term durability. Plus, stronger intake valve seat material increases durability. The result of all these improvements is increased overall performance and enhanced reliability.
The Digital Fuel injection (DFI®) system comes with three pre-programmed ignition maps which are easily selectable without the use of a laptop computer or any other electronic devices. Maps can quickly be changed between three settings – standard, hard (terrain) and soft (terrain) – by swapping the DFI wire coupler cap clipped to the side of the steering head. No additional accessories are needed to alternate between pre-preprogrammed maps – simply install the appropriate coupler cap to select your desired ignition mode and start winning. The ECU is also fully re-programmable and custom maps can be created by using the accessory KX FI Calibration Kit, the same tool used by Kawasaki factory and privateer teams in AMA and FIM racing.
The KX250F remains the only production motocross bike to feature Showa's SFF fork, which separates damping and shock absorption duties into the individual fork legs. This has proven to be highly successful for riders at all skill levels. The 2013 KX250F features an upgraded SFF with a host of enhancements for even better suspension performance. The 1mm larger inner fork tubes increase rigidity, contributing to a more planted feel from the front wheel. The increased diameter of the inner fork tubes also allowed the damping components to be larger, with the 2mm larger main piston now measuring 30mm, and the 1mm larger sub-piston now at 35mm. The larger components allow the same damping force to be achieved at a lower internal pressure, this allows firmer damping response and increased riding comfort.
The upgraded SFF also features an inverted compression rod that locates the cylinder at the top of the fork and the rod at the bottom. This new configuration increases the volume of oil at the bottom of the fork for a more progressive increase in damping force, enabling bottoming resistance to be increased without sacrificing ride quality. The revised joint rod arrangement and larger components increase rigidity, especially in the right fork tube which contains the spring, resulting in more even flex characteristics between the left and right tubes. The more closely matched rigidity promotes better handling stability under hard braking and landing from jumps. The lower triple clamp now opens at the rear to increase rigidity and improve fork action.
The Showa-built shock perfectly complements the SFF forks. The shock features revised damping settings with dual compression adjustability, allowing high-speed and low-speed damping to be tuned separately. The rear shock also features the Kashima Coating on its cylinder wall, to help reduce friction and smooth the suspension action. These features improve rear wheel traction and allow the KX250F to put the power down more effectively, making it easier than ever to grab the holeshot.
Any machine built to go this fast needs to be able to stop just as quickly and the braking systems on the KX250F are excellent. The new pushrod-type front brake master cylinder and higher-friction brake pads provide stronger brake force and enhanced control, especially for the initial bite and initial mid-stroke characteristics.
The 2013 KX250F is finished with new fender and front number plate designs. The black rear fender, silver engine covers and new black muffler end cap maintain the factory racer resemblance. And quality race-proven components such as a Renthal aluminum handlebar and black anodized aluminum wheels that are both lightweight and incredibly strong are part of the overall package.
The factory team feel of the KX250F is augmented by the lightweight magnesium clutch, generator and cylinder head covers. Plus, the embossed design on the clutch cover is designed to gradually appear as contact from riding boots wears off the painted surface. A sleek, ribless rear hub and butted spokes further reduce unsprung weight. The blue finish on the oil filler, flywheel nut and timing inspection caps contributes to factory looks and sophistication of this class-winning machine, which is bound to top plenty of podiums in the coming year.
Optional parts available through Kawasaki dealers include lighter/heavier flywheels, front and rear sprockets, solid brake discs, handlebar holder for 1 1/8" handlebar, and stiffer or softer fork and shock springs.
Racers who ride their KX250F at designated events are eligible to receive support from Team Green™, Kawasaki's amateur racing support program. For over 30 years, Team Green has been providing regional support vehicles and highly trained technicians at more than 100 yearly events throughout the United States, offering technical information and assistance to those who race Kawasaki products. Kawasaki also offers a comprehensive contingency program for amateur and professional riders who place well at designated events.
Authentic Kawasaki Accessories are available through Kawasaki dealers.
Kawasaki Motors Corp., U.S.A. (KMC) markets and distributes Kawasaki motorcycles, ATVs, Side x Sides, and personal watercraft through a network of more than 1,350 independent retailers, with an additional 8,000 retailers specializing in Kawasaki power products and general purpose engines. KMC and its affiliates employ nearly 3,100 people in the United States, with 300 of them located at KMC's Irvine, California headquarters.
Kawasaki's tagline, "Let the good times roll.™", is recognized worldwide. For five decades, the Kawasaki brand has become synonymous with powerful, stylish and category-leading vehicles. Information about Kawasaki's complete line of powersports products and Kawasaki affiliates can be found on the Internet at www.kawasaki.com.
2013 Kawasaki KX™250F
Features and Benefits
At a Glance…
-      Upgraded Showa Separate Function Fork (SFF) provides more progressive damping force and features larger-diameter 48mm inner fork tubes for improved rigidity and less stiction
-      Dual injector Digital Fuel Injection system
-      More robust high-rpm engine output extends deep into the overrev
-      Stronger engine components improve reliability
High-revving, High Performance Engine
-      249cc, liquid-cooled, four-stroke, four-valve, single-cylinder DOHC engine delivers hard-hitting power across the rpm range
-      Nickel plating on the cylinder wall has a high adhesion factor for optimum durability
-      Thick-stem connecting rod resists flex and enhances durability
-      Thick crank web design features a balance factor on par with the factory racers to help minimize engine vibration, provide smooth power delivery and maximize performance in the mid-high rpm range
Digital Fuel Injection (DFI) System
-      Revised intake tract provides a straighter shot into the combustion chamber for more direct airflow from the airbox into the combustion chamber
-      Seal between air inlet port and throttle position sensor unit on the 43mm throttle body protects TPS sensor from fuel penetration
-      Progressive throttle linkage opens more quickly after 3/8 open position
-      Simple and efficient system: No battery, fuses or relays
-      Sharp and precise engine response across entire rpm range
-      Offers easy engine starting
-      Helps prevent engine hesitation after landing from jumps and other high-impact situations
Bridged Box-Bottom Piston
-      Revised piston profile helps increase reliability
-      Light and strong piston shares same design as the factory racers, and a tin plating to optimize its interface with the nickel plating on the cylinder wall
-      Special finish improves surface lubrication and wear resistance
-      Short piston pin reduces reciprocating weight
Lightweight and Efficient Top End
-      Stronger intake valve seat material offers increased durability
-      Ultra-light valves have extremely thin valve stems on par with those found in supersport machines; intake valves feature thick heads for increased strength
-      Special casting method leaves the intake port surfaces extremely smooth for optimum intake efficiency across the rev range
-      Silicon-coated head gasket provides excellent sealing
Stainless Steel Exhaust System
-      New 30mm shorter head pipe improves performance with a resonator chamber to help boost low-rpm torque
-      New high-volume muffler assembly is 30mm shorter with a larger cross section keeps noise levels at 94 dB while retaining power production
-      Durable stainless steel construction
Efficient Cooling System
-      Thick radiators are strong and offer excellent resistance to mud buildup while providing superb cooling performance
-      Cylinder head water jacket routes coolant to the front of the cylinder head for even cooling
Transmission and Shifting
-      Strong, beefy crankcases feature additional material around the engine mounts to help increase long-term durability
-      Clutch cable holder is integrated with the crankcase for accurate feel at the clutch lever
-      Scavenge oil filter screen can be accessed without splitting the crankcases, facilitating easier maintenance
Quick-turning Chassis
-      The KX250F's slim and lightweight aluminum perimeter frame is 4mm narrower for improved ergonomics and handling
-      Center of gravity and key dimensions such as swingarm pivot, output sprocket and rear axle locations designed to increase forward drive with minimal rear-end squat
Upgraded SFF Fork
-      Upgraded 48mm Separate Function Fork (SFF) features new 1mm larger inner fork tubes which allow the internal damping components to be larger, for firmer damping response and increased ride comfort
-      SFF design separates springing and damping functions for less weight, better performance, less stiction and easier adjustability
-      Super-hard titanium coating on the outer surface of the inner fork tubes reduces stiction and improves suspension action while also helping prevent scratches and tube damage
-      Friction-reducing Kashima Coat treatment on the inside of the outer fork tubes contributes to smoother suspension action
-      Wrap-around fork tube guards provide excellent protection for the inner tubes
-      Revised lower triple clamp open at the back for increased rigidity and improved fork action
Uni-Trak® rear suspension
-      Rear shock features dual compression adjustability, allowing high-speed and low-speed damping to be tuned separately
-      Features Kashima Coat on the inside cylinder wall for reduced friction and smoother suspension action
-      New swingarm uses a longer cast front section, tapered hydroformed spars and forged chain adjusters
-      Uni-Trak® rear suspension linkage system mounts the suspension arm below the swingarm, allowing more rear suspension stroke and precise tuning
-      Linkage ratios for the Uni-Trak rear suspension match rear shock damping settings to achieve maximum rear wheel traction
Rider Interface
-      Bodywork components offer the rider a slim interface, making it easy for racers to feel comfortable and go fast
-      Formed using a double-injection molding process, the shrouds offer a slim design
-      New smaller side number plates also contribute to the slim package
-      Right side panel has an added passageway to help cool the silencer
-      Flatter design of the seat and tank offer greater freedom of movement
-      Frame is wider at the ankles to offer better grip and narrows near the bend below the seat to allow a slim riding position
-      Slim seat features upgraded polyurethane, designed for greater durability
-      Seat has a slip-resistant top and side surface for good grip when seated and while standing
-      50mm wide (front-to-rear) footpegs offer superb grip and feel at the pegs
-      Clutch cable boot features a large quick adjuster, making it easy for riders to adjust play in the clutch cable while on the fly
-      Throttle grip has a one-piece collar that provides additional stability during throttle operation
-      Longer hand grips allow the rider to hold the bars closer to the centerline and are made of lower density material for improved rider comfort
Factory-style Components
-      New pushrod type front brake master cylinder and new brake pad material provide stronger brake force and enhanced feel
-      New rear brake pad material offers powerful braking performance
-      Lightweight black anodized rims, are durable and look just like the factory racers
-      Titanium coated inner fork tubes minimize stiction and look great
-      Front and rear petal brake discs help reduce unsprung weight, and the wave shape helps clean the brake pads for more efficient stopping performance
-      Rear caliper guard protects caliper from damage
-      Ribless rear hub and butted spokes further reduce unsprung weight
-      Renthal aluminum handlebar is standard equipment
-      Blue ignition cover plugs and oil filler cap match the blue accents on the factory race bikes
-      Factory-style graphics complement the KX250F's highly tuned performance
Additional Features
-      New radiator shrouds and side panels provider a slimmer rider interface and a more nimble feel
-      New front fender
-      Redesigned front number plate
-      New embossed design on clutch cover
-      New higher-density chain pad on top of the swingarm is more resistant to wear
-      Large resin skid plate offers great protection with minimum weight
Optional Accessories
-      Optional DFI Calibration Kit allows custom tuning
-      Optional FI Indicator Light allows the DFI system to communicate diagnostic information
-      Optional engine parts include magneto rotors with different inertias and a 12-tooth output sprocket
-      Optional chassis parts include handlebar holder for a 1 1/8-inch handlebar, 46- to 50-tooth aluminum and steel rear sprockets, solid petal brake rotors, different fork and shock springs and manual decompression lever and cable
2013 Kawasaki KX™250F Specifications*
Engine:

Liquid-cooled, four-stroke single with DOHC and four-valve cylinder head

Displacement:

249cc

Bore x stroke:

77.0 x 53.6mm

Fuel injection:

DFI® with 43mm Keihin throttle body and dual injectors

Compression ratio:

13.8:1

Ignition:

Digital CDI

Transmission:

Five-speed with wet multi-disc manual clutch

Final drive:

Chain

Frame:

Aluminum perimeter

Rake / trail:

28.7 degrees / 5.0 in.

Front suspension / wheel travel:

48mm inverted Showa SFF telescopic fork with 40-way spring preload adjustability and 22 position compression and 20 position rebound damping adjustability/ 12.4 in.

Rear suspension / wheel travel:

Uni-Trak® linkage system and Showa shock with 9 position low-speed and stepless high-speed compression damping, 22 position rebound damping and fully adjustable spring preload / 12.2 in.

Front tire:

80/100-21

Rear tire:

100/90-19

Front brake:

Single semi-floating 250mm petal disc with dual piston caliper

Rear brake:

Single 240mm petal disc with single-piston caliper

Overall length:

85.4 in.

Overall width:

32.3 in.

Overall height:

50.0 in.

Wheelbase:

58.1 in.

Ground clearance:

13.0 in.

Seat height:

37.2 in.

Curb weight:

233.6 lbs.

Fuel capacity:

1.61 gal.

Color:

Lime Green

MSRP:

$7,599

Wholesale distributor:

Kawasaki Motors Corp., U.S.A.

9950 Jeronimo Road

Irvine, California 92618

949-770-0400
*Specifications are subject to change. Media are encouraged to visit http://www.kawasaki.com for most current specifications.